Crafting Quick Fabric Flowers
I just hosted a Drop-In Craft Day at my friend Laurie's store, Fly Right Gifts  where we invited people to drop on by and whip up a fabric flower. There were crafters of all ages stitching up flowers and it was so much fun! This is a simple technique for turning strips of fabric, ribbon, or other flat trims into flowers. You can find my full tutorial to stitch fabric flowers righ here, but read on for a basic how-to and some tips!
Oh, and check out a few of our crafters from the event; this cutie stitched up a few flowers for his grandparents! Any child who has the patience to take a few stitches with needle and thread are able to make a flower, but we've found that using a single piece of ribbon 1 1/2″ to 2″ wide is a bit easier for them than using fabric.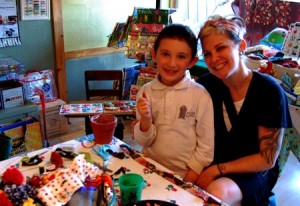 Although I'm showing you how to hand-stitch this craft, you CAN use your sewing machine! Use your longest straight stitch setting along the edge and pull up the stitching to gather. Or, if you have a Gathering Foot #16, set your machine to do the gathering for you!
Here's how to make a basic flower. Start with a strip of fabric or a piece of ribbon about 24″ long. If using fabric, you can fold your strip in half the long way to give the flower a nice finished edge (like I did in the following photos), or leave one edge unfinished for a ravelly look. Once you get the hang of it, try using strips of different lengths and widths to make all kinds of different looking flowers!
Stitch along one long edge with a basting stitch, taking about 1/4″ stitches. (If folding your fabric strip in half the long way like I did in these photos, stitch along the unfinished folded edges).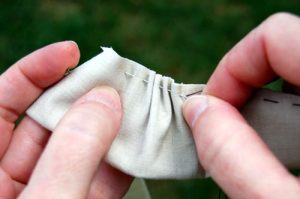 Gather up the strip. Tighter gathers give a Carnation look to your flower, and really loose or gentle gathers look more like a Rose.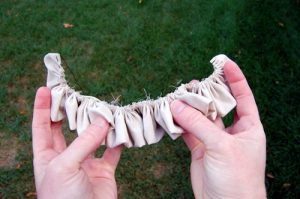 To make your gathered strip turn into a flower, roll it up starting at one end, and take a few small tacking stitches as you go to hold the flower together.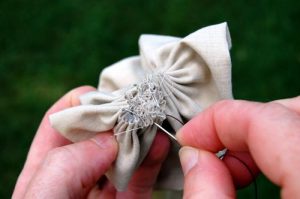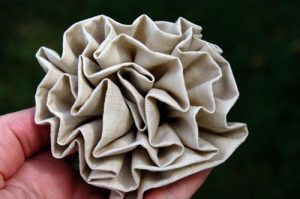 To finish off your flower, you can add a circle of felt and a leaf to the back, then use a safety pin or pin back to turn it into a fashion accessory! You can also add a wire stem to make a bouquet, or to attach the flower to a package, wine bottle, or other gift. The possibilities are endless!
Techniques

crafts, sewing
What you might also like
One comment on "Crafting Quick Fabric Flowers"