The Red Halloween Cape
This year I set out to sew a Halloween costume masterpiece, at least that is what I told my friends all summer. My husband and I even went to a questionable movie for some red cape "research." Not our finest date night, but I got plenty of great information out of the evening.
The best thing about telling people about your future sewing plans is that they will not let you forget them easily. So in mid-September I got to task anticipating it would take some time. I learned a great deal along the way and with the cape completed I can share the bits of wisdom acquired along the way.
Sewing a costume doesn't have to be a rushed affair designed only to last an evening. I am lending last year's effort to a friend and will be wearing all my hand-sewn costumes year after year as they are made carefully with quality materials.
That said I think it's not wise to spend too much on fabrics and notions. I initially spent an extravagant amount on 6 yards of red wool. However much I tried, I could never feel right about the expense and thankfully the store kindly took the wool back. The same day, a little digging in my closet unearthed three yards of red wool. Using a pattern was now out and plan B was staring me in the face. I had to draw a pattern to suit the reduced yardage. I have no experience with drafting garments and that was completely new territory.  Limitations can do much to push us out of our comfort zone; because it's a costume it's less nerve racking to take risks without compromising on the fit of course.
The cape was too narrow so I added triangular panels to the lower sides out of scrap pieces.
Emboldened by my initial thrift, I decided to stick with the content of the stash closet and lined only the hood, finishing all other seams open, turned under and topstitched (a marathon effort).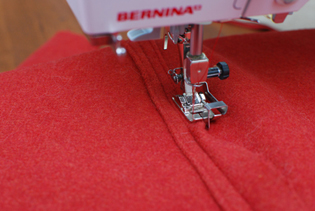 When I found no clasps in the button jars I opted for a tab fashioned out of doubled wool and a button hole; usually feared, they sewed themselves on the felted fabric. A quick press, using a cloth between the steam iron and the garment, and everything was set up for a memorable photoshoot.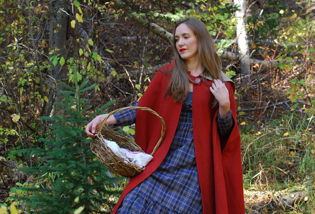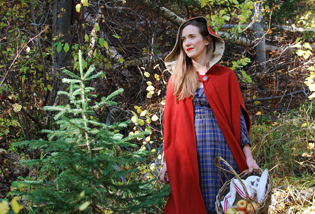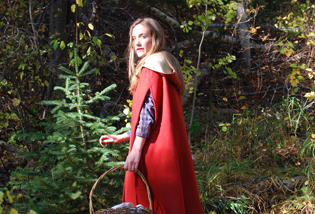 Alone in the woods in the morning light, the cape felt warm and I remained there a little longer eating the apples from my basket.
The End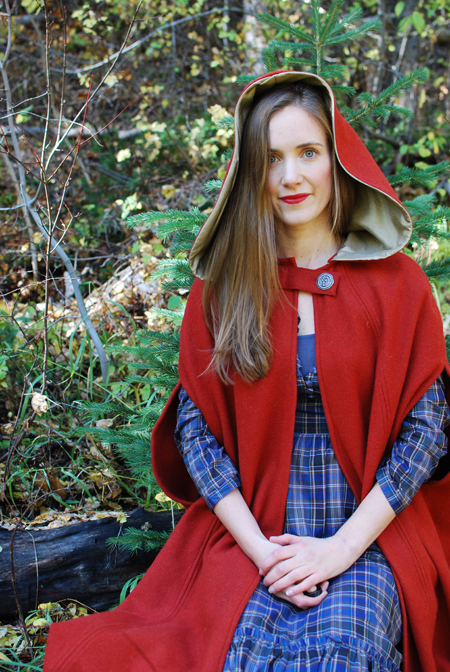 Projects

fashion

Techniques

crafts, sewing
What you might also like
3 comments on "The Red Halloween Cape"