Superhero Cape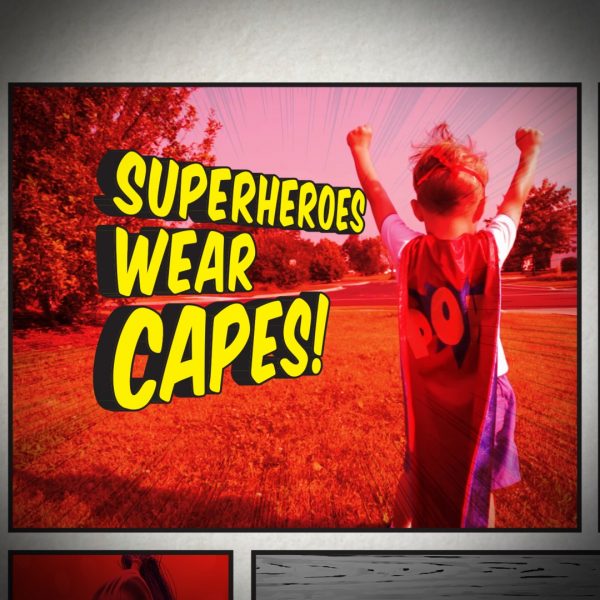 We could all use a little super power sometimes, so why not transform this dream into a fun cape for your little one? This cape is fast and easy to make. You can try your hand at sewing with unique fabrics while taking advantage of some of the great features and accessories BERNINA has to offer. It is a perfect project for Halloween or any time of year. A superhero cape is sure to provide hours of entertainment and joy to the imagination of a child.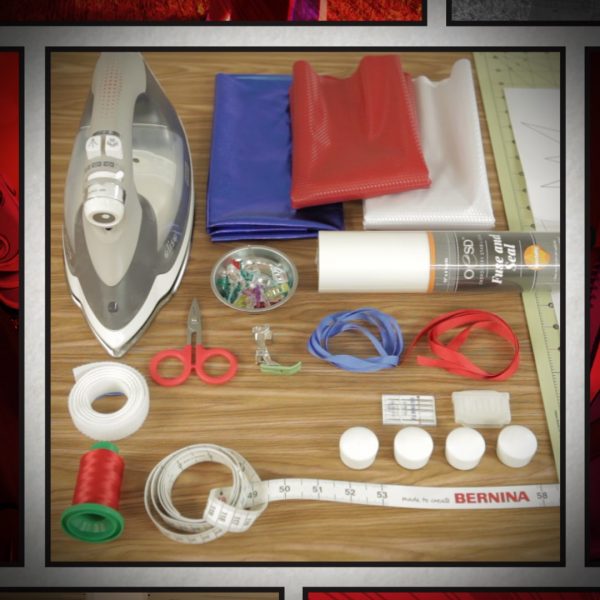 Materials to Sew a Superhero Cape
Yaya Han Cosplay Fabric (1 yard-front, 1 yard- back) (misc. yardage for appliqués)
Marking pencil
Scissors and/or rotary cutter
Measuring tape
Velcro®
Stretch needle 90/14
Pattern weights
Iron
Your sewing machine. We sew on a BERNINA 590.
Instructions to Sew a Superhero Cape
Step 1: Cut it out
Begin by cutting a cape front and back into a rectangle 24″ X 31." Working with this rectangle folded along the long edge (12″ x 31″), measure up 6″ from the fold on one side. Draw a line from the 6″ mark to the opposite corner of the fabric (12″). Cut the fabric along this line.
Use the template to mark the neck hole along the folded edge and cut. Don't want to print the template? No problem, use a plate or plastic lid (about 6″) to cut the neck hole. For a cleaner finish, round the corners at the bottom and top edges of the fabric. Use this piece to trace onto the second piece of fabric and cut it out.
Now you have your cape front and back. Consider making it a reversible cape with appliqués on both sides.
Step 2: Trace the appliqué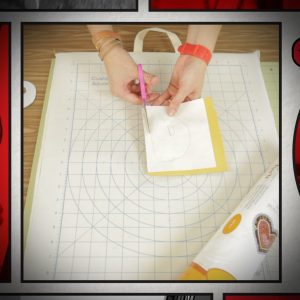 Using Fuse and Seal stabilizer, trace a mirror (face down) image of your desired appliqué. For my cape, I appliquéd the word POW over a starburst. You can download the POW! design with the superhero template above. Trace each letter and part of the appliqué and use scissors to cut out the shapes and letters.
Step 3: Fuse the appliqué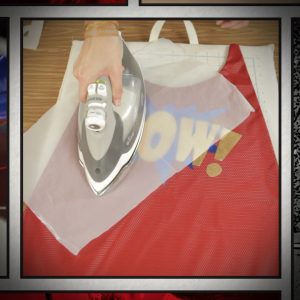 To fuse the appliqué in place, follow the recommended directions for your materials. My cape was made from specialty stretch vinyl fabrics, so an iron with a lower setting and a Teflon pressing cloth was a must. If you are using cotton you can have a hotter iron and perhaps forego the pressing cloth. I like to use a press cloth when working with adhesive materials to protect my iron.
At this point you may want to also stitch your appliqué in place. If you plan for lots of wear and tear or are using fabrics that might not be so receptive to adhesives, stitching it down will allow you to wash it over and over and extend the length of play before any possible repair work is needed. The BERNINA presser foot, Non-stick open toe embroidery foot #56, is a great foot to use for appliqué with vinyl fabrics.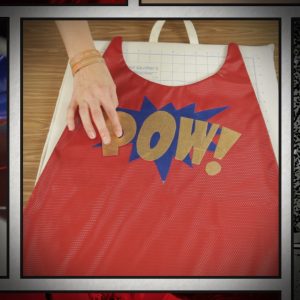 Note: In the video, we added the appliqué after sewing the cape as stitching it down wasn't necessary.
Step 4: Sew the cape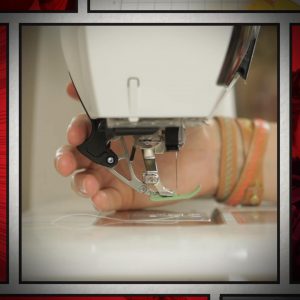 Once you have created the front and back of the cape, you are ready to sew them together. Clover Wonder Clips are a great way to "pin" together the front and back of the cape when using vinyl fabrics. If we used standard sewing pins, they would leave permanent holes in this type of fabric.
For my set-up I used a stretch needle in my BERNINA B 590. This needle has a shorter and narrower needle eye and longer scarf, which will help to prevent skipped stitches in really stretchy fabrics. I also used the Non-stick zigzag foot #52D for sewing the cape. This foot has a coating that allows it move smoothly over the vinyl fabrics. Adding the Dual Feed made sewing with two layers of stretchy and sticky fabric so much easier.
With right sides together, pin the cape front and back together. Begin sewing with a straight stitch at a ½" seam allowance. Leave a 6″ opening to turn the cape right side out. An easy location for this is the center bottom of the cape.
Once all the way around the cape, turn the cape right side out and press along seam line (remember your pressing cloth).
Step 5: Close the opening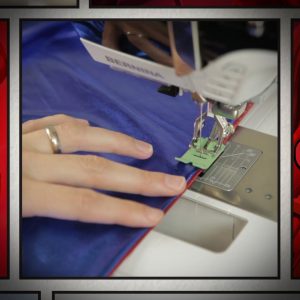 Now you are ready to close the opening in the cape. I did this by edgestitching all the way around the perimeter of the cape. Because I was using the vinyl fabric, I chose to use the same presser foot that I had been using for sewing, Non-stick zigzag foot #52D.
Sewing with the hover function engaged is also very beneficial when edgestitching. This BERNINA feature allows the presser foot to raise slightly (you can even specify the height) when your needle down function is engaged. This makes turning those tight corners easy and ensures the perfect topstitch every time.
Step 6: Attach the Velcro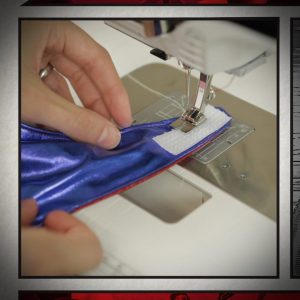 The final step is creating a closure for the neck. Velcro is a great option, especially for children as it will fasten easily and also release when pulled (no accidental choking).
The Piping foot #38 is a great foot for sewing on Velcro, as it has an uneven sole. The stair-step created by the uneven sole will fit perfectly against the edge of the Velcro making it easy to sew. This foot has a center needle position opening, so if you have moved your needle position for edgestitching, make sure to put it back in center position before sewing with this foot.
Attach the Velcro on opposite sides of the neck back. I recommend starting in the middle of the long edge, to make for precise corners, and backstitch at the beginning and the end of sewing.
You're all finished… And your super hero is UP UP and AWAY!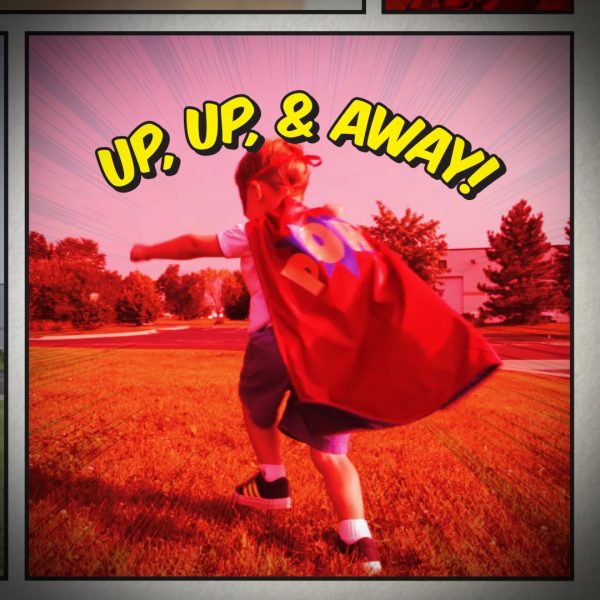 Difficulty level

Beginner

Time to Complete

Evening

Used Material

coordinating thread, fabric, fusible webbing

Projects

Crafts

Seasons

all seasons, fall, Halloween

Techniques

applique, sewing
What you might also like