What Can Make A Kid Feel "Super"?
Nothing makes a kid feel more "super" than a handmade custom superhero cape! Based on this premise, Kiss The Toad Creations has made it their mission to present children with life threatening illnesses a cape of their own to recognize these children's super strength. Kiss The Toad Creations recently organized an event where volunteers sewed capes for the children who were directly affected by the terrible tornado in Oklahoma City (read more here). Visit Kiss The Toad Creations at the official website.
You can use your super sewing powers to make a kid you know feel super! Stitch a simple cape out of any color fabric, or add a custom appliqué or machine embroidered symbol for that very special superhero (like a favorite animal or bug, a big letter, or a monogram). We've gathered a few tutorials from around the web to get your creative caped crusader juices flowing!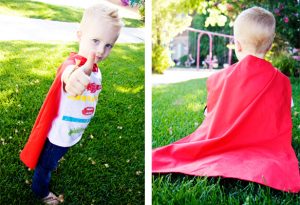 This simple tutorial is easy enough for any beginner to tackle, and includes instructions for cutting and stitching a simple, solid colored cape. Find Lara's How To Make A Superhero Cape tutorial at MomsRising.org.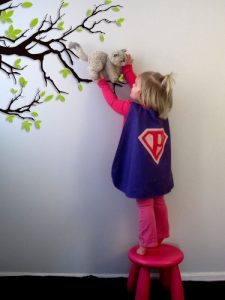 Sherri from Thread Riding Hood posted this sensational Super Hero Cape pattern and tutorial includes a printable paper pattern for a simple cape, and she gives instructions for making a very superman-like lettered appliqué for the cape.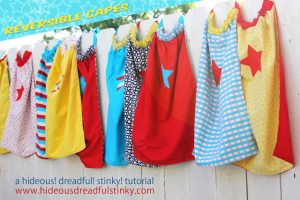 What could be cooler than a reversible cape that you can flip-flop depending on your superhero mood? Maribel from Hideous! Dreadful! Stinky! tells you exactly how to make a Reversible Cape with her tutorial. Get creative with adding your own super shapes to the cape!
Techniques

crafts, sewing
What you might also like