Easy, Fast, Super Hip Gifts by JCasa
As if you couldn't get any more great ideas for gifting, we have six super fun projects for your sewing pleasure! Today's projects are from one of our favorite sewing & handmade living blogs, JCasa, whose tag-line is a handcrafter's mantra: Make something special every day. Jennifer Casa is a self-described mama, maker, homebody, rocker, and dreamer — all things we can certainly appreciate! Her sewing & knitting projects are inspirational and original, but above all practical. We love a project that you know will go to good use, something that will be appreciated for years to come. Her patterns and tutorials can keep you busy every day, perfect for any rainy day creative itch. We hope you'll find something inspiring in this round-up of easy gift ideas!
1. Quilted Wrist Warmers (this link is currently inactive 10/2/2015)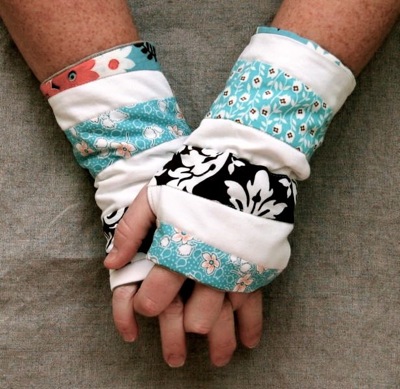 A good wrist warmer is one of favorite accessories for the chilly weather, we wish we could wear them year round! They give the warmth of a glove while maintaining your full hand functionality — some of us may not like our fingers to be out of commission. We often see projects for knit fingerless mitts, but this quilted version is perfect for the sewing machine. Scraps will do the trick for this low-material project, and you can use something extra warm or soft for the inside to give that knit feel.
2. Interactive Greeting Card & Envelope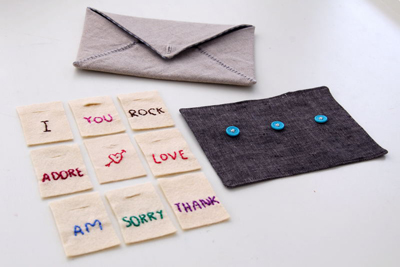 We can't believe how adorable this project is, and the tutorial is really simple and easy to follow! Make a card out of fabric that you know won't get tossed in the mix — and personalize your message for a fun interactive experience! The tutorial walks you through making a fabric envelope with cute hand-stitched elements and a super sweet card for the inside, and button details that make switching out the message easy & fun. If you have a Bernina embroidery machine this is a great opportunity to break it out for some custom lettering. This could be a great way to add a handmade element to a gift card, or just for fun for kids & adults.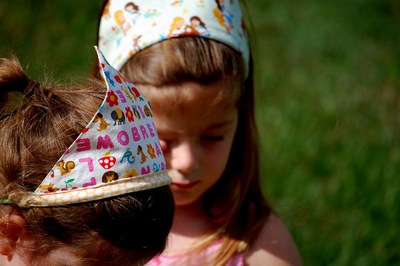 This project is so simple, you can make these over & over for a cute hair accessory. Take advantage of those big prints for the triangle piece, paired with a fun dot or stripe for the top band and you'll be finished in no time. This tutorial uses a full elastic hairband which makes sizing easy and makes slip-offs less frequent when they're running around. All you need is 5 minutes to spare and you're all set!
4. Quilted Snack Mat & Napkins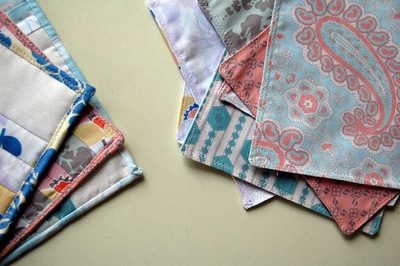 We love easy table decor, and these quilted mats are sure to make clean-up time easy. They're fun to bring along if you're dining in a park or any outdoor setting, to ensure that your food space is clean & tidy. Fabric napkins cut down on our waste so we love to use them over & over. This would make a perfect gift for that tough family member — we think anyone could use this great project!
5. The Best Bib (this link is currently inactive 10/2/2015)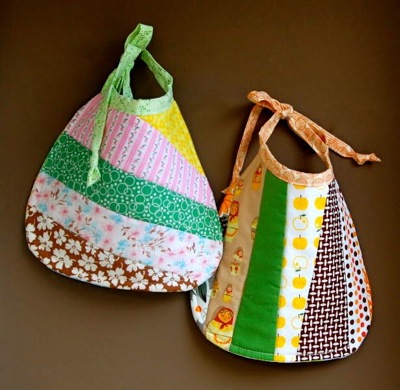 This bib is designed with an heirloom quality that can be passed down through the family, with natural fibers to ensure the softest touch for baby. Fabric ties make it adjustable and easy to fit, so there's no fighting to get over a squirmy head. We like the patchwork because the possibilities are endless for scrap-usage, and can be partnered with fabrics to fit any color scheme or holiday moment.
6. Coloring Wallet (this link is currently inactive 10/2/2015)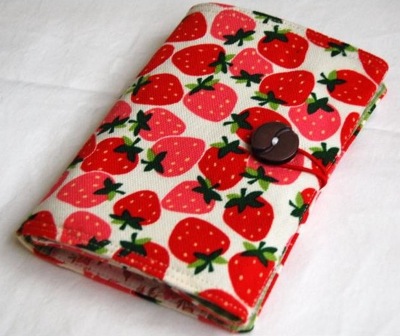 Kids always want to play with our wallets — so why not give them one they can really make use of? This fun fabric coloring wallet stores all of their essentials: crayons & notepad for a shopping trip or car ride entertainment! Easy to sew up, easy to slip into a diaper bag or purse for quick access when you need it the most.
You're all set for some truly unique holiday gifts — let us know in the comments below who you'll be sewing for this holiday season!
……..
Rachel Faucett
Handmade Charlotte
www.handmadecharlotte.com
Techniques

crafts
What you might also like
One comment on "Easy, Fast, Super Hip Gifts by JCasa"