Wrap it up! Sew Easy Holiday Gifts
If you've been following our Sew Easy Holiday Gift posts, we've already shared our favorite projects for decorating your "Home for the Holidays" and staying fashionable by getting "All Decked Out for the Holidays." Now we're showing you some creative ways to wrap up those handmade presents to make them "sew" unforgettable gifts!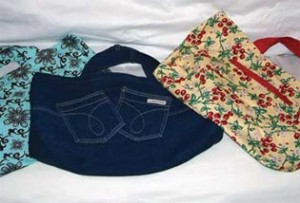 One of the best ways to give a gift is to wrap it up in a re-usable shopping bag. Stitch one of these up with holiday fabric, or use recycled material (like old denim jeans) to make this gift really "green." Click here to get the downloadable project instructions.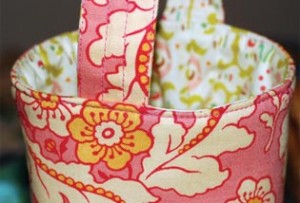 If you love to give the gift of wine for the holidays, making one of these custom stitched wine tots will make your gift extra special. Click here to get the downloadable project instructions.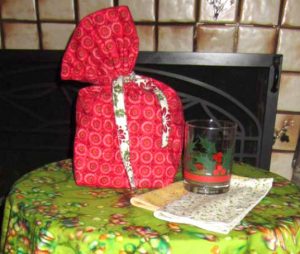 Serge up a quick fabric gift bag from just one little fat quarter! Perfect for wrapping up a medium sized gift and quick enought to stitch up one for everyone on your list. Click here to get the downloadable instructions.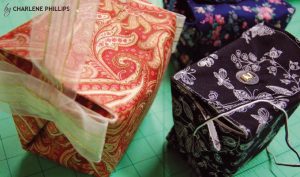 A small gift will fit perfectly in this cleverly stitched fabric Take Out Box! (So cute you just might end up making one for yourself, too!) Find the instructions in Issue 8 of Through The Needle magazine, click here to download TTN #8, and click here to download the project pattern.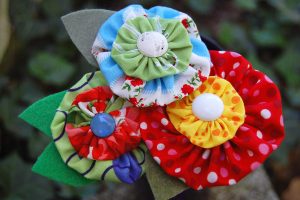 One of my favorite ways to wrap gifts is to add a handmade fabric flower to the package. Any of the bags or boxes above would look very festive with an added flower! Check out these ideas for turning your fabric scraps into bright blooms by clicking here to read all about it!
Techniques

crafts, sewing
What you might also like
2 comments on "Wrap it up! Sew Easy Holiday Gifts"