Easter Egg Table Runner Sew Along, Part 1: Prep Work
Welcome to week one of the Easter Egg Table Runner Sew Along! I'm Corinne and the adorable bunny in the Easter basket is my new sewing assistant, Buttons. We are so egg-cited that you are joining us as we create this egg-tra special decor piece that would make the easter bunny proud. Let's hop right into how the sew along schedule breaks down!
Easter Egg Table Runner Sew Along Schedule
Week One: Prep Work
This week we are going to focus on getting your materials together and choosing your color palette. You can download the full instructions here, and I'll go into a bit more detail next!

Week Two: Piecing the Egg Fabric Panels
The first step in making the eggs is to piece together fabric panels. We'll use these fabric panels in week three to cut out our applique eggs.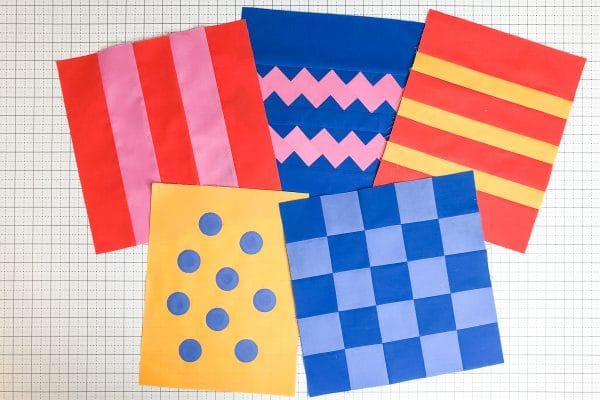 Week Three: Appliqué Eggs and Assembly
For week three we'll cut out our appliqué eggs from our fabric panels and I'll show you how to use freezer paper applique to sew them to your background fabric. Then we'll go over assembling the table runner with the border.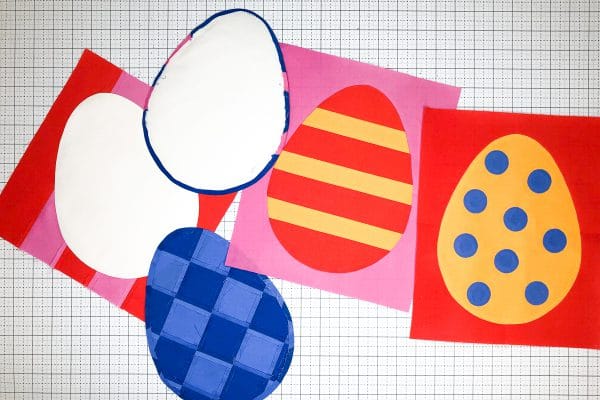 Week Four: Quilting and Decorative Stitches
The final week of the sew along will focus on using decorative stitches to quilt your table runner. We'll go on a bit of an easter egg hunt for your favorite stitches and cover lots of fun tips and tricks to add flair to your eggs!
Prep Work
The PDF download includes a checklist of materials you'll need for the table runner. I've included fabric requirements for the exact color distribution of the example, as well as requirements by the egg if you want to go egg-tra colorful and scrappy. Cutting charts are included for both versions so you can get a head start for next week. I've also included coloring sheets for the table runner so you can play around and find a color combo you love!
Color Egg-amples
As a self-proclaimed color enthusiast, I couldn't resist giving you some color inspiration! You can use these examples to match colors to your favorite solids brand or pull prints from your stash that coordinate with the colors. First, let's take a look at a few colorways that follow the exact color distribution. If you want to use one of these colorways you'll want to follow the color distribution fabric requirements. 
Now let's look at some examples of colorways that use the individual egg fabric requirements. If you want to follow one of these examples you can match up the colors with the individual egg cutting charts. 
Week 1 Wrap-up
Be sure to download the full welcome packet today so you can join Buttons and me for the easter egg table runner egg-travaganva! Share your coloring sheets or fabric pull with the hashtags #eastereggtablerunner #WeAllSew and #berninausa. Tag @berninausa and @corinne.sovey so we can follow along with your progress and see the yummy fabric and color goodness you have chosen. Check back next Friday for week two to start making our eggs!
Difficulty level

all levels

Projects

table runner

Seasons

Easter, Spring

Techniques

applique, crafts, decorative stitches, decorative stitching, patchwork, patchwork, quilt piecing, quilting, sewing
What you might also like
One comment on "Easter Egg Table Runner Sew Along, Part 1: Prep Work"