Sorbetto Top Sew Along, Part 1: Prep and Cutting
Have you been wanting to learn to sew garments but are unsure where to start? This sew along is for you! Join me for a 4 part sew along where we'll sew the Seamwork Sorbetto top from start to finish.
I chose the Sorbetto for this beginner friendly sew along because it is a FREE, versatile, woven top pattern with a few different elements that will translate well to other patterns. We'll learn how to sew darts, pleats, and set in sleeves. The Seamwork Sorbetto is available up to a size 26, with a bust measurement of 54″. If this top pattern isn't for you for whatever reason, please join us using a different woven top pattern of your choice. The techniques used here will translate well to other woven top patterns for you to begin your garment sewing journey!
I hope you'll join me in sewing a Sorbetto top, whether it's your first garment or you just need some motivation to make something new. Share your progress in the We All Sew Community and on Instagram (make sure use the hashtag #weallsewsorbetto and tag me (@thelilacelk) and @BERNINAUSA we can see what you make!)
Seamwork Sorbetto Sew Along Schedule:
This sew along will be separated into 4 parts:
Prep and Cutting (this post!)
Bodice Construction
Inserting Sleeves
Hems
In this post, we'll go over the pattern and learn to cut out the pattern pieces. Before we get started, if you're brand new to sewing or want a little refresher on some of the common garment sewing terms, I encourage you to check out this post that serves as a glossary of some of the things we'll go over in this sew along.
All About Sorbetto
The Seamwork Sorbetto can be downloaded from the Seamwork website here. It's a free pattern, but you'll need to create an account first if you don't have one already.
Pattern Versions:
The Sorbetto top has three different versions: (1) a sleeveless top, (2) a sleeveless tunic, (3) a short sleeved top. We'll be making version 3 in this sew along so that we can learn how to set in a sleeve. If you'd rather make a sleeveless version, you can finish the arm opening the same way we will the neckline (in part 4 of the sew along).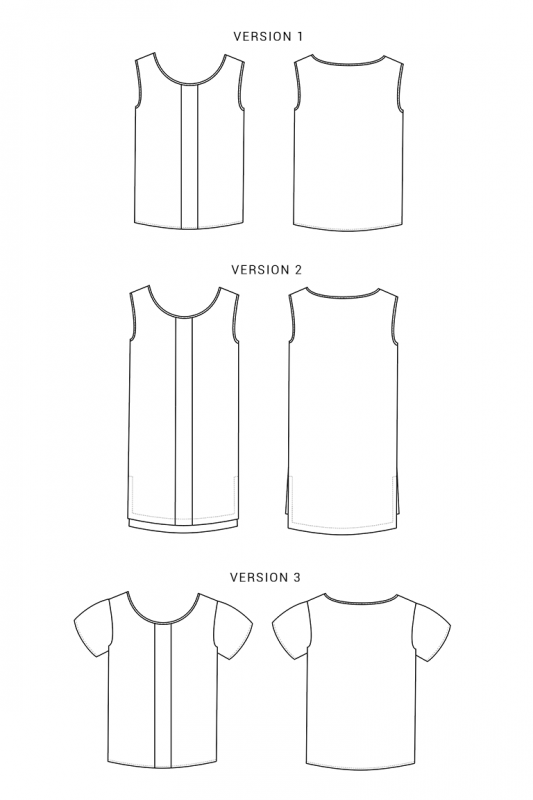 Sorbetto Sizing:
The size chart for the Sorbetto top is below. To determine what size you'd like to make, take your bust, waist, and hip measurements and find the size that works best for you. You can also blend sizes if your measurements fall into multiple sizes. For example, you could make a size 12 in the shoulders and bust if your bust measurement is 40″, but then grade out to a 14 in the waist and hip if your waist measurement is 34″. You can also measure a top you like the fit of and compare it to the finished garment measurements below. The finished garment should be larger than your body measurements (this is called positive ease) so that you have room to move around in your top.
If you have questions on sizing or need help choosing a size, comment on this post and I'm happy to help you get started!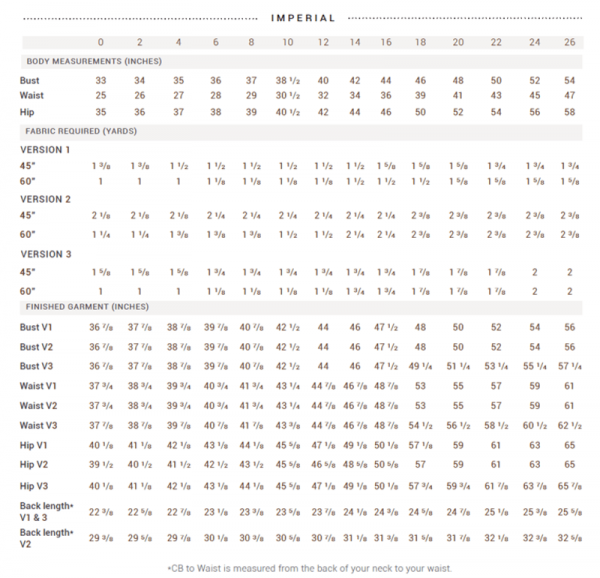 Required Supplies
Fabric
The Seamwork Sorbetto is designed for light to medium weight woven fabrics. Cottons will work great for this: voile, lawn, or even a quilting cotton. The pink polka dot fabric that I used for this post is a quilting cotton that was supplied by Brewer and it worked so well for this top! You could also challenge yourself with a rayon for something with a little more drape. Whatever fabric you choose, makes sure you wash and dry it so that any shrinkage that happens will happen before you make a top you love.
Notions
In addition to fabric, you'll also need:
your sewing machine
a needle that matches your fabric weight (a universal 75/11 or 80/12 will work well for these fabrics)
thread that matches your fabric
single fold bias tape
pins or wonder clips
fabric scissors and/or a rotary cutter and mat
a marking tool, such as chalk or a water soluble marker
Putting Together Your Pattern
After you've chosen a size, you'll need to print and put together the PDF pattern. When you download the Sorbetto top, you'll have multiple files available for each version. The sleeved top is version 3, so you'll only need to print that version for the sew along. There are copy shop files that you can print on a large format printer and letter page files that you can print at home. When you print at home, make sure you print at 100% scale and measure the test square on the first page to ensure it is printing at the right size.
After your pages are printed, it's time to put your paper pattern pieces together. You'll first need to trim the edges of your pages. I like to trim the top and left side of each page. This will let you easily line up each page to tape them together.
After your pages are trimmed, you can tape them together, lining up the triangles on each page to create a diamond. You'll then have all your paper pattern pieces. You can cut them out along your desired size line. (Just make sure you use paper scissors!)
Cutting Out Your Fabric
After your paper pattern pieces are cut and your fabric is pre-washed, it's time to finally cut your fabric out. You can do this with fabric scissors or a rotary cutter and cutting mat. I like to fold my fabric in half, right sides together, matching the selvedge edges. (I go over all those terms here!)
There is an arrow on each pattern piece – that arrow should be parallel to the selvedge edge of your fabric. Line up your pattern pieces, placing the top front and back on the fold of the fabric. Pin your paper pattern pieces in place. You'll want to cut one front (on the fold), one back (on the fold), and two sleeves.
After your patter pieces are pinned, it's time to cut them out. Cut along the edges with your fabric scissors. Don't cut along the fold of the fabric.
Marking Your Pattern
Before we start sewing in the next post, we'll want to mark the notches and darts on our fabric pattern pieces:
Marking Notches
To mark the notches (the little triangles on the edges of your pattern pieces), simply snip into the notch points about 1/4″. These will help you line up your pieces later.
Marking Darts
To mark the darts, I like to cut the paper pattern along one side of the dart. (Cut the paper ONLY, not the fabric!) Then fold the paper along the other side of the dart line.
That will open up your dart so that you can see your fabric. Use a marking tool to mark along these edges. Do this on the wrong side of your fabric.
This will create a V on the wrong side of your pattern pieces. We'll use these to sew our darts in the next post!
That's all for today! We have our fabric all cut and prepped to being sewing in the next post (Part 2 – Sewing the Bodice). If you have questions, please feel free to post them in the comments. Remember to share your progress in the We All Sew Community and on Instagram (make sure use the hashtag #weallsewsorbetto and tag me (@thelilacelk) and @BERNINAusa we can see what you make!)
Difficulty level

Beginner

Time to Complete

A week or more

Used Material

cotton fabric, fabric scissors, marking tools, needle, pins or wonder clips, rotary cutter, sewing machine, single fold bias tape, thread

Projects

fashion, shirts

Seasons

all seasons

Techniques

garment sewing, garment sizing, sewing
What you might also like
6 comments on "Sorbetto Top Sew Along, Part 1: Prep and Cutting"