Colossal Blocks Quilt-along Part 1: Materials and Cutting
Last year I visited the Serious Play: Design in Midcentury America exhibit in Milwaukee. Designers like Charles and Ray Eames, Irving Harper, and Jay Doblin were creating everyday objects using bright colors in bold, simple, geometric shapes. One color combination that stood out was the repeated use of pink with bright yellows, blues, and greens throughout the exhibit (a combination I would never think to use!).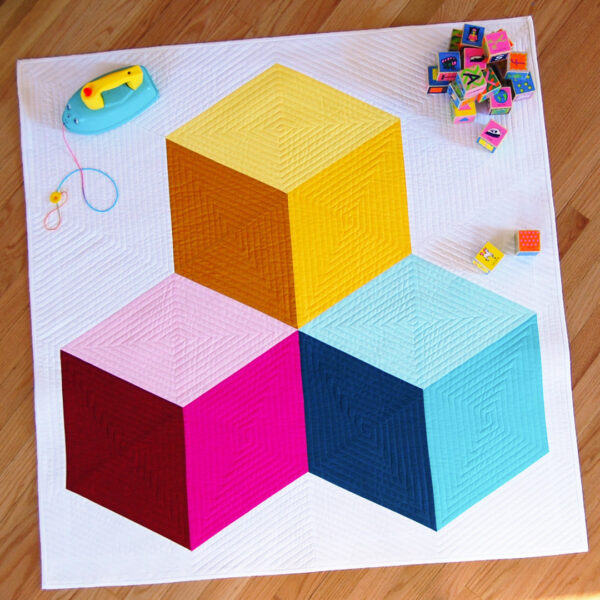 I made the Colossal Blocks baby quilt with giant tumbling blocks, featuring those bright colors inspired from the Serious Play exhibit. Usually tumbling blocks means lots of "Y" seams, but not this time! Follow along with the Colossal Blocks quilt-along to learn how to make this baby quilt using simple patchwork shapes with no "Y" seams!
In Part 1 of the quilt-along we'll look at a list of tools and materials you'll need to complete the quilt. I'll also share some tips for preparing your fabrics to be cut before we start sewing.
Colossal Blocks Quilt-Along Schedule:
Part 1: Materials and Preparation
Part 2: Cutting and Layout
Part 3: Piecing the Top
Part 4: Quilting and Binding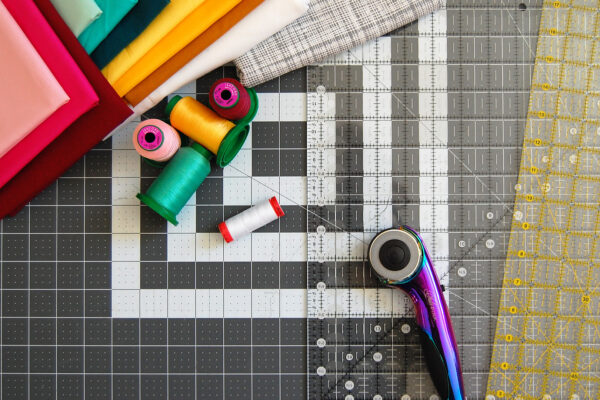 Before moving on, I may be using some materials in this baby quilt you aren't used to seeing in a quilt. When I make a baby quilt I expect it to be used, which includes the expectation of trips through the washing machine and dryer. For this type of quilt that will see lots of love and wear, I use polyester threads that will stand up to frequent washing (not to mention hugging, tugging, and possibly some fort-making!). I use an all-purpose polyester thread to piece the quilt (Mettler brand), and polyester embroidery thread to quilt (Isacord brand). If you prefer to use different threads in your quilting practice, go for it!
Materials to Make the Colossal Blocks Quilt
Finished quilt measures approximately 41″ x 41″
Fabric requirements (you will need 3 different major color blocks for each block A, B, and C)
Block A (I used yellow)

One light, 1/3 yard or one fat quarter
One medium, 1/3 yard or one fat quarter
One dark, 1/3 yard or one fat quarter

Block B (I used pink)

One light, 1/3 yard or one fat quarter
One medium, 1/3 yard or one fat quarter
One dark, 1/3 yard or one fat quarter

Block C (I used cyan blue)

One light, 1/3 yard or one fat quarter
One medium, 1/3 yard or one fat quarter
One dark, 1/3 yard or one fat quarter

Background and binding fabric (I used white)
Backing fabric (I used a white/gray print)

55″ or wider, 1 1/2 yard
Or, piece your backing if needed to be at least 2″ wider than quilt top
Other Materials
Quilt batting (I use Warm & Natural 100% cotton)
Coordinating thread to piece quilt (I used Mettler Metrosene in white)
Quilting thread of choice (I use Isacord in various colors)
Iron/pressing surface/spray starch
Cutting mat with 30° angled lines/rotary cutter/6″ x 24″ acrylic ruler
OR a cutting mat/rotary cutter/equilateral triangle acrylic ruler 12″ or larger
Straight pins
Fabric shears/thread snips
Quilt basting pins or basting spray
Quilt binding clips
Hand sewing needle/thread
Sewing machine (I use a BERNINA 570 QE)
Patchwork foot (I use Patchwork foot #97)
Quilting foot of choice (I use the Walking foot #50)
Fabric Prep
We'll be cutting and sewing large pieces for this quilt, and some of the angles will be cut on the fabric bias edge.  The bias edge of woven cotton fabric is stretchier than the straight grain, and can stretch and warp when your cutting and sewing if you're not careful. To cut down on the stretch of the bias edge, I heavily starch and press the fabric before cutting. Since my last step when making a baby quilt is always to pre-wash it, I know that the heavy starch will be washed away, leaving a soft, cozy quilt for the final recipient of the quilt.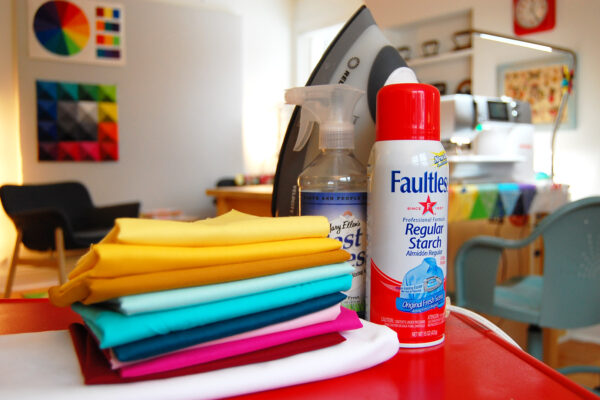 If you're using fat quarters for the blocks, you can starch and press the pieces as they are. If you are using 1/3 yard of fabric, you don't need the full 12″ x 44″ (or width of your fabric) piece to cut the patchwork for the blocks. Cut the 1/3 yard pieces in half to create two 12″ x 22″ pieces, and you will only need to prepare one each of these pieces to make the blocks.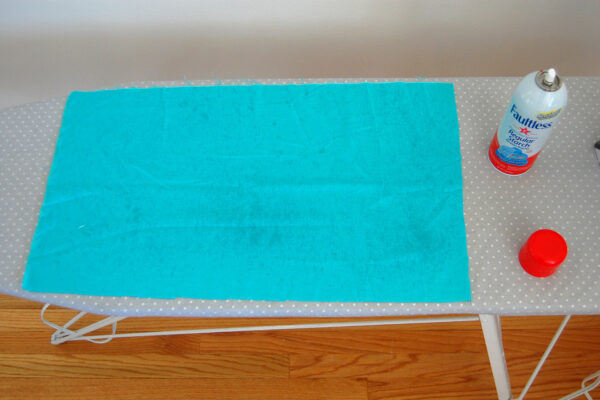 As a first step, I lightly starch both sides of each piece of fabric. This means just a light spray, and not a total soak! Let each piece dry completely after starching.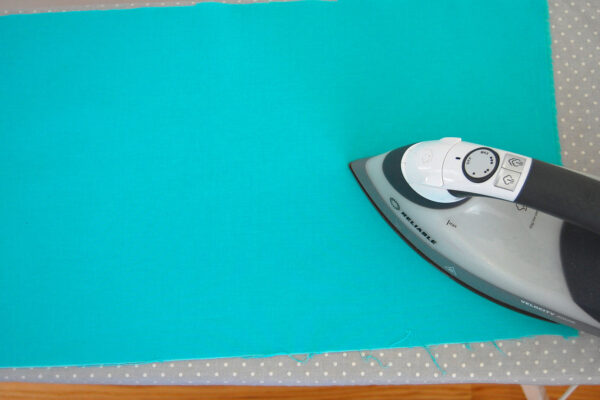 Once dry, press each piece with a hot steam iron. Store the smaller pieces flat (don't fold them up again) until you are ready to cut.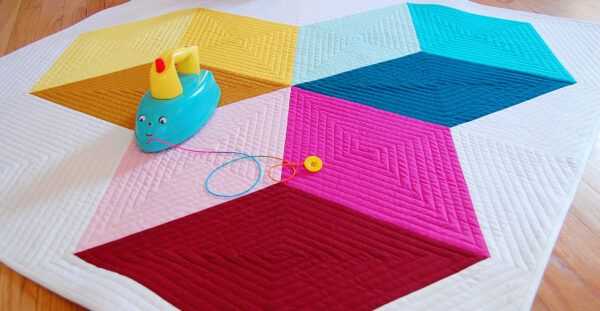 Next week in Part 2 of the Colossal Blocks quilt-along we will cut the patchwork and lay out the quilt top. Until then, make sure you have all of your fabrics and materials ready to go!
Difficulty level

Beginner

Time to Complete

Weekend

Used Material

coordinating thread, cotton fabric, iron, pressing surface, spray starch

Projects

baby quilt, blanket, home décor

Seasons

all seasons

Techniques

color theory, quilting
Used Products
What you might also like
7 comments on "Colossal Blocks Quilt-along Part 1: Materials and Cutting"