Holiday Poinsettia Pin
Join BERNINA Ambassador Heidi Lund and create a wonderful Poinsettia pin to wear on your lapel or hat this holiday season. They will make great gifts for family and friends.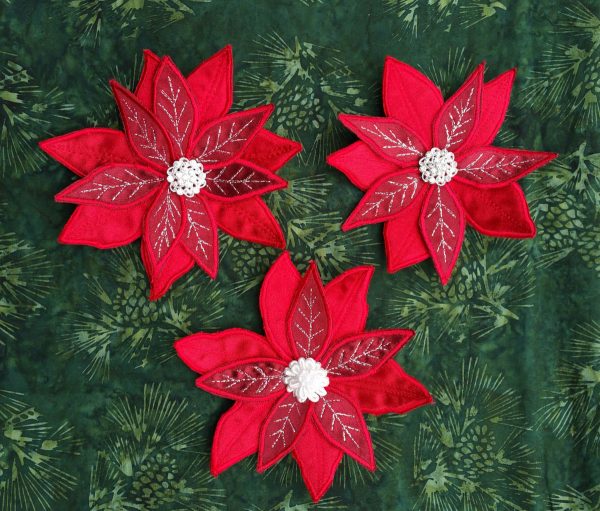 Supply List to Create a Poinsettia Pin
3-4 squares of Felt
1/4 yard of Satin Fabric in 2 coordinating colors
Rayon and Holoshimmer Thread
90/14 Embroidery or Topstitch needle
Steam A Seam II Lite or other double sided fusible web
Scissors
Size 10 Beading Needle and Silamide Beading Thread
Thimble
Template Plastic and an extra-fine point Sharpie Marker
Fabri-Tac glue
Rhinestone button or beaded ribbon flower trim
Poinsetta Pin Template
Instructions to Create a Poinsettia Pin
Using the double sided fusible web, fuse an 8.5″ x 11″ piece of the satin to a piece of the color coordinated felt. Next fuse two pieces of satin together.
Note:  Turn your iron down to medium so you do not shrink the satin and the fusible.
Trace Poinsettia Pattern onto template plastic. I have included an entire pattern, but you really only need 1 large petal and 1 small petal. Once traced, cut your templates out.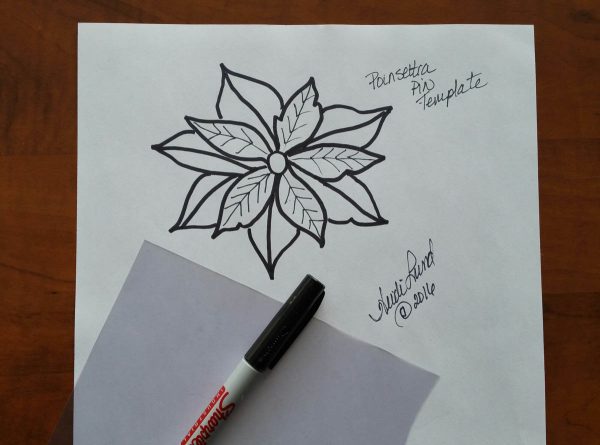 Trace the larger petal shape onto the fused satin and felt. You will need 6 large petals for the base of the flower.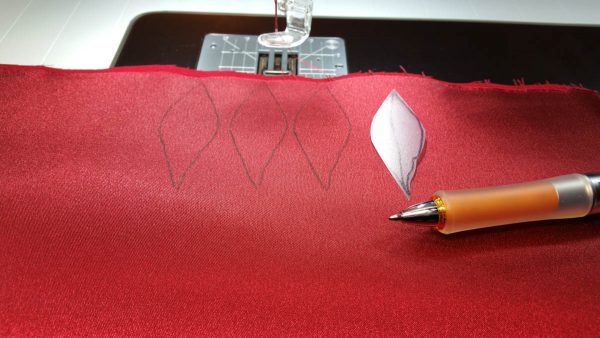 Now trace the smaller petal onto the two fused satins. You will need 5 small petals for the top of the flower.
Set your machine up for free-motion. Make sure your machine is cleaned and well oiled. Drop your feed dogs and attach your BERNINA Quilting foot #29.
Load the top of your machine and your bobbin with matching rayon thread.
Set your machine for a zigzag satin stitch approximately 2.5 to 3.0 in width. You do not have to set your length, because you are sewing free-motion.
Starting at the bottom of each petal, stitch free-motion zigzag around your leaf design. Once you get back to the bottom of the petal, switch to free-motion straight stitch and add center veins to your leaf. Move onto the next petal and repeat.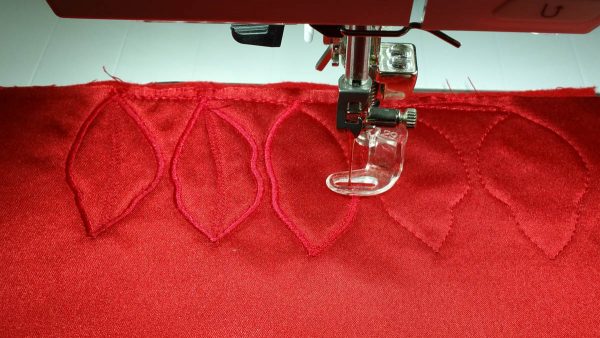 When you have completed your smaller petals, change your top thread to the sparkly Holoshimmer thread and then free-motion stitch the veins inside the leaves.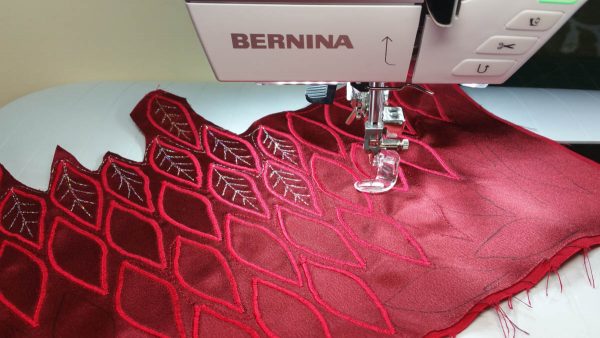 Once you have completed a "sheet" of petals, use a sharp pair of scissor and cut out each petal by trimming close to the stitching lines.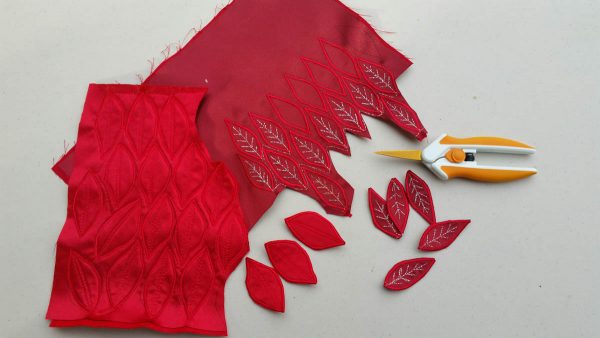 Take your leftover felt and cut into circles about 1.5″ wide in circumference. This is the base that you will be attaching your flower petals to.
You now should have 3 flower components: large flower petals, small flower petals and felt circles. It is time for assembly.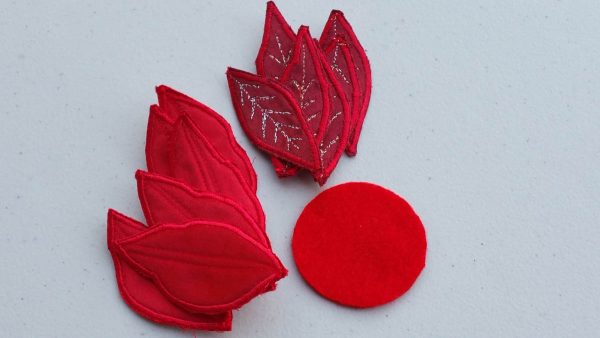 To make each flower you will need 6 of the larger petals, 5 of the smaller petals the center piece.
Lay the cut circle on your work surface and place the six large leaves over the top of it with their points meeting in the center.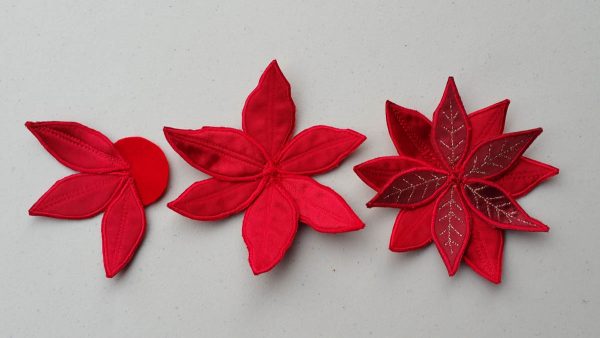 Take this first layer to your machine and using the same rayon thread, you will free-motion straight stitch a circle a couple of times around the center. Make sure that each petal is stitched down to the circle. Now add the smaller petals on top and free-motion straight stitch a circle tacking these down as well.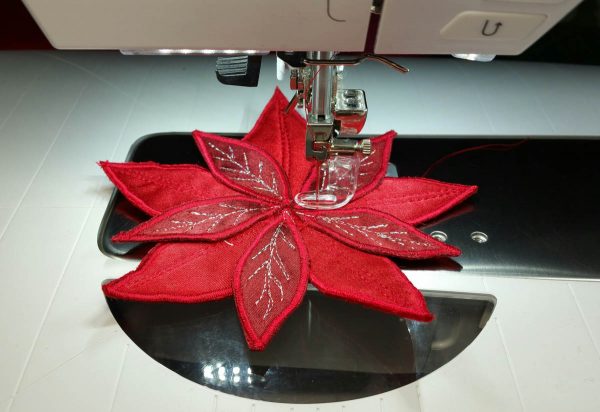 It is time to add your embellishments and this is where the handwork starts. Load a size 10 beading needle with beading thread and you choose what you would like in the center of your poinsettia. Pick a fancy rhinestone button, a ribbon flower, or even beads to stitch into the center for stamens. Secure the button in place.
Note: you may need a thimble to get your needle thru all the layers.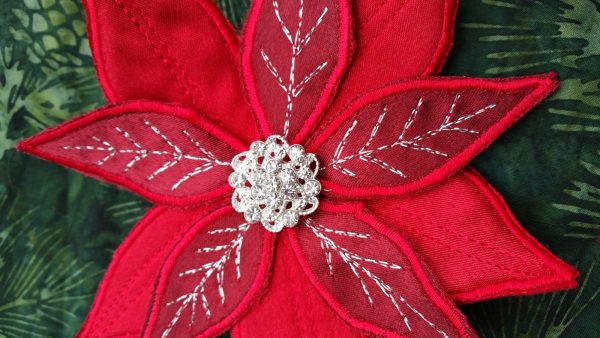 Using the same needle and beading thread, turn the pin over and secure a pin-back finding to the back side of the circle base.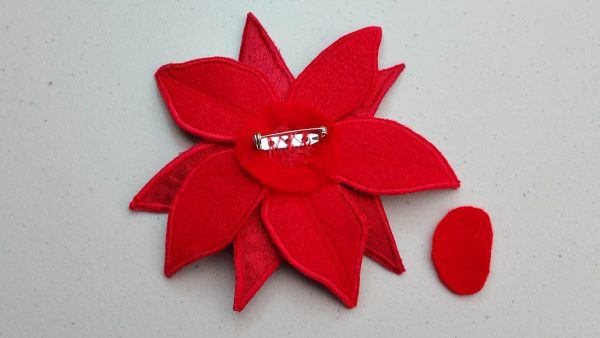 Once pin-back is secured, use your leftover felt scraps to cut a small oval to cover the pin back. Secure in place with Fabri-tac glue.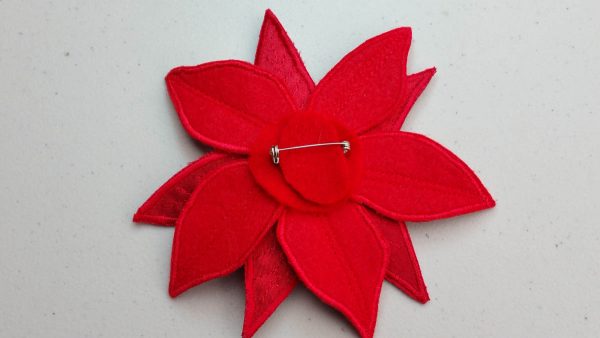 You now have a wonderful pin to give as Holiday Christmas gift. They are addicting to make and you can easily modify this pin into an ornament by adding a small ribbon loop to them instead of a pin-back. They can then be used as on ornament for your tree or to dress up a package or a bottle of wine for a great gift.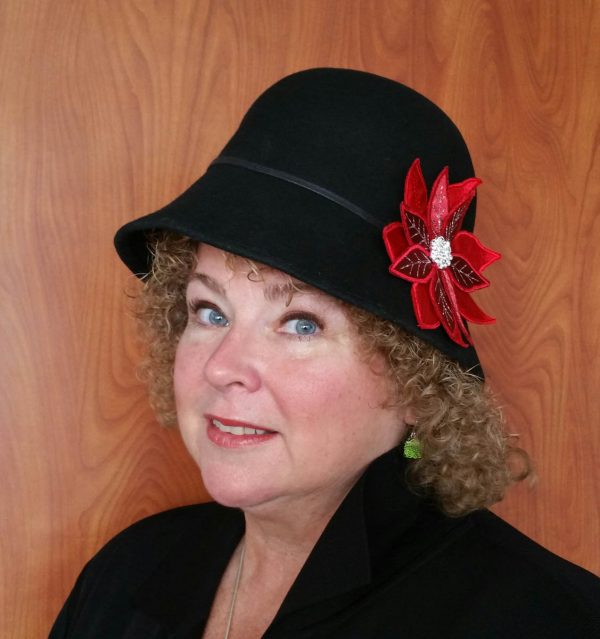 To make these have your own take on the Holidays, change your fabrics, your threads, and your embellishments. The combinations are wonderful. Wishing you all a wonderful Holiday season from the Great Pacific Northwest.
Happy Holidays! Our December 25 Gift for You:
Today's gift is a BERNINA Weekender bag waiting to be filled with sewing projects when sewing with a friend, or just for toting your stuff to the gym.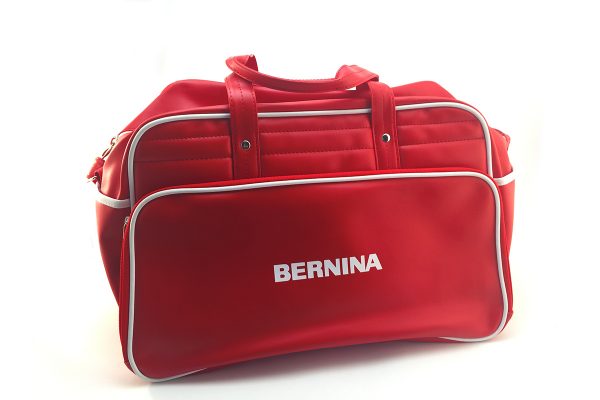 All you have to do is post a comment below answering the following question:
What kind of pin would you like to create?
A winner will be chosen at random on December 26, 2016 and announced the following week!
Good luck!
The contest is open for comments until December 25 at 12:00 midnight Central Time. Click here for contest rules.
Congratulations to WeAllSew reader "dharry1215," the winner of our December 25th gift. Enjoy!
Difficulty level

Beginner

Projects

fashion

Techniques

embroidery
What you might also like
80 comments on "Holiday Poinsettia Pin"