Julie Grantz LeFrancois – Challenge #3 Winner
We have a winner! Congratulations to Julie Grantz LeFrancois, winner of our WeAllSew Challenge #3. Click HERE to see Julie's winning entry.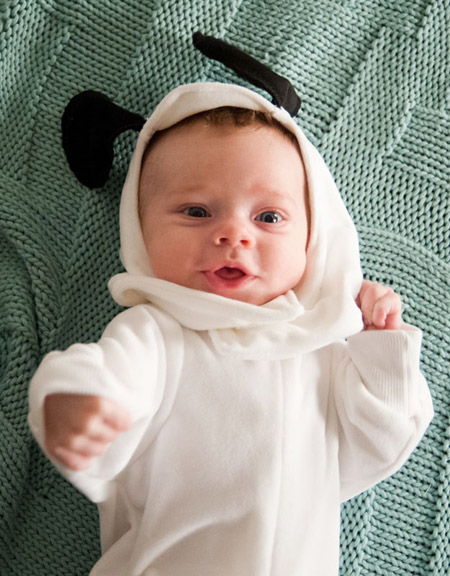 This challenge came along at a time when I really needed it, and I feel so honored, and so lucky, to have won. This year has brought about a lot of change, all good, but good can still be overwhelming at times. Before the birth of my son I had a huge sewing room where I had plenty of room to draft my patterns, drape on my dress forms, and sew up a storm on my beloved BERNINA Aurora 450. Now we have a beautiful baby boy, a lovely nursery, and a closet full of sewing supplies.
After three months of being a new parent I began to realize that some of the hardships were taking a toll, and I needed a serious dose of creativity. Baby Zachary was experiencing a reaction to the formula we were supplementing this meals with, and during the transition to a new, easier-to-digest formula supplement, had spent all weekend since the Thursday before screaming in discomfort. I needed something else, something totally different to think about, to help get me through this really rough patch.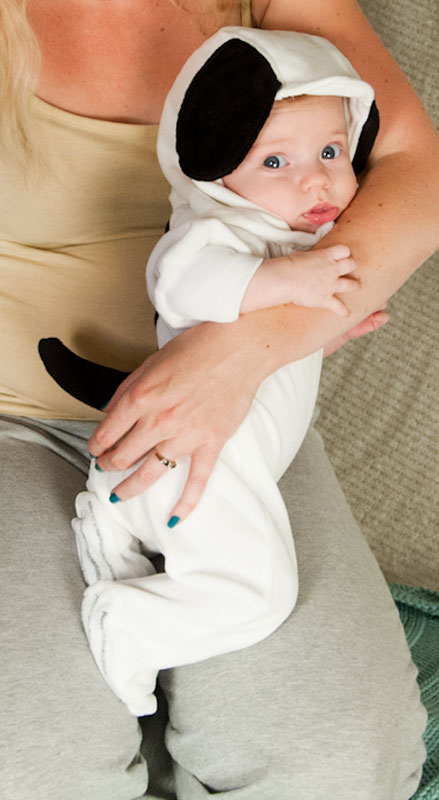 I received the email about the third BERNINA WeAll SewChallenge on the very last day for entries to be submitted. I remembered seeing the emails prior to September 24th, but they never quite registered in my new parent state-of-mind. On that Monday morning I realized that I needed to enter. I needed the creativity. I needed the project, and I needed a start point and an end point to know I could make it through.
Both big Snoopy fans since childhood, my husband and I had already talked about having Zachary be Snoopy for Halloween. All of a sudden I realized my sad, scary, worn-out maternity pants would be perfect for up-cycling for this challenge to make his little costume. I started with a black pair and a white pair of velour maternity pants. To be completely honest, the black pair weren't very scary. The scariest part about them was how, well, stretched out they became over the course of my pregnancy. The white pair was scary from day one, and I have no idea what prompted me to buy them. I'll have to go with hormones. What was I thinking? I think that white velour pants are maybe not a great idea for anyone, but certainly not for a pregnant woman.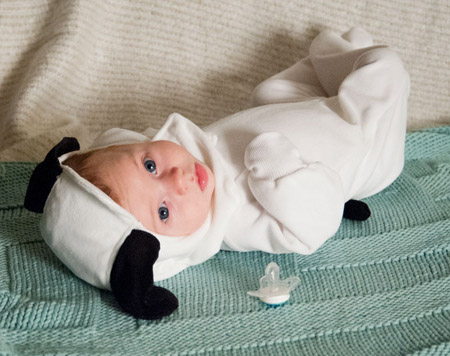 I started this project by drafting my own pattern. I had previously bought a McCalls pattern for a baby costume, but upon opening realized it was much to big for my little 3-month-old baby. Zachary decided to help me start this project by continuing with Scream-Fest 2012, which lasted all day long. To be honest, I have no idea how I was able to complete this project in one day. I drafted my new pattern, traced it off, cut the seams open on my pants, ripped the ribbed waistbands off, and got down to business. I used the white pants for the body, the hood, and the hood lining. I used the ribbing from the white pants for the sleeve cuff. The black pair was used for the ears, spot, and tail. My only new materials were thread, and an invisible zipper. In the middle of bouncing, feeding, and soothing, at the end of the day my costume was finished. Wow, the little guy's crying was a whole lot easier to deal with when he was dressed as Snoopy. Who would have guessed?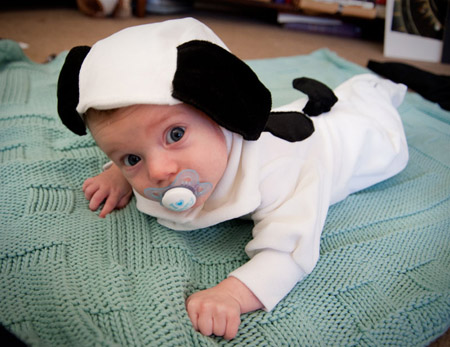 I had to rush through the whole project just to get it done in time. This is not normally how I work, though since having the little guy, I often feel that this is the only way I am able to accomplish anything. Every time I sew, I do my best to maintain a high level of quality & craftsmanship. I started a blog a few years back—project-hallway.com—to document my endeavors in learning to sew. The project that I am most proud of I honestly never thought I'd be able make. It is a leather dress with a full inner structure, including a bustier and boning. No undergarments are needed, as they are built in, to accommodate the back of the dress which drops to an inch above the waistline. I bought the leather months before even starting the project. It scared me. Once you put a hole in leather, you can't un-do it. My favorite tool—the seam ripper—would be obsolete. I went to the shop where I bought my BERNINA and acquired all of the appropriate leather feet for the project, the needles, and still they sat for months. Only when I had an event to wear the dress to did I even begin cutting. I worked on drafting the pattern, cutting muslins out of duck-cloth to emulate the thickness and rigidity of the leather. When it came time to sew all of my hard work paid off. I had the dress done in an afternoon. I could not believe it. I had done it!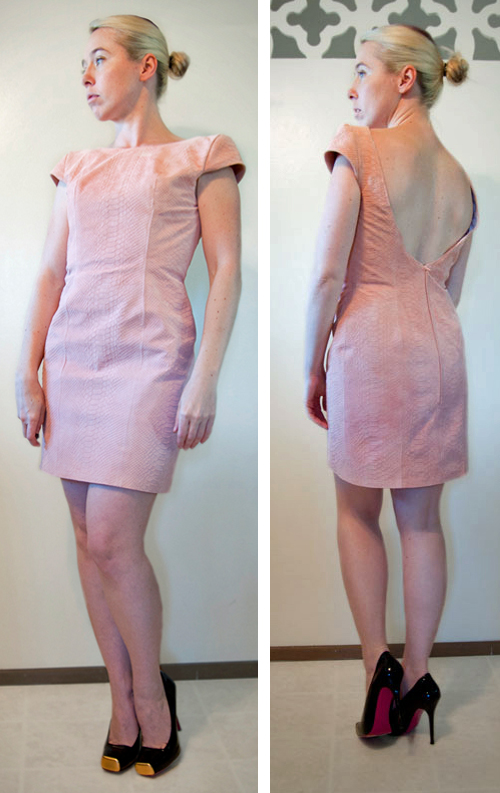 It made me realize that I should have a lot more confidence in my skills than I did, which ultimately helped with this Snoopy costume, my limited time, and diminished mental state and my inability to hold onto a thought of more than 3 seconds. I think that a lot of people fall into this trap, and this is why I think it is really important to push yourself to new levels, try new things, things which you think are impossible! With time extremely limited, and a screaming baby I pushed through, and in the end—even though it only took a day—I felt so proud of what I had accomplished. So proud, in fact, that I have since drafted and created my Halloween costume so that I may troop around with my little Snoopy, as Lucy! My mental state was so much better after making Baby Snoopy that now I am working on all sorts of projects again. I am inspired, and happy, and my little Baby Snoopy is, too.
Julie (as Lucy), Baby Snoopy (a.k.a. Zachary), and Woodstock. Adorable!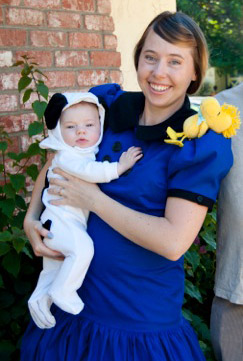 What you might also like
14 comments on "Julie Grantz LeFrancois – Challenge #3 Winner"