Paula Scaffidi Plays with CutWork
Paula Scaffidi AKA Fiberella writes…
I've been having a fine adventure playing with my CutWork Tool. I started out just wanting to "make-it-go" and found out it was easier than I thought. To help get me started, I worked through the BERNINA tutorials that came with the CutWork Tool.* With a little foundation knowledge in place, I then struck out on my own with a goal of just doing something simple and fun.
* I'm also a big fan of BERNINA webinars and the entire educational team; for their inspiration and expertly demonstrating machine, accessory and software features. They always get me started so I can create and guide Fiberella Studio adventures.
Here's a glimpse of what I've been up to with CutWork in the Fiberella Studio. My first project is a Raw Edge Silk Leaf Pillow.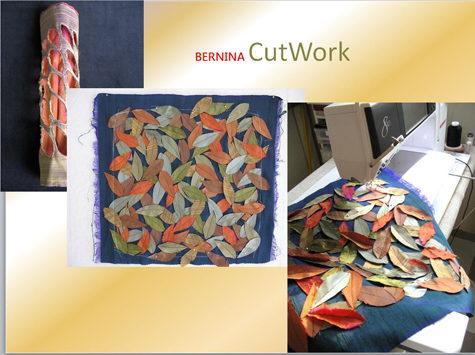 What fun to have a nearly instant pile of silk leaves on your table to play with!
As an aside, I have to admit I like the leftover tube in the upper left of this PowerPoint slide just as much as I like the leaves themselves. It intrigues me: the weight of it, the way it feels in my hands and how it drapes. As an admitted textile-material squirrel, I naturally will find a way to use all parts in a single CutWork hooping. That's one of my quests anyway. Had I known I would like the "leftover" as much as I do, I'd have used black thread (instead of white) to outline/stabilize all the leaves before cutting. It was an unexpected fun discovery …out of my periphery. I was so focused on the leaves that I wasn't thinking at all about the empty space as a shape. Since the BERNINA CutWork Software asks you which part are you going to save as your cut motif, the inside or the outside, I've learned to answer that question but still plan to use both: the "positive" and the "negative" shapes. I no longer miss thinking about that empty shape too.
While assembling the pillow fabric, I was so thrilled to utilize a feature on the BERNINA 830 I hadn't done much with before. The 830 makes it easy to program in a certain number of stitches before an automatic tie-off. With an auto tie-on at the beginning of the sequence also engaged, it was unbelievably relaxing to attach the leaves to my silk base. All I had to think about was playing with the colors.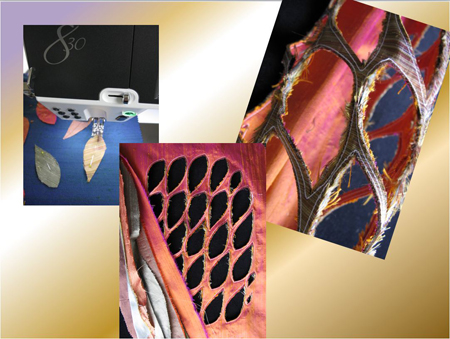 I'm thinking there must be a way to use this sort of structure in sculptural items. Hmmmmmmmm. More to explore!
Below I'm using multiple layers of sheers held together with CutWork stitching. The accessory cuts them out for me too. I'm fascinated with the idea of making my own small, dimensional and unusual trims for personalizing my textile art. I would never ever have the patience to create an abundance of tiny ornaments individually, but would love the CutWork accessory to create lots of little ornaments for me. The tiny experiments below indicate my day dreaming about little leaves and baby bird feathers. I'm guessing a bit of cabin fever is kicking in, but spring will be on the horizon before long.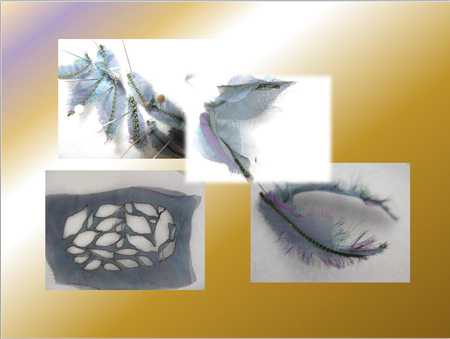 Oh …and there's still that empty piece I'm thinking about. What kind of strange lace is that? What could I use it for? How would I reshape it? I'm working on it. 🙂
Wishing everyone a creative summertime in your studio!
Best,
Paula Scaffidi
Learn more about this cutwork pillow at Paula's eLearning site: http://www.fiberellastudio.com/cutwork.html There are other Free-Views there for you to enjoy too.
See which eLearning courses are upcoming at the Fiberella Studio Online: http://www.fiberellastudio.com/upcoming.html and how you can participate in Paula's eLearning courses, no matter what your schedule:
http://www.fiberellastudio.com/eLearning.html
Projects

home décor

Techniques

crafts
What you might also like