Sewing with SewGlow, an Experiment!
Exploring a new or unfamiliar material jumpstarts adventure and the returns are rewarding.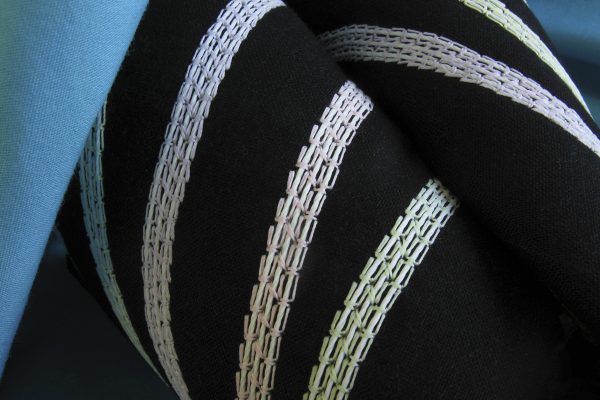 Lately I've been playing with SewGlow from Superior Threads. This is an interesting challenge because the thread weight is designed for industrial sewing machines. Way too thick for domestic machines, even bobbin work, it glows mightily. SewGlow was laid on top and pastel NiteLite colors were used in the needle to form the stitch pattern. A 50 wt. from Superior Threads, NiteLite adds a gentle glow back in as it masks some of the extraordinary SewGlow.
SewGlow even comes in more than one glow color. I'm intrigued. After working through a few experiments, I realized I wanted to create my own "smart fabric" projects and something fanciful, artful.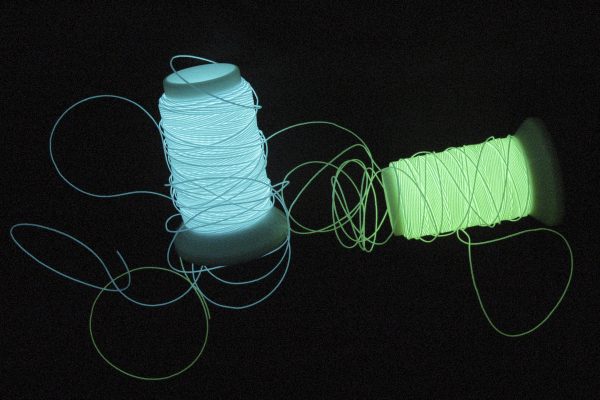 While exploring, you can take advantage of a material's nature and overcome small challenges too. SewGlow is lively coming off the spool, but I found a way to relax it. For smooth feed to any accessory foot, pretreat SewGlow with a brief pull under a warm iron. Its lively, slightly wiry nature also lends itself to providing wonderful structural support. That single observation led to a variety of intriguing experiments and project applications.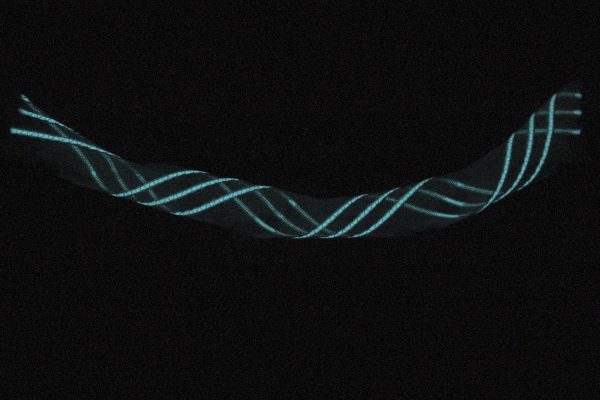 This is a tubular trim, photographed in a dark room. Look at it glow! It appears to float in the dark and in daylight, but is actually sewn to a base. The tiny zig zag is the underside of a corded pintuck. Experimenting is a little like working in the dark. Be prepared to be surprised.
Where to begin? At first I just set out to make a material "go" or work somehow. A good starting place is to use familiar techniques; any that seem appropriate for your material. Test. Tweak. Observe. I note important details about experiments and attach to samples. This helps me decide what the next experiment should be.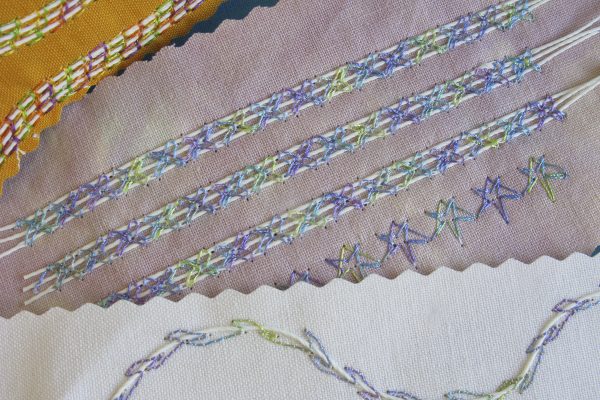 The bottom curvy sample needs machine setting adjustments. A longer stitch length would better suit this 40 wt. thread. Upper and bobbin threads can be balanced nicely, but aren't yet. See the bobbin thread popping up?
As one experiment naturally leads to another, chase down results that peak your interest. Become sensitive to any easy-to-miss, timid first hints of something, anything, pleasing. Change one variable at a time. Aim to reveal which techniques, machine settings, stabilizers, etc. will reliably produce both the look, and the quality of stitches you most admire.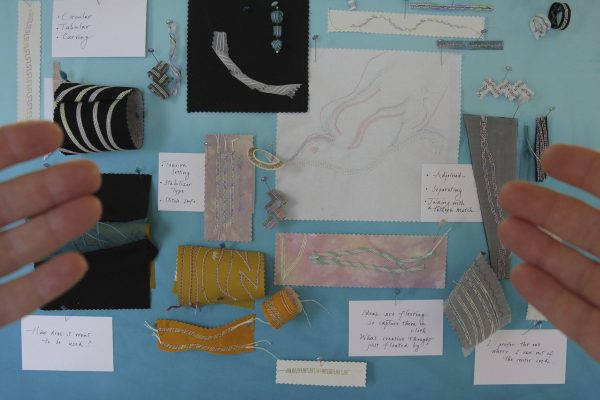 SewGlow couches quite nicely and fits perfectly in the BERNINA 3-Groove cording foot # 22 . My goals became clear while selecting and adjusting stitches to couch with: hold the SewGlow down; use a pattern I like, one that avoids direct needle strikes on the SewGlow; and avoid masking too much of it for maximum glow effects. Finding out what doesn't work speeds up revealing what does.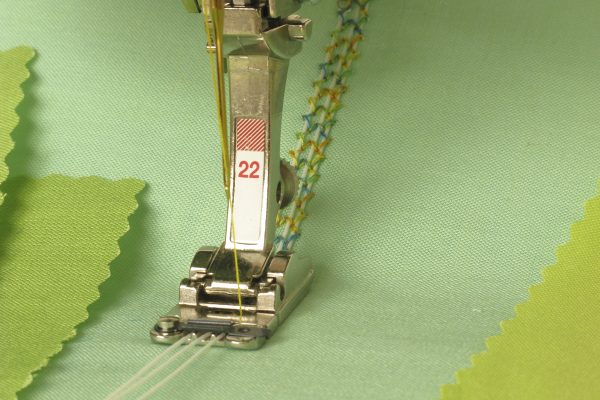 Other accessories? Wow. I could even make corded pintucks. "Who wouldn't want pintucks that glow?" I mused. Grooves in a pintuck foot are ideal for neatly parallel rows. And gentle curves. Any sheer fabric allows corded pintucks to glow, both top and bottom. Which pintuck foot is a perfect fit? I love the BERNINA 9-Groove pintuck foot #33 for guiding SewGlow. The BERNINA Pintuck and decorative stitch foot with clear sole # 46C  is also a fine choice.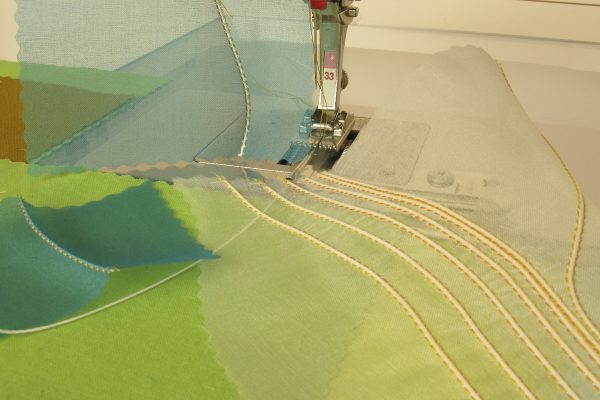 Below, I switched out to a single needle and tiny zig zag, instead of the twin 1.6 needle and straight stitch.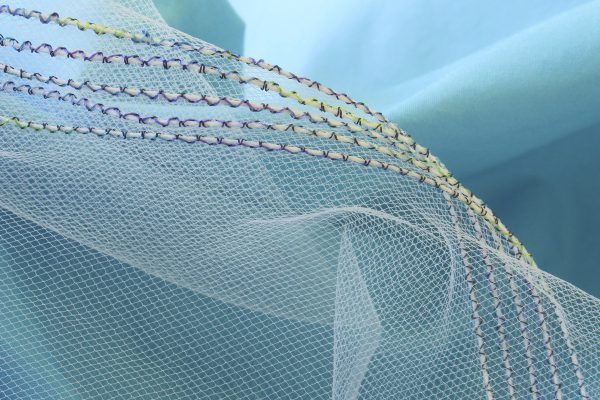 Hmmm…  Glowing, dimensional tulle …not sure what it's good for yet, but next time I'll use matching thread, top and bobbin.
And what could I twirl in with SewGlow to fill out the tunnel in a BERNINA Braiding foot #21? You get the picture. Make room for wonder.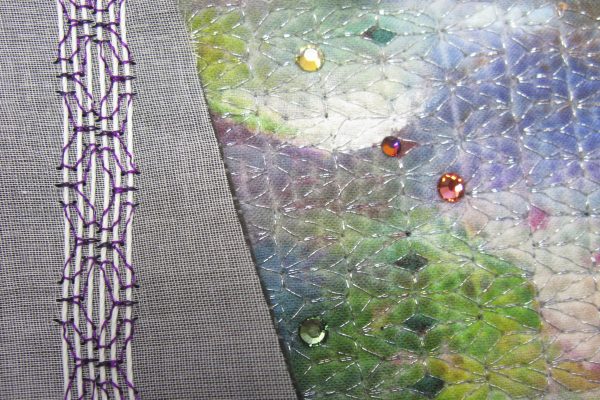 Meanwhile, mull project ideas. It's perfectly fine not to have a project in mind at the beginning. In fact it may be even better, creatively, just to see what IT (whatever your material is) wants to be when you handle it. Try things and wander around a bit. Such fun to see where exploration leads you! As the techniques develop and are refined, you'll be able to think about how you'd love to use them. So ask, "How does this material fit my machine, accessories and my sewing life?"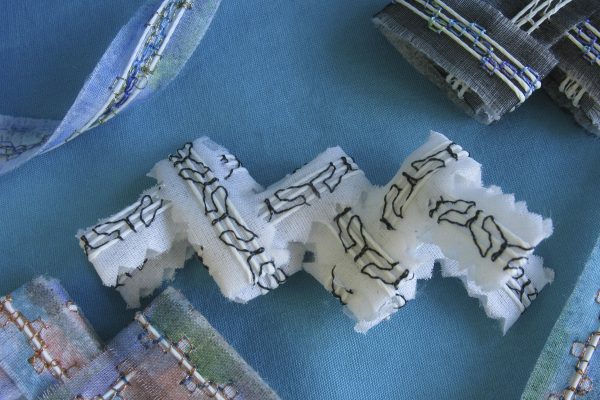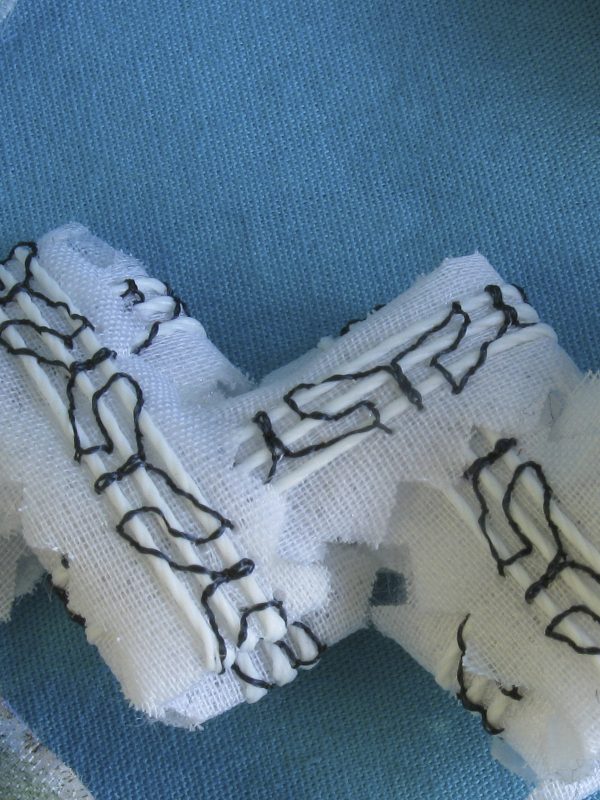 Keep experimenting. Project ideas, like refined techniques, arrive in due time. Have a little patience and list ideas as they come to mind.  The luxury of a list is that you can opt to create the projects that intrigue you most.
My current SewGlow list includes:
eyeglass case
key case
trim on a lampshade
outdoor home dec pillows
embellishment on a raincoat or umbrella
playful scarf pin
edgy apparel
handbag
art vessel
…and with outdoor concert and festival season on the horizon, cuff bracelets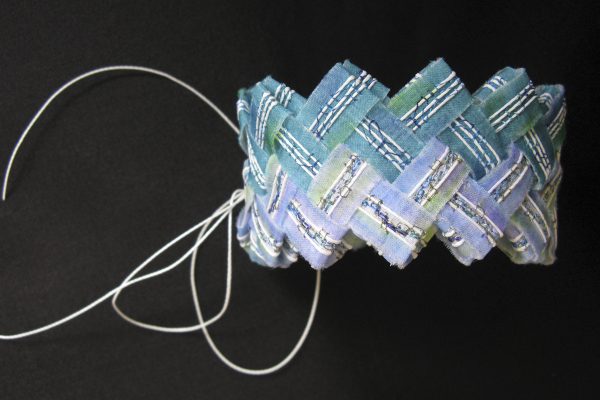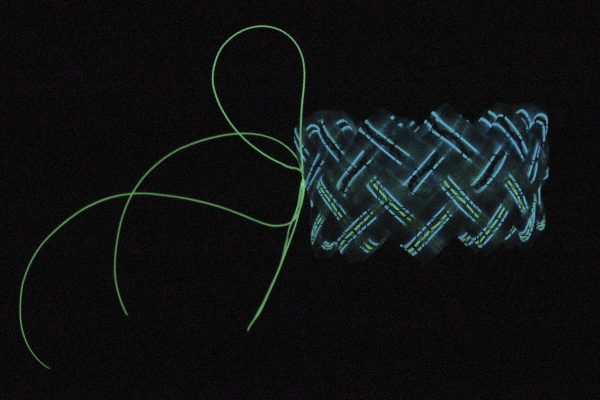 Upcoming on WeAllsew blog; How-to create Festival Cuffs …Glow-in-the-Dark Bracelets. Experiments led me to where I can share my best methods with you!
Find out more about textile artist Paula Scaffidi.
Techniques

sewing
What you might also like
One comment on "Sewing with SewGlow, an Experiment!"