Personalized Mitered Napkin Tutorial
Hello Everyone,
November is one our favorite months here at AGF because it's the month of giving thanks and being grateful for friends and family. Of course we should celebrate this everyday out of the year, but November is the month most of us no matter where you live will travel home to be with family and friends. Dinner tables will be set and amazing amounts of food will be prepared!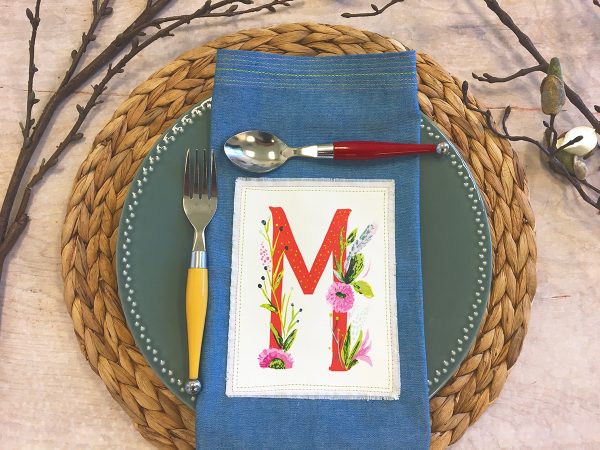 To make your dinner table extra special this year we want to share with you a quick and easy personalized napkin tutorial. To create this project we used the Joyeux Alphabet print from the Joie de Vivre by Bari J. Choose whatever letter you want and fussy cut! For the napkin we used our luxurious outland yarn dyed fabric called Endless Paradise. We have five different yarn dyed fabrics to choose from and it is perfect for napkin making. So grab a color and let's get started! You can pick up these fabrics online or in your local store.
AGF loves the gift of giving and one thing we love giving away is fabrics! If you love our new yarn dyed fabrics and prints from Joie de Vivre (which I think goes together so perfectly), then get ready to enter this amazing FABRIC GIVEAWAY! With this bundle (pictured below) have fun creating this napkin tutorial or other gifts to give away this holiday season! See details at the bottom of this post, and good luck!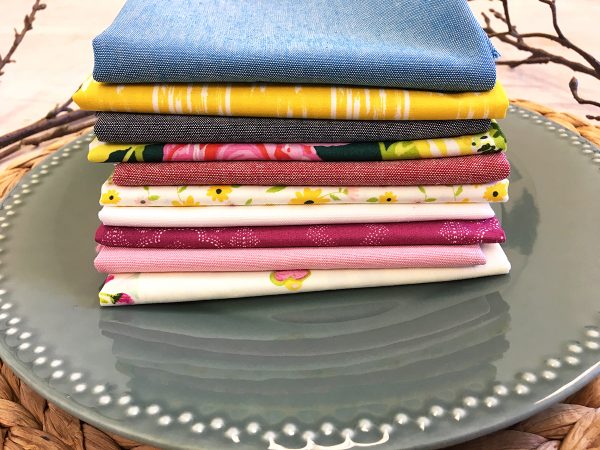 Finished Napkin – 15″ x 15″
Materials to make a Personalized Napkin:
Fabric A – JOI-79129-Joyeux Alphabet
Fabric B – DEN-OYD-6000- Endless Paradise
Fabric C – PE-433-Snow
Cutting Directions
One (1) Fussy Cut 5″ x 6 1/2″ rectangle from Fabric A
One (1) 17 1/2″ x 17 1/2″ square from Fabric B
One (1) 4 1/2″ x 6″ rectangle from Fabric C (lining)
Cut Steam-A-Seam for pieces from Fabric A and C 1/4″  smaller than the pieces.
Other Materials Used:
Sewing machine (we use a BERNINA 570 QE)
Seam Gauge
Spray Starch
Fabric Marking Pen
Clear Ruler
Scissors
Aurifil Threads Used:

#2021- Natural White
#2430- Antique Rose
#1231-Spring Green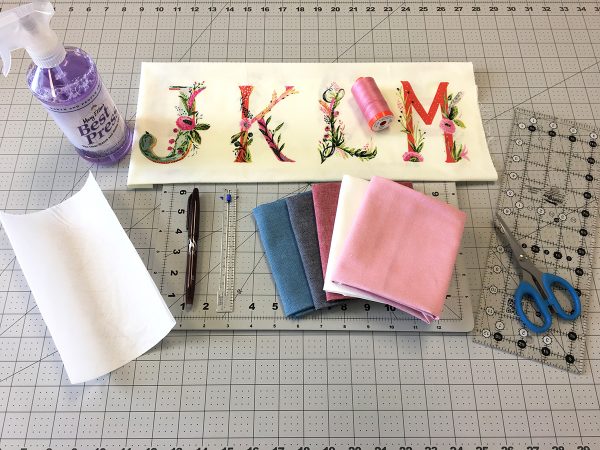 Step 1: Creating Mitered Corners
Press over 1/4″ all four sides of your 17 1/2″ square from Fabric B. Our yarn dyed fabrics are perfect for napkin making with its wonderful texture and open weave. Spray starch works great to keep fabric from distorting when pressing your raw edges in. Use generously! I also like to use a press cloth when ironing. Once you fold all edges in 1/4″, fold over and press at 1″ all four sides.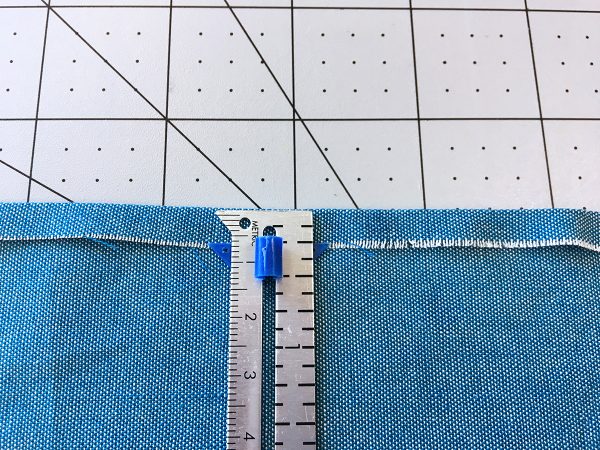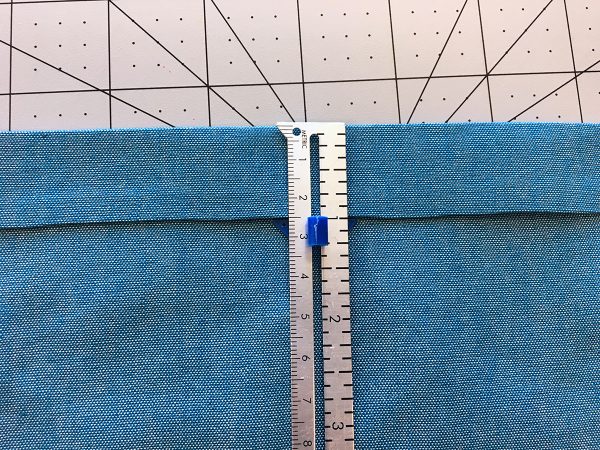 Now to create the mitred corners. Open up your piece but do not unfold your 1/4″ fold. Fold your piece in half diagonally.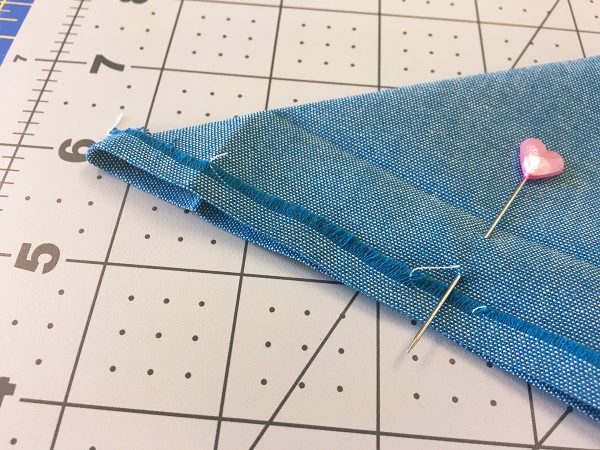 Match up the crease lines created from the second time you pressed the edges of your napkin. Pin in place, and place the edge of your ruler against the edge of the diagonal fold. Place the the corner of the ruler at the intersection of the crease lines.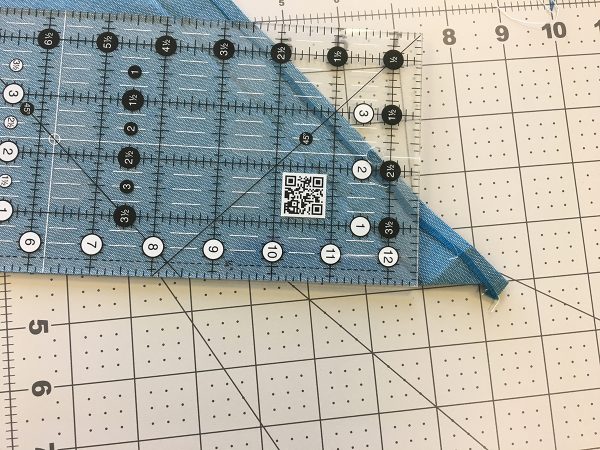 Draw a 45 degree diagonal line across the folded corner. This will be your sew line. Sew along the line, making sure to leave 1/4″ turned under as you sew. Trim your corner leaving a 1/4″ seam allowance.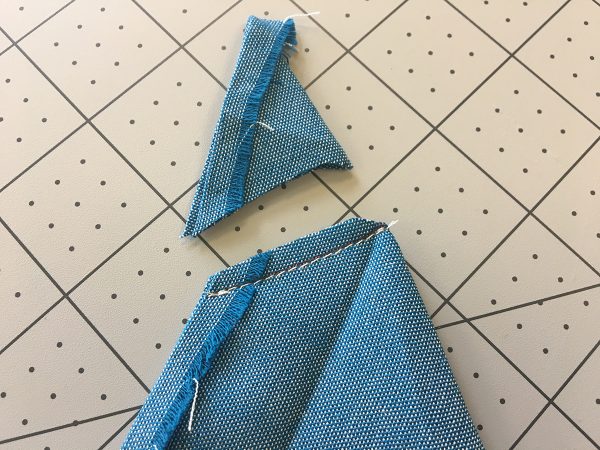 Turn your piece right side out and use a sharp object like a pencil or a point turner to make a nice sharp corner.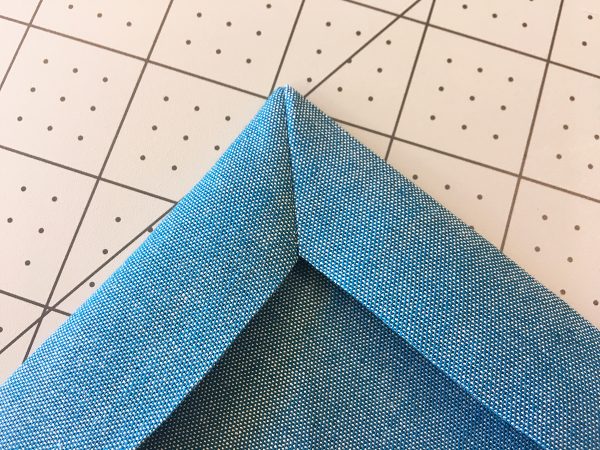 Open up the seam allowance. This will help your your corner to lay nice and flat. Repeat this step for your remaining corners. Then topstitch close to the edge. I like to use my Blindstitch foot #5 to get close to the edge and using the metal guide to keep my stitch nice and straight.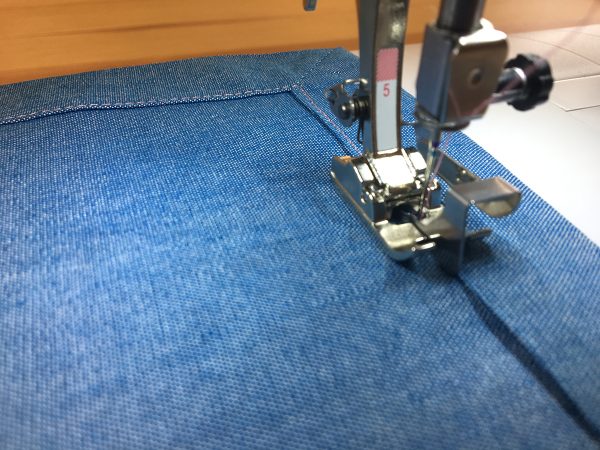 I topstitched my napkin on the outside edge as well and then alternated topstitching about 1/8″ with different color threads. The middle stitch I used a triple stitch to have it pop out more then then the rest of the stitches! Feel free to also use some of the  wonderful decorative stitches Bernina has to offer. The possibilities are endless!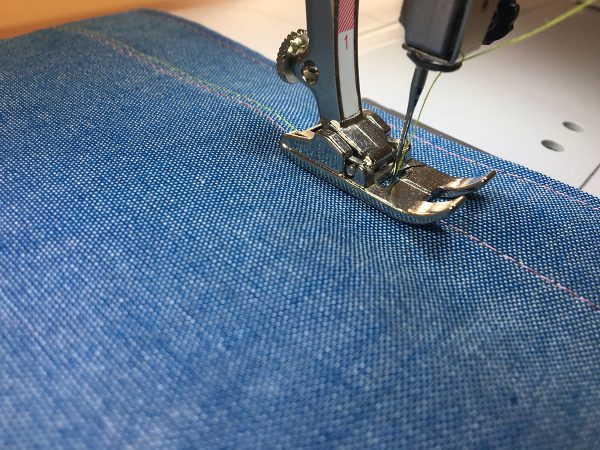 Step 2: Letter Applique
To create the letter applique in the center of your napkin, fuse Steam-A-Seam to your 4 1/2″ x 6″ rectangle from Fabric C, then fuse to the back of your 5″ x 6 1/2″ fussy cut letter. Next, fuse Steam-A-Seam to the back of your piece and place it on the center of your napkin, and press into place. Topstitch twice with two different color threads to make your letter pop off the napkin!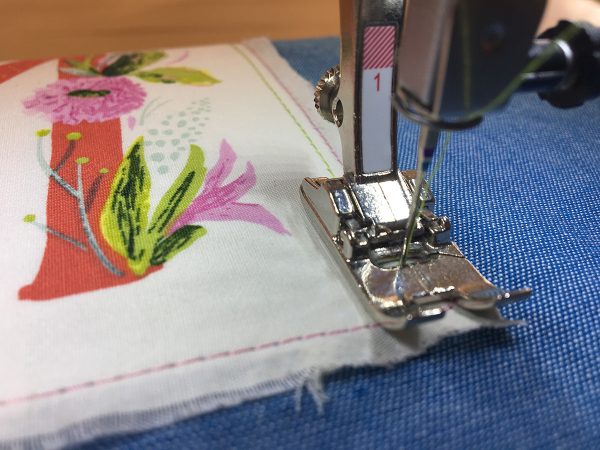 To fray the edges, use your finger nails and scratch the fabric back and forth until you can pull a few threads to unravel the fabric. The fraying detail adds a lovely detail that I think works beautifully with the organic look of the yarn dyed fabric.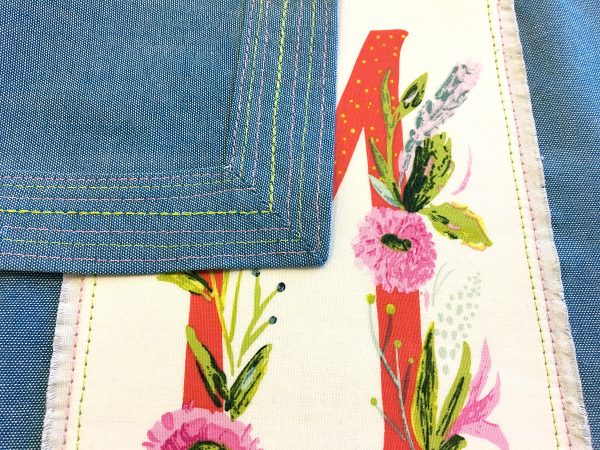 And voila your napkin is complete! Set your table as desired. These personalized napkins will be sure to be a hit at your family and friend get togethers this holiday season.
Happy Sewing,
AGF
Enter now for a chance to WIN a bundle of AGF's yarn dyed fabrics and prints from Joie de Vivre for your very own! One lucky WeAllSew fan will receive this fantastic fabric gift. All you have to do is post a comment below and answer the following question:
What will you sew to help decorate your table or home this Thanksgiving season?
Open for comment entries to the giveaway until Monday, November 21st at midnight CST. Giveaway is open to legal residents of the 50 United States and the District of Columbia who are 18 years of age or older. A winner will be chosen at random later next week, and announced right here!
Congratulations to our WeAllSew reader "beckyb1342", the winner of the bundle of AGF's yarn dyed fabrics. Enjoy!
Projects

home décor

Techniques

sewing
What you might also like
129 comments on "Personalized Mitered Napkin Tutorial"