Sew to Serve Brimming with Love
Brimming with Love located in Dallas, Texas is an organization dedicated to providing free hats to cancer patients across the Dallas-Ft. Worth Metroplex   area.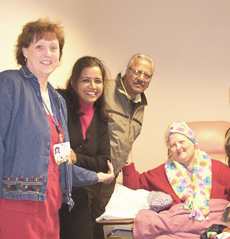 Find out how you can directly help the organization by visiting the Volunteer page, or read where you can send your handmade hats to help Brimming with Love complete their mission.
If you're thinking, "I wonder how hard it is to make a hat, I've never made one before!" don't hesitate to give it a try. Brimming with Love has gathered together a page full of patterns, many of them free. Or, find even more hat inspiration online at Sew Weekly with these fun 10 Free Hat Tutorials. We hope that you are inspired to sew a hat to serve someone in need, either to help Brimming with Love or even someone in your own community!
Projects

hat

Techniques

sewing
What you might also like