Sewing Travel Kit made from a Clutch
Learn how you can quickly convert a clutch into a really sweet sewing travel kit by Amanda Leins at Mandalei Quilts. A great last minute gift idea for the Holidays.
With all the parties and fancy dress events, this time of year is perfect for finding the supplies to make a really sweet sewing travel kit! Stores tend to stock fancy little clutches that are a bit oversized, which means you can fit an astonishingly useful set of supplies inside.
In this tutorial, I will show you two versions: the simple one, where I stuff it full of goodies and call it done, and the more elaborate version, where I do some cutting to the interior and add some handmade bits. This tutorial is dependent on the clutch I found to use, but you can adapt it to whatever you are able to find!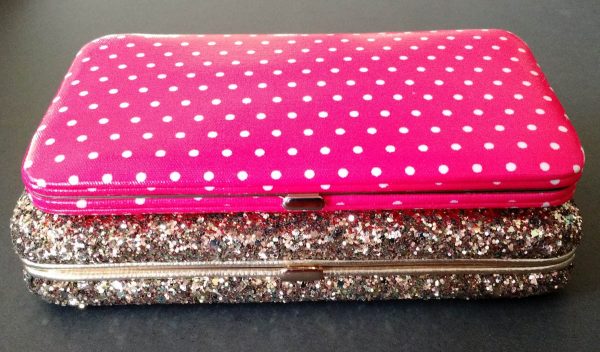 You can use the skinny versions for smaller and flatter objects (the pink polka dot on top), but I really love the clutches that are a little bit taller, like the gold one on the bottom! These bigger clutches are often seasonal items, I've found, so be on the lookout.  The smaller clutches make great gifts for wedding parties that may need a mini sewing kit on hand.
As these come, the inside on its own can already be put to good use.  The slots for credit cards make handy holders for needle packs and thread floss, and the pocket for cash has enough room for a decent pair of scissors. When giving this as a gift, you can tailor the items you include to the person who's receiving it. If it's for someone who uses perle cottons or floss, you can also add Alison Glass's beautiful thread winders, which are a super special touch or make your own. A tiny mini quilt can be slipped in to hold threaded needles, and to make the gift more personal.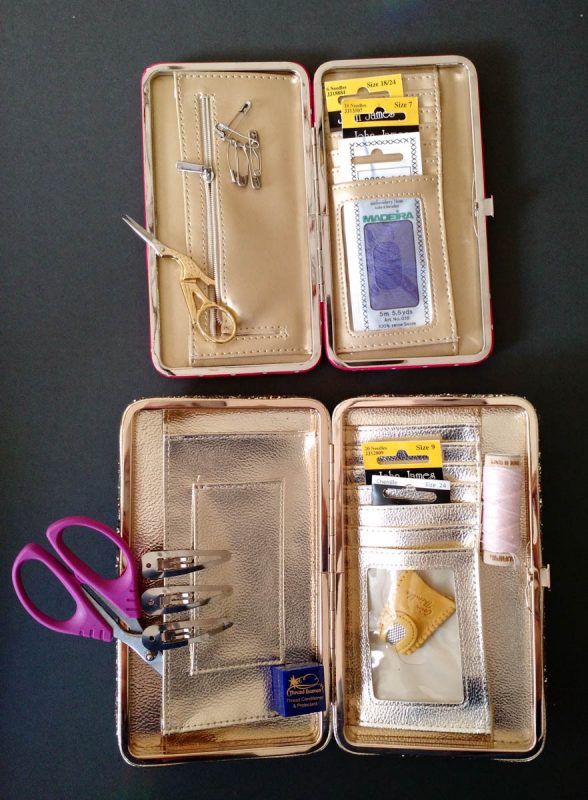 If you want to go a little further, though, you can perform a little surgery on the inside of the clutch to customize it even more. In this version, I cut the sides out from one of the pockets to create a flap and left enough of the material at top and bottom left over to sew three wool felt panels for needles and pins. To cut these, I first used scissors to cut the pocket, then a razor to trim the excess material. Be very careful of your fingers!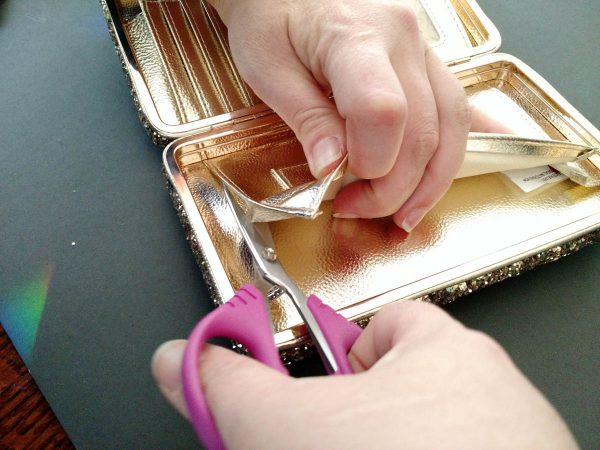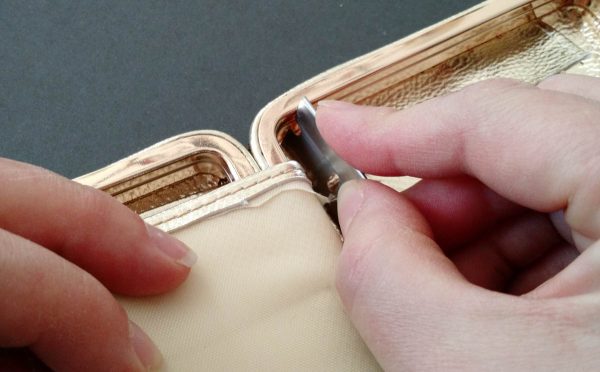 Never cut directly toward your body and keep your hands and fingers out of the way. In this, it's like using a rotary cutter.
If you're adding a  sewn-in panel for needles to this side, as I am, make sure you leave enough leftover material from the credit card slots to work with!
I measured the interior and decided how big I wanted to make my insert. For this clutch, I chose to make it 2″ x 6″. It would be fun to make a little quilted pad, but I chose to use felt for this version so I could have two layers on one side, and a third on the opposite side to make leaves like a book. You can use pinking shears or other fun scissors to trim the edges. It's also a chance to pick colors the recipient might like, and maybe even add a special touch at the bottom using the decorative stitches on your sewing machine. I sew on a BERNINA 790.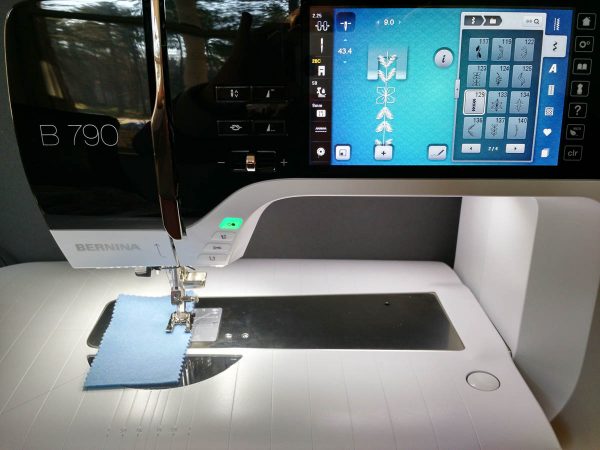 This will be a slightly finicky sewing job. You may even want to use an awl to punch holes and then sew through the holes, as you might with leather. I punched hole every 1/4″, and used a # 24 chenille needle and perle cotton to sew my insert in place through the holes I've punched. I knot it securely by tying the ends together in the back using a square knot.
It is also easy to make a decorative winder with paper, by gluing two pieces of scrapbook paper together, and then trimming the edges with a punch.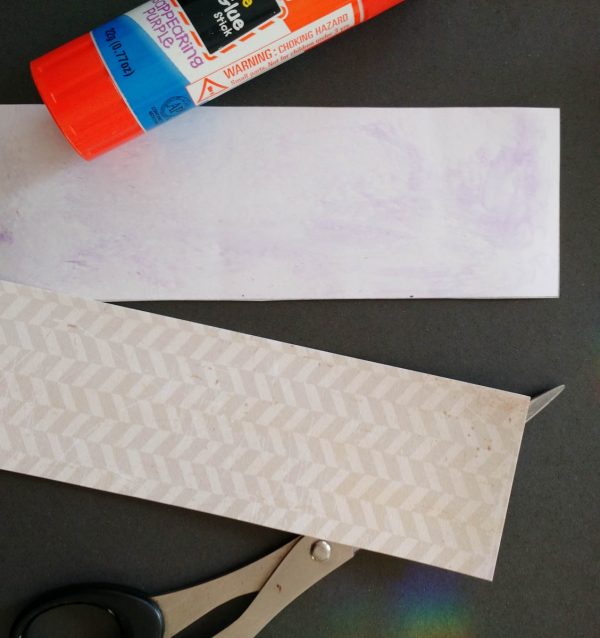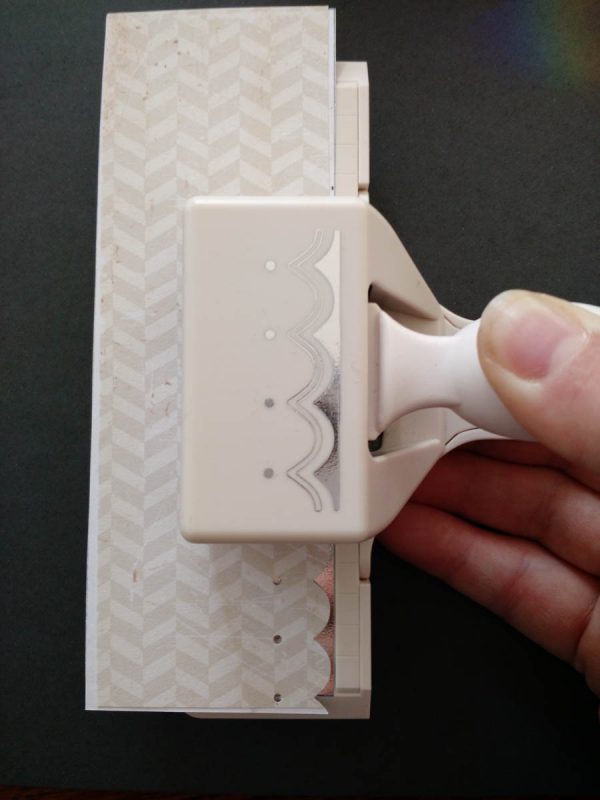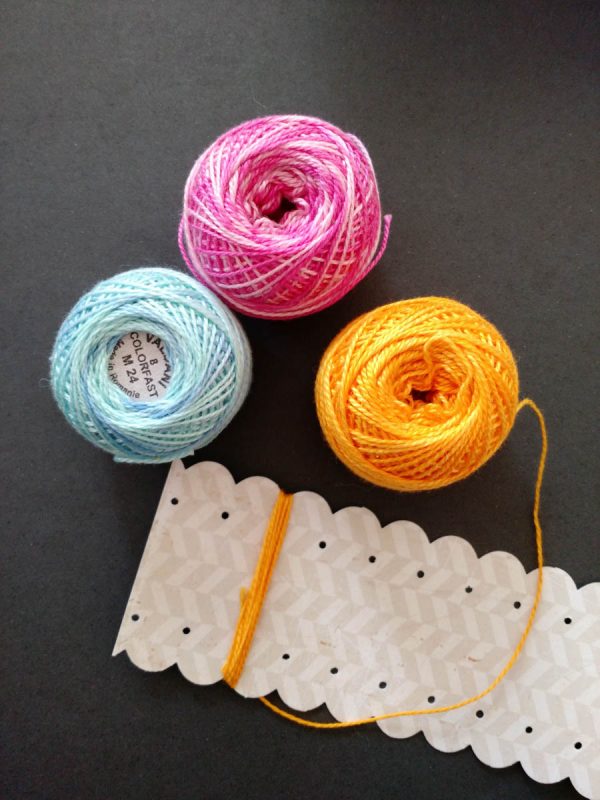 If I am not using Alison's floss winders, I like to include the option of a loop for holding L-class bobbins. Winding thread on these such as Aurifil or silk allows me (or, ahem, my recipient) to load up a bunch of options for hand piecing or applique. To do this, I used a wide hair band elastic. I cut the band open, and using my razor, cut a slot just wide enough for the ribbon to pass through, which I knotted in the back. On the opposite side, I punched two holes the width of my button holes, and attached a large vintage button. After threading my bobbins through, simply wind the elastic around the button a couple of times.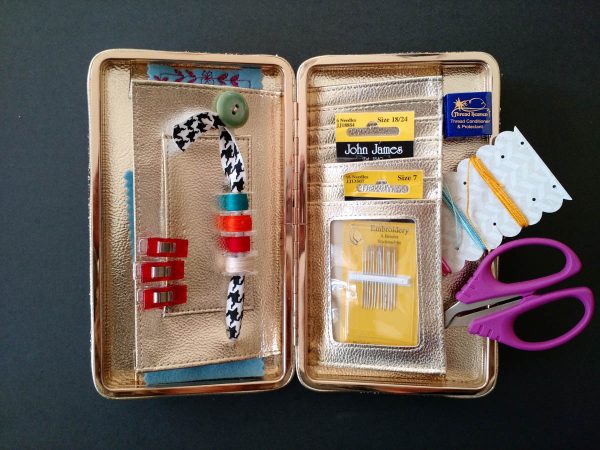 If you choose to add the bobbins, be aware that it may be a bit bulky to have them AND the card slots filled completely at the same time, and you might want to audition them first. It will be easier to close if the bobbins are as close to the base as possible, which I did not do for this clutch.
At this point, I call my sewing kit pretty much done!  Use your creativity to run with your ideas, and I'd love to see what you come up with! I hope you share them with me @mandaleiquilts and @berninausa on instagram using the hashtag #berninausa and #berninaholidays!
Our December 14 Gift For You
Today's gift is the design CD with the entire Twelve Days of Christmas embroidery collection from OESD including a set of matching embroidery thread to one of our awesome WeAllSew fans!
All you have to do is post a comment below answering the following question:
What would your travel sewing kit include?
Enjoy!
Congratulations to our WeAllSew reader "ses1234", the winner of the December 14 gift. Enjoy!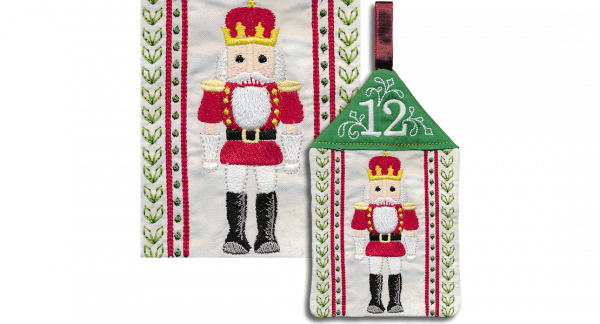 Difficulty level

Beginner

Projects

fashion

Techniques

crafts, sewing
What you might also like
95 comments on "Sewing Travel Kit made from a Clutch"