Quilted Christmas Stocking
Hello and Happy Holidays, its Molly Hanson of Sew Wrong…Sew Right, author of Free Motion Quilting for Beginners (and those who think they can't) and proud BERNINA ambassador, here to share with you a super quick and easy quilted Christmas stocking that you can practice your free-motion quilting on first, and then put together in just a few minutes!

I am always looking for fun new ways to get some free-motion quilting practice and then put that practice to good use with a practical project. This stocking is exactly that—perfect size to practice on, with a good amount of space and endless design options—and then in just a few minutes you can turn all that pretty quilting into something worth showing off. These would make great gifts, and if you happen to have some fabric you've already quilted then they are perfect last minute gifts… and what quilter doesn't need a few of those up their sleeves? If you have an old stocking to trace, a few fat quarters and some batting and a bit of trim to use at the top then you have all you need- let's get started!
Supplies to create a quilted Stocking
One stocking that can be traced to create a pattern
2 pieces of fabric big enough to trace both sides of the stocking onto
Batting appropriately sized to the fabric you are using—for these stocking I used fusible fleece batting, but any batting will work.
Stocking trim or fabric for binding the top edge—I purchased a yard of "fleece felt" which is felt with a fluffy side—and cut it down to 5″ wide strips (which I eventually folded in half) to use as my stocking trim—you can also purchase regular faux fur stocking trim in the trim section of any big box sewing store. You'll need enough to go around the top of the stocking.
Step 1
Trace both sides of your pattern stocking onto your top layer fabric.
Step 2
Create a quilt sandwich and quilt the inside of the quilt stockings as desired. If you need any quilting ideas or help try my book, you'll find all the information you need to make these and several other great quilted projects, including many different stitch designs and options for how to use them.
The BERNINA Free-motion embroidery foot #24 is my choice for free motion quilting
Now that the stockings are all quilted, carefully cut around your quilted stockings right next to the edge of your traced pattern.
Step  4
Now, with right sides of the stocking pieces facing and with a 1/4″ seam allowance, sew down from the top on one of the straight sides a few inches. Open the stocking up and pin your trim to the right side top edge.  Sew trim.
Step 5
Once the trim is on, arrange so right sides are facing again and sew around the remaining edges of the stocking. Remember to clip your corners around the curved edges just up to the seam to make turning neater.
Step 6
Turn inside out and Voila your stocking is all finished! You can add a hanging loop if you like. Hope you enjoyed this tutorial and have fun making quilted stockings this holiday season.
Our December 13 Gift For You
Today's gift is a selection of 5 fat quarter fabric sets to one awesome WeAllSew fan. All you have to do is post a comment below answering the following question:
Which free-motion quilting design would you choose for your quilted stocking?
A winner will be chosen at random on December 14, 2015 and announced later this week!
Good luck!
Congratulations to our WeAllSew reader "cards4u", the winner of the December 13 gift. Enjoy!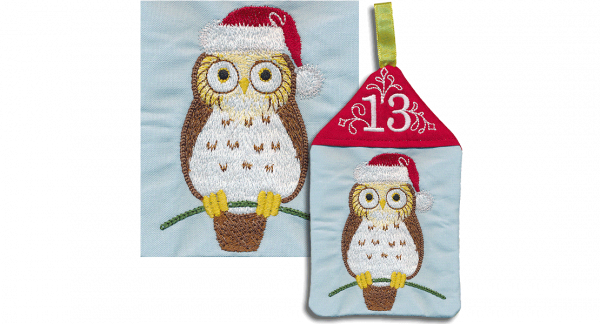 Difficulty level

Beginner

Projects

home décor, stockings

Techniques

free-motion quilting, quilting, sewing
What you might also like
70 comments on "Quilted Christmas Stocking"