Thank You for Helping Us Reach 100,000 Facebook Likes!
Thank you for helping us reach 100,000 Facebook Likes! It's wonderful knowing we have so many fans out there in web-land, and we're looking forward to bringing you even more inspiration and information in the months to come.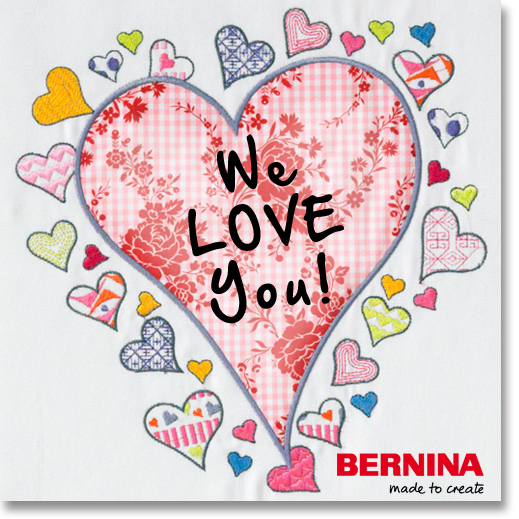 To celebrate this milestone, the first 100 fans to leave comments on the questions below will receive a small gift – a wallet-size needle reference guide. And because we love ALL our fans, we've also provided some useful information about decoding sewing machine needle packets at the end of this post. 
Where else do you visit WeAllSew/BERNINA online? 
What are your favorite topics and what else would you like to see us to cover?
Thank you for your comments and helping us make WeAllSew the best it can be!
Sweepstakes Rules: Open to residents of the 50 United States and the District of Columbia. One comment per fan. Comment must be submitted to the WeAllSew.com blog. Winners will be notified by email and will have 48 hours to contact us at WeAllSew@berninausa.com to claim the prize.
Having trouble logging in? Try logging out, closing your browser and waiting a few minutes before trying again. Still having trouble? Send us a message at WeAllSew@berninausa.com.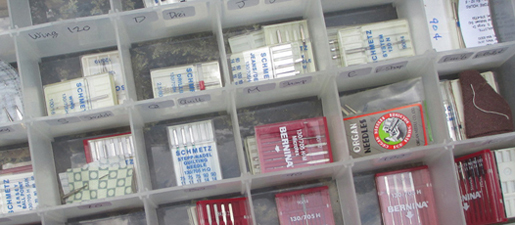 How to Decode Sewing Machine Needle Packets
130/705 H-J 70/10 What do all those numbers and letters mean? 
You can learn just about everything about a sewing machine needle from the numbers and letters on the packet . . . IF you know how to decode them. Here's a short directory to help you decipher the labels and know what kind of needles are in each package.
130 refers to the length of the needle shank
705 indicates that the back of the shank is flat; the flat side goes toward the back when the needle is properly inserted
H is an abbreviation for "Hohlkehle" – German for "long scarf" – meaning that the design of the needle scarf is improved for zigzag and other stitches in which the needle moves from side to side
J (or S or Q of other letter) indicates the type of needle, particularly the type of point. If no letter is indicated, the needle has a Universal point (or points)

DRI = Triple (in German, drei = e)
E = Embroidery, E ZWI = Double Embroidery
J = Jeans (Denim), J ZWI = Double Jeans
L, LL, or R = Leather
M = Microtex
Metafil = Metafil
MET = Metallica, MET ZWI = Double Metallica
N = Topstitching/Cordonet
Q = Quilting
S = Stretch, S ZWI = Double Stretch
SUK = Fine Ballpoint
SES = Medium Ballpoint
WING
ZWI = Double or Twin (in German, zwei = 2)
ZWIHO = Double Wing

70 (or other number from 60 to 120) is the European designation for the diameter of the shaft in hundredths of millimeters; the smaller the number, the narrower the needle
10 (or other number from 6 to 20) is the American label for the size of the shaft; the smaller the number, the narrower the needle
What you might also like
111 comments on "Thank You for Helping Us Reach 100,000 Facebook Likes!"