Easter Mini Quilts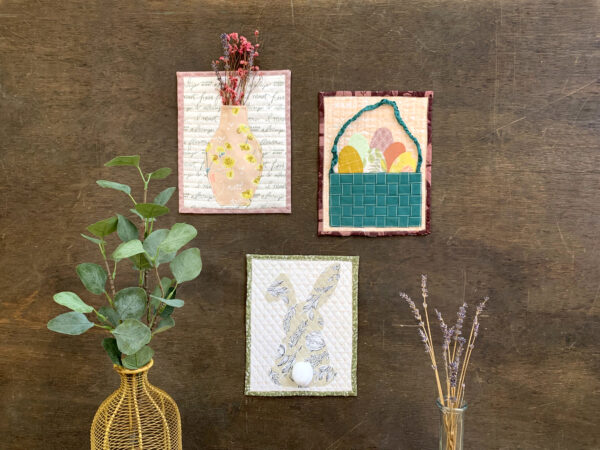 Hey Everyone,
Spring is officially here and we are enjoying all the extra daylight we are getting! With March winding down we are all in the Easter spirit. Every store we stop at is full of Easter decor and we can't help but start stocking up. This year, we wanted to make something special to decorate our homes this coming April, which is why we were inspired to create these extra cute Easter Mini Quilts! Perfect for hanging in any room in your home. In this step-by-step tutorial, we will teach you how to bind your quilt with your backing fabric, tips on quilting your minis, how to add fun shapes to your projects using Steam-A-Seam and all about our favorite BERNINA presser feet and tools we love to use in almost all our sewing projects.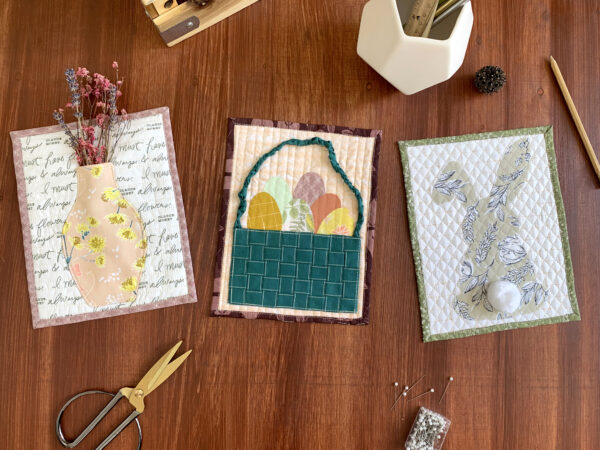 Fabrics Used: 
We love fat quarter friendly projects so grab a stack of Gathered Fat Quarters and let's get started!
Fabric A – GTH-37503
Fabric B – GTH-37506
Fabric C – GTH-37504
Fabric D – GTH-37508
Fabric E – GTH-4 7510
Fabric F – GTH-37500
Fabric G – GTH-47504
Fabric H – GTH-47506
Fabric I – GTH-47501
Fabric J – GTH-47505
Fabric K – GTH-47502
Fabric L – PE-463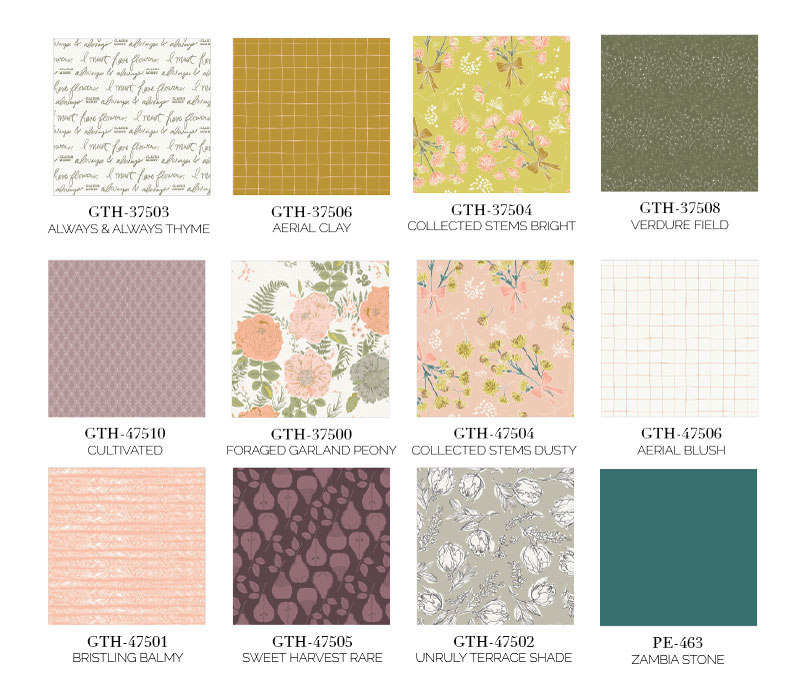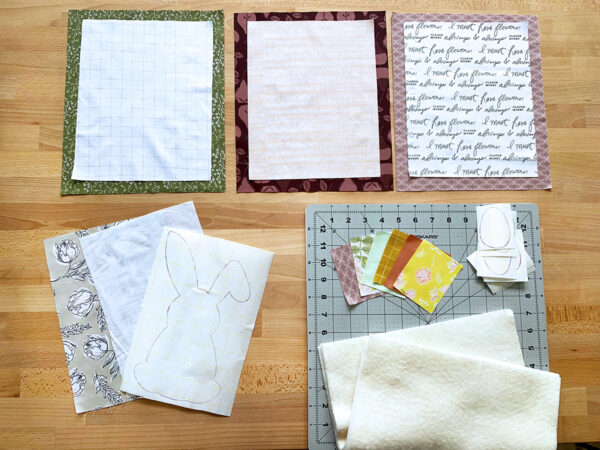 Additional Materials: 
Sewing Machine Used – BERNINA 570 Quilter Edition
Batting
Coordinating quilting threads
Fabric Glue  (we used Unique Stitch)
White Pom Pom
Woven Fusible Interfacing.
We will create three cute wall hangings, a vase mini to store dried flowers or your palms on Palm Sunday, a bunny silhouette mini, and an Easter basket mini. Feel free to make just one, or all three simple designs.
For each mini you will need a backing fabric cut to measure 9 1/2″ x 11 1/2″, a background fabric that measures 8″ x 10″ and batting that measures 9 1/2″ x 11 1/2″.
Finished Size: 8″ x 10″ 
Instructions to Create Three Mini Easter Quilts
How to make the Bunny Silhouette Mini
We cut out a 7″ x 10″ rectangle from our fabric and applied Steam- A-Steam to the wrong side of the fabric. Trace the bunny template onto the paper side of the Steam-A-Seam and cut out your bunny. Peel off the paper backing and stick to the center of your 8″x 10″ rectangle, once you have it placed perfectly, give it a good press to set into place.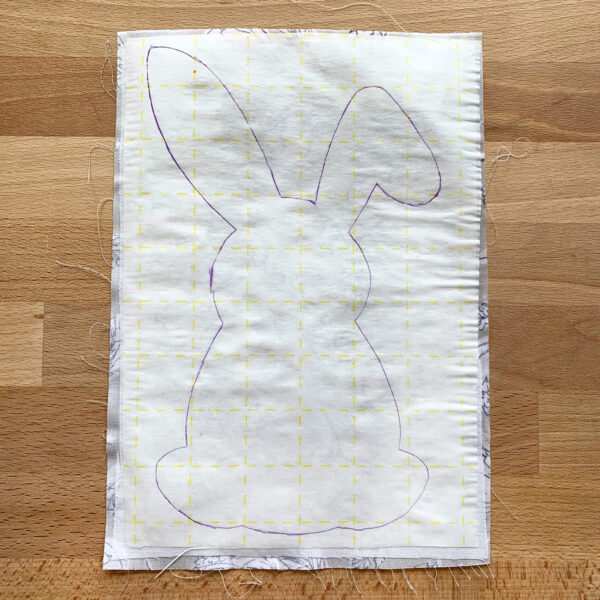 Center your piece to your batting and decided what quilting motif you would like to use. We used diagonal straight line stitching in both directions to create a diamond motif. Attach your Walking foot #50 to your machine to help create beautiful even stitches. Your walking foot will help feed the batting and fabric through the machine a lot easier than a regular presser foot.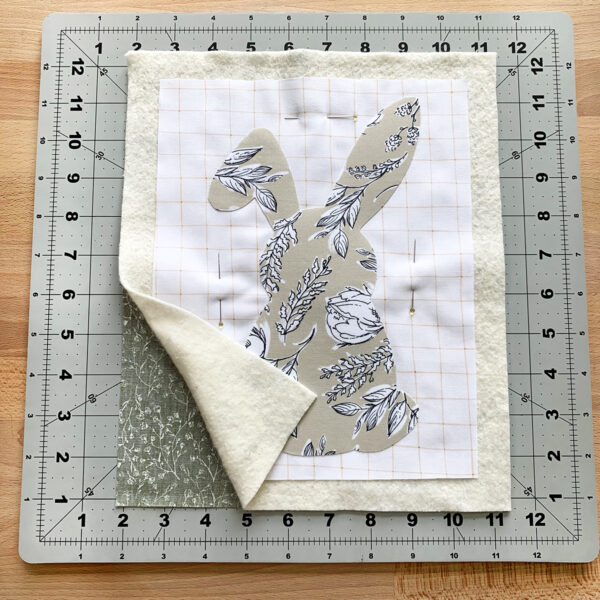 To create our first sewing line we used a fabric marking pen and straight edge. After stitching down our first stitch line we used the stitch line as our guide and lined our foot up to the stitch line to create the rest of our quilting.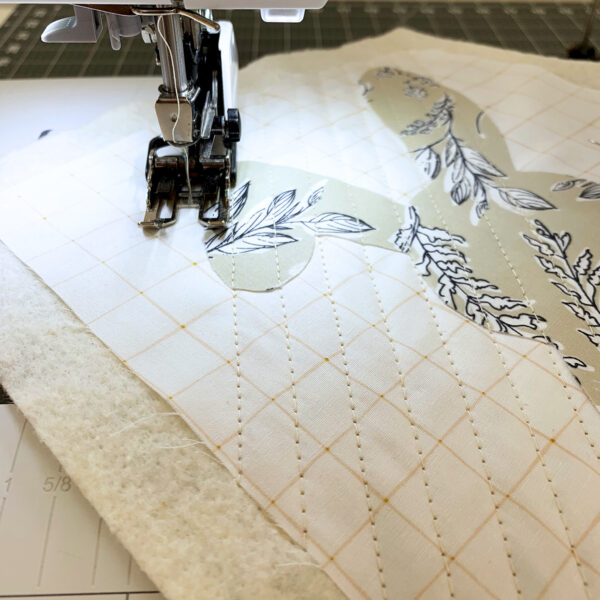 Note: It's super important to make sure to not quilt passed the background fabric because we will be using our backing fabric to bind our finished mini!
Trim your excess batting away carefully as to not trim off your backing fabric.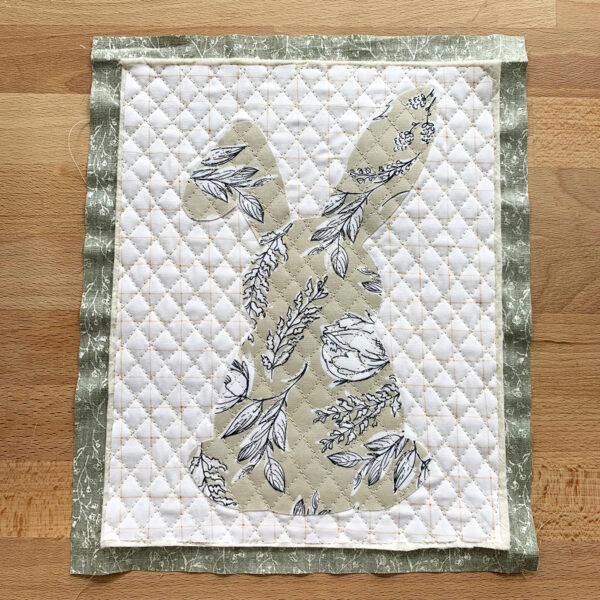 To create your binding,  first, fold your top raw edges and line your raw edges to the edge of your finished mini. Fold again and cover the raw edges of your mini.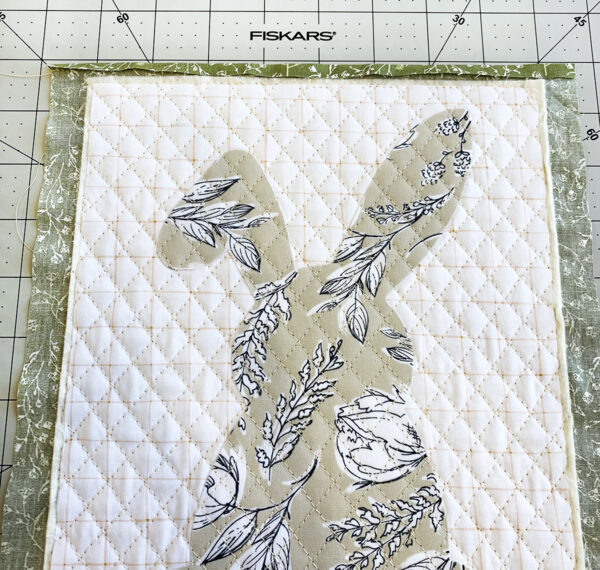 Fold in the top right corner to meet the edge of your finished mini and press.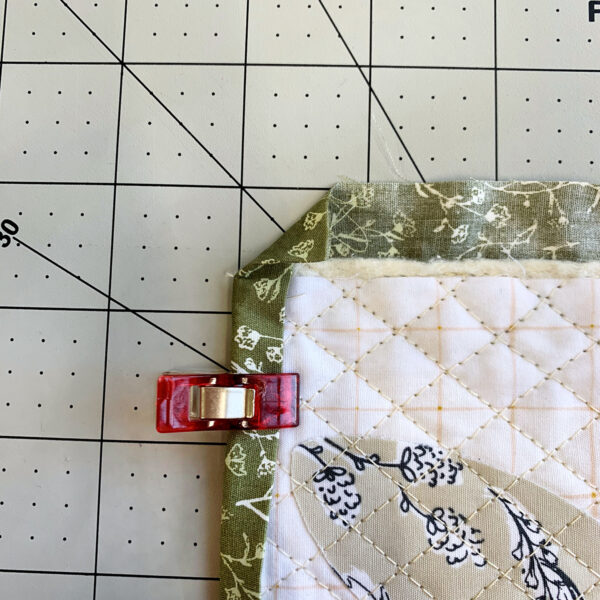 Now fold your right raw edges to the edge of your finished mini and fold again to cover the edges of the right side of your finished mini. Repeat this process going around your entire piece. Use wonder clips to keep everything in place.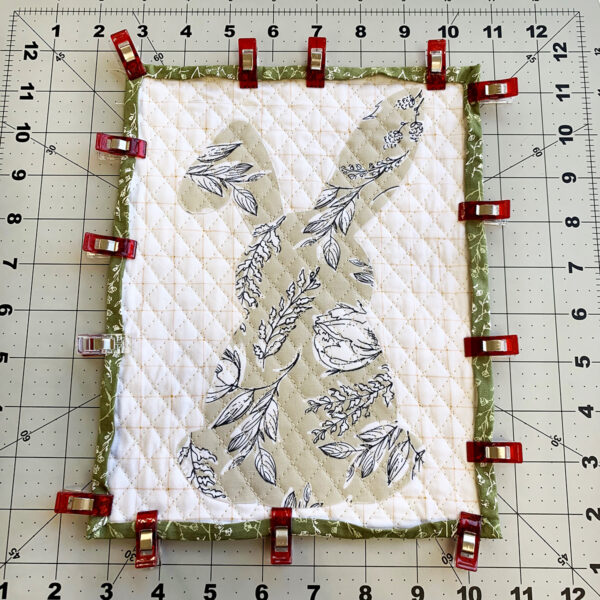 With the Walking foot #50 attached sew as close to the edge of the inside of the binding as possible to secure your binding to your mini!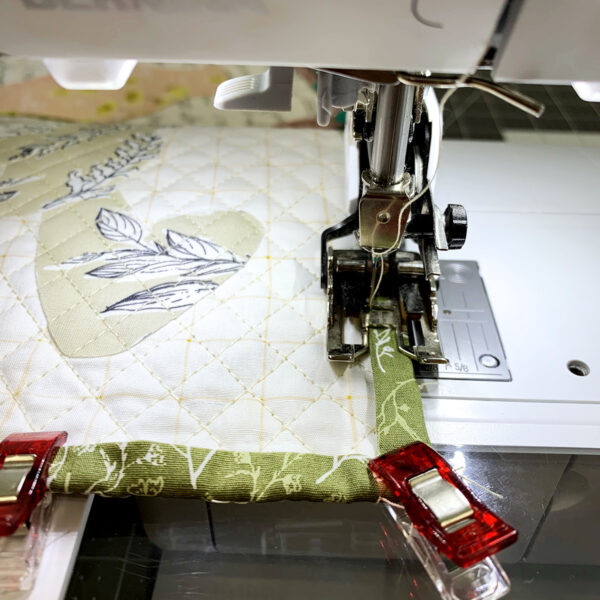 Stitch or hot glue your white Pom Pom to add your bunnies tail and your mini is complete!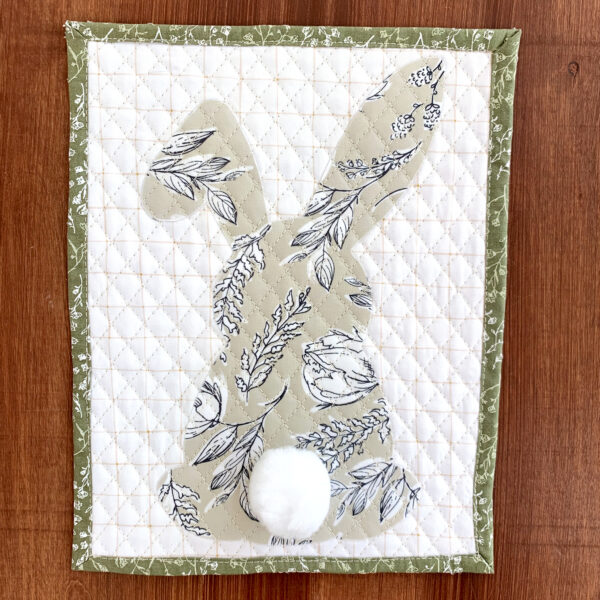 Instructions on How to Make a Flower Vase Mini Quilt
How to make a Flower Vase Mini
Using the vase template, cut out two vases in fabric and one in woven fusible interfacing. Fuse interfacing to the wrong side of one of your vases. Place vases right sides together and sew all the way around your piece leaving a small unsewn portion to flip vase right side out.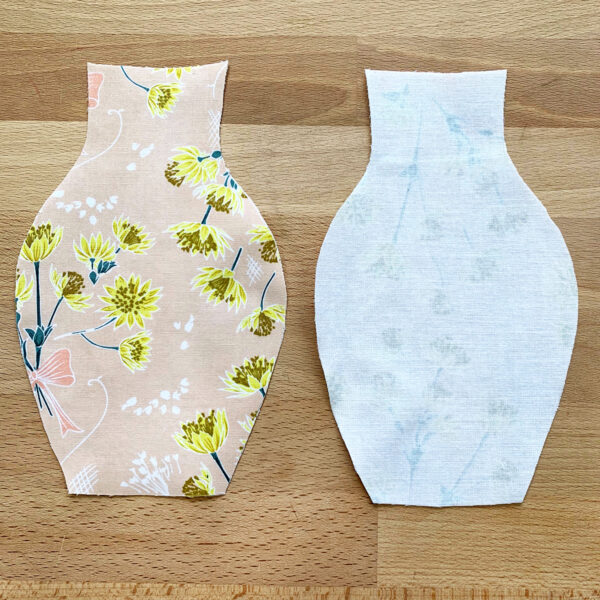 Quilt the corresponding background fabric and place your vase into the center of your background. Tuck unsewn section of the vase in and press. Making sure your background fabric is now behind your quilted piece and vase. Topstitch around your vase leaving the top of the vase unsewn in order to place your flowers in your vase. We love using our Height Compensation Tool when sewing over bulky pieces of fabric in order to achieve even stitches and for your fabrics to feed through the machine effortlessly.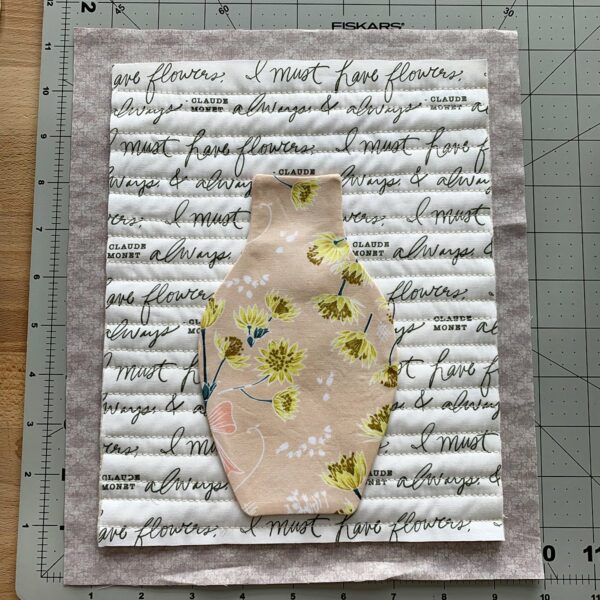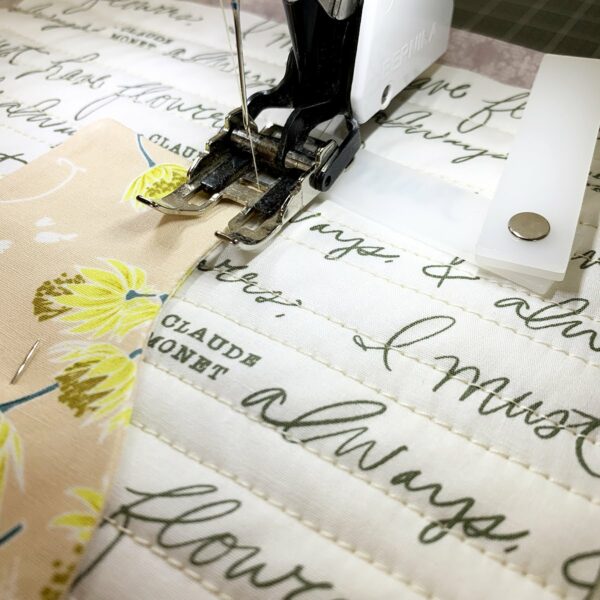 Repeat the same steps we used above to trim your batting and bind your mini. And your vase mini is complete!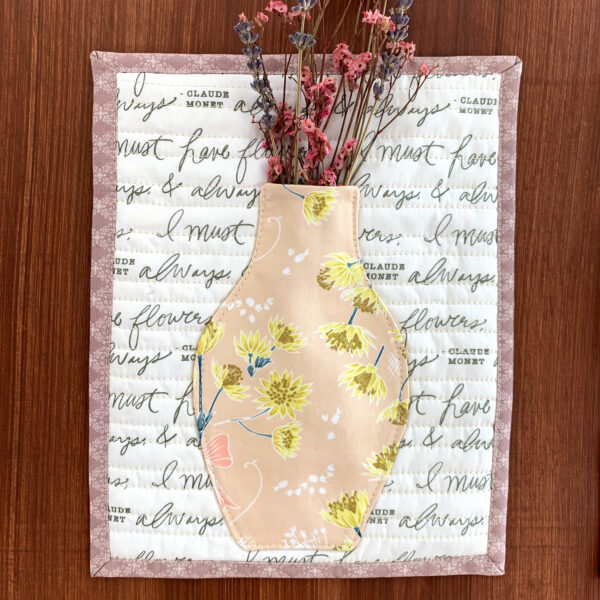 Instructions on How to Create an Easter Basket Mini Quilt
How to Make an Easter Basket Mini
To create your woven basket cut thirteen 1 1/2″x 17 1/2″ strip from your chosen basket fabrics. Fold raw edges into the center of your strip like the picture below.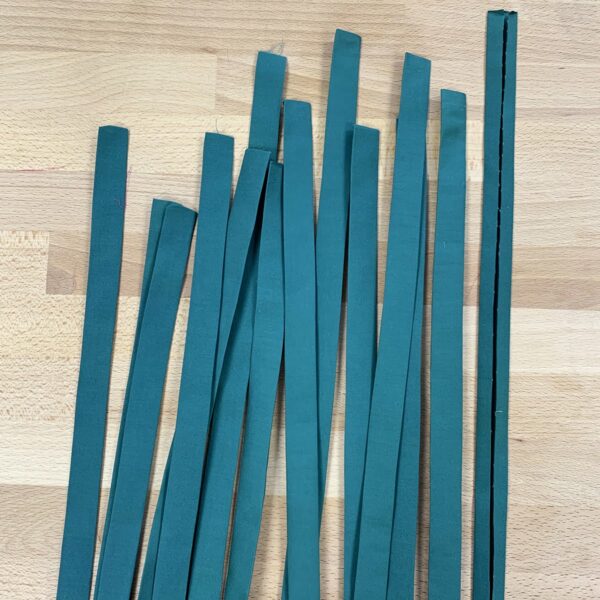 Using our Blindstitch foot #5 with the metal guide, we lined it up with the edge of our strip and topstitched on each side of our strips.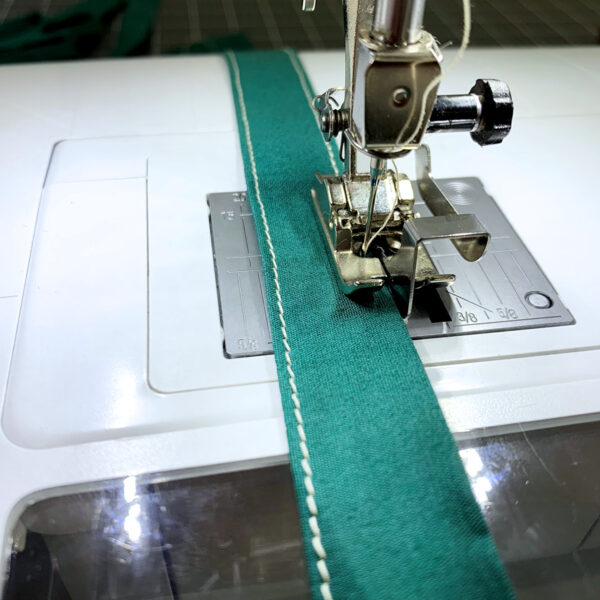 Place and pin five strips going horizontal and then weave 8 strips going vertical as in the picture below.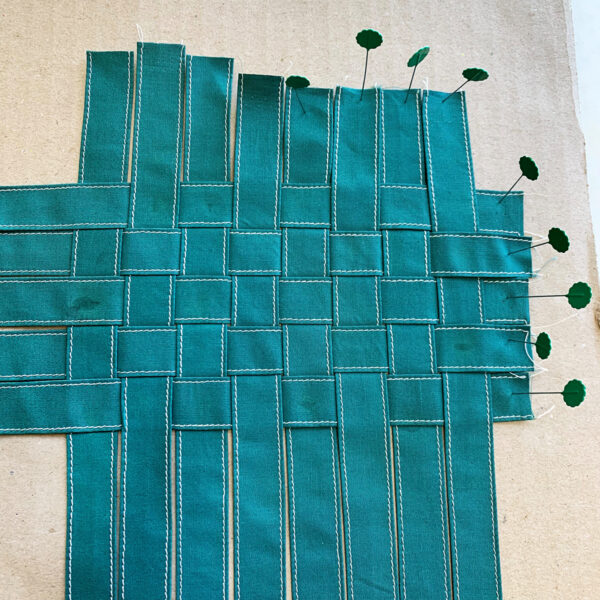 Place a 6 1/2″ x 4 1/2″ rectangle woven fusible interfacing on the back of your weave to secure everything into place. Feel free to use some fabric glue as you weave to help tack strips into place.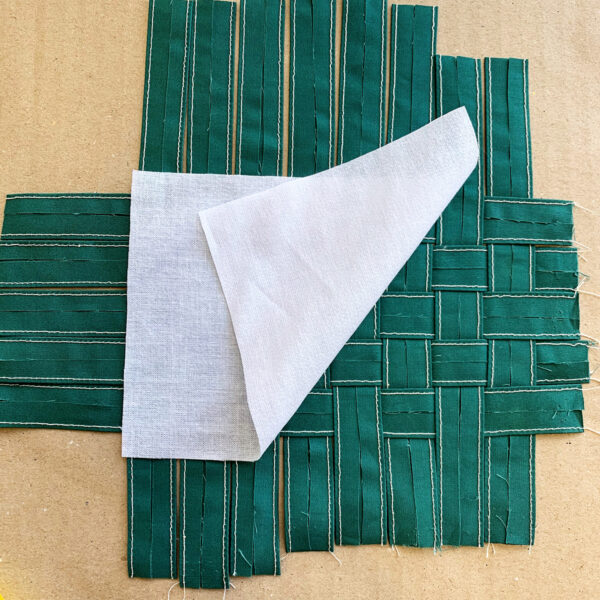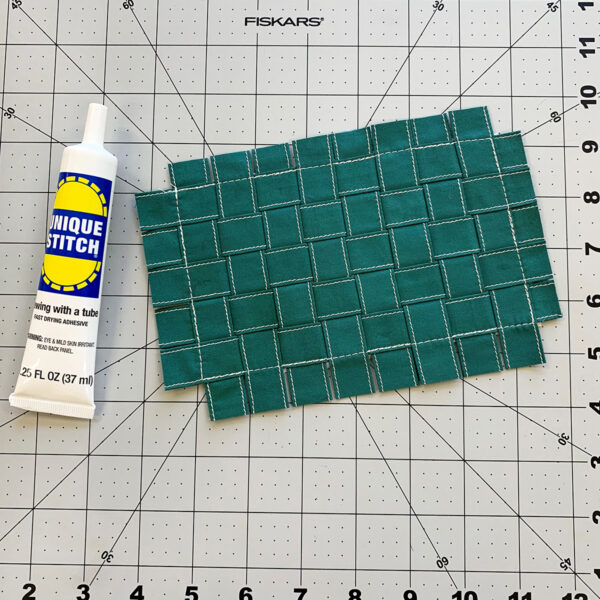 Stitch a rectangle around your piece following the stitch lines on your piece to secure all your ends. To secure your raw edges fold your strips in glue into place.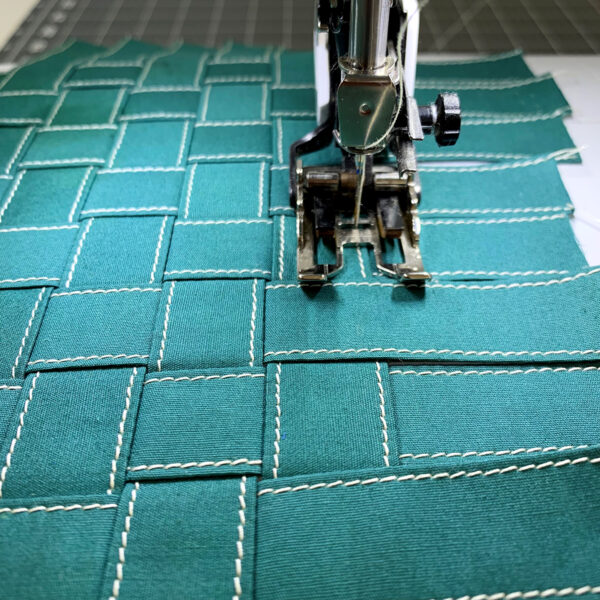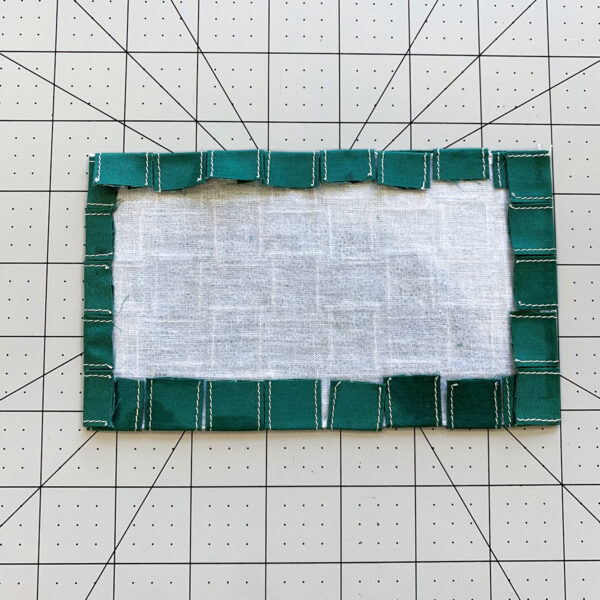 To make your eggs, trace the egg template onto your Steam-A-Seam and repeat the previous steps we used for the Bunny Mini.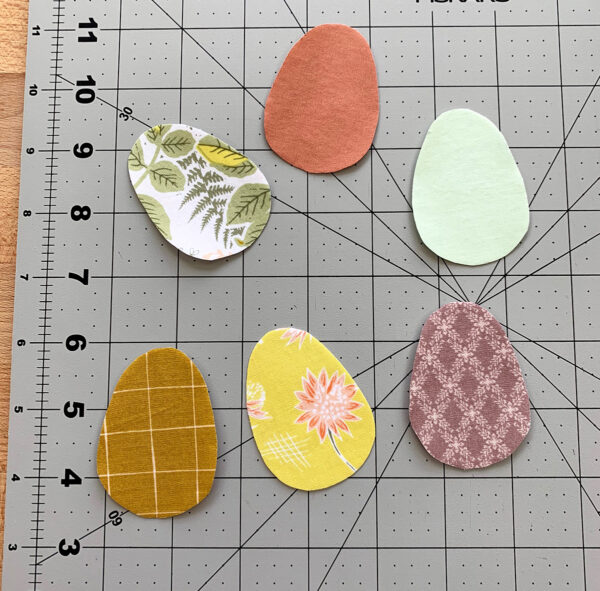 Arrange your eggs onto your mini as desired overlapping them as if they were laying in a basket. To create our handle for our basket we took three long fabric straps and braided them together.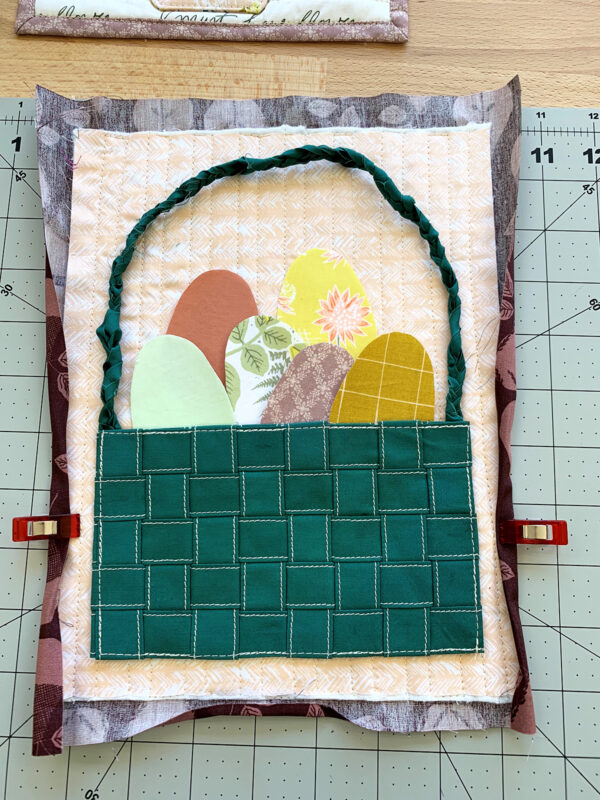 Secure your basket down by stitching around your piece and tacking down your handle with a few hand stitches.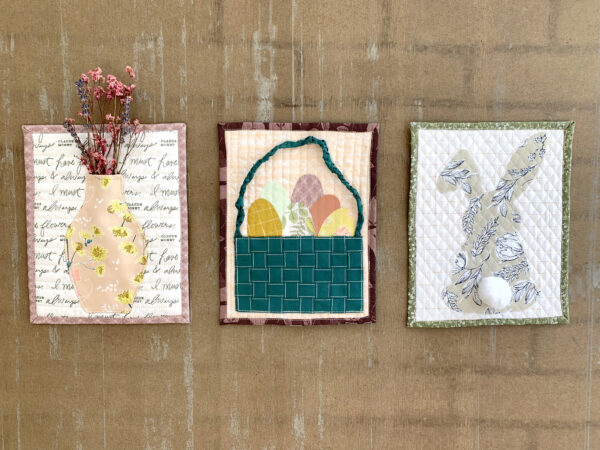 Bind your mini following the steps above and your last mini is complete!
We had so much fun creating these festive minis and we hope you do too. Let us know in the comments what your favorite spring activity! Happy Spring and Happy Sewing!
Difficulty level

Beginner

Time to Complete

Evening

Used Material

coordinating thread, cotton quilt batting, fat quarters, iron, scissors, Steam-A-Seam

Projects

home décor, quilt

Seasons

Spring

Techniques

quilting
Used Products
What you might also like
5 comments on "Easter Mini Quilts"