Sustainable Architecture Inspired Formal Gown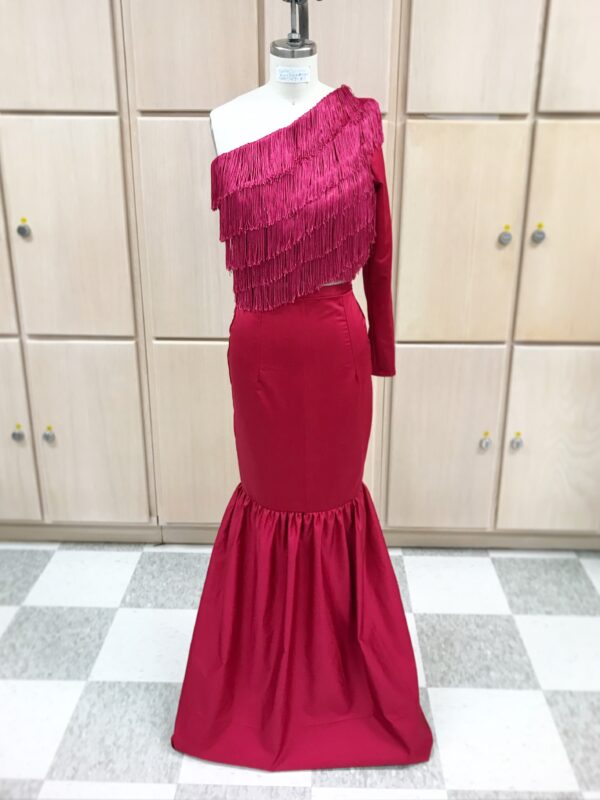 Fall semester of 2018 at the University of Nebraska-Lincoln, I took a class learning about flat patterns. For the final project, I had to create a bodice top and a skirt outfit.
My professor wanted us to find a sustainable architecture to find inspiration for the design. I came upon a building called the Edith Green-Wendell Wyatt Federal Building located in Portland, Oregon. This building is sustainable through the rainwater collection tank, radiant heating and cooling, and elevators that generate electricity when descending. I found inspiration from this building through the exterior design. I saw thin beams that looked as if they were layered upon each other then started a new row going down. I also admired the asymmetrical roof.
I came up with several sketches and decided to design an asymmetrical one shoulder top with one sleeve. I decided to apply trim such as fringe down the front to reflect the asymmetrical neckline. I paired the top with a fit and flare mermaid skirt. This look is overall formal and goes with my teen evening wear aesthetic.
For fabric choice my professor really wanted us to stick with cotton fabrics that would be easier to construct. I found a beautiful deep fuchsia sateen cotton fabric that I fell in love with. I also found matching fuchsia fringe for the bodice. One of my favorite colors is pink, when I come across a great hue of it I cannot resist!
I created my pattern manipulations from my block pieces of a size 8 bodice. I started with muslin pieces to test the fit and form being sewn together. I learned how to create my own pattern pieces using measurements to create a flat pattern block. I would then transfer that block onto muslin, once sewn together I fit it to my dress form and perfect it to the shape I would like. That usually means moving darts, taking in the side seams or shoulder seams. The point in doing the muslin first is to make sure you fix all the flaws then so you don't have to mess with it the actual fabric you'll use on your garment.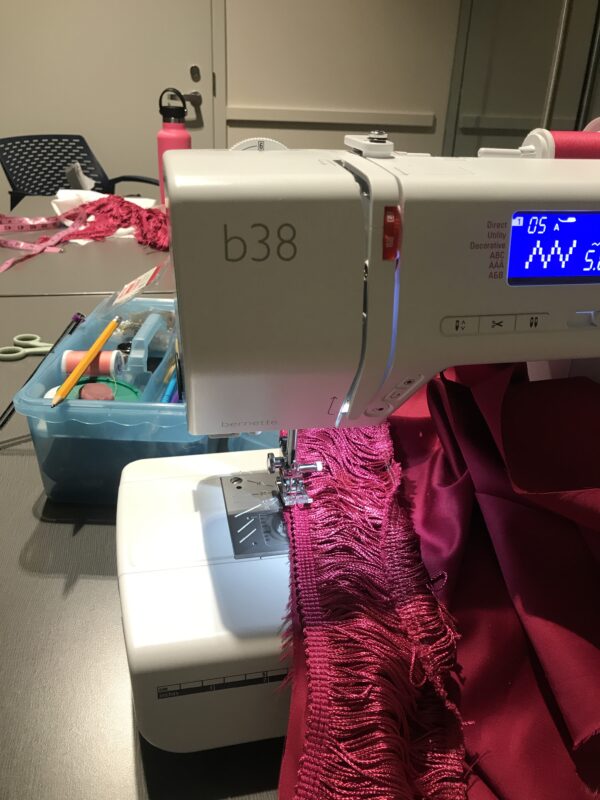 My bernette 38 machine makes this process so smooth and quick. The easy adjustment for thread length makes going from a basting stitch to seam stitch so easy! Great way to get the muslin pieces done fast so I can move onto the fabric to start constructing. I cut out my fabric form my muslin block pieces that are perfected from the form and begin to sew my top and skirt. After sewing each side or front piece together I always go back to the form to make sure it looks like it will fit perfectly to the body. Take your time in this process so you will have a perfect finished garment. Constantly using my backstitch button on my bernette 38 machine makes all the stitches stay in place and feel secure so I don't have to worry about anything coming undone.
Sewing the fringe to the bodice was something I had to come up with on my own. I decided to sew the fringe onto the bodice top upside down so when you would sew it to the fabric it would lay back over without showing any topstitching. I did this all on the front bodice piece before sewing on any of the side pieces so no fringe would get stuck in the seams. The bernette 38 machine did the topstitching great with the fringe, nothing got caught in the machine or tangled.
I completed this dress in four days and love the way it turned out. It is a very Hollywood glamour and I love it. I couldn't have done it without my reliable bernette 38 sewing machine.  The easy stitch adjustment helps with going from a 3.0 length to a 5.0 length for basting or a sewing stitch adjustment smoothly. Along with the great fast tools like the thread cutting button and the backstitch button makes the manual work not hard at all. My machine keeps me moving quickly and easily!
My dress was chosen to be a part of the Omaha Fashion Week UNL Student Showcase night. I am so excited to be a part of the show and have my garment modeled down the runway. Check out my website Em's Trends for my other creations!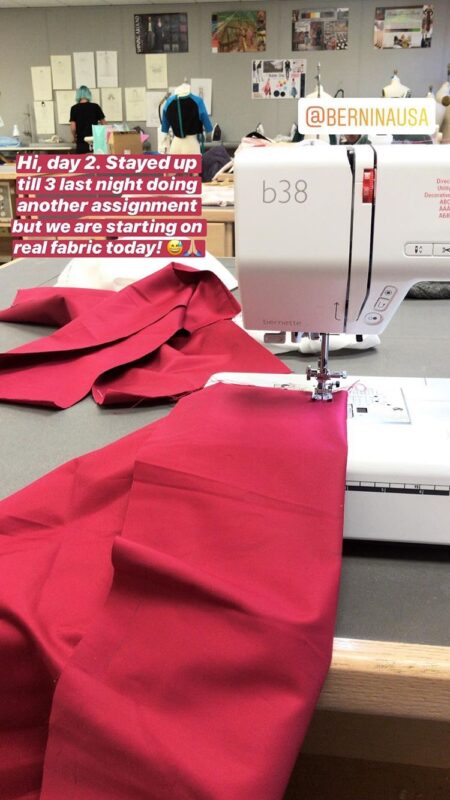 Difficulty level

Intermediate
Used Products
What you might also like
One comment on "Sustainable Architecture Inspired Formal Gown"