Sustainable Quilting: Using Upcycled Fabric in Your Quilts
Self-described "zero waste" quilter Amari Thomsen piqued my interest when I saw her making what she calls "Frankenbatting."  
Amari, a blogger, a full-time dietician, and an "adventurous DIY sewist," shares her story, ideas, and creations on being a "modern millennial zero waste" quilter on her Instagram at @NextGenQuilting—including how to make "Frankenbatting."
She demonstrated how to piece together smaller batting scraps to make a batting piece large enough for the quilt she was making. I was then interested in exploring what other great ideas she and others may have for becoming a "sustainable quilter or sewer."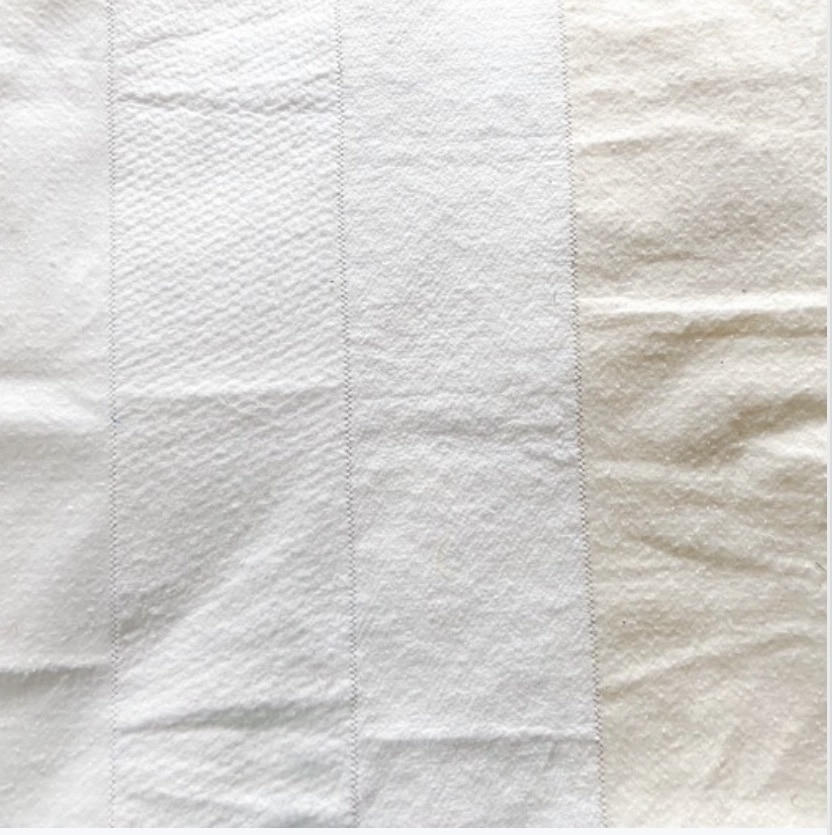 Use the zig zag stitch to sew batting scraps together to create a bigger usable piece of batting for your quilt projects. This sustainable method of using up scraps is called "Frankenbatting".
Sustainable Quilting
Sustainable sewing and quilting styles and methods have gained momentum and interest in the maker's community with the resurgence of upcycling clothing and quilts, reusing old textiles, and using even the teeniest scrap of fabric.
Sustainable sewing means creating in a way that leaves a minimal impact on the planet and reduces fabric waste.
According to Roadrunner Waste Management (roadrunnerwm.com): "The volume of clothing Americans throw away each year has doubled in the last 20 years, from 7 million to 14 million tons. In 2018, 17 million tons of textile waste ended up in landfills, according to the Environmental Protection Agency data, making up 5.8 percent of the total municipal solid waste that year.
Many sewists and quilters are looking for ways to reduce some of that waste by upcycling clothing and goods and actively sharing their ideas in global sustainability communities online and in person.
"The concept of sustainable sewing and quilting resonates with people on many different levels, and many choose to behave differently to try and make the world a better place for the future," said Amari.
Quilt making in America historically was made with old clothing, flour sacks, and other remnant fabrics—with its' form being more for function and purpose—and these quilt-makers may be the original upcyclers for this old-age craft.
Today, there are websites, social media sites, in-person workshops and events, and creative forums hosting conversations where sewing and quilting enthusiasts share ideas about transforming textile waste, second-hand fabrics, and clothing into sewn and quilting objects.  Fellow upcyclers share ideas, get feedback on projects and find sustainable quilting and sewing inspiration.  
"I started quilting in 2020 -during the pandemic- when it wasn't easy to get fabric. I started going through my closet, using old bed sheets, and making stuff at minimal cost," she said.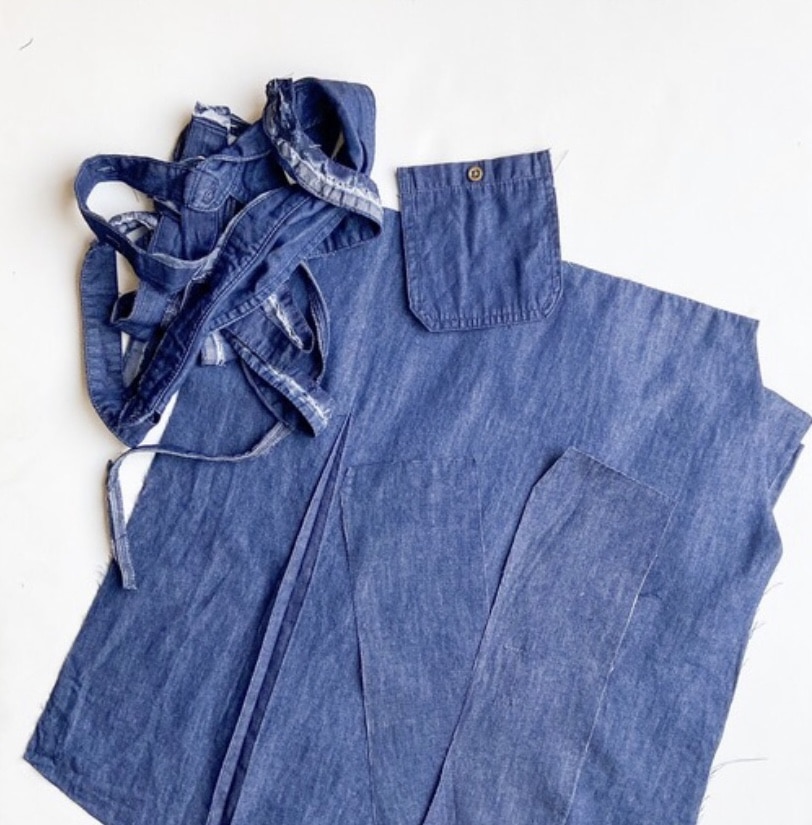 Used clothing, like this chambray shirt, can be repurposed and used as fabric for a quilting project.
"For my very first quilt, I repurposed ten chambray shirts, and it felt good to breathe a second life into these shirts," said Amari. "It is one of my favorite quilts I have ever made".
"I love the aspect of the challenge of using scraps and upcycled items to create a beautiful quilt."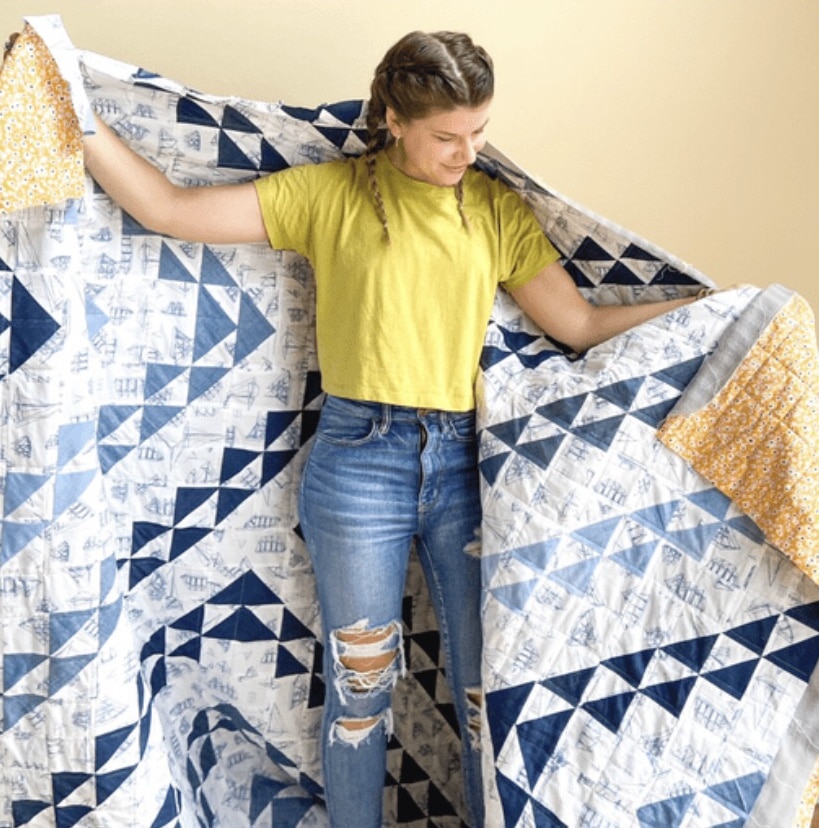 Quilt maker, Amari Thomsen, repurposed ten chambray shirts to make this quilt.
Amari recently wrote a blog post about the five ways to quilt sustainably. Here is a summary of her ideas. You can read her entire blog, Five Ways to Use Upcycled Fabric in Your Quilt.
Make a scrappy quilt.  Use up those scraps from leftover projects.  You can sew smaller scraps together to get pieces that are the size you need for your quilt project.

Clean out your closet.  Evaluate old clothes and salvage those 100% cotton pieces, like button-down shirts, pants, jeans, printed cotton fabrics, etc., for your next quilt.

Repurpose those "teeny tiny scraps," and "itty bitty confetti-looking scraps," and all those leftovers from trimming fabric. Save them in a bag and use them for stuffing a pin cushion, a throw pillow, or a dog bed.

Reuse old sheets and throw blankets.  If sheets are 100% cotton or flannel, they can be cut apart or used for backings.  "Old, cozy blankets also work great for quilt backs," she said.

"Frankenbatting" your batting scraps.  Stitch those smaller pieces together by lining up the edges flush-no overlapping- and zig-zag stitch across them until you have a piece of batting big enough for your project.
A few other notable websites on sustainable sewing and quilting are Rianne Doller's KickAssQuilts.org, ChrisEnglishQuilts.com,  and ZakFoster.com. You will find workshops, live tutorials, and discussions for diverse quilt and sewing projects, from blankets and quilts to lampshades to cushions, bags, home decor, and upcycled clothing. Are you ready to venture into becoming a more sustainable quilter or sewer? Are you ready to do some "Frankenbatting?"
Photos by Amari Thomsen
Difficulty level

Intermediate

Time to Complete

Weekend

Used Material

batting, coordinating thread, quilt batting, sewing machine

Techniques

patchwork, quilt piecing, quilting, sewing
What you might also like