Embroider-Along Part 7: Napped Fabrics
Welcome back to my Embroider-Along: Part 7. Hi, my name is Sue O'Very, BERNINA Ambassador and machine embroidery expert. The How to portion of the series continues with today's topic of  how to embroider on napped fabrics, as an example I will show you step-by-step how to embroider on a bathroom towel.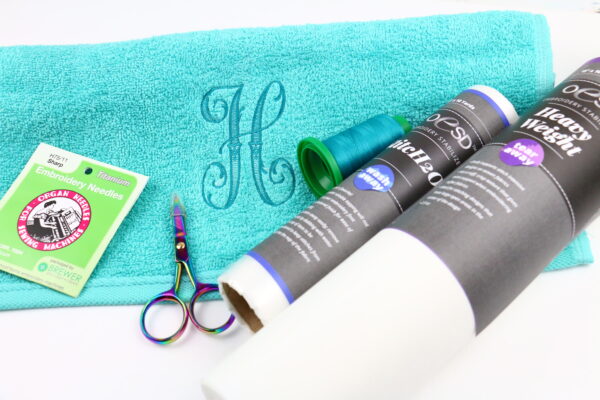 What is Napped fabric?
Napped fabrics are materials with a pile or loft. My go-to example is a bathroom towel. Another popular material for machine embroidery would be Luxe Cuddle® Rose by Shannon Fabrics. This fabric is super soft and makes beautiful things like blankets, pillows and even stuffed animals. There are a few other materials included in this category such as; felt, fleece and even velvet.
Stabilizers for Napped fabrics
There are three types of stabilizers used for napped fabrics; Cut Away, Tear Away and Wash Away.  In many cases you will use two of these three per project.
Cut Away
Cut Away stabilizer will be the most common with heavier napped materials such as felt, faux fur and velvet. These materials are often included or sewn into a project too and the backing won't be seen. There are two types of Cut Away suggested: Poly Mesh (thin/light) or Medium-Heavy Weight (thick/heavy). Refer to Part 2 of the Embroider-Along for more details on stabilizers.
Tear Away
When the napped material is lighter weight or the back of the project will be seen, such as a towel, a Tear Away stabilizer would be a better backing.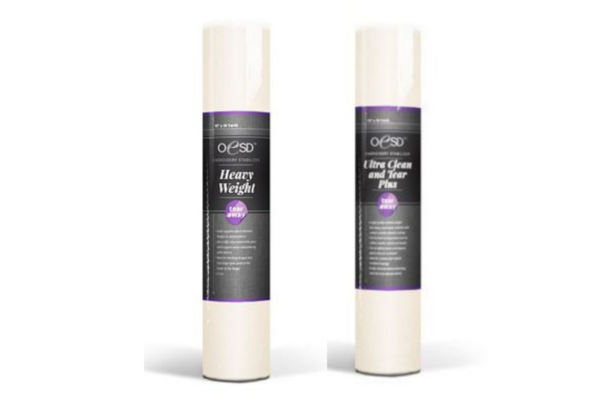 Wash Away
Wash Away stabilizer is necessary as a topper for napped materials for two reasons:
To keep stitches from sinking into the nap or texture of the fabric
To prevent the presser foot from getting caught into the texture
Most often the wash away will be a clear see through film such as StitcH20. This particular product is nice because it's designed not to stick to the presser foot.
Thread and Needles for Napped fabrics
Thread is really going to depend on the design and desired effect. As far as needles, use an embroidery size 75/11 for most napped materials and use an embroidery needle 90/14 for thicker napped materials like a hotel style bathrobe. Refer to Part 3 where I talked about different types of threads and needles.
How to hoop Napped fabrics?
Part 4 on my Embroider-Along was all about hooping! There are two ways of hooping; hoop the material and stabilizer together or hoop the stabilizer and float the material on top. When it comes to embroidering on napped materials most times it will be necessary to hoop the stabilizer and float the material on top. Consider velvet for a moment, the material is thick short pile and easily crushed. When floating the napped material on top of the stabilizer it is important to keep the materials in place, reference the adhesive portion of Part 4 for various adhesive suggestions.
Type of designs for Napped fabrics
Try designs with wider satin stitches, motif patterns and fill stitches. Avoid designs with thin running or satin stitches. These types of stitches can get lost in the loft and pile.
Stabilizer Guide for Napped fabrics
Below is a basic guide for napped materials and the suggested stabilizers:
Embroidering on Bathroom Hand Towel
The bathroom hand towel is the most wonderful gift of all. Everyone needs one, they are available at every big box store, are easily personalized and stitch up fast and easy. Let's go over step-by-step how to use a Tear Away Heavy Weight stabilizer with StitcH20 on top to embroider a bathroom towel.
Selecting the Stabilizer and Design
Based on my stabilizer guide above I would hoop a Tear Away Heavy Weight stabilizer with StitcH20 on top. Depending on how light or dense the design is you might find it necessary to add two layers of the Tear Away. You could also use the floating under the hoop technique you learned in Part 6 when embroidering on the Wine Bottle Apron. This beautiful font is built into my BERNINA 790 Plus. Check your user manual for built in embroidery designs or ask your local shop for additional monograms.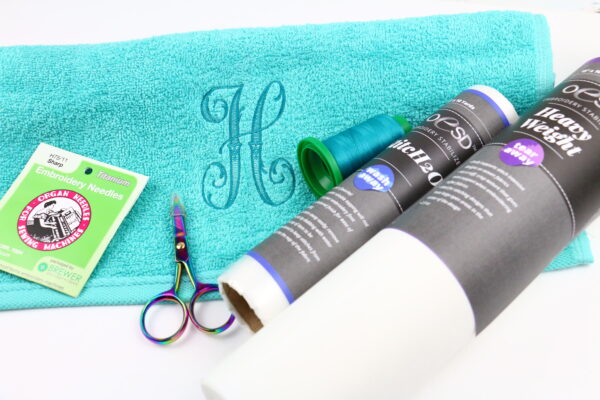 Preparing Bathroom Towel
Find the center of the towel by folding it in half width wise, use straight pins to temporarily mark. Place the template over the center mark and use a marking pen through the holes on the grid. Connect the dots to mark center cross hair. I used the Frixion highlighters because removing is achieved with an iron and they leave no residue. You can also use a steam iron so the iron doesn't crush the towel pile.
Mark Stabilizer
Use the hoops grid and marking pen. Mark directly onto the Tear Away Heavy Weight  stabilizer. Connect marks to make a cross-hair line. Keep the center mark on the Tear Away Heavy Weight stabilizer over the center mark on the cutting mat, this will help align the towel. Reference Part 6 on the Wine Bottle Apron.
In a ventilated area, spray a light coat of spray adhesive over the center of the stabilizer. Avoid spraying onto the plastic of the hoop and near your machine.
Pro Tip: Use a rotary mat, Quilters Cut 'n Press shown, to lay the hoop/stabilizer over. Use the lines from the rotary mat to help you connect your dots to form the cross-hair line.
Place a pin through the center of the mark on the towel. Align mark on tear away stabilizer and press towel firmly to the stabilizer. Place a piece of StitcH20 over the hoop area.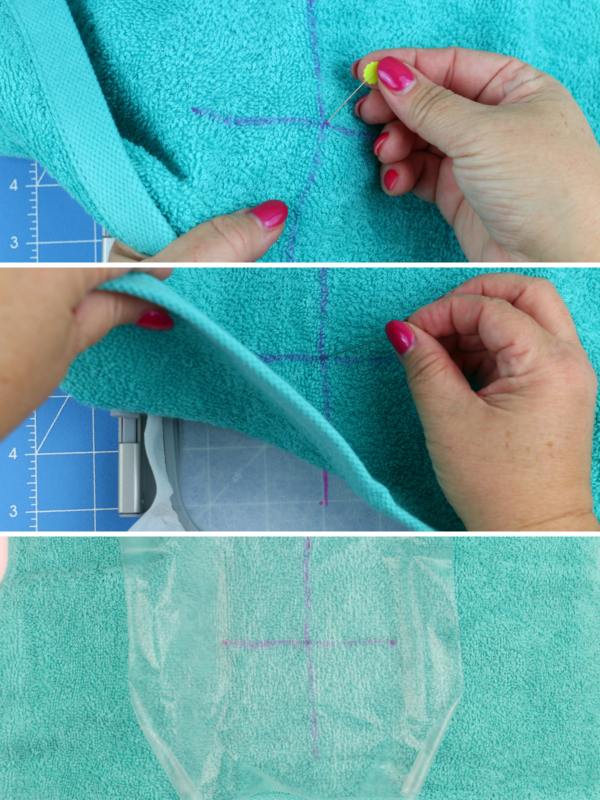 Basting and embroidering
Choose design and add a basting stitch around the design. The basting stitch will help secure the wash away to the towel while embroidering preventing the wash away from shifting. Sew embroidery design.
Pro Tip: The basting stitch is a very long length stitch, and often times the doesn't catch until after the machine has sewn about 5-6 stitches which leaves a gap. To ensure the basting stitch begins at the start, lower needle and bring the bobbin thread up toward the top of the material. Hold both top and bobbin thread with fingers and start sewing the basting stitch.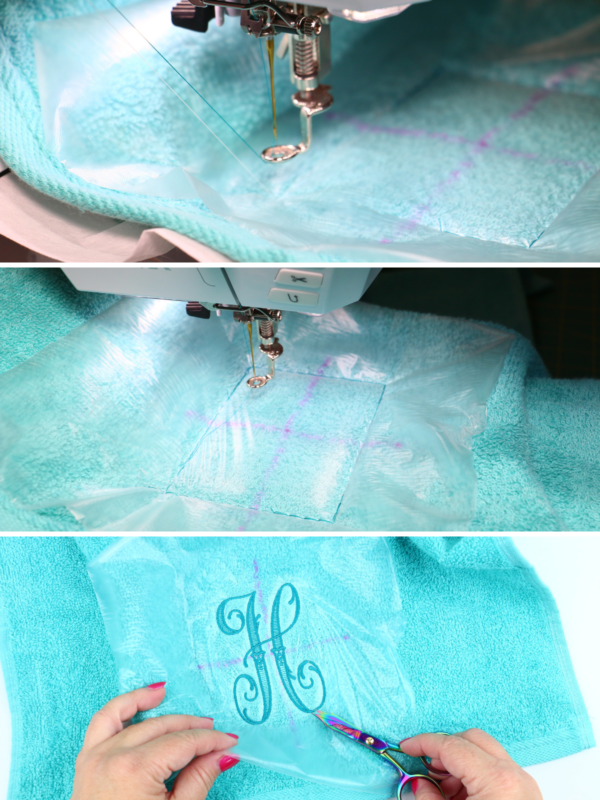 Remove stabilizer
Once stitching is complete, remove hoop from machine. Gently remove the basting stitches with scissors. Consider these large ring micro tip scissors. Remove the wash away by holding the stitches and gently pulling the stabilizer. Turn hoop to the wrong side and gently remove the tear away stabilizer while holding the stitches.  Use tweezers to remove all the tiny pieces of wash away. If there are any pieces difficult to remove try wetting a Q-Tip and rubbing the wash away stabilizer. Fold towel in thirds, add some bath salts or mini soaps and your about to make someone smile with a personalized embroidered gift.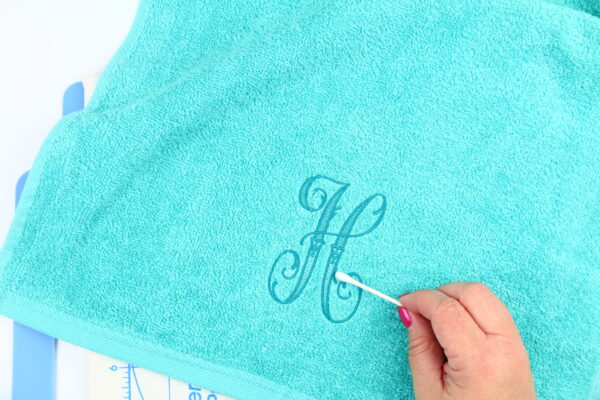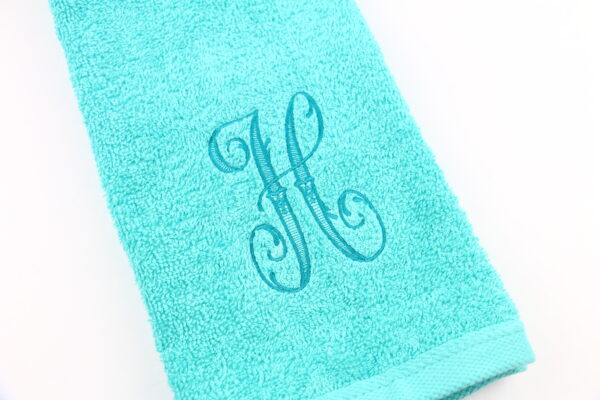 What is next?
The next part of my Embroider-Along finish with the "How to" portion showcasing sheer materials. Then we will be onto the final four parts focused on more detailed step-by-step projects. Stay tuned there will be some fun designs for you.
What is your favorite type of material to embroider on and why? Let me know in the comments below and please ask any questions you might have about sheer materials for next weeks post. Be sure to keep following along here, you can also follow BERNINA on Instagram and Facebook to see the latest post!
Here is the Embroider-along schedule:
Embroider-Along Part 7: How to Embroider on Napped Fabrics
Until next time I hope you have a creative day, bye-bye!
Sue
Difficulty level

Beginner

Time to Complete

Evening

Used Material

purchased towel, stabilizer

Projects

home décor, towel

Seasons

all seasons

Techniques

embroidery
Used Products
What you might also like
4 comments on "Embroider-Along Part 7: Napped Fabrics"