BERNINA 125th Anniversary Quilt-along: Part I Embroidery
Welcome back to the BERNINA 125th Anniversary Quilt-Along! I'm BERNINA Expert and Amanda Murphy and in this post I'll get you started on the optional embroidered cornerstone motifs for this quilt.
Note: If you would rather skip the embroidery I'll give you some other options at the end of this post.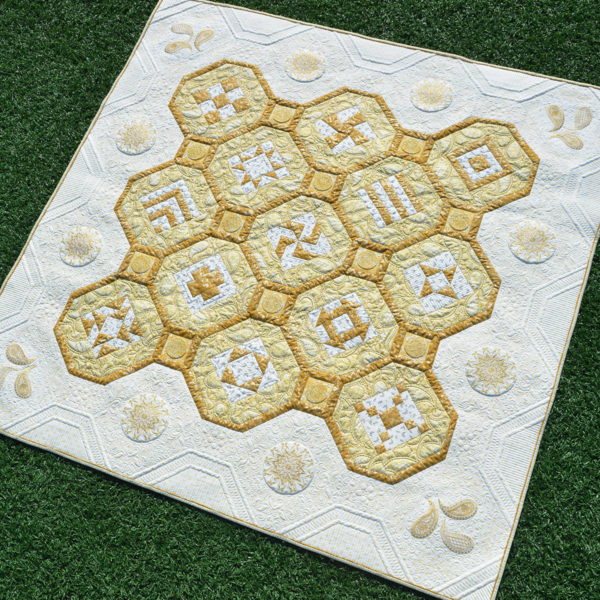 The BERNINA 125th Anniversary Quilt.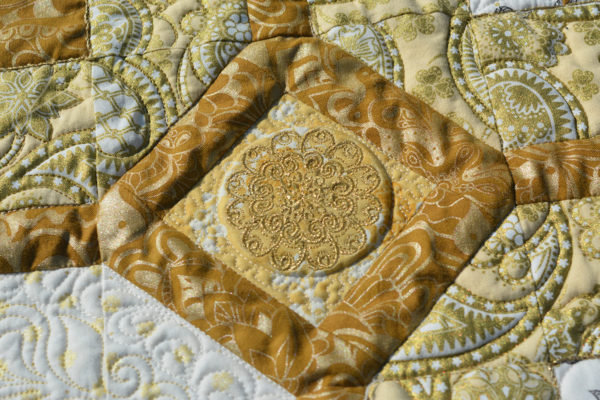 A detail of the cornerstone in the BERNINA 125th Anniversary Quilt.
First, I'd like to cover some questions I've been receiving about the embroidery. I'm so excited to announce that BERNINA has decided to give out the embroidery files for this quilt to all of you!  Thank you, BERNINA! This includes the file for this month, which you can download HERE.
The other embroidery files will be coming out in subsequent months. (The quilting files will be available exclusively as part of the BERNINA 125th Anniversary Collection, which also features dozens of additional embroidery designs as well.) Both, the embroidery and the digitized quilting files are optional as far as the quilt-along is concerned, so please don't feel you must have an embroidery machine to participate.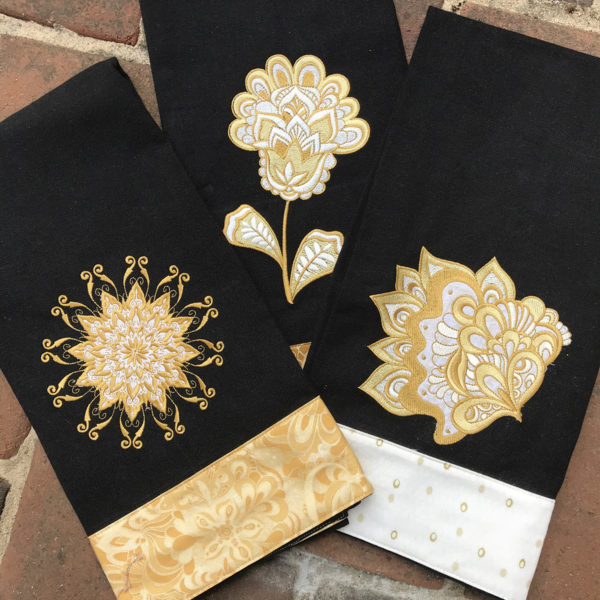 Just a few of the motifs from the 125th Anniversary Collection.
You have many thread choices. I embroidered the original quilt with Yenmet S14 Mayan Gold Metallic. Embroidering with metallic creates a spectacular look, but it does take patience as you have to go at about 1/3 the speed of an embroidery using polyester threads. I went through four spools of Mayan Gold for the original quilt while I only used 2 spools of Isacord for the red version.
If you choose to embroider with metallic, I would recommend using a metallic needle and lowering the top tension and using a similar color of Isacord (I used 0741) in the bobbin just to be safe. I tried using embroidery bobbin thread as well but I liked how the metallic behaved with the Isacord in the bobbin better. I also turned off my automatic thread cutting when using the metallic.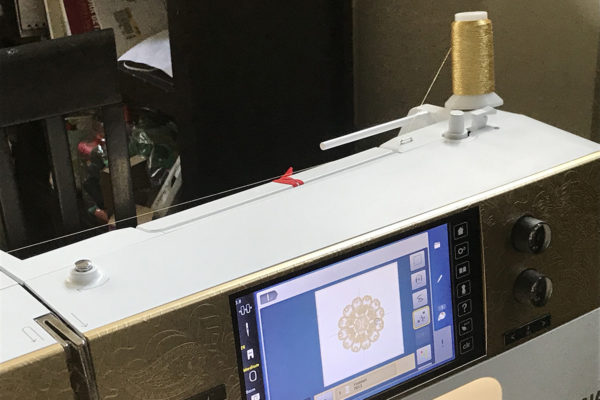 How I threaded the metallic for best results on my BERNINA 790 Plus AE.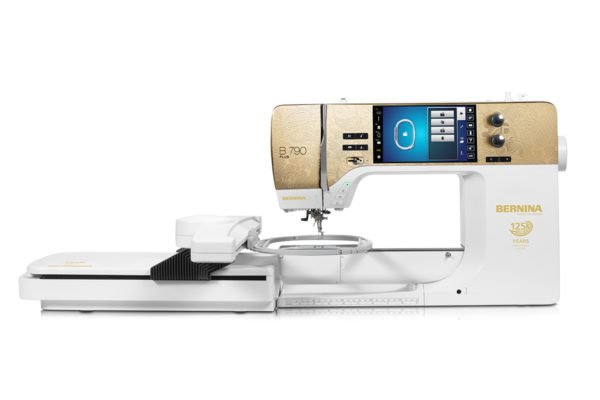 If you are making the original version of the BERNINA 125th Anniversary Quilt with the gold fabrics but you'd rather use a polyester embroidery thread for a faster and easier finish, I'd recommend Isacord 0721. It is a great shade for this quilt and has a lovely sheen.
The files for this piece have placement lines for your fabric to help make things easier. As usual, I've made a video to help you along.
How to Embroider the Cornerstone Designs for the Anniversary Quilt
The instructions for the embroidery are on page 7 of the free PDF instructions we gave out earlier in the month. You can download them HERE.
If you choose to opt out of the embroidery shown you have a few options:
You can choose a different embroidered design. Note that this motif has a 57mm diameter. We piece very close to the design on the diagonal, so I wouldn't recommend selecting a design that is any bigger and I'd stick with a circle. A design of this size with square corners would also not work well.
You can choose an interesting fabric that contrasts well with Fabric E, the octagonal framework of the quilt
You can fussy-cut a fabric. This would be an excellent place to use a medallion-style print. Keep in mind that you will only see the area near the center of the block.
You can purchase the Jubilee embroidery panel and back the motifs on it with paper-backed fusible web and appliqué them down to the fabric squares.
Appliquéing a Motif from the BERNINA Embroidery Panel in the Place of the Embroidery
There are 12 of these embroideries to complete before we piece these cornerstone blocks in November.
Last but not least, please remember to post your progress in WeAllSew's Community! You can find the Community Tab at the top of this page. Remember that you have to post your progress six times in order to be eligible for a chance to win one of the amazing prizes so now is the perfect time to start!  Show us your fabrics and/or your first blocks—we'd love to see!
Prizes include a grand prize of a soon to be released BERNINA 7 Series machine! Other prizes include a BERNINA L 460, a 125th Anniversary Quilt Kit, a 125th Anniversary Golden Foot #1 in a Commemorative Tin, and a 125th Anniversary Rulerwork Ruler Set (set of 3 rulers.)
We have lots of great prizes in store—you can find contest rules here.
For optional embroidery, participants are eligible for a chance to win different prizes such as a set of Good Measure Quilting Rulers by Amanda Murphy, a bundle of Jubilee fabrics, and a digitized quilting collection by Amanda Murphy for OESD!
That is it! I'll be back on October 3rd to get you started on the other half of the feature blocks.
If you have questions please comment below and I'll try to help. You can also join me in my Facebook Group, Quilting with Amanda Murphy.
Share how you are progressing on Facebook and Instagram using the hashtags #bernina125, #bernina125quiltalong and #weallsew.
Happy quilting and HAPPY ANNIVERSARY, BERNINA!
Amanda Murphy
BERNINA Expert/Quilting and Longarm Spokesperson
Difficulty level

Intermediate

Time to Complete

Weekend

Seasons

all seasons

Techniques

embroidery
Used Products
What you might also like
13 comments on "BERNINA 125th Anniversary Quilt-along: Part I Embroidery"