BERNINA's Golden Anniversary
We hope you're having a Happy New Year! We're very excited to welcome 2018 which marks the 125th Golden Anniversary of the BERNINA company. This momentous occasion calls for a year-long party!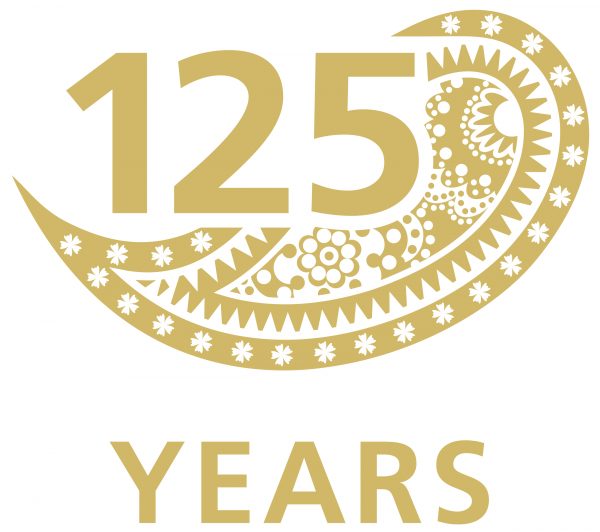 Above all, we want to celebrate you and your creativity on this occasion. "Celebrate Your Creativity" is our motto for 2018, and we look forward to rejoicing in the past, present and future with you! We will be sharing our entire sewing community's creativity throughout the year with all things "Golden!" We will launch sewing machines with special Golden Anniversary designs, there will be gilded presser feet, "Golden" giveaways, and many tutorials featuring golden sewing projects here at WeAllSew. Keep an eye open for other Golden Anniversary celebrations on our social media channels and in our BERNINA Dealer stores. We look forward to sharing a look back at what we've accomplished along with sharing stories as well as interviews with BERNINA staff from the US and Switzerland.
BERNINA has seen many changes since Johann Georg Gegauf founded the company in 1893; the World's Fair Columbian Exposition in Chicago, the Theory of Relativity, the first automobiles, the space race, the rise and fall of the Berlin Wall, the Internet, social media and smartphones. Not to mention BERNINA innovations; the world's first portable freearm with zigzag machine, the Free Hand System, the world's first sewing and embroidery computer, the BERNINA Stitch Regulator and the BERNINA Hook. Our Golden Anniversary is just the beginning. Where will the next 125 years take us?
In celebration of 125 years BERNINA we created beautiful golden projects that include paisley embroidery designs that were specifically designed for our anniversary. You can download the Paisley Embrodery Designs here.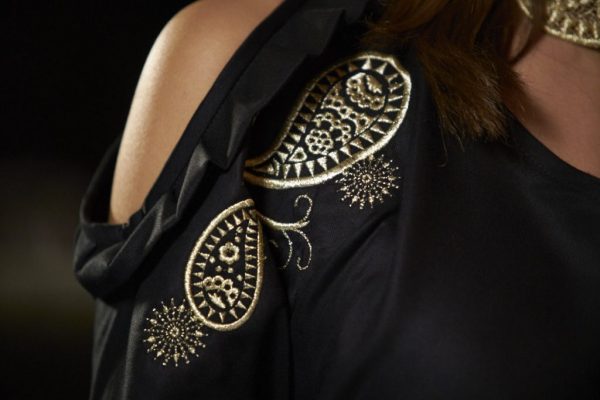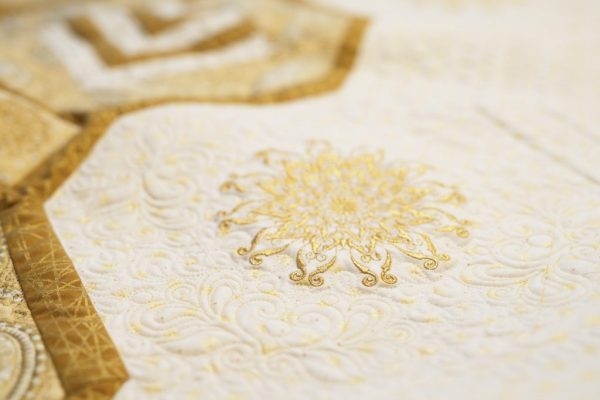 BERNINA is also celebrating with a gilded BERNINA 125th Anniversay Foot! A limited number of these golden Reverse pattern foot #1 Anniversary Edition feet will be arriving at BERNINA stores in March, be sure to ask at your local store about ordering one of your own.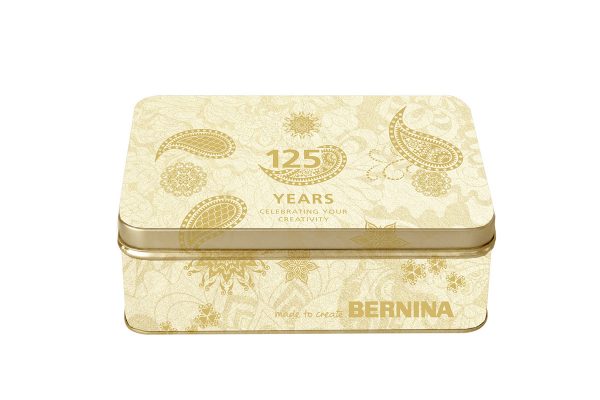 Enter the My First BERNINA contest for a chance to win a BERNINA limited edition Golden Anniversary Foot!
We're kicking off our golden anniversary with a chance for you to win a fun prize like a golden Reverse pattern foot #1 of your own, or one of Tula Pink's specialty Hardware cutting tools! We want to hear all about how BERNINA has helped you create, and sharing your My First BERNINA story is your ticket to enter to win. Read on below to find out how to enter your creative My First BERNINA story to our Community section to be eligible for our first WeAllSew Golden Anniversary Giveaway !
GRAND PRIZE
The Grand Prize is one golden BERNINA Reverse Pattern foot #1 Anniversary Edition nestled in a beautiful collector's BERNINA 125 Anniversary tin.
FIRST PRIZE
First Prize is one Tula Pink ergonomic handle 45mm Rotary Cutter.
SECOND PRIZE
Second Prize is one pair of Tula Pink Hardware 8″ fabric shears.
THIRD PRIZE

Third Prize is one Tula Pink Hardware 5″ curved EZ Snips thread snipper.
And The Winners Are…
Grand Prize Winner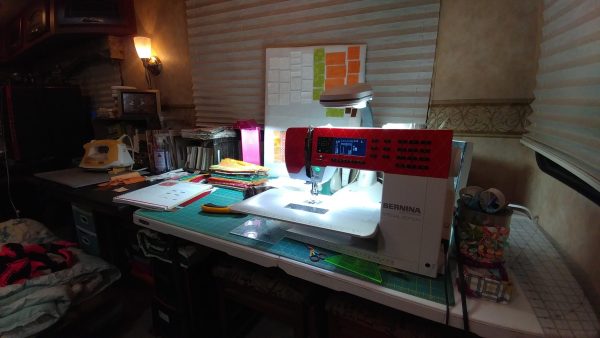 WeAllSew Community member bree406 with her post, My Swiss Red!
First Prize Winner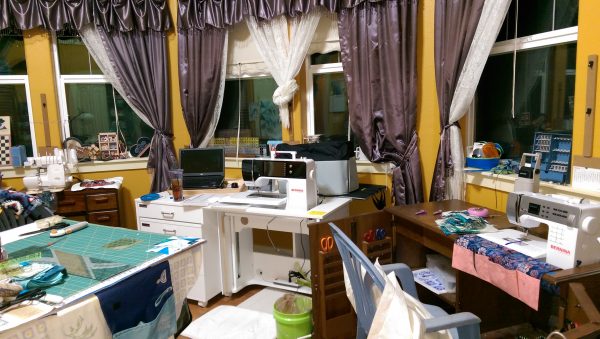 WeAllSew Community member csmead with her post, My first BERNINA!
Second Prize Winner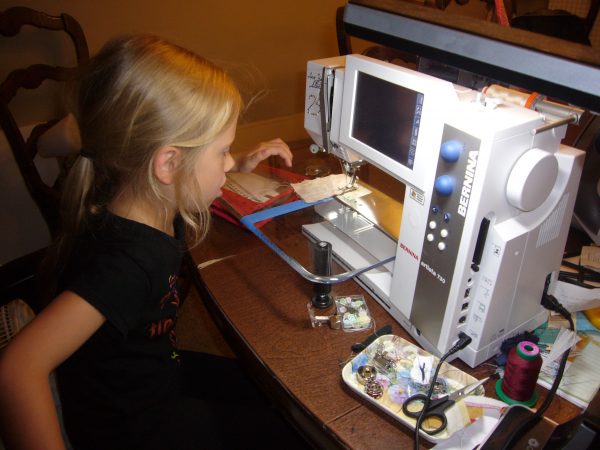 WeAllSew Community member leila with her post, BERNINA joy of Sewing!
Third Prize Winner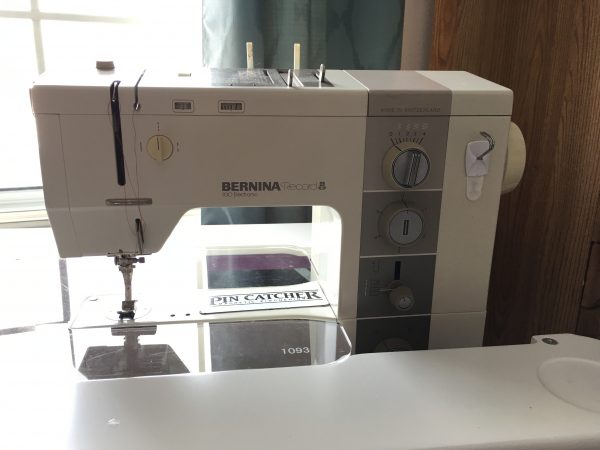 WeAllSew Community member hikerg1rl59 with her post, My First BERNINA!
How to Enter the My First BERNINA Contest!
Whether you have fond memories of your first BERNINA from years gone by, or you just popped open the box of your first BERNINA, we want to hear your story! Share a post in our WeAllSew Community section using photos and a written description to tell us all about your very first BERNINA.
The first step to start sharing your BERNINA store is to make sure you are a registered WeAllSew reader. If you are registered, make sure you are logged in and click here to find a step-by-step tutorial on uploading your story to our WeAllSew Community section. You will then be ready to upload your story! Select "my first BERNINA" in the dropdown menu. You can share up to 12 images in your story, and make sure to add all the details about your first BERNINA.
Click here to read the official rules. ELIGIBILITY: Open to legal residents of the 50 United States and the District of Columbia who are 18 years of age or older. The following individuals are not eligible to enter or win a prize: employees, contractors, directors, and officers of BERNINA of America, LLC. ("Sponsor"), its parent, subsidiaries and affiliated companies, and the web design, advertising, fulfillment, legal, judging, administrative, and Sweepstakes agencies involved in the administration, development, fulfillment, and execution of this Sweepstakes (collectively, "Sweepstakes Parties"), and the immediate family members (spouse, parent, child, sibling, grandparent, and spouse or "step" of each) and those living in the same household of each such person (those persons whether related or not who live in the same residence for at least three months during the twelve-month period preceding the start date of the Sweepstakes). SWEEPSTAKES PERIOD: The Sweepstakes begins on January 5, 2018, at 9:00:00 a.m. Central Time ("CT") and ends on February 2, 2018, at 11:59:00 p.m. CT (the "Sweepstakes Period"). The Application server is the official clock for this Sweepstakes.
Good luck!
What you might also like
63 comments on "BERNINA's Golden Anniversary"