Introducing Benartex' Newest Fabric Designer + 3 Free Patterns
Hi all! It's Christa Watson here, a loyal BERNINA ambassador and brand new fabric designer for Benartex!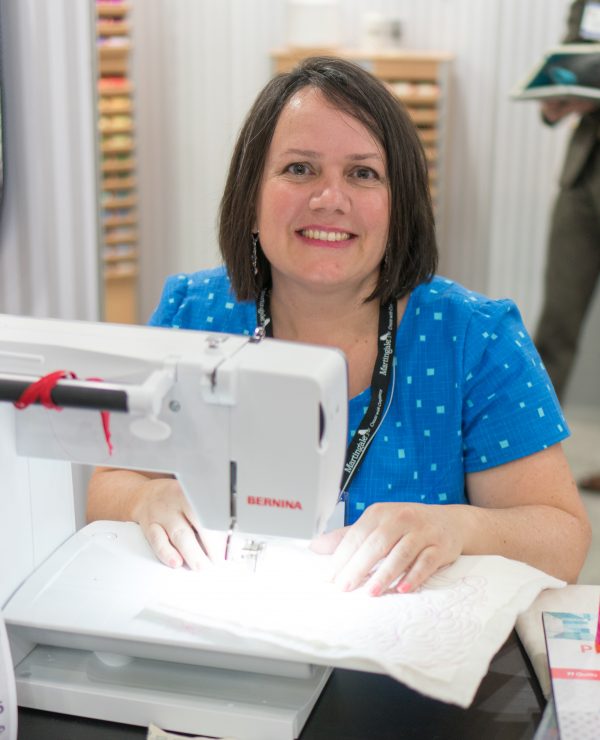 I've always been a fan of both BERNINA and Benartex, and when they joined forces several years ago, I thought it was a match made in heaven. When I got the opportunity to start designing fabric for Benartex, I was thrilled beyond words! Today I'd like to share with you the story of how that happened, the inspiration behind my debut line (Modern Marks), some free patterns for you to enjoy, and a chance to win a Pinwheel of the Modern Marks collection!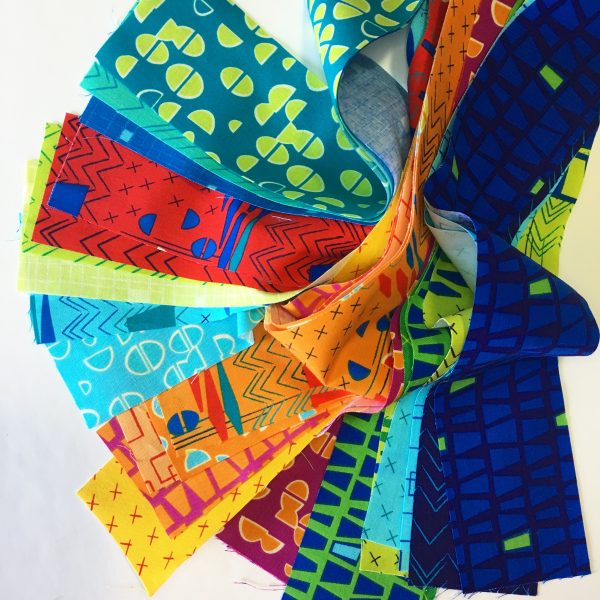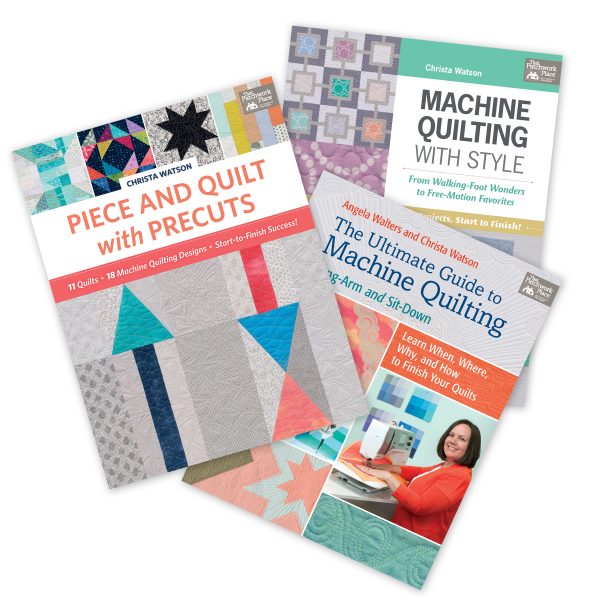 My Machine Quilting Books – I piece and quilt everything on my beloved BERNINA 770 QE
I've been a quilter for over 20 years and have written several books on machine quilting. I travel nationally to teach for BERNINA dealers and other fun places where quilters gather. It has long been on my bucket list to try my hand at fabric design, but I knew I had to get all of my ducks in a row before I even thought about submitting my designs.
One stop along my journey was attending an industry conference in 2016 to learn what it takes to become a fabric designer. Presenters at this conference included other talented designers such as fellow BERNINA ambassadors Tula Pink and Alison Glass. I came home from the conference with a firm decision that yes, I was ready to enter the world of fabric design. I set a plan in place, knowing it could take years to succeed and I was willing to put in the work.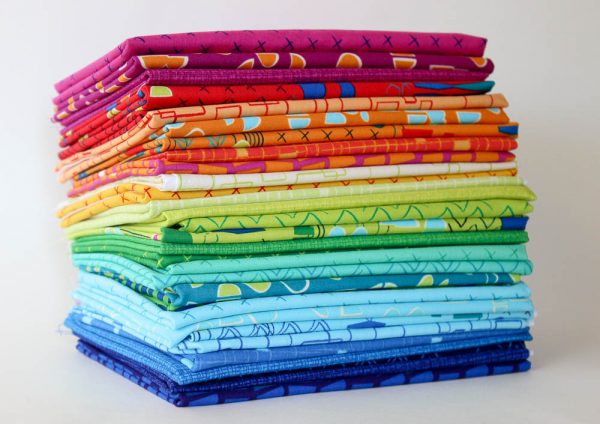 Modern Marks fabric by Christa Watson features a rainbow of Saturated Color.
As luck would have it, Benartex came calling literally two days after I returned home from that conference. They mentioned that they really liked my style and asked if I'd like to join their Contempo fabric division, which focuses on creating contemporary and modern fabrics with a fresh, clean aesthetic. It took me about two seconds to say, "yes!" and join the ranks of their other amazing trend-setting designers.
I knew right away what I wanted to create: a colorful collection full of modern, geometric prints in saturated hues. I'm inspired by mid-century modern art and bold, clean graphic design. I've always loved bright colors, but when I began quilting back in the early 1990's the only brights that were readily available were novelty kids prints. I collected them eagerly, all the while yearning for something a bit more sophisticated.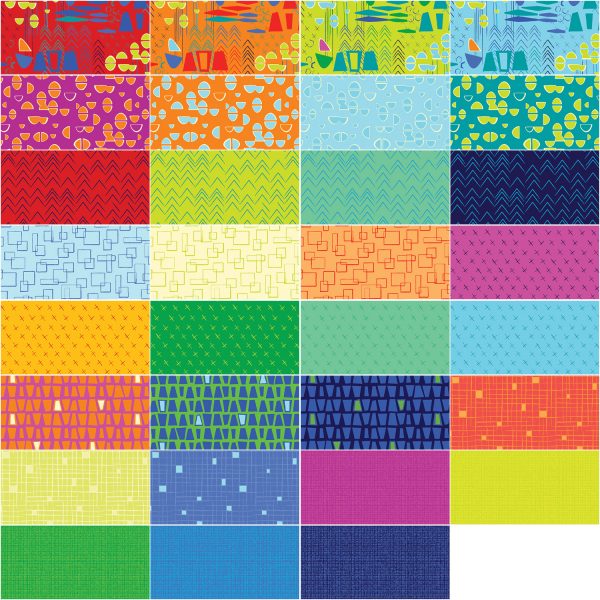 Modern Marks includes 26 prints from the line plus 5 coordinating Color Weave tonals.
Modern Marks is now available in quilt shops worldwide, and I've been having a blast creating fun, cozy quilts and seeing what other quilters and sewists have made. For more inspiration, check out the hashtag #modernmarksfabric to see what others are creating from my fabric!
Benartex and I have teamed up to offer three free patterns for you to enjoy. Of course they would look great in any fabrics you choose, but I think they are extra special when you use Modern Marks. 🙂
Rainbow Taffy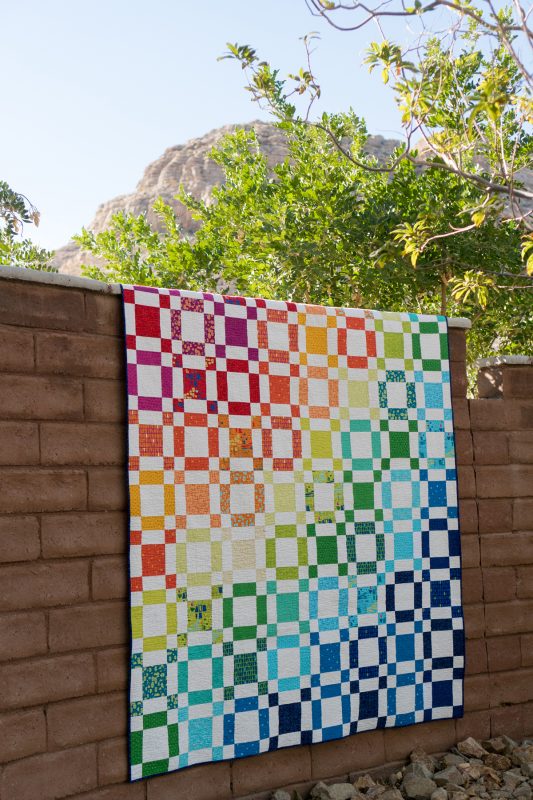 Click here to download the free Rainbow Taffy Quilt Pattern
Rainbow Taffy was so fun to design and make. I love a good rainbow quilt and this design can be made in rainbow order as shown, or mix up your favorite prints for a super scrappy look!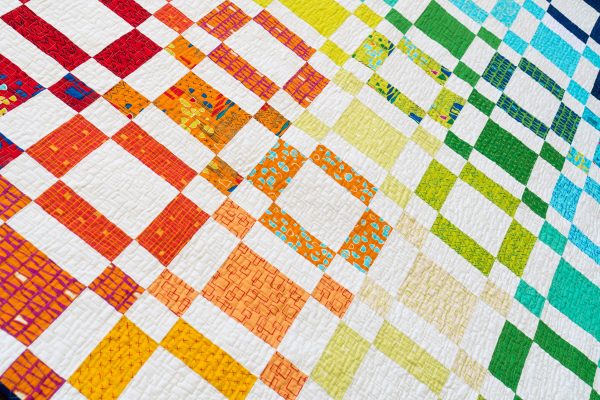 I free-motion quilted a "boxes" design using the BERNINA Stitch Regulator and my B 770 QE.
I had fun quilting an allover "boxes" design on this one. It's a nod to one of the prints of the same name, and a super easy and forgiving free motion design to stitch out. You can practice the design by sketching a series of random overlapping squares on paper. Once you get the hang of it, apply that same design to your quilt from edge to edge.
Modern Puzzle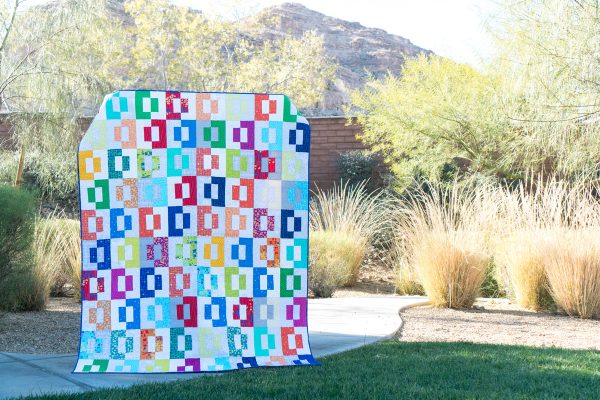 Click here to download the free Modern Puzzle Quilt Pattern
I designed Modern Puzzle to be made entirely from 2 1/2″ precut strips. Benartex calls the "Pinwheels" and they are so fun to sew! You can use one pinwheel of Modern Marks + one pinwheel of neutral backgrounds to make this design pop!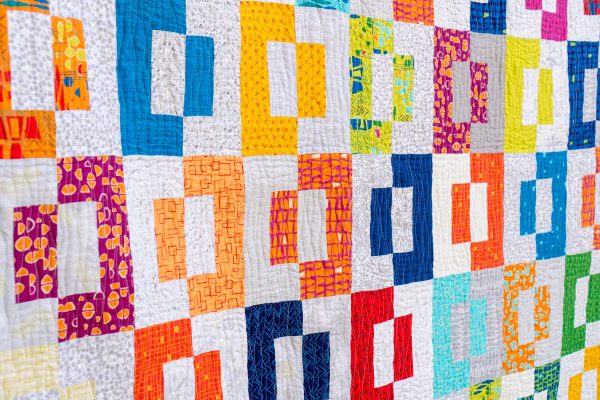 Quilt overlapping wavy lines without marking using seam lines as a guideline for spacing.
I love using the BERNINA dual feed which comes standard on the B 770 QE to quilt overlapping wavy lines. I use the open toe #20D foot to see what I'm doing and then move the quilt from side to side to create wonky wavy lines. Stitch as few or as many lines as you wish to add texture to your quilt!
On Your Mark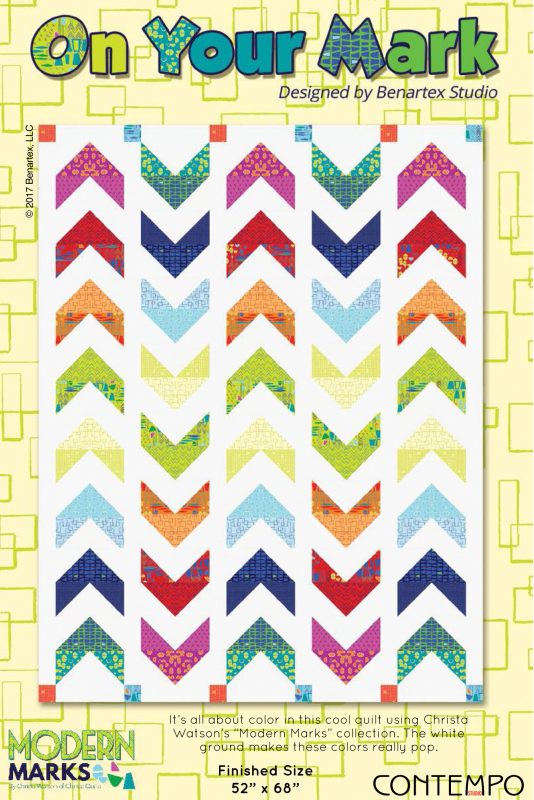 Click here to download the free On Your Mark Quilt Pattern
The savvy folks at Benartex created this free digital design for you to make. Pair up your favorite brights from the line with a contrasting background and you'll whip up this graphic modern quilt in no time!
I hope you've enjoyed seeing my new colorful fabric collection, Modern Marks. As for it by name at your favorite quilt shop!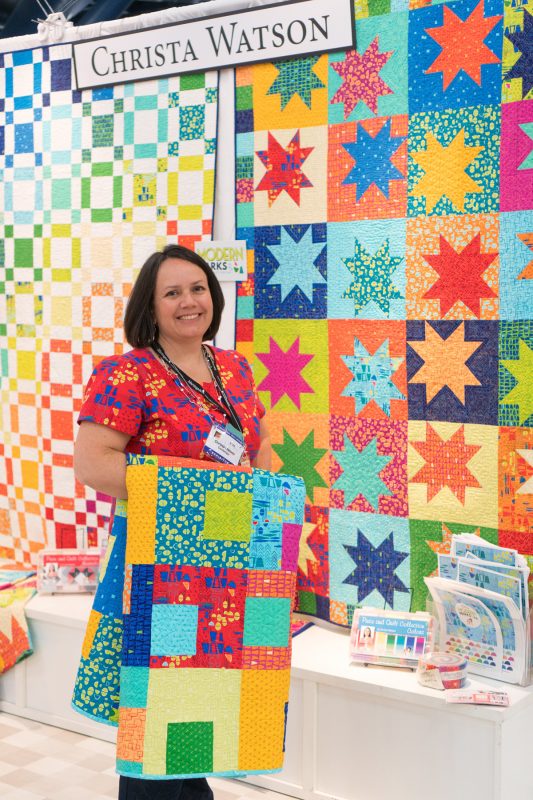 Additional quilts shown in this image are "Gridwork" and "Starstruck."
Patterns for both available in my book Piece and Quilt with Precuts from Martingale/That Patchwork Place.
Win a fabric Pinwheel (40 2-1/2″ strips cut width of fabric) of my Modern Marks collection!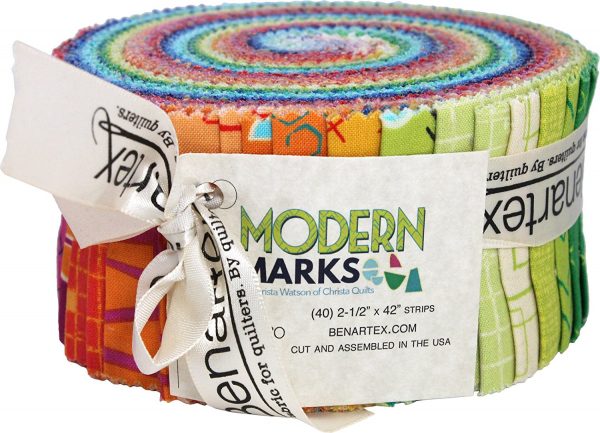 You could be the Lucky WeAllSew winner of one Modern Marks Pinwheel!
All you have to do is post a comment below and answer the question, "What would you make with Modern Marks fabrics?" The the giveaway is open through Thursday, January 11th!
The giveaway is open to residents of the 50 United States and the District of Columbia. One comment per fan. Comment must be submitted to the WeAllSew.com blog by Thursday, January 11th at 11:59 PM Central Time. Winner will be chosen randomly. Winner will be notified by email and will have 48 hours to contact to claim the prize.
Difficulty level

Beginner

Time to Complete

Weekend

Used Material

cotton fabric

Projects

quilt

Seasons

all seasons

Techniques

color theory, free-motion quilting, quilt piecing, quilting, straight-line quilting
What you might also like
261 comments on "Introducing Benartex' Newest Fabric Designer + 3 Free Patterns"