Introducing Our 7 Series Sewing Celebrities!
As you know, we are introducing some wonderful new products this month:
– The BERNINA 7 Series machines and
– DesignWorks Software Suite
To help us, we have hand-picked 5 super-special sewing celebrities (say that five times fast!) to play with and experience our newest offerings. The B 780 E sewing and embroidery machine will spend the rest of the year traveling across the country to meet each of these lovely ladies, spend time in their sewing studios, and inspire them to create on a whole new level!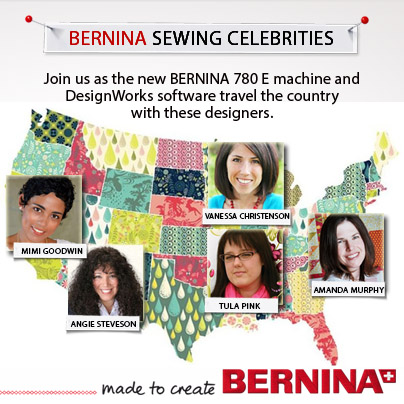 Over the next couple months, you will be introduced to each celebrity and get an up close and personal look a their experiences with the new machine and software.
Drum roll…our sewing celebrities are:
– Fabric Designer and Author, Tula Pink www.tulapink.com
– Fabric and Embroidery Designer, Angie Steveson www.lunchboxquilts.com
– Author and Blogger, Vanessa Christenson www.vanessachristenson.com
– Fashion Expert and Blogger, Mimi Goodwin www.mimigstyle.com
– Fabric and Embroidery Designer, Amanda Murphy www.amandamurphydesign.com
Stay tuned for more…
What you might also like
3 comments on "Introducing Our 7 Series Sewing Celebrities!"