Meet Angie Steveson, BERNINA Sewing Celebrity
This week, we are traveling to Scottsdale, AZ as our Sewing Celebrity Angie Steveson gets to know her new BERNINA 780 E sewing and embroidery machine! Here is a cute video of her picking up her machine!
Angie is founder of and designer for Lunch Box Quilts. She creates appliqué quilt patterns designed specifically for embroidery machines. She has received awards for her unique quilt designs both locally and nationally. Angie has written articles and her projects have been featured in magazines such as Creative Machine Embroidery, Quiltmaker, and Quilting and Embroidery. She travels nationally teaching Lunch Box Quilts workshops, and lives in Scottsdale, Arizona with her husband and two grown sons.
Watch as Angie talks about some of the amazing features of the new BERNINA 780 E including the extra large bobbin.
Follow the rest of Angie's adventures on on her Facebook page and BERNINA 780 E blog. Follow Angie and all of our BERNINA 7 Series Sewing Celebrities on our BERNINA USA Facebook page.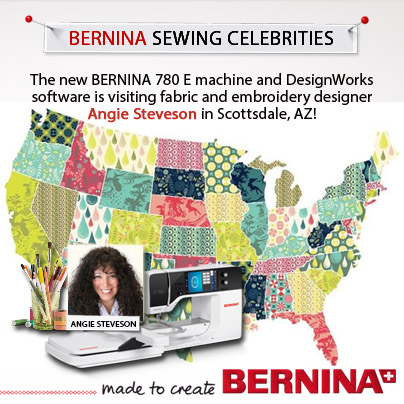 More to come…
What you might also like