Blossoms Quilt Sampler with Rulerwork Part 3
Hi everyone,
I'm BERNINA Expert Amanda Murphy and it is time to finish the blocks on our BERNINA Blossoms Sampler! Are you ready? Let's dig right in.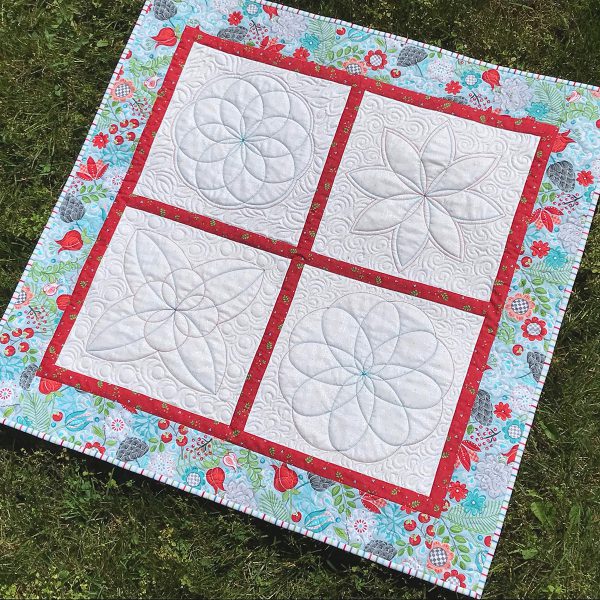 The BERNINA Blossoms Sampler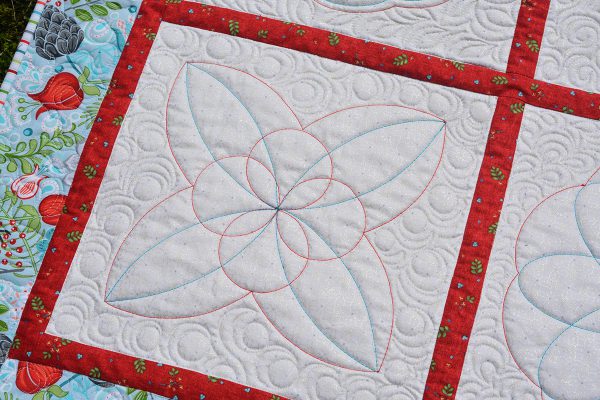 Block 3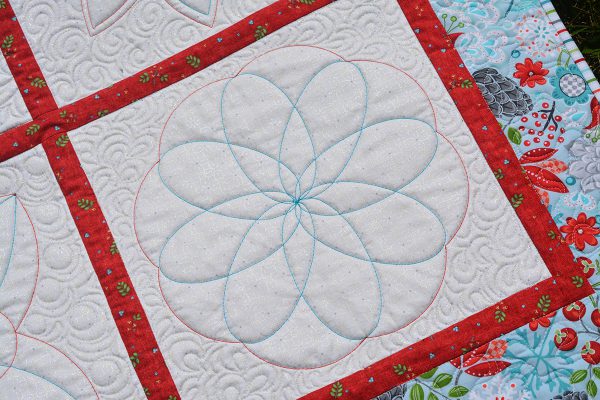 Block 4
Quilting the BERNINA Blossoms Sampler: Blocks 3 and 4 and Free-Motion
Download the PDF with quilting instructions here  
Note that we use quilt around a small circle ruler on block 3. Watch how I handle the small ruler in the video and SAY IT WITH ME: "SMALLER RULERS DO NOT MEAN THAT I SHOULD STOP AND REPOSITION MY HANDS LESS!" If anything you should stop and re-position your hands more because smaller rulers mean less surface area. You might find that you need to slow your hand movement just a bit and make your stitch length a bit smaller to get a smooth, defined curve. Remember, both hands on the ruler and stop often so that you have keep in control of both the ruler and the fabric!
For block 4 we use the inside of one of my Every Oval rulers. Note how much easier it is to quilt on the inside than the outside of a ruler. That is because of the increased surface area. Did you know that some longarms do not allow you to raise the foot? But on a BERNINA Q20 and Q24 you can raise the foot, just like on a domestic machine, so you can use solid rulers without slits. I personally think that it is much easier to quilt inside solid circles and ovals because you don't get a little dent where the opening is, and we can do this even on the longarm BERNINAs! I bet a lot of you Q20 and Q24 owners didn't even realize this is a special feature – CELEBRATE THE ENGINEERING GENIUS THAT IS BERNINA!
There are so many variations of designs you can do with oval rulers. I designed the Celestial Lights Ruler Panel and Guide to help you explore Ovals, so make sure to ask for it at your local BERNINA dealer!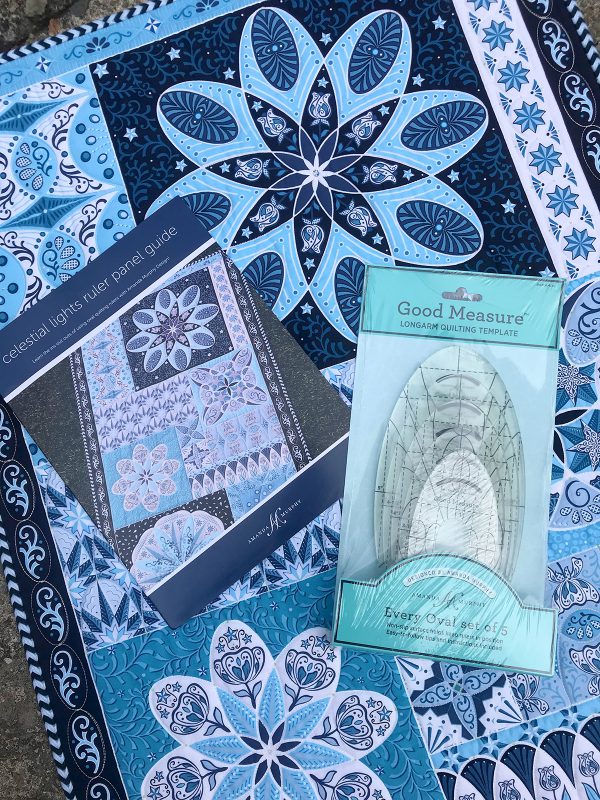 The Celestial Lights Ruler Panel, Guide, and Every Oval quilting rulers.
Once you have completed the rulerwork it is time to free-motion behind the blocks.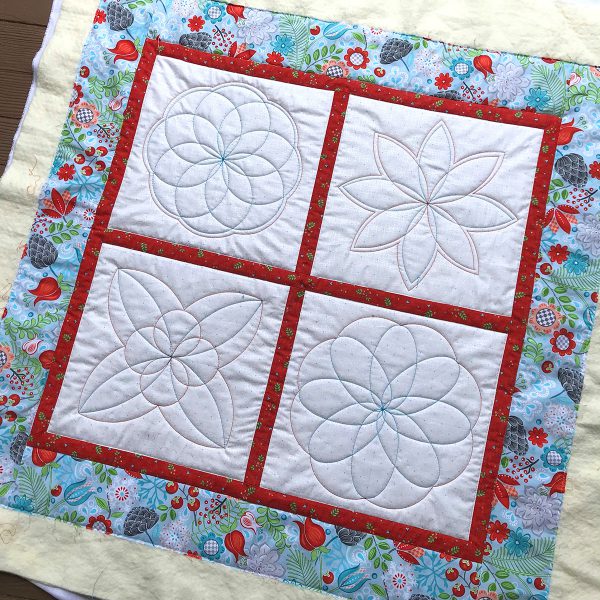 My sampler before quilting the backgrounds. Note that it lies flat because there isn't a lot of quilting in any one place.
You can do the same free motion pattern behind each block or a different one in each. I showed you some of my favorite free-motion designs in the video, but a simple meander or loop design would also be lovely.
Diagrams and variations of the designs I showed in the video can be found on pages 25, 75, 117, and 149 of my Organic Free-Motion Quilting Idea Book.
Note that whatever density of background design you use, you'll have to quilt a similar density design in the border. If you use a tight design in the blocks backgrounds but a looser design in the border you will end up with a wavy border. Conversely if you quilt a really loose background design (or no design) in the block background but a tight design in the border the blocks will puff out and you'll have a three dimensional piece. I quilted a ribbon design in the border but kept it a similar scale to the other designs so the piece would lay flat. (Diagrams for a ribbon design can be found in my original Free-motion Quilting Idea Book.)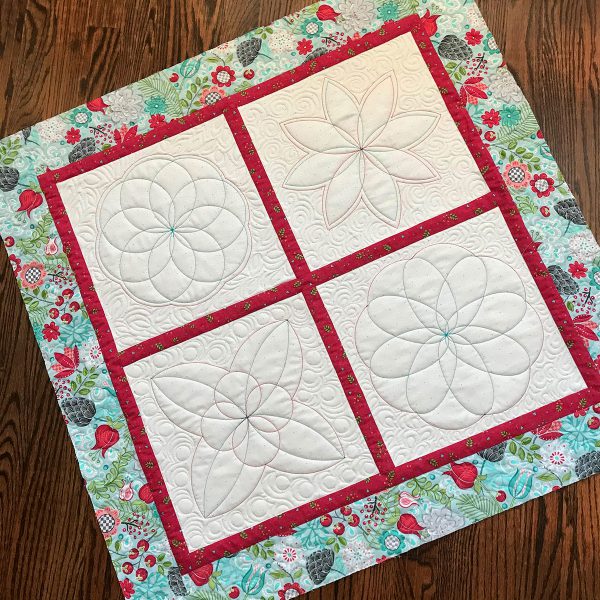 My sampler after quilting the backgrounds AND the border. Note that it lies flat because there is a similar density of quilting everywhere.
This giveaway is now closed, thanks to all our WeAllSew fans for entering. Congratulations to our winner, @kell!
Time for the giveaway! What kind of quilting projects would you like to see BERNINA and I explore next year on We All Sew? Comment below for a chance to win a copy of all my patterns for my brand new line of quilting cottons for Contempo of Benartex – Crescendo! If you love these fabrics, please ask your local shop to order them through Contempo of Benartex and join us in my Facebook Group, Quilting with Amanda Murphy, where we'll have some fun sew-alongs this fall!
The giveaway is open to residents of the 50 United States and the District of Columbia. One comment per fan. Comment must be submitted to the WeAllSew.com blog by Friday, September 4, 2020 at 11:59 PM Central Time. Winner will be chosen randomly. Winner will be notified by email and will have 48 hours to contact to claim the prize.
Good luck!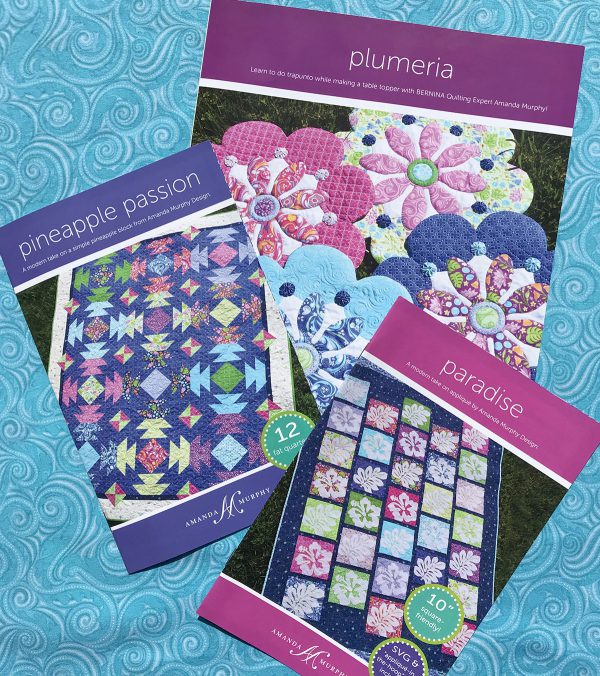 My new patterns for my Crescendo line of fabrics for Contempo of Benartex.
Good luck and happy quilting!
Amanda
Blossoms Quilt Sampler Quilt-along
Blossoms Quilt Sampler with Rulerwork Part 1
Blossoms Quilt Sampler with Rulerwork Part 2
Blossoms Quilt Sampler with Rulerwork Part 3
Projects

quilt

Techniques

quilting, rulerwork
Used Products
What you might also like
14 comments on "Blossoms Quilt Sampler with Rulerwork Part 3"