Blossoms Quilt Sampler with Rulerwork
Hello everyone!
I'm BERNINA Expert Amanda Murphy and I MISS SEEING YOUR FACES at dealerships I'd usually be traveling to across the country and world! It has been nice connecting and quilting with so many of you on my Facebook Lives in my Facebook Group and on my Facebook Page but I still miss visiting in person.
Scroll down for a giveway at the end of this tutorial.
I'm excited to announce that BERNINA and I cooked up a special little rulerwork project for you guys so that we can quilt together. Some of you might remember my BERNINA Rulerwork Sampler that I designed a few years ago for the BERNINA ruler sets. Well, since that time I've done the Jubilee ruler set for BERNINA and a bunch of different Good Measure ruler sets for Brewer Sewing. They've been really popular due to their markings and non-skid backings, so I'll be showing you how I use them, but you can also quilt with the original BERNINA sets if you'd prefer.  I thought we'd piece a simple quilt top and learn to combine some different shapes of rulers this time, while make the quilting the "star" of the piece. The BERNINA Blossom Sampler is sort of a Rulerwork 2.0.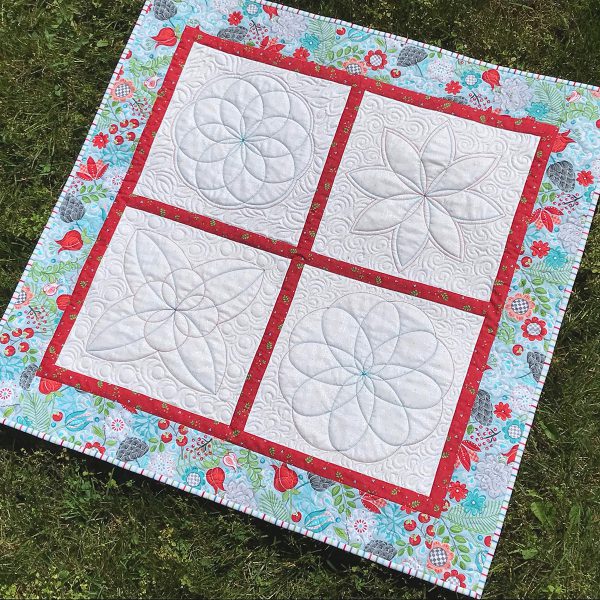 The BERNINA Blossoms Sampler
Are you with me? I sure hope so because, as I said, I miss quilting with all of you!
Because the format of this 34-1/2" x 34-1/2" is so simple (the blocks are 12" squares finished), you have lots of options to make it uniquely yours. You can quilt just one block and finish it as a pillow, or you can add blocks and quilt each differently (or each the same) to make a larger quilt.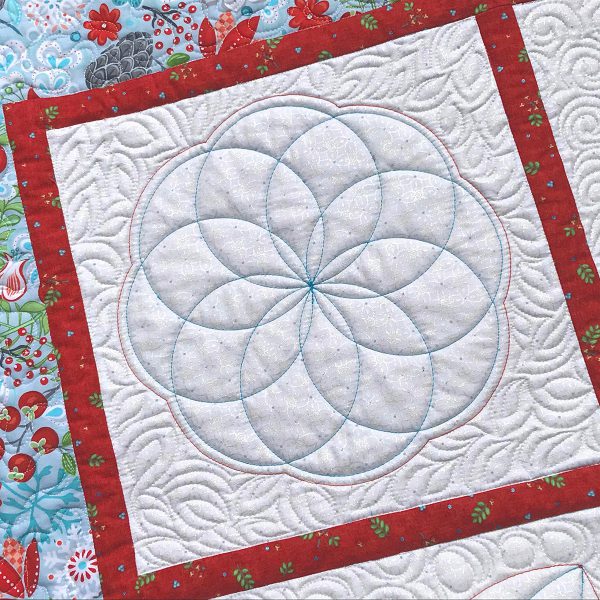 A block from the BERNINA Blossoms Sampler
You can download a PDF with a materials list and piecing instructions here but to complete the quilting of this piece you will definitely need the following:
Download BERNINA Blossoms Sampler Part 1
A BERNINA #72 Adjustable Ruler Foot (a #96 foot will also work if you are quilting on a Q Series)
A straight line quilting ruler, like my Every Angle Ruler or the BERNINA straight ruler
An assortment of circle, oval, and curved rulers. I used a variety of rulers from Every Circle, Curve, and Oval sets to quilt the blocks as shown. If you don't have a wide selection of rulers you can just use what you have and quilt the same motif in every block. Personally I think you can NEVER go wrong with circle and curves, as they are the foundation of so many designs. And then Ovals are just fun! If your designs are a little smaller due to the size of rulers you have on hand (such as those in the BERNINA sit-down set) you can quilt slightly smaller motifs and free-motion around them to fill up the space. It will still be beautiful. You can also take inspiration from the designs I've quilted here and create a motif that is completely unique to you!
BERNINA Echo Clips (these are optional and were used to echo around some of the blossoms)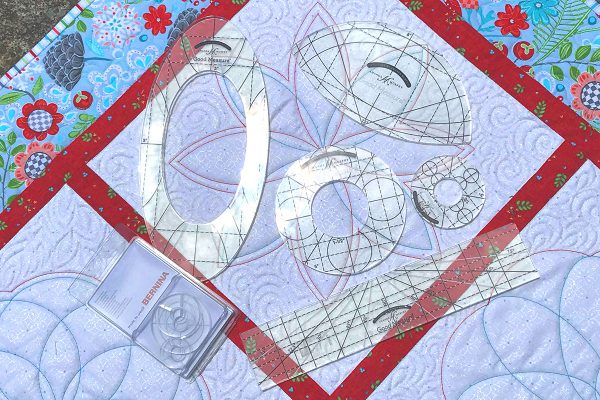 My Good Measure Rulers and the BERNINA Echo Clips I used in my version of the sampler
If you are quilting on a domestic I highly recommend either a cabinet or a flat table to make it easier to move the ruler over the fabric. I quilted the example on my 125th Anniversary 790 Plus, so you can really see how to handle rulers on a domestic machine.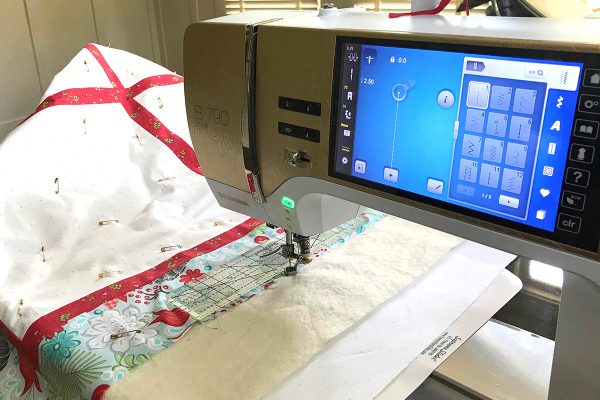 How I set up my BERNINA 790 Plus for rulerwork quilting
Ok so this month is easy because it is all about choosing fabrics and piecing the top. Which is fun, right? I use my First Frost line for Contempo of Benartex Fabrics. If you love this line I would love it if you asked your local shops to order it. You can find a list of some shops that are carrying it here.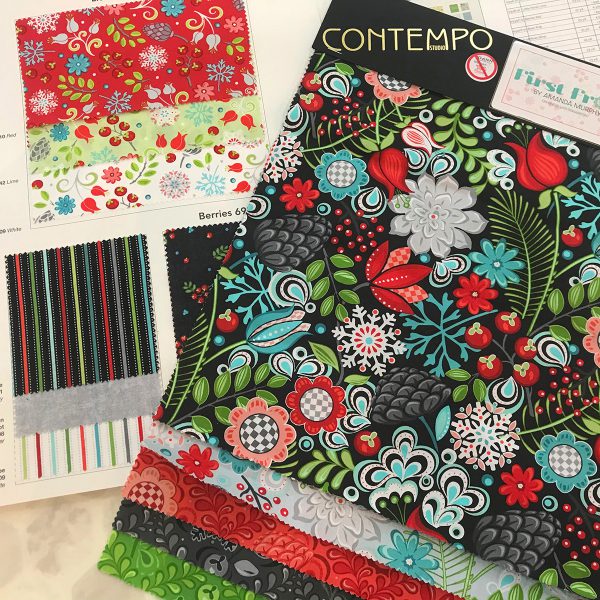 First Frost, my line for Contempo for of Benartex
One thing you might note from the PDF piecing directions. I pressed all of my seams open on the sampler. This is usually what I prefer in situations where I don't have seams that "lock" in a piece. I do that because the quilter in me likes having the option of quilting right "along-the-ditch" on either side of the seam. I like to keep my options open as long as I can! So, with the exception for when seams can be "locked" (pressed in opposite directions to ensure perfect alignment.) I like to press them open. Please feel free to do whatever works best for you.
Ready to talk quilting thread so you can shop for that too?
I am a huge fan of Aurifil cotton thread and I piece and quilt with it a lot. I use their 50 wt. most often for both piecing and quilting, but I was living on the edge with this piece and went for a contrasting 28 wt. thread for the actual rulerwork blossoms, and then I added texture with a 50 wt. white Aurifil in the background. I thought the contrasting threads would be easier to see on camera; I've gotten to a point in my quilting that I have accepted things won't be perfect and I am okay with my mistakes and I am also okay with you guys seeing my mistakes. I hope you will be too. If, however, you cannot deal with seeing YOUR mistakes you might want to use the white thread for both the rulerwork and the free-motion. I can assure you that others will not notice your mistakes, but you have to do what makes you happy.
I'm not going to lie – using a heavy thread that also contrasts with the background draws one's attention  BUT PEOPLE, there is nothing quite like an international pandemic to put our quilting problems into perspective, so if you feel reasonably comfortable with rulers I'd say go for at least a tiny bit of contrast, if not the thick thread! (How about going for a very light grey on white—that would be pretty!) Or at least try it on a practice sandwich just to have a new experience!
One lucky WeAllSew reader will have the Chance to win win a copy of all my First Frost patterns, including Woodland Sampler
The giveaway is now closed, thanks to our WeAllSew fans who entered. Congratulations to the winner, WeAllSew fan @grammaof3!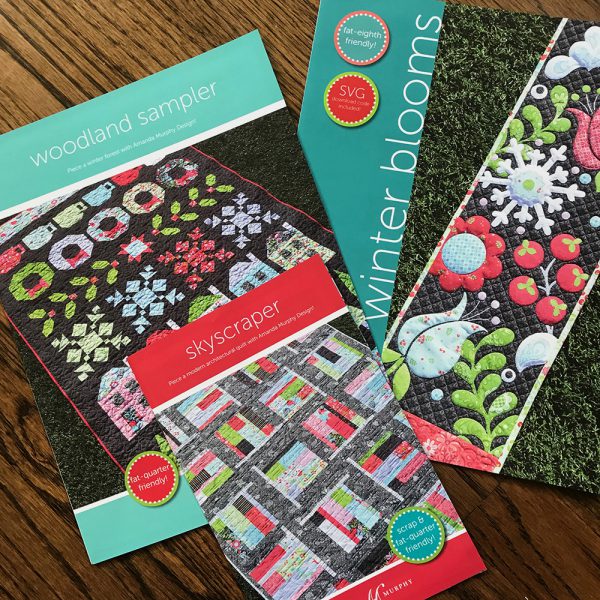 Before I wrap up let's have a giveaway. I'll be spending a lot of time on weallsew.com in the future and I want to hear from you what types of motifs you'd like me to cover in terms of rulerwork. Comment below for a chance to win a copy of all my First Frost patterns, including Woodland Sampler.
All you have to do is post a comment below and answer the question:
"What types of rulerwork motifs would you like to learn?"
The the giveaway is open through Friday, August 7th.
The giveaway is open to residents of the 50 United States and the District of Columbia. One comment per fan. Comment must be submitted to the WeAllSew.com blog by Friday, August 7, 2020 at 11:59 PM Central Time. Winner will be chosen randomly. Winner will be notified by email and will have 48 hours to contact to claim the prize.
Good luck!
I'll meet you back here in two weeks with your finished BERNINA Blossoms top so we can start quilting!
Amanda
Difficulty level

Intermediate

Used Material

BERNINA Echo Clips, cotton fabric, cotton quilt batting, quilt backing fabric, quilting rulers

Projects

home décor, quilt

Seasons

all seasons, Spring, Summer

Techniques

quilting, rulerwork
Used Products
What you might also like
282 comments on "Blossoms Quilt Sampler with Rulerwork"