Blossoms Quilt Sampler with Rulerwork Part 2
I'm BERNINA Expert Amanda Murphy and I'm back to show you how to quilt the first two blocks of the BERNINA Blossoms Sampler.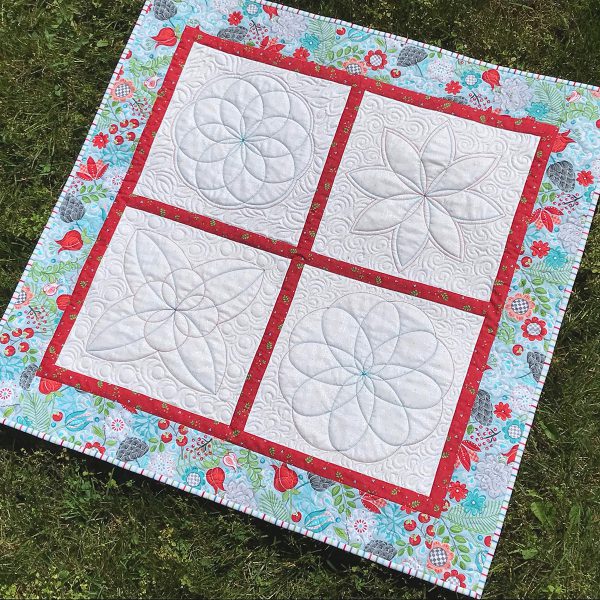 The BERNINA Blossoms Sampler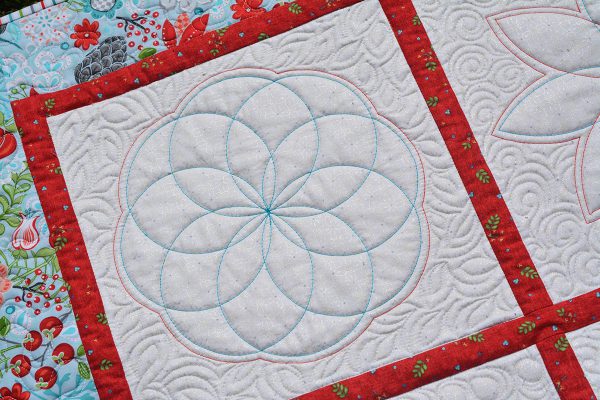 Block 1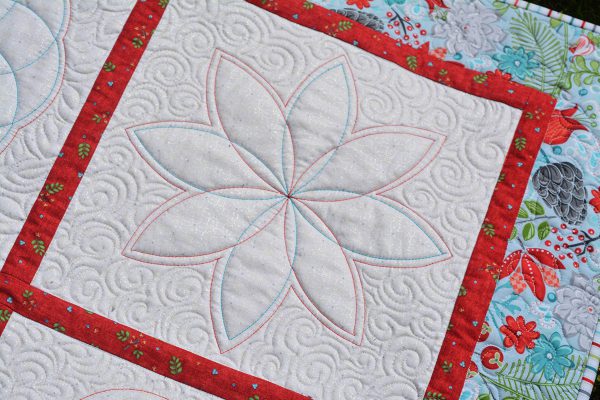 Block 2
I've prepared a video to walk you through the steps, but personally I also like to have a printout to refer to when quilting, so I've prepared PDF directions with diagrams for you as well.
Download a  PDF with quilting instructions here. 
Make sure to watch the video at the end of this post for tips and tricks though—and pay special attention to how I'm holding the ruler and positioning my hands in general if you are on a domestic machine or a sit-down Q 20! You can find more tips in my new book on rulerwork— The Ultimate Guide to Rulerwork Quilting for C&T Publishing.
To quilt with rulers on a domestic it is very helpful to have a flat table or to have the machine sunk in a cabinet. I also like to use a Supreme Slider or Free-motion Glider.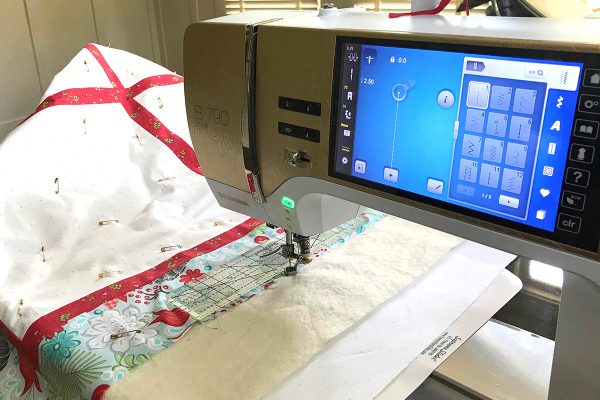 How I set up my BERNINA 790 PLUS for rulerwork quilting
Lower your feed dogs. IF YOU HAVE A MACHINE WITH A HOVER YOU MUST TURN IT OFF! You don't want to be pushing a ruler into the foot and have the foot come up.  I show you how to turn off a hover on the 7 Series in the video.
Layer your backing, batting, and quilt top and pin or spray baste the sandwich. I prefer pinning to spray basting but if pins bother you you can also run long basting stitches by hand with water soluble thread every few inches. Then you don't have to mess with taking pins out as you come to them.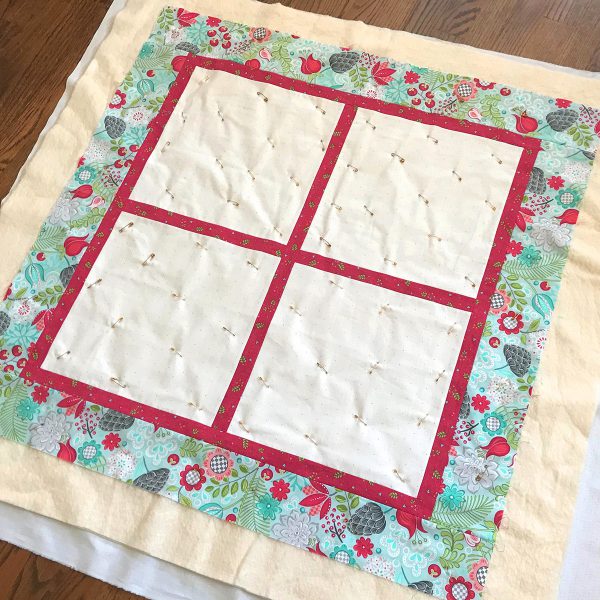 Pin basting about a fist's-width apart. Make sure your pins aren't too far apart or the layers will shift.
Baste all the way around the quilt top in the binding area. I like to use a ruler for this because it gives me an opportunity to warm up, but you can use a walking foot if you prefer. If you are using a ruler, you can either keep the stitches long as they will be covered by the binding OR you can use the opportunity to practice your stitch length.
A WORD ABOUT  ACHIEVING A CONSISTENT STITCH LENGTH
For domestic machines, it is important to establish a rhythm. You want to move smooth and steady.   Happy machines sounds happy and sad machines sound sad, and you don't want a sad machine because you will have sad stitches, so go for a smooth purr. If you hear your machine speeding up and slowing down and lurching in terms of speed, there is no way your stitches will be even. If you struggle with this try moving your speed slider closer to the left and then floor the foot pedal. You might need to play with the speed to find the ideal setting for you.
(Yes, if you are lucky enough to own a Q 20 you can use stitch regulation with rulers and have the machine handle the stitch length even while you vary speed, but the rest of us have to keep steady ourselves when using rulers.)
When stitching a straight line you want to go for a stitch length that looks like it is between a 2.5 mm and 3.0 mm stitch if you were piecing. The feed dogs are down and you have a ruler foot on so the stitch length has nothing to do with machine settings. If your stitches are even 80% of the time you should give yourself a pat on the pack. Actually, give yourself a pat on the back regardless because you are conquering your quilting fears and trying a new technique and we are in a global pandemic and the world needs MORE pats on the back!
QUESTION: HOW LONG IS TOO LONG?
Too long is when the threads will catch in the wash or on your rings or are a temptation for your cat.
QUESTION: HOW SHORT IS TOO SHORT?
Too short is when you just give up when you try to get the stitches out because it is too hard.
You'll quilt the area between the sashing and the border, then quilt around each block, then mark the blocks and quilt a rulerwork design in the first and second block as directed.
Quilting the BERNINA Blossoms Sampler: Stabilization & Blocks 1 and 2
I show you two different options for starting and ending threads so that you have options.
Note that I never ever bring my ruler over to my stitching area until I put my foot down. This is probably the most important piece of advice I can give you. Get into the habit of making sure your foot is down BEFORE the you bring the ruler over. Also note that I keep both fingers from both hands on the ruler and fingers from both hands on the fabric at all times.
If you are using the original BERNINA ruler sets I recommend taping them together to give you more surface area with which to work. Your motifs might be a slightly different size than mine and that is okay! I showed you how in the the videos I did for my BERNINA Rulerwork Sampler.
If you feel nervous use matching thread and your mistakes won't show.
So now for the giveaway; did I mention I was going to be visiting here a lot in the next few months BERNINA and I can't tell you why yet but we have some fun things planned! What types of free-motion motifs would you like to see me cover? Comment below for a chance to win a copy of all my patterns for my brand new line of quilting cottons for Contempo of Benartex—Crescendo! If you love these fabrics, please ask your local shop to order them through Contempo of Benartex and join us in my Facebook Group, Quilting with Amanda Murphy, where we'll have some fun sew-alongs this fall!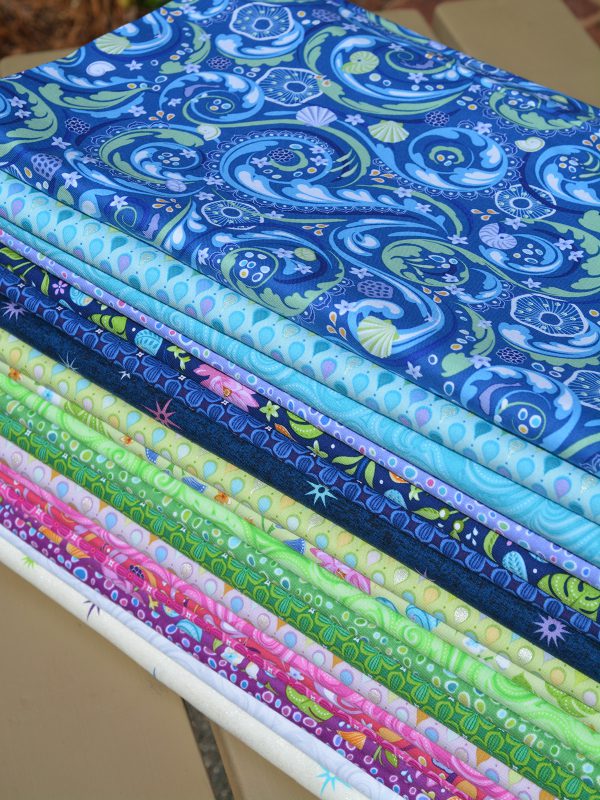 My Crescendo line of fabrics for Contempo of Benartex
One lucky WeAllSew reader has the chance to win my new patterns for Cresendo!
The giveaway is now closed, thanks to our WeAllSew fans who entered. Congratulations to the winner, WeAllSew fan @ababe!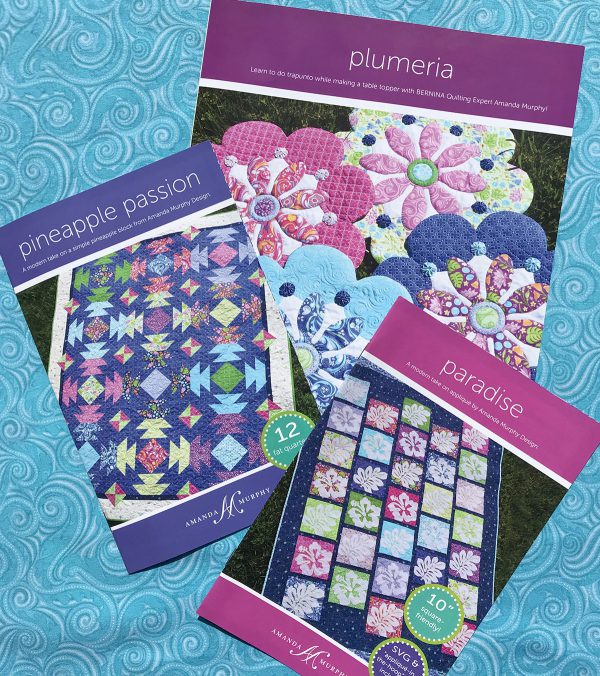 All you have to do is post a comment below and answer the question:
"What types of quilting patterns would you like to tackle next?"
The the giveaway is open through Friday, August 21st.
The giveaway is open to residents of the 50 United States and the District of Columbia. One comment per fan. Comment must be submitted to the WeAllSew.com blog by Friday, August 21, 2020 at 11:59 PM Central Time. Winner will be chosen randomly. Winner will be notified by email and will have 48 hours to contact to claim the prize.
Good luck!
I'll meet you back here in two weeks with your finished BERNINA Blossoms top so we can finish our sampler!
Difficulty level

Intermediate

Time to Complete

A week or more

Used Material

50 wt thread, 80/12 quilting needle, basic sewing supplies, BERNINA Echo Clips, cotton fabrics, fabric for binding, quilt backing, quilt batting

Projects

quilt

Seasons

all seasons

Techniques

quilting, rulerwork
Used Products
What you might also like
72 comments on "Blossoms Quilt Sampler with Rulerwork Part 2"