QuiltMotion Sampler Quilt
When QuiltMotion Software was first introduced earlier this year, I immediately knew this was a product I wanted to become better acquainted with even though I'm not a quilter. I have had an underlying desire to become a quilter, but had avoided taking the plunge. The main reason for this avoidance was the vision of more unfinished projects.
However, in my usual justification of pursuing another hobby I realized that QuiltMotion is not only for quilters. QuiltMotion provides a way to do an all-over pattern on fabric to create that one-of-a-kind project for home décor, fashion accessories, and apparel. The justification had been satisfied.
After setting up the frame and playing with the QuiltMotion software, I decided that my first quilt would be a QuiltMotion sampler. I wanted this sampler to serve as a reminder – at a glance – of all the placement and fill methods that are available. It also became an excellent tool for learning how to use QuiltMotion.
I used unbleached muslin for the quilt top and backing. The batting was a low loft batting … flannel could be used as well. After loading the quilt frame, I decided to use 7" square blocks and was able to easily fit 4 blocks across the width of the quilt with about 1" separating each block. With a water-marker, I marked the four corners of each block on the first row.
To add variety to the sampler, I selected a different pattern for each block. The only portion of the sampler that I used the same pattern was the Pantographs at the bottom of the sampler. I wanted to create a visual reference of the stretching and scaling fills.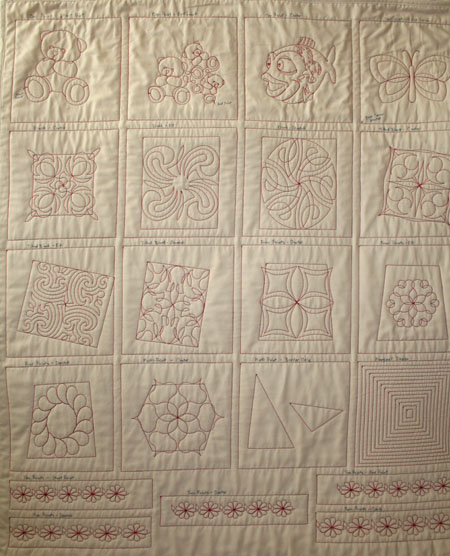 With each block, I used the Stitch the Ditch feature to better display the selected fill setting. I got a little creative with the last block and only stitched margins moving them in 1/4" with each setting. After all of the blocks were stitched, I labeled the block with the description of the placement and fill to serve as a reminder.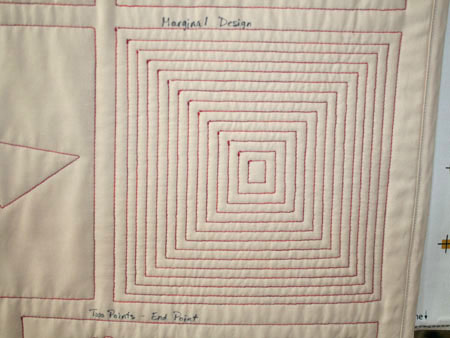 If you haven't seen QuiltMotion in action, you will be amazed at the ease of operation. Visit your local BERNINA dealer for a test drive. Happy quilting!
Techniques

embroidery, quilting
What you might also like
One comment on "QuiltMotion Sampler Quilt"