Free Motion Couching With Rulerwork
What is couching? According to the Webster Dictionary the following is the definition of couching:
Couching – In embroidery, couching and laid work are techniques in which yarn or other materials are laid across the surface of the ground fabric and fastened in place with small stitches of the same or a different yarn.
The couching threads may be either the same color as the laid threads or a contrasting color. When couching threads contrast with laid threads, patterns may be worked in the couching stitches.
Couching can be done by hand or machine, providing beautiful texture, or a secondary design to fabrics.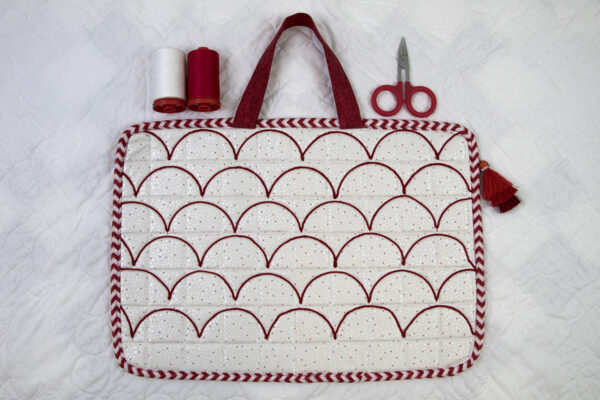 When I was asked to do a blog post on couching, I pulled out my BERNINA Big Book of Feet and discovered that BERNINA has 13 different presser feet that you can use to do couching techniques. WOW! Diving deeper into the couching techniques, I also learned that we can successfully stitch double couching, double and triple needle couching, flat couching, and free motion couching.
Free-motion couching was what caught my attention. Trying to think of something outside the box and creative to do, I came across my new quilting rulers by Amanda Murphy. Then I remembered that I had the Couching Inserts for my Adjustable Ruler foot #72. After a small hunt for them in my sewing room, I decided that I would give free-motion rulerwork/couching a try!
I have recently fallen in LOVE with rulerwork quilting, and being able to quilt my ruler designs while couching cords for an added decorative touch, BAM! Nothing like also adding an extra level of challenge for myself and thinking outside the box.
I gathered my supplies and was ready for this adventure.
Supplies:
• Open Embroidery Foot #20D
• BERNINA Seam Guide with Scale
• Adjustable Ruler Foot #72
• Couching Inserts for Adjustable Ruler foot #72
• Piecekeeper (free pdf pattern and Add-On Video) by Annie.com
• ByAnnie's Soft and Stable
• Good Measure Amanda Murphy Every Clamshell Quilting Templates
• Cording
• Fabric
• Batting
• Quilting Rulers
• Cotton Thread
• Machine Quilting Needle
• BERNINA 790 PLUS
I had downloaded the Piecekeeper Project Bag pattern from by Annie.com and used it as inspiration for the quilted fabric I planned to make.
Having just received the new Celestial Lights fabrics by Amanda Murphy, I decided they were perfect for this project. Cutting my base pieces and batting just a bit bigger than the pattern suggested gave me a little wiggle room to experiment with the quilting techniques.
Deciding I wanted the couching to be the WOW factor of this piece, I layered my fabrics and batting to make a quilt sandwich. The batting I used was the ByAnnie's Soft and Stable. I attached my 20D foot and BERNINA Seam Guide with Ruler and set the ruler at 1 1/2 inches from the needle and stitched the first row of quilting 1 1/2 inches from the edge.

Then I started to grid quilt my background for this soon-to-be masterpiece. I aligned the guide with the previous row of stitching and continued to stitch rows across the width of the fabric.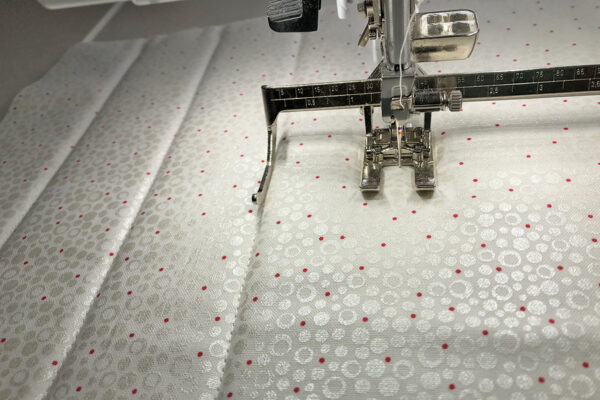 I then rotated the quilt 90 degrees and stitched additional rows 1 1/2 inches apart.

The seam guide makes fast work of grid-quilting for me, plus it keeps my rows straight and even, which I love the look of.

Once the grid-quilting was done, I used Adjustable Ruler Foot #72 and the Couching Inserts for the Couching.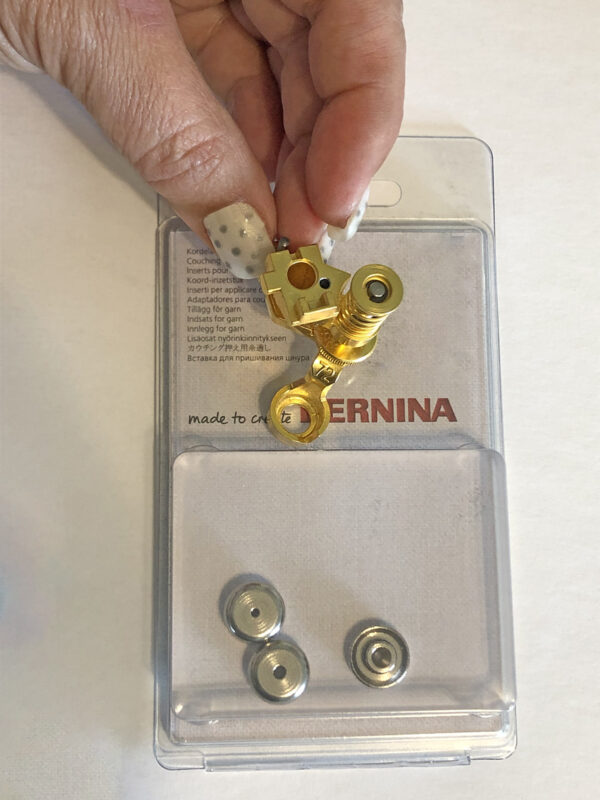 I attached the correct size couching insert for the cord I wanted to use. I inserted the cord, and then my #72 foot was ready for a little free-motion rulerwork quilting/couching. (Photo 6-8)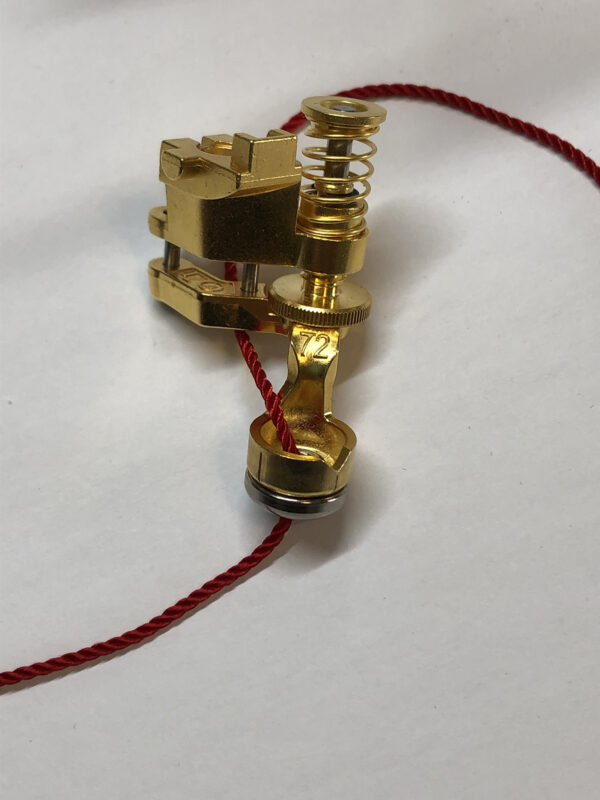 I chose the Good Measure Amanda Murphy Every Clamshell quilting template set for my rulerwork quilting design. I like the way this quilting design looks when it is finished and thought it would be a good design to try my new technique.
Using one of my previous quilted stitching lines as a reference, and the marks on the ruler for alignment, I began to quilt the clam shell design. I started at the edge of the fabric and then worked my way across the ruler, couching the red cording as I went. I repositioned the ruler when needed and continued to create my ruler work quilting design across the width of the fabric.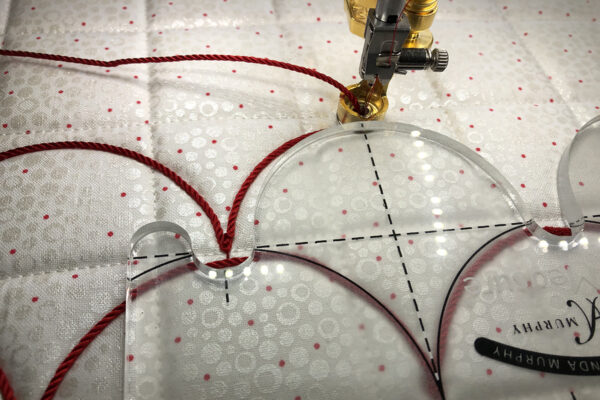 I continued to work my way upward, repositioning the ruler as needed.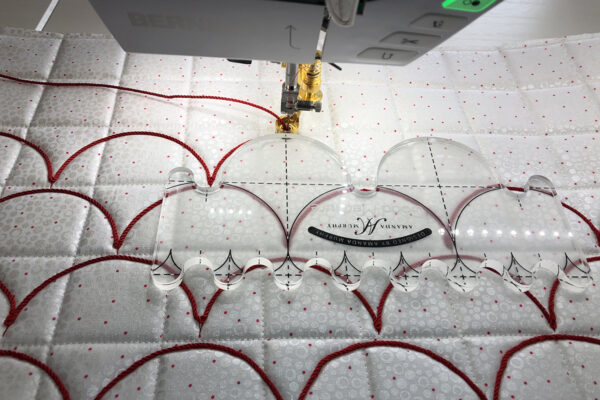 The couching brought the design to another level for me, not only with the technique, but also with creativity and texture that it brought to the project.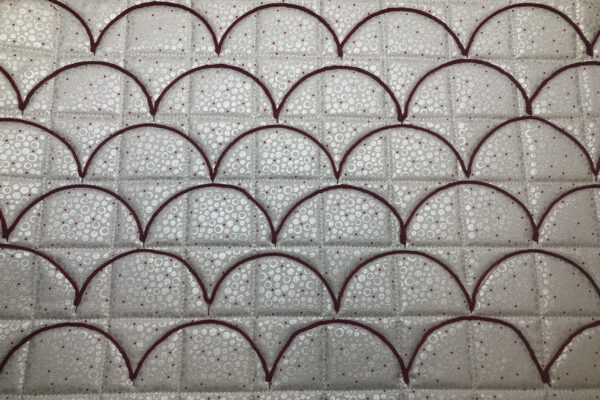 I was happy with the way that the clamshell design turned out using the #72 foot and Amanda Murphy's rulers!
After I finished my free-motion rulerwork couching/quilting piece, I made this into the Piecekeeper Project Bag. It was a quick and easy project that is so useful for holding just about anything you can think of.
The back of the Piecekeeper Bag shows off the rulerwork quilting.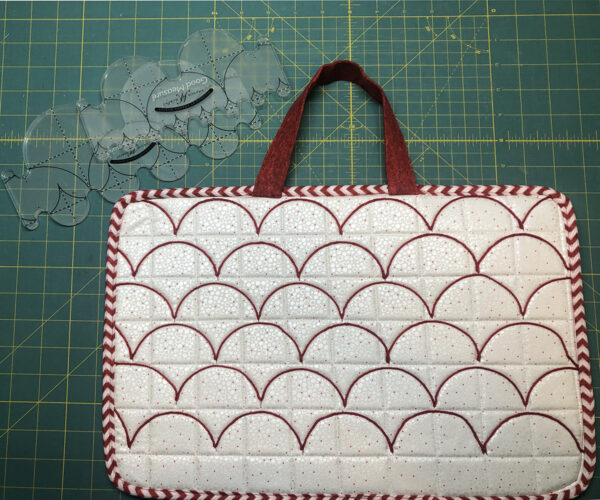 The front of the bag features a zippered mesh pocket that is perfect for storing so many things! I love the way it turned out!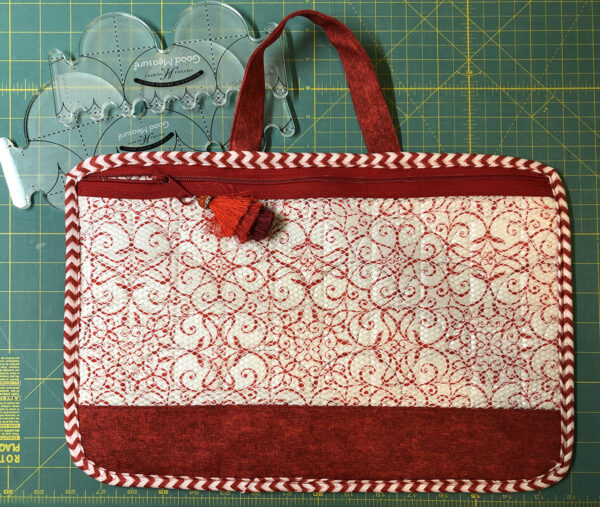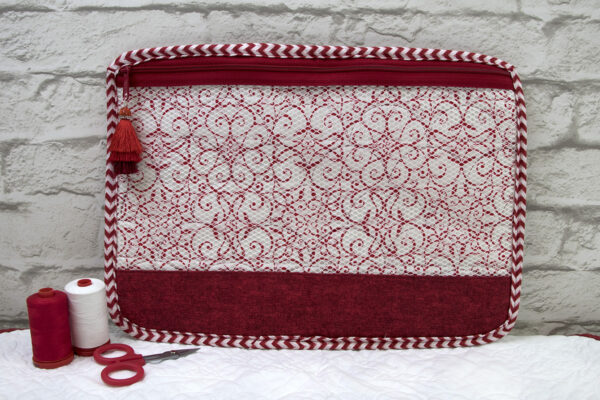 If you would like to make this project, download the free pattern instructions and get started. Click here to find the free pattern.  You will also be able to access an Add-On Video for this project to give you a real classroom experience.
The quilting on my project may not be perfect, but I am pleased with how the project turned out. Loving how this experiment turned out, I believe that free-motion rulerwork couching will be sure to show up in another future project.
I have attached photos for inspiration on different couching techniques. The first picture shows embroidery using Free-Motion Couching Foot #43.

You can also use Couching Feet #22 or #25 with cording to create unique several strands of cording simultaneously.

Choose different decorative stitches for to achieve unique results.
Difficulty level

Intermediate

Time to Complete

Weekend

Seasons

all seasons

Techniques

free-motion quilting, quilting, rulerwork
What you might also like
6 comments on "Free Motion Couching With Rulerwork"