Free-motion Couching with Adjustable Ruler Foot #72 and Couching Inserts
I love embellishing my quilting by adding free-motion couching to the surface of my work. The Couching Inserts that are specially made for the BERNINA Adjustable Ruler Foot #72 are perfect for this, because there are 3 different sizes of couching inserts that snap into the bottom of the foot. The openings in the inserts are 2.2 mm, 1.8 mm and 1.4 mm, allowing the use of a wide variety of cords and yarns.
Supplies for Embellishment with Free-motion Couching
Silk Fabric: 7 fat eighths of silk fabric
Backing: one fat quarter
Lightweight fusible interfacing such as Easy Knit: 2 yards
#70 Microtex needle
50 wt Aurifil Thread
Couching Inserts for Foot #72 (I used the 1.4 mm insert)
Couching Yarn (Yarn shown is a DK weight) and Thread for couching
Instructions for Embellishment with Free-motion Couching
Fuse the silks with the Easy Knit Interfacing following the manufacturer's instructions.
Refer to the diagram for placement of sizes.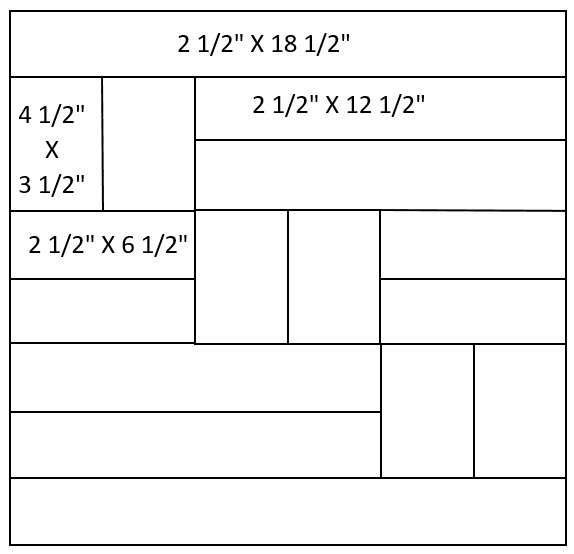 Refer to the photo for color placement.
Cut top and bottom borders 2 1/2" x 18 1/2″ of two different colored silks.
Cut four strips 2 1/2" x 12 1/2″.
Cut four strips 2 1/2″ x 6 1/2″.
Cut 6 pieces 4 1/2″ x 3 1/2″ of two different colored silks.
Begin by seaming the 4 1/2″ x 3 1/2″ pieces together in pairs.
Press the seams to one side and place back down into the layout. Pick up the strips in pairs and seam together. Press and lay back in place.
Seam the strips to the double wide pairs and press.
Seam the three center strips together.
Seam the top and bottom borders to the center.
Layer the backing, batting and the pieced top. Spray or pin baste.
Choose the couching insert that will work with the yarn or cord you have selected. Snap the insert into the bottom of Adjustable Ruler Foot #72.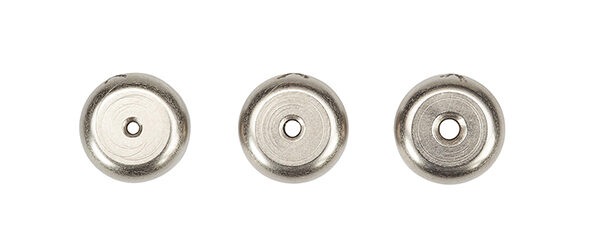 Turn the adjustable dial to raise the soul to the highest position.
Load the foot with the yarn and place the foot back on the machine.
Use the adjustable dial on the foot to lower sole to the proper height.
Free-motion stitch an all-over design on the top letting the yarn follow the foot.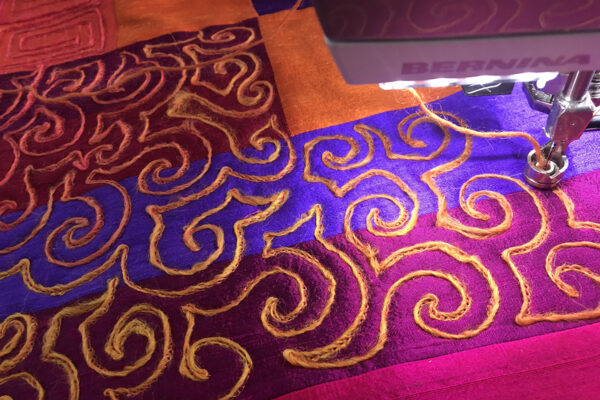 Don't forget to add a little interest by changing the design when the opportunity arises.
Cut 2 1/4″ strips of left over silk. Use a variety of colors. Stitch end to end until you have a total of 80 inches of binding. Fold in half lengthwise with wrong sides together. Bind the project using your favorite binding technique and enjoy your creation.
For more information about couching, download this eBook.
Difficulty level

Intermediate

Time to Complete

Weekend

Seasons

all seasons

Techniques

couching
What you might also like
6 comments on "Free-motion Couching with Adjustable Ruler Foot #72 and Couching Inserts"