Couching with BERNINA – Part 2: Couching Supplies
Couching is an embellishment technique that lets you add color and texture to the surface of fabric, stitching cords, yarns, and other fibers in a variety of ways. It is a versatile way to add personality to almost any type of project from clothing to purses to quilts. This post is the second of three and it discusses the fabrics and supplies that you'll need for couching.
Couching with BERNINA Presser Feet – Part 1: Couching Presser Feet
Couching with BERNINA Presser Feet – Part 2: Couching Supplies
Couching with BERNINA Presser Feet – Part 3: Couching Techniques
The reason that couching is so versatile is that you can adapt the technique to any style and color you want. There are four variables that you can mix and match for an almost unlimited amount of finished looks.
Fabrics
Couching can be sewn on almost any fabric. For light to medium weight fabric, stabilize it to make a solid foundation for the added fibers. This keeps the fabric from puckering and tunneling as you stitch. Use removeable stabilizers, fusible or sew-in interfacings and/or batting to stabilize your fabrics. You may be able to use sturdy fabrics such as heavy denim, canvas and upholstery fabrics without stabilizers if they can support the stitches and fibers you are adding to them. As always, you should stitch a test to determine what is needed.
Fibers
Heavy decorative threads, thick and thin yarns, embroidery floss, perle cotton and decorative cords are some of the fibers that work for couching. Most fibers will work as long as they are compatible with the presser foot you are using. The most important thing is to make sure the cord you've selected works with the presser foot you're using. It should fit into the hole/groove/tunnel of the foot and move easily though it as you stitch.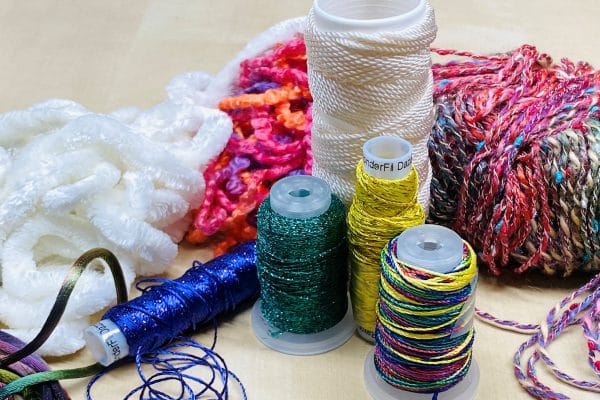 Threads
Select your threads based on the finished look you want. Thread of any fiber content such as cotton, polyester, silk, or monofilament may be used. Heavier threads will show more, depending on the color, and lighter weight threads will blend into the cord and fabric. Monofilament, also known as "invisible" thread is the most inconspicuous and will let your cord or yarn be more visible.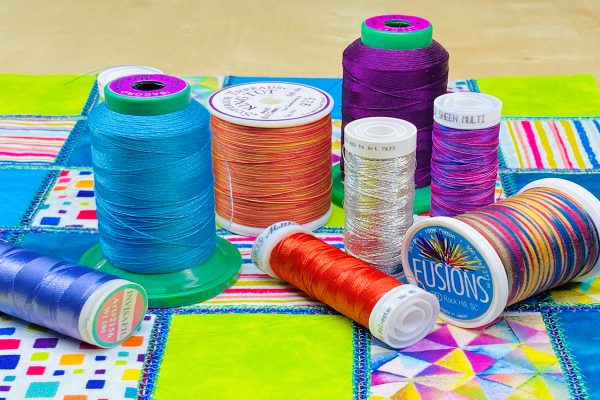 Stitches
In most cases, you use a side-to-side stitch, and you may almost any of them. It should go from one side of the fiber to another to hold it in place, usually, but not always, without stitching into the cord. The choice of stitch determines how much of the yarn or cord will be seen. Longer stitch lengths show more cord and shorter lengths cover it up. If stitching a textured yarn or fiber, it is best to use a blindstitch that sews along one side of the fiber, stitching across it every few stitches to hold the fiber in place. This preserves most of the texture and the fiber may be "fluffed up" to cover the stitching.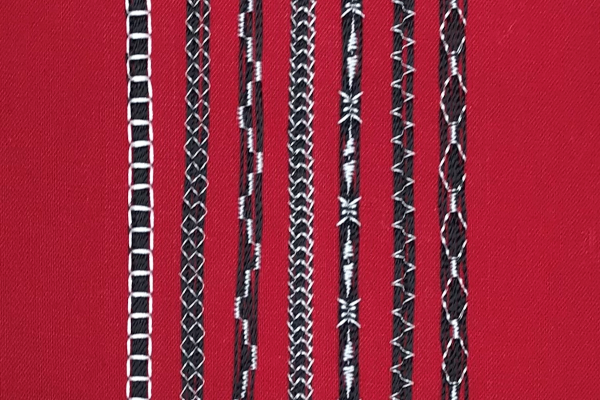 Color
The color and contrast you select for your materials can make a big difference in the final look of your couched projects. Thee are times you want to create texture that becomes a part of the fabric and other times you want the cord to prominently show as an added embellishment. Matching the thread color to the fabric and using a contrasting color of cord gives the illusion that the cord is woven into the fabric. Matching the thread color to the cord gives it a more pronounced look and takes the emphasis off the stitch. Using the same color for the fabric, cord, and thread creates texture on the fabric, making it look as if it is all one piece. Sewing with "invisible" thread makes the cord appear to float on the fabric surface. Experiment with a variety of fibers, stitches, fabrics and colors, mixing and matching them to get different effects until you have the perfect couching embellishment for your project.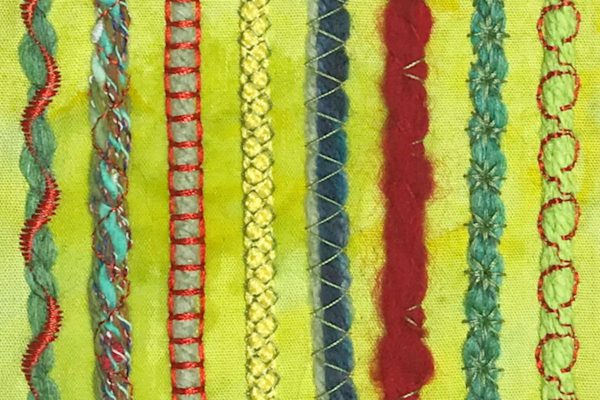 For more information on BERNINA presser feet and accessories, see The Big Book of Feet at your local BERNINA store. Click here to find a BERNINA dealer near you.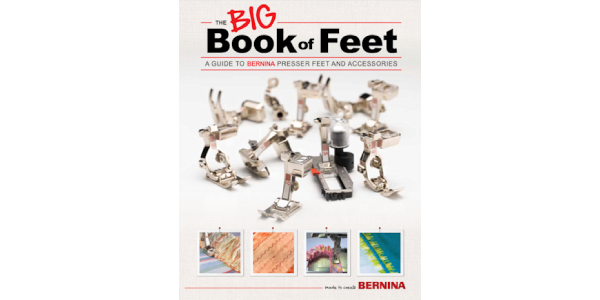 What you might also like