Union Square Big Block Quilt-Along Part 1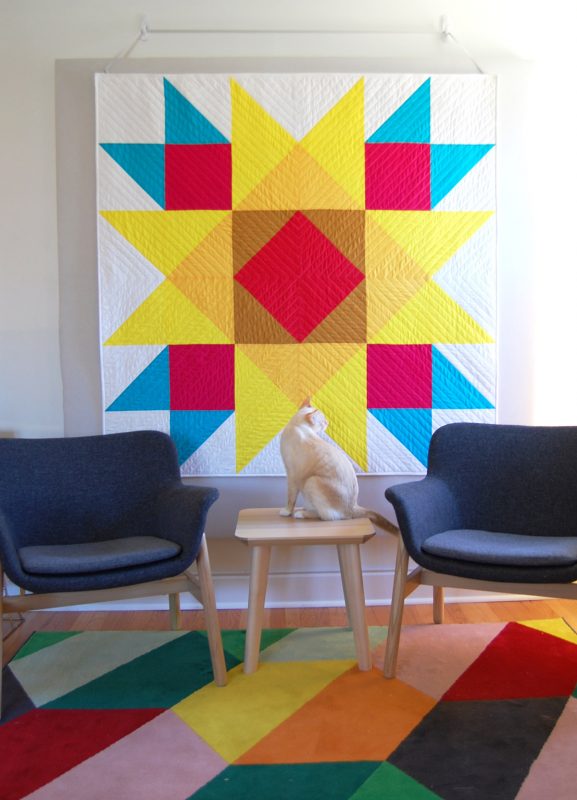 This Union Square Big Block quilt measures 60″ x 60″ when finished, and makes the perfect sized lap quilt to cuddle up while reading a good book or watching your favorite show on the tube. Or, hang it on the wall to add a bright spot to any room.
Sewing  large-scale blocks may look simple, but it can be tricky! If your patchwork pieces are not cut and sewn precisely, it will definitely show in the finished quilt with wonky lines and mismatched points. You'll find tips and tricks throughout the quilt-along to help you sew large-scale blocks successfully. In Part 1, find a complete list of tools and materials you will need to complete the quilt, and learn how to prepare your fabric to sew the top together in Part 2.
Union Square Big Block Quilt-Along Schedule
February 28, Week 1: Materials list and fabric cutting guide
Inspiration for this quilt came entirely from BERNINA! I have been watching the BERNINA Block-of-the-month series here at WeAllSew, and I absolutely fell in love with the Union Square block from December.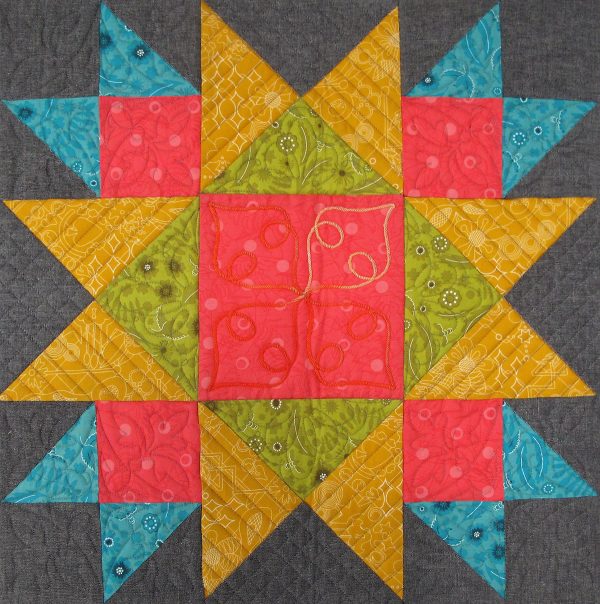 I just love the simplicity and symmetry of this block! I'm also really excited and inspired by BERNINA's 125 Years Golden Anniversary this year, and had some fun expressing the anniversary event in the colors of this quilt.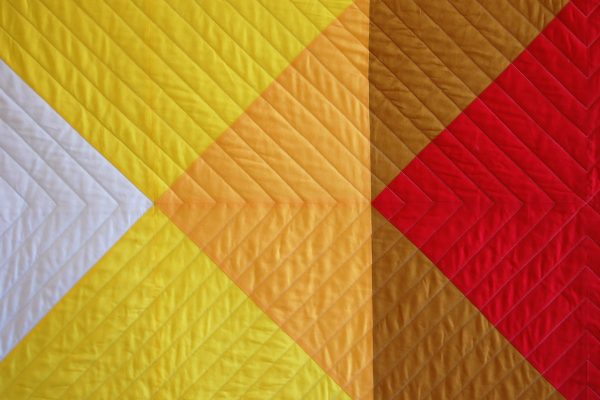 I added a red square on-point in the center block, and made it BERNINA red. Radiating out from the red center square you can see shades of golden yellow, darkest in the center and lightening to a bright golden yellow at the edges. I also added quilting lines that flow out of the center of the BERNINA red square, almost like sunbeams, and I think it adds to the glowing quality of the quilt. I guess you could could call this my BERNINA quilt! Are you ready to follow along and make a BERNINA inspired Union Square Big Block quilt with me?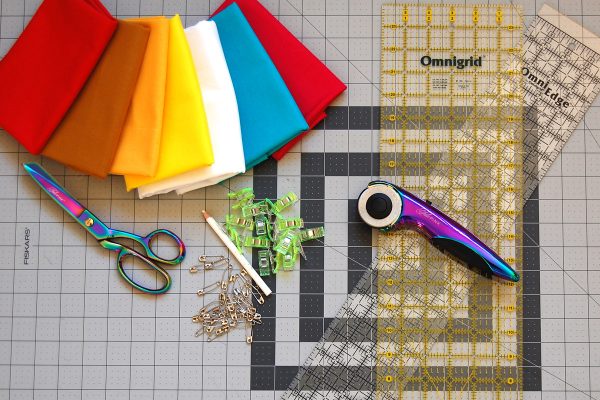 Materials to Make a Union Square Big Block Quilt
Sewing machine (I sew on a BERNINA 770 QE)
Straight stitch needle plate and Zigzag needle plate
Rotary cutter (I use a Tula Pink 45mm Rotary Cutter)
Cutting mat
Quilting ruler size 24″ x 6″ (I also use a 36″ x 4″ and a15.5″ x 15.5″ for squaring up the quilt)
Straight pins
Quilt basting pins
Quilt clips (I use Clover Wonder Clips)
Fabric marking pencil
Coordinating thread for piecing (I use Gutermann Sew-All 50 wt white)
Quilting thread of choice (I use Gutermann Sew-All 50 wt white)
100% cotton solid 45″ wide quilting fabrics for quilt top

Red= 1/3 yard
Dark golden yellow= 1/3 yard
Medium golden yellow= 2/3 yard
Bright yellow= 1 yard
White= 1 1/3 yard
Cyan/bright blue= 2/3 yard
Magenta/bright pink= 2/3 yard

100% cotton fabric for binding, 1/2 yard if cutting on straight grain, 1 yard if cutting on the bias (more about the binding in Part 3)
100% cotton fabric for backing, 72″ x 72″ square (you can buy 108″ quilt backing and cut to size, or use 45″ wide cotton and piece the backing)
Cotton batting, 72″ x 72″ (I used a twin size batting at 72″ x 90″ and cut it to size)
You can get started by preparing your fabric and cut the squares for the top. But before you start cutting, here's a tip that can help with large-scale piecing.
Tip #1: Prepare your fabric. Whether you pre-wash or not, it's important that you are cutting and sewing with fabric that is as straight on the grain as possible! First, steam-press your fabric well to help straighten the fibers. Let the fabric cool completely draped over your ironing board (or even laying completely flat). Next, add starch to your fabric. Starching the fabric will add stability to help keep the fabric on-grain and keep it from shifting while sewing. Add the starch after you have steam pressed the fabric (I like a heavy starch, and spritz both sides of the fabric with spray starch). After applying the starch, let the fabric dry before pressing. After pressing let the fabric cool completely before moving on to cut the fabric.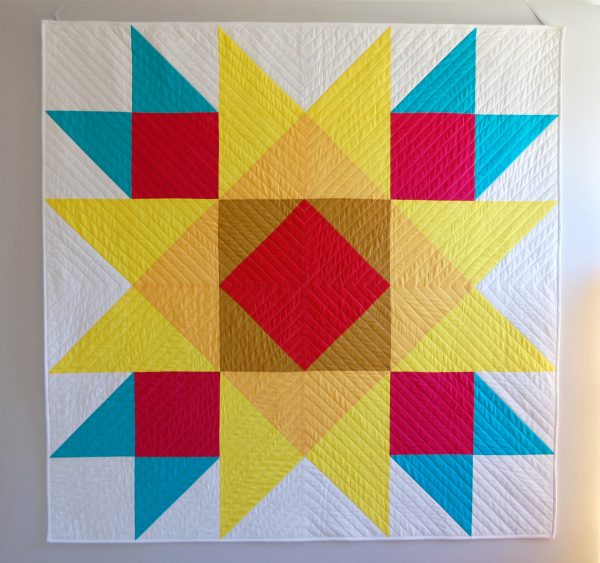 Union Square Big Block Quilt Cutting Guide
You will be cutting the fabric into two sizes of squares, 11″ x 11″ and 10.5″ x 10.5″ following below:
Red: cut two 11″ x 11″ squares
Dark golden yellow: cut two 11″ x 11″ squares
Medium golden yellow: cut four 11″ x 11″ squares
Light yellow: cut eight 11″ x 11″ squares
Cyan light blue: cut four 11″ x 11″ squares
Magenta bright pink: cut four 10.5″ x 10.5″ squares
White: cut four 10.5″ x 10.5″ squares, and cut eight 11″ x 11″ squares
Once your squares are all cut, you'll be ready to move on to Part 2 to learn how to create the half-square triangle blocks and piece together the top. Until then, happy sewing!
Difficulty level

Intermediate

Time to Complete

Weekend

Used Material

coordinating thread, cutting mat, quilt basting pins, quilt clips, quilting cotton, rotary cutter, straight pins

Projects

home décor, quilt

Seasons

all seasons

Techniques

patchwork, quilt piecing, quilting
What you might also like
17 comments on "Union Square Big Block Quilt-Along Part 1"