Fast Forward Quilt Along, Part One
Hello, BERNINA-lovers! I'm BERNINA Expert Amanda Murphy and this month – in fact this very post – we are debuting the first installment of my latest quilt along – Fast Forward!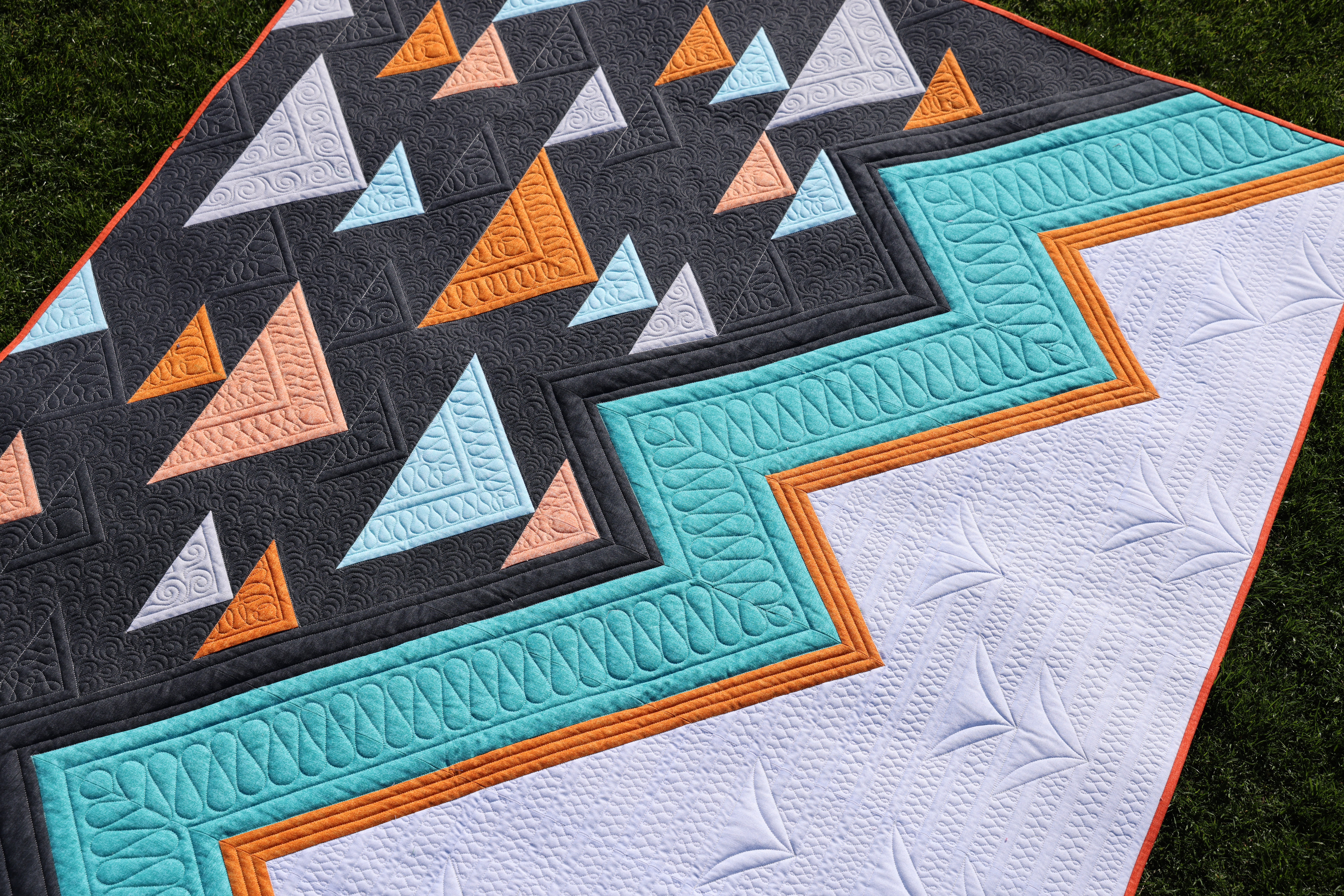 Fast Forward
I named this piece Fast-Forward because that is what I feel like happened to our lives over these past few, very challenging years. I feel like the world changed so fast in that time, and we were just along for the ride – hence the name "fast-forward".
I wanted the quilt to be modern and aspirational, but attainable at the same time.  Over the next few months, I'll be walking you through the process of quilting this piece, breaking it down step-by-step.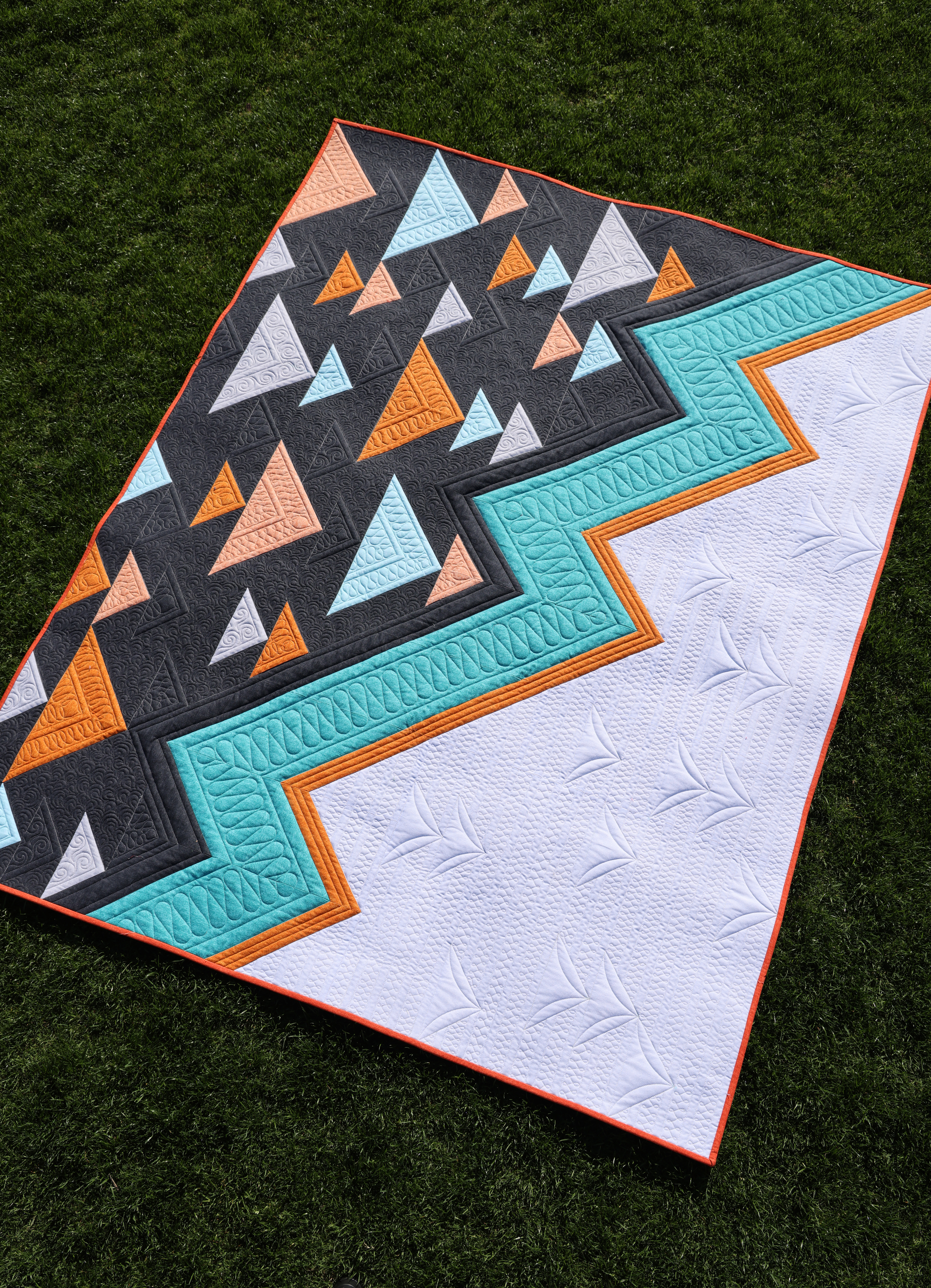 Detail of Fast Forward.  You CAN quilt this; I'll show you how!
I pieced my version of fast-forward on the lovely BERNINA 475 QE.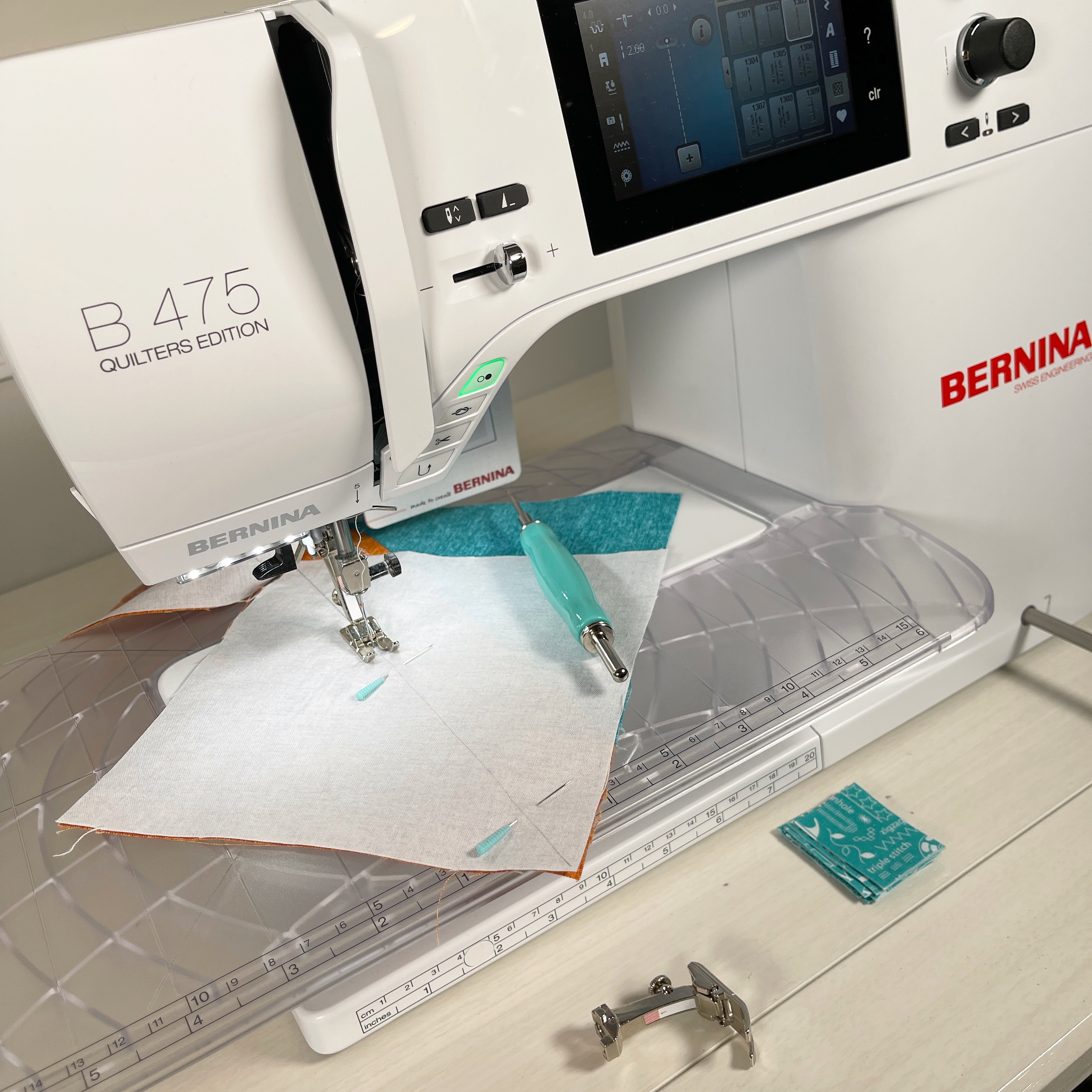 My lovely house guest, the BERNINA 475.
Some of my favorite BERNINA 475 QE features are:
The stitch quality – ok, I know that goes without saying for a BERNINA but I'll say it anyway:) because we all forget how amazing it is
5mm precision – A BERNINA engineer explained to me why 5mm machines are unbelievably precise and after piecing on the 475 QE I'm a true believer
3" color touch screen that is so much like my other BERNINAs
Adjustable presser foot pressure
Jumbo bobbin
BERNINA hook system
Free hand system
I might add that this BERNINA 475 QE does not leave dirty dishes in the sink or make extra laundry.  She really is the perfect guest.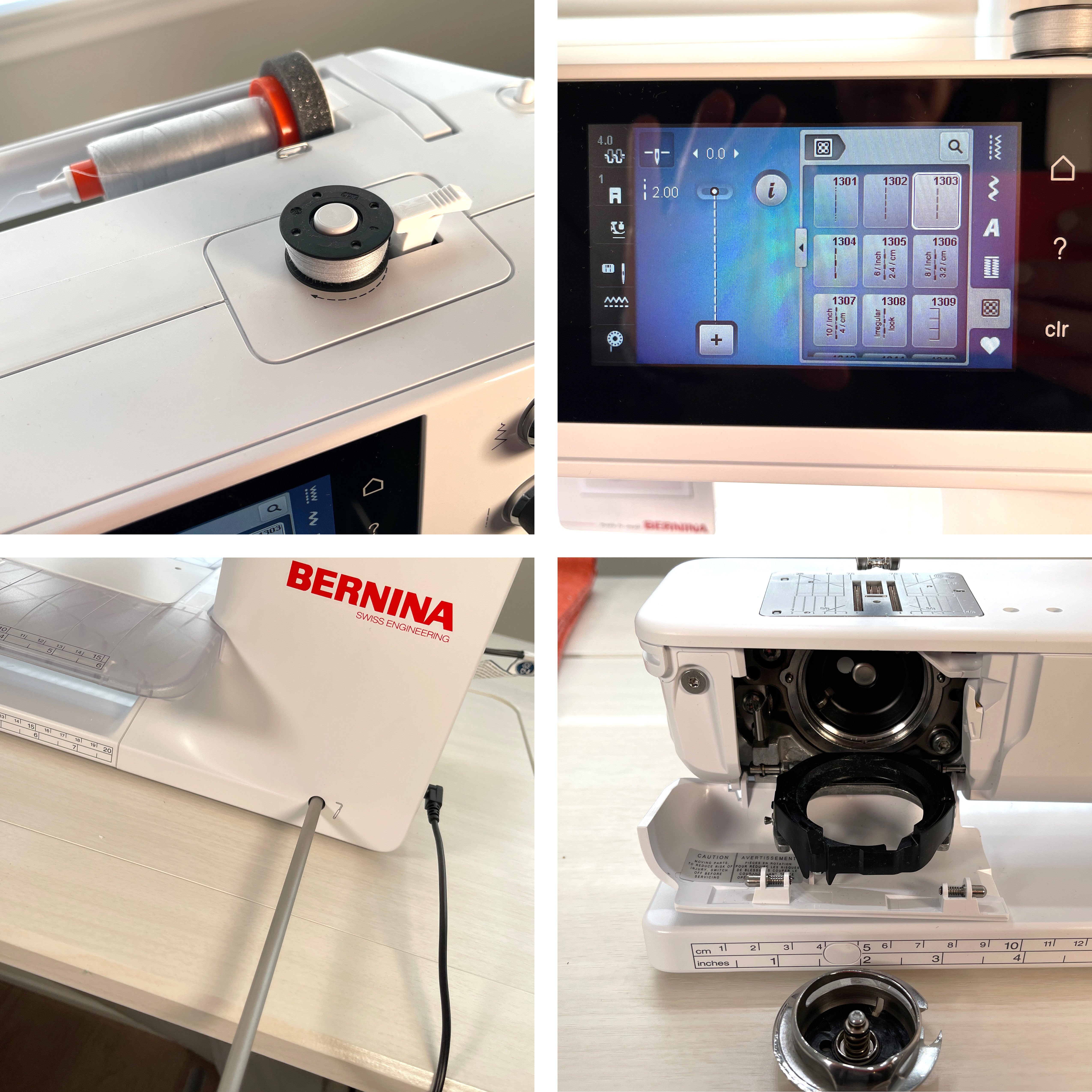 Some of my favorite features of the BERNINA 475 QE, clockwise from the top left: the jumbo bobbin, color touch screen, BERNINA hook system, and the free hand system.
So WHY am I filming on the BERINA 475 and why does this quilt-along start in May???  Because BERNINA has an amazing promotion going on this month where they are GIVING AWAY a 475 with every purchase of a Q24 on a frame and Q20 on a frame or table. I KNOW!!!!  It is crazy and I have been sitting on pins and needles waiting to tell you guys!  I do love me a Q Series – in my opinion, there is no better machine in the world for quilting.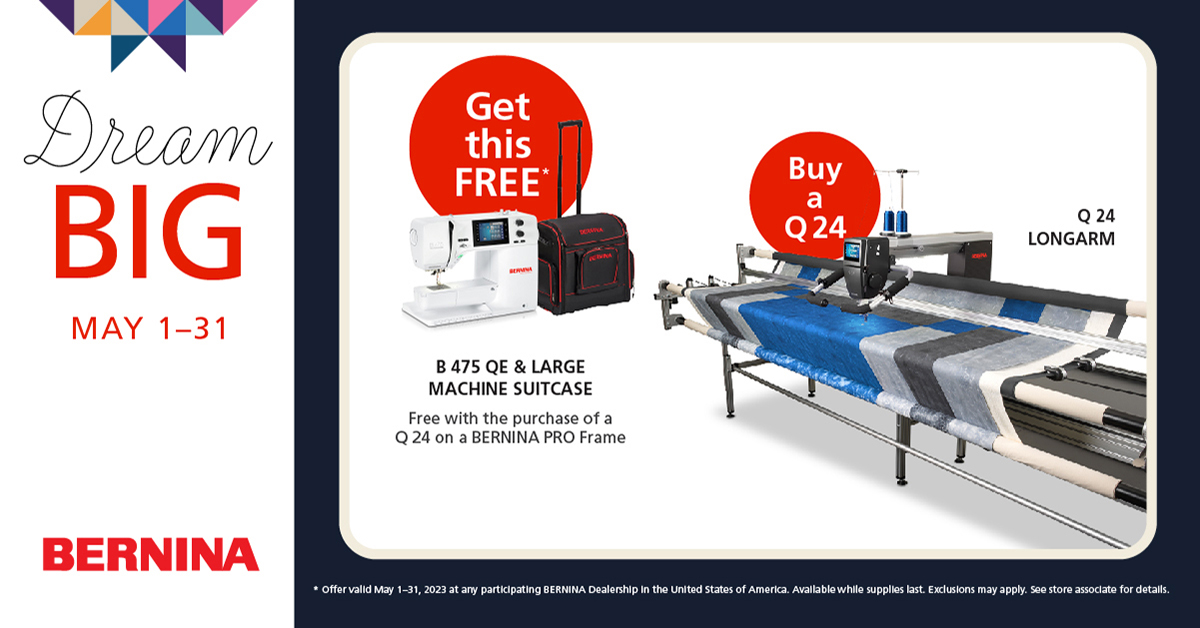 Okay, so let's get piecing.  These are the colors I chose from my Cotton Shot line from Contempo of Benartex.  Last month I posted a supply list with three additional color story options.  You can also choose your own palette.  (I'd recommend using a blender like Cotton Shot or solids for the backgrounds regardless because part of the charm of this quilt is that it is hard to figure out how it is pieced and the lack of pattern in the background fabric hides the seams that are there.)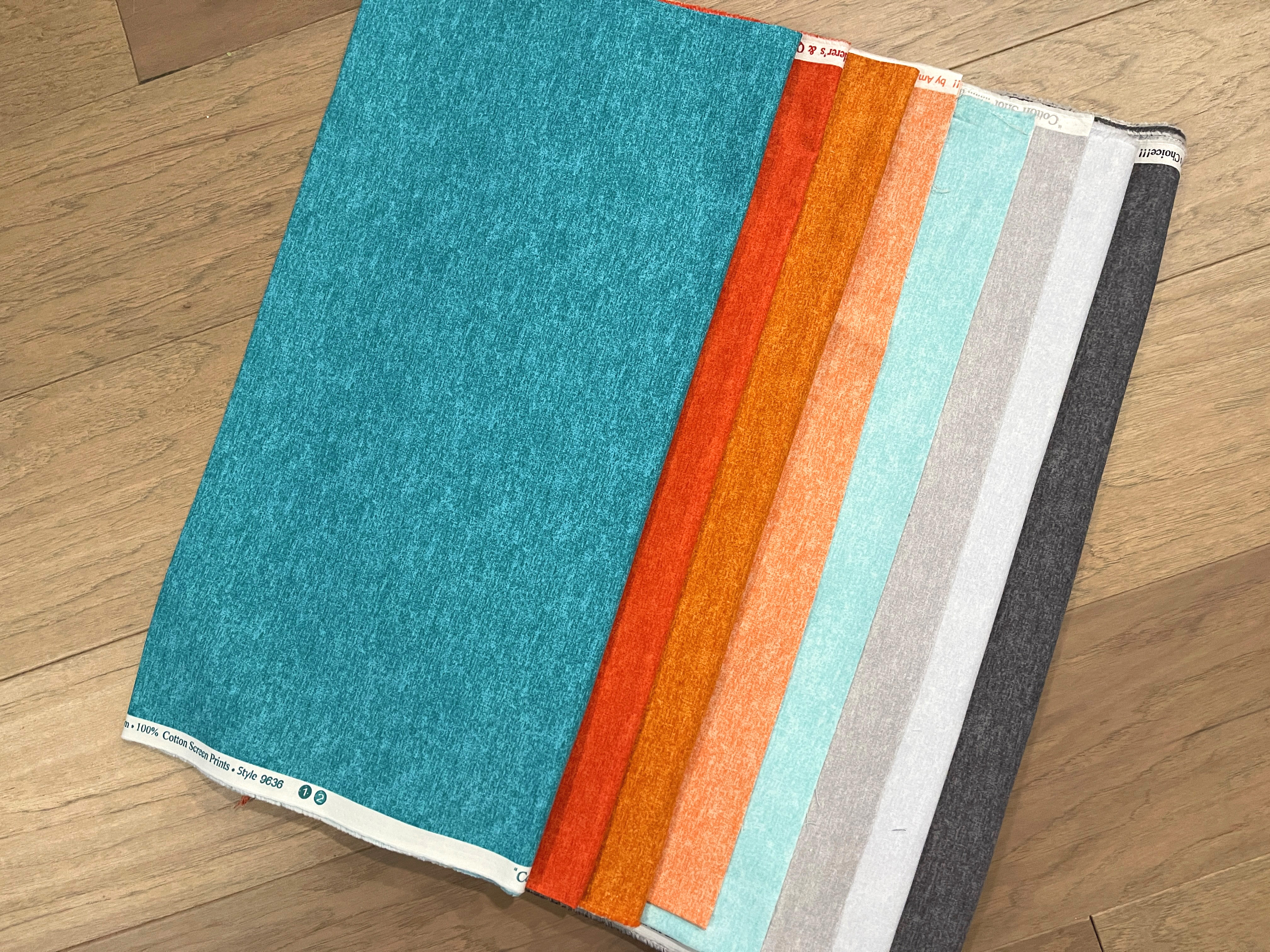 My colors for Fast Forward, featuring Cotton Shot for Benartex.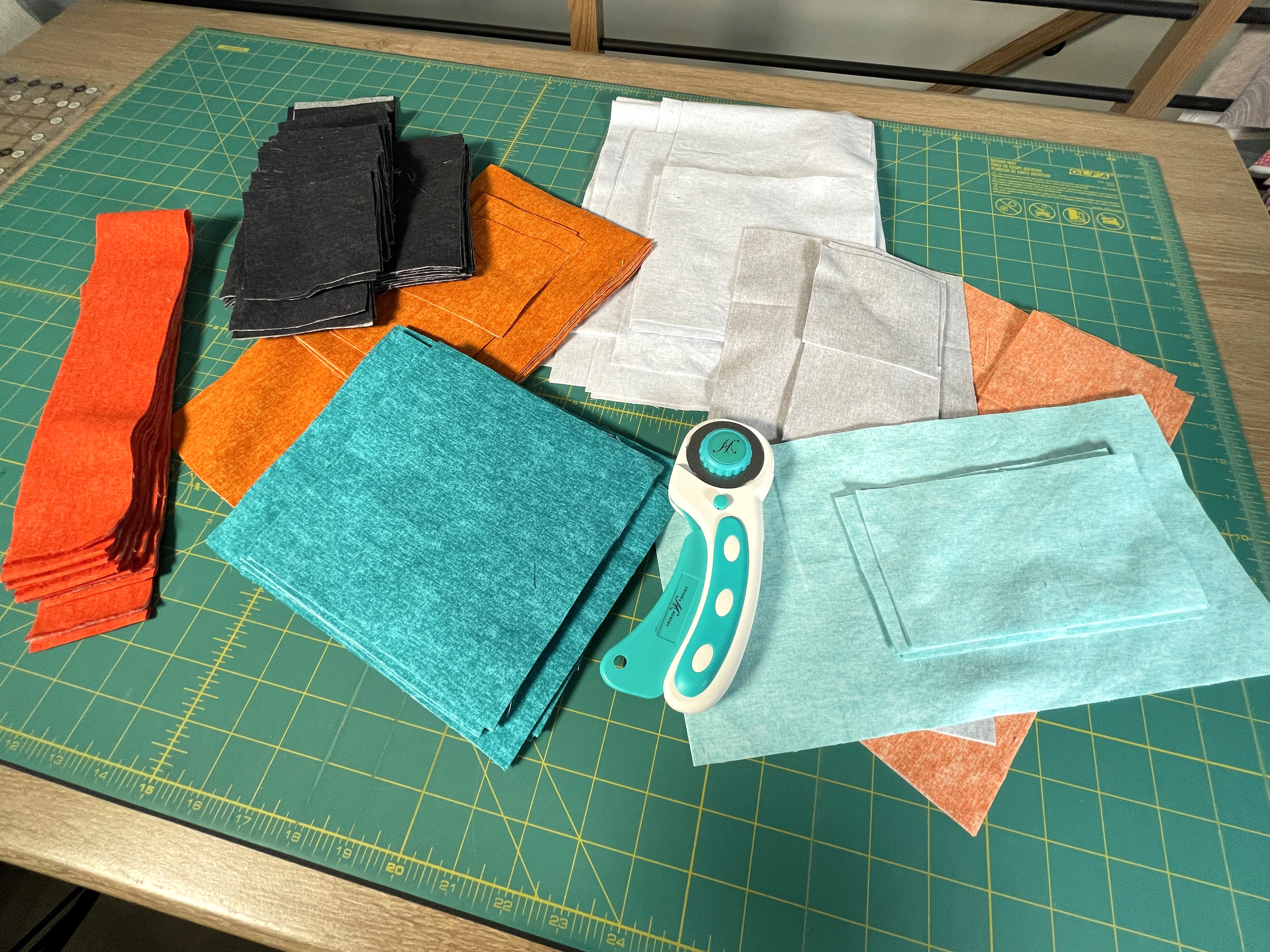 My fabric cut out and ready to go!
Download the first month's instructions below!

I'd recommend setting up your machine with the following items:
1/4 inch piecing foot – I used the #37 that comes with the BERNINA 475QE; if I had been using my 790 Plus I would have used my #97D dual feed foot
A quality cotton thread – I used Aurifil 50 wt.
80/12 quilting needle
Slide-on tray
Center stitch plate if you own one – I didn't have one that fit the 475 QE because she didn't bring one with her and she STILL stitched perfectly (let's give a round of applause to the BERNINA engineers)
Spool pin to match the thread – I like the tiniest one with my large Aurifil spools because it fits in the top
Free hand system
I made a video showing my piecing tips for this month that you can watch here:
Next month we'll put the quilt together and in July we will start quilting.  We will be using three sets of my Good Measure Quilting Templates for the quilting: Every Angle, Every Circle, and Every Ribbon Candy.  The straight line template from my Jubilee set is optional but nice to have on hand as well.  We will also use my Measuring Gauge.  I filmed tutorials of the quilting for you on the BERNINA Q24 on the Pro Frame, but I'll also be telling you how to modify the quilting order for a domestic machine or sit-down longarm.
Post your progress on social media and don't forget to tag @berninausa and @amandamurphydesign because we can't wait to see what you make!
Happy piecing to all of you!
Amanda
Difficulty level

Intermediate

Projects

quilt, quilt

Seasons

all seasons

Techniques

quilt piecing, quilting
Used Products
What you might also like
11 comments on "Fast Forward Quilt Along, Part One"