Stardust Quilt-along: Part One
Welcome to the Stardust Quilt-Along here on WeAllSew. In this quilt along, we'll use my new Stardust pattern in conjunction with the BERNINA-exclusive embroidery collection to make a beautiful twin-sized quilt. Along the way I'll be sharing tips and techniques both for piecing and for incorporating optional embroidery and quilting motifs in any quilt.
What you will need to participate in the Stardust Quilt-along
The Stardust pattern (Available to order through your local BERNINA dealer)
The Celestial Lights Embroidery Collection (Optional; exclusive to BERNINA dealers)
Fabric and thread to complete the quilt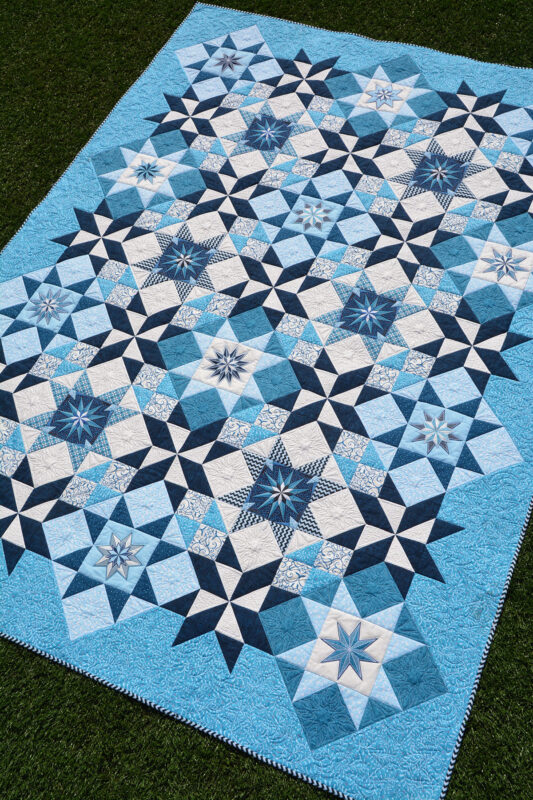 The Stardust Quilt
PLANNING YOUR FABRICS
If you haven't yet selected your fabrics yet, here is a coloring page to help you make decisions. Note where I used prints and blenders in this design. If you use too many busy prints they will compete with each other you won't see the dynamic pattern that the piecing produces. Note in the pattern where I sought to incorporate busy prints and where I elected to use near-solids or blenders. Use the coloring page to help you narrow down your choices.
You can find a list of the first shops to stock the Celestial Lights fabric here.
Here are some color ideas to get you started.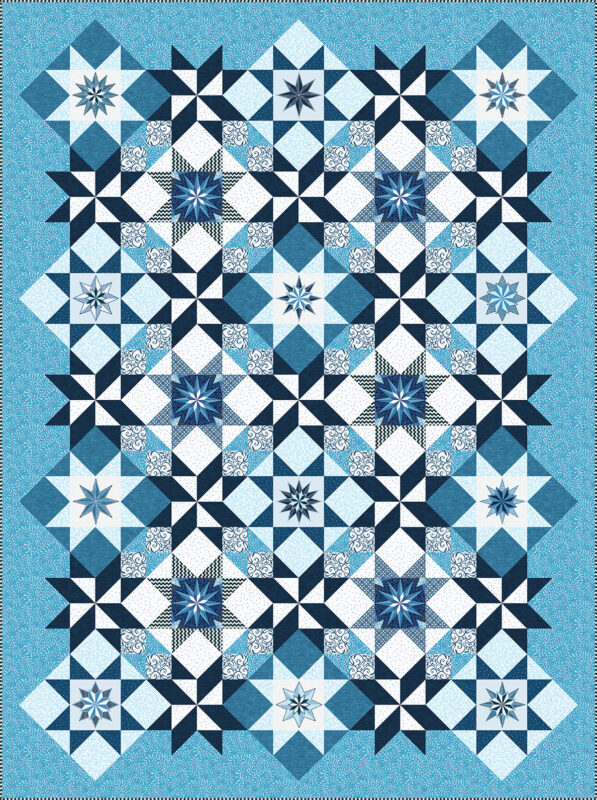 The original Stardust quilt in blue.
You can find the SKUs for this version here.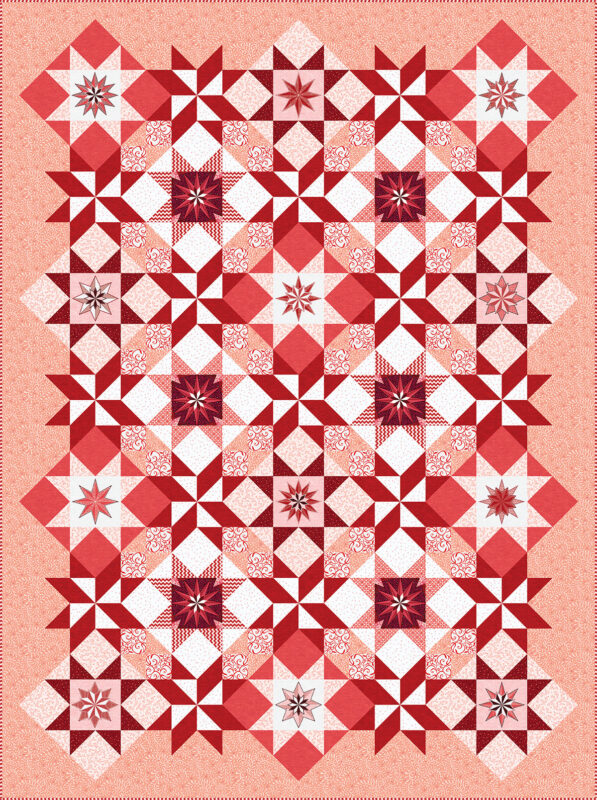 The original Stardust quilt in red.
You can find the SKUs for this version here.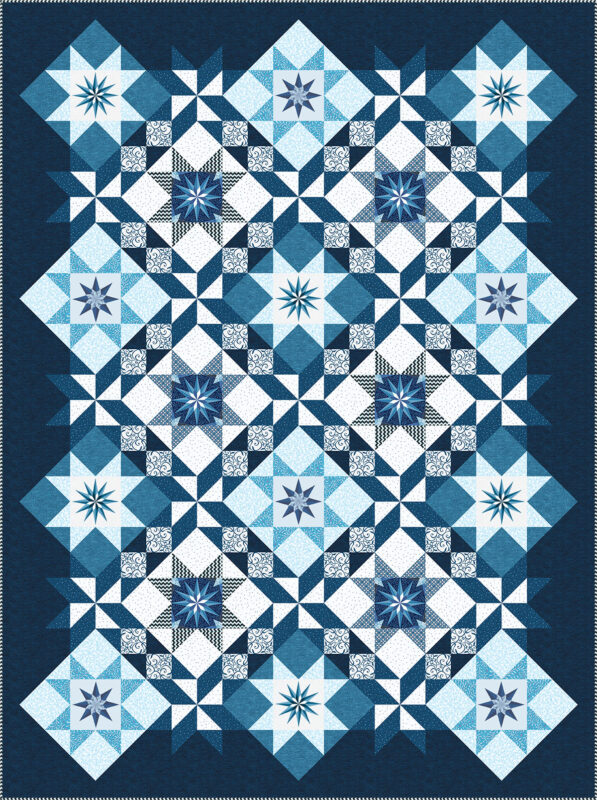 A dark blue version.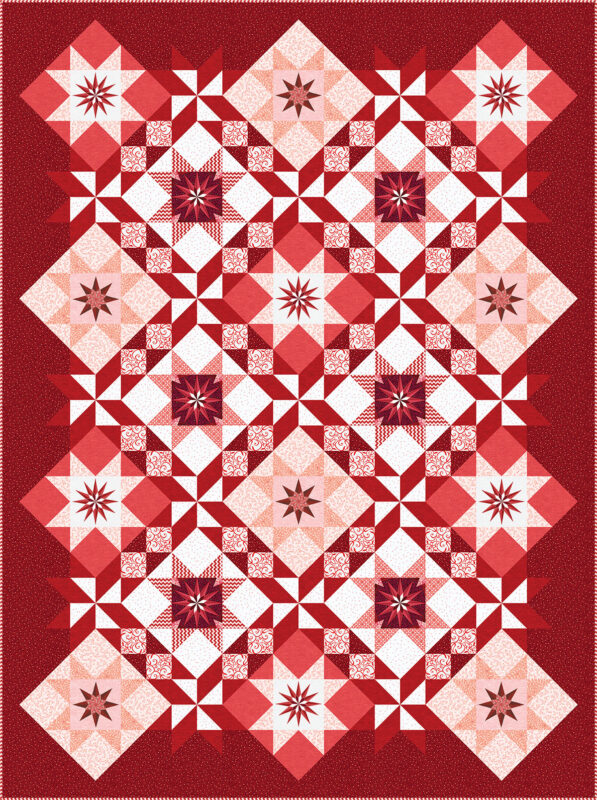 A dark red version.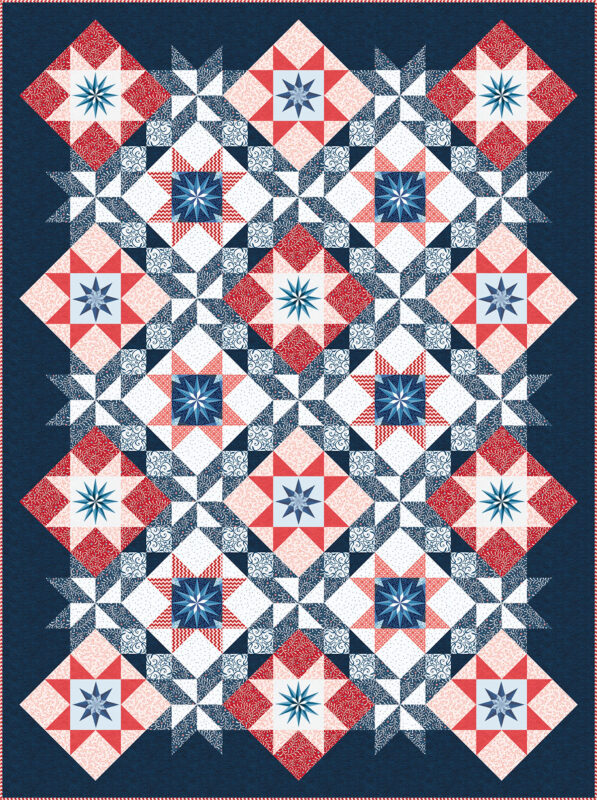 A red and blue version with a dark background.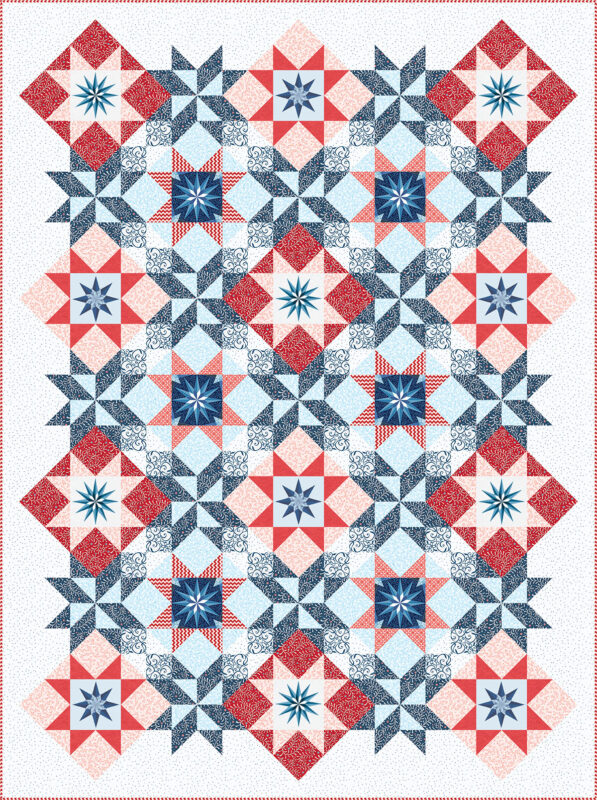 A red and blue version with a light background.
INCORPORATING EMBROIDERY
If you are incorporating embroidery, I'd recommend using solids or near-solids for Fabrics K and L to help your embroidery shine. There is a lot going on in these embroidered designs, and you don't want the background to compete.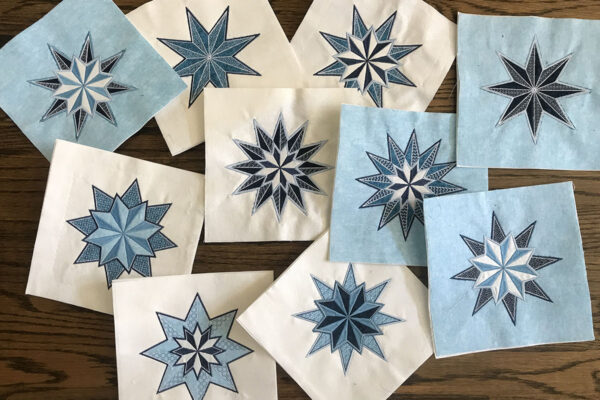 Stardust embroideries from the BERNINA-exclusive Celestial Lights Embroidery Collection
I'd also recommend a simple print for Fabric B, to let the overall design of the quilt shine.
OPTING OUT OF EMBROIDERY
If you aren't incorporating embroidery, you can elect to use a large feature print for fabric M.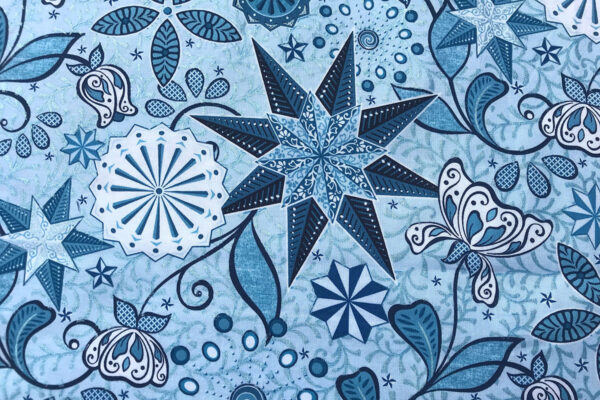 A Celestial Lights "feature print"—look for an eye-catching print as a substitute if not incorporating embroidery
FUSSY-CUTTING TECHNIQUES
I fussy-cut stars from my Celestial Lights Star print from Fabric D.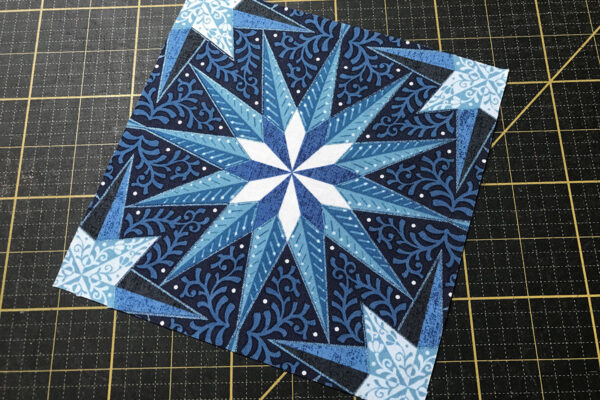 They took on added dimension when I quilted around the stars in the finished quilt.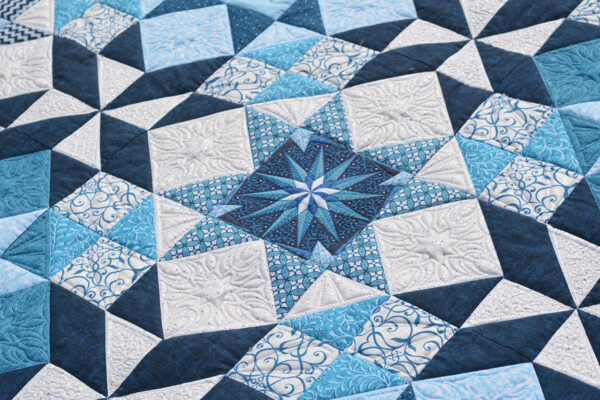 (You could also fussy-cut motifs Fabric M if you chose not to incorporate embroidery.) In this case I'm fussy-cutting 6-1/2" squares. Since most of us have 6-1/2" square rulers this is easy. When fussy-cutting I like to mark the center of my ruler with tape – this way I don't use the wrong lines on the ruler by mistake!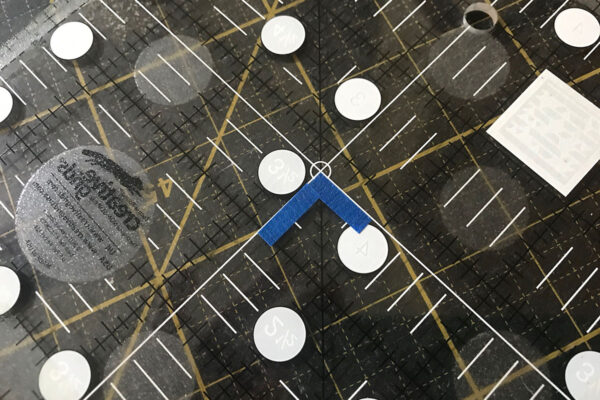 Center the ruler on your fabric to cut the block. Note that in the case of the stars, I can also align the lines on the ruler on the lines that go through the star's center. That won't happen with every print, but sure is nice when it does!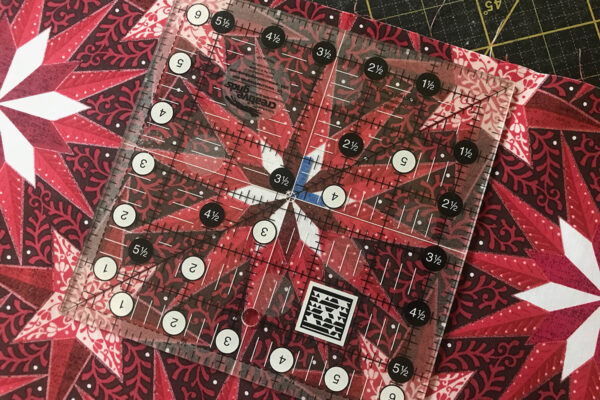 So many looks are possible with fussy cutting.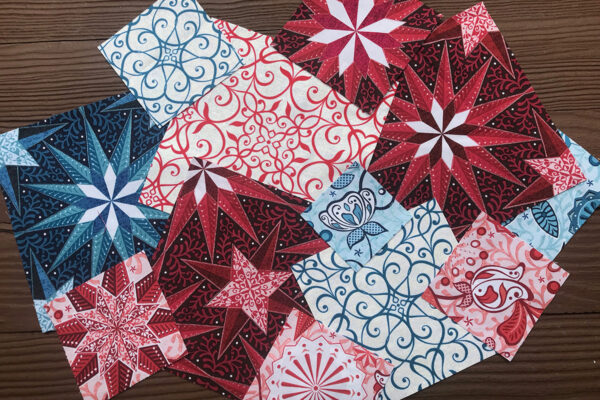 Fussy-cuts from a variety of Celestial Lights prints
As I said, I used the Celestial Lights star fabric to mimic the stars in the piecing, but any feature print or a medallion print would also be an effective choice!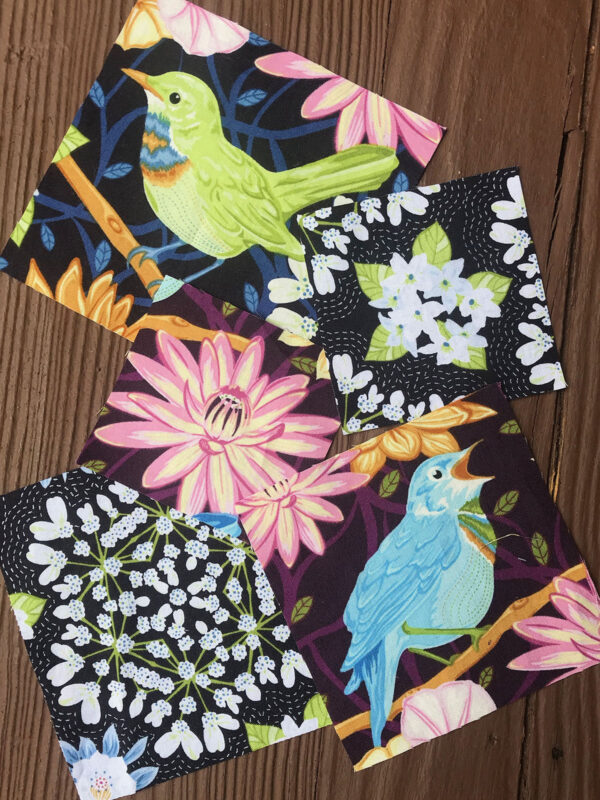 Fussy-cuts from my Nightingale fabric line, shipping to stores later this month.
I hope you have fun gathering your fabrics and planning your quilt this month. In October, I'll be back to give you some piecing tips!
In the meantime, I'll be back on WeAllSew to give you hints on how to perfect your RIBBON CANDY QUILTING. People struggle with this design but my hints will make it easier—I promise! See you then!
Stardust Quilt-along Schedule
Stardust Quilt-along: Ribbon Candy
Stardust Quilt-along: Piecing Tips and Tricks
Stardust Quilt Pattern Giveaway
One lucky WeAllSew reader will win a one Stardust Quilt Pattern by Amanda Murphy!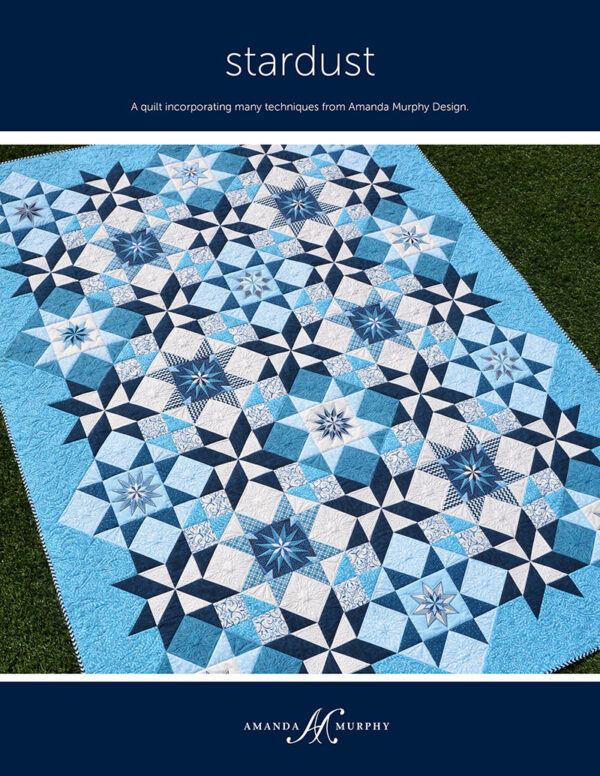 All you have to do is post a comment below and answer the question:
"What quilting technique are you interested in learning about?"
The giveaway is open to residents of the 50 United States and the District of Columbia. One comment per fan. Comment must be submitted to the WeAllSew.com blog by Wednesday, September 11, 2019 at 11:59 PM Central Time. Winner will be chosen randomly. Winner will be notified by email and will have 48 hours to contact to claim the prize.
Good luck and happy quilting!
Amanda
Difficulty level

Intermediate

Time to Complete

A week or more

Projects

home décor, quilt

Seasons

all seasons

Techniques

quilting
Used Products
What you might also like
65 comments on "Stardust Quilt-along: Part One"