Greek Key Quilt-Along, Week 3: Finishing the Quilt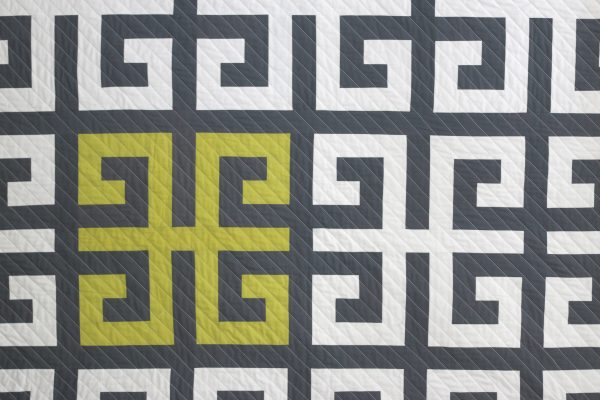 Welcome back to Week 3 of the Greek Key Quilt-Along! You can find post 1 (fabric requirements and cutting) here, and post 2 (making the blocks) here.
This week we're going to be sewing the top together, quilting and binding! A finished quilt is in sight!
First we're going to sew the 8-1/2″ blocks we made last week into larger sections, as shown in the diagram below: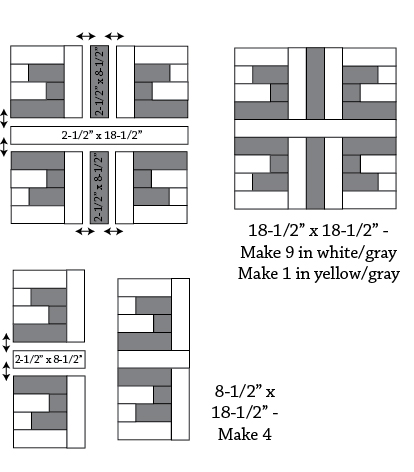 Be sure to use the mirror image blocks facing in the right direction, just like in the diagram! You'll be making 10 sections that are 18-1/2″ x 18-1/2″ (9 white/gray, 1 yellow/gray), and 4 of the smaller 8-1/2″ x 18-1/2″ sections.
And then we'll sew together these sections, plus your remaining cut fabric pieces, to sew together a completed quilt top, as shown in this assembly diagram: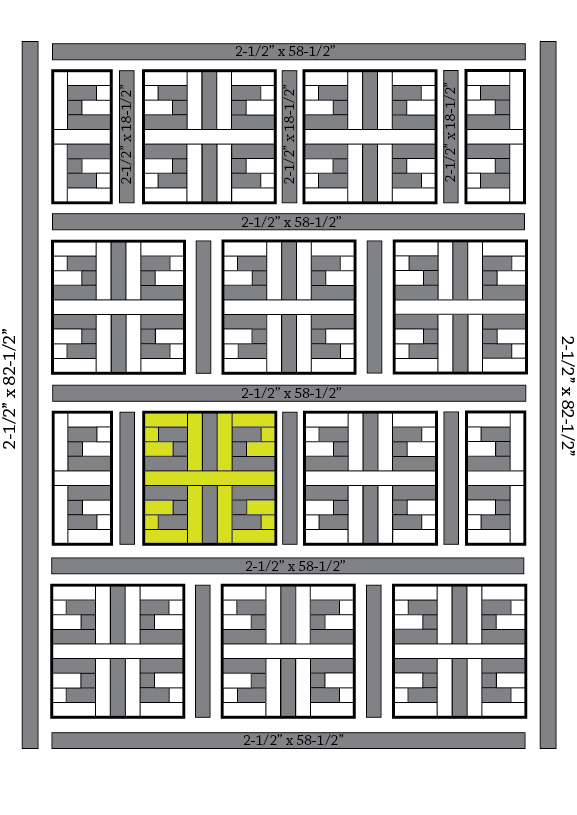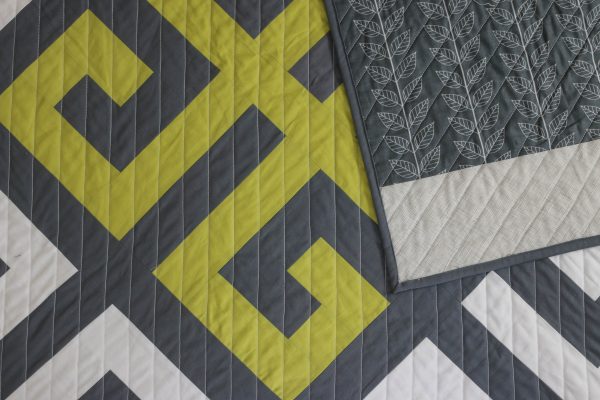 And of course, once your quilt top is sewn together, it's time to quilt! I quilted my Greek Key quilt in diagonal lines about 1″ apart. I love the sleek, modern feel of the straight diagonal lines for this quilt.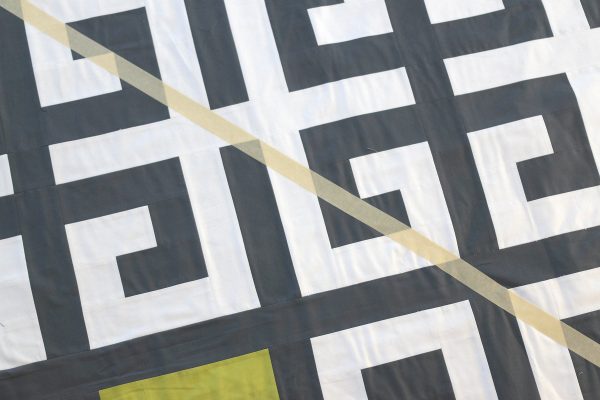 I got my diagonal lines started by running a line of masking tape diagonally through the middle of the quilt. I used the corners of my piecing to keep the tape in a perfect 45-degree diagonal.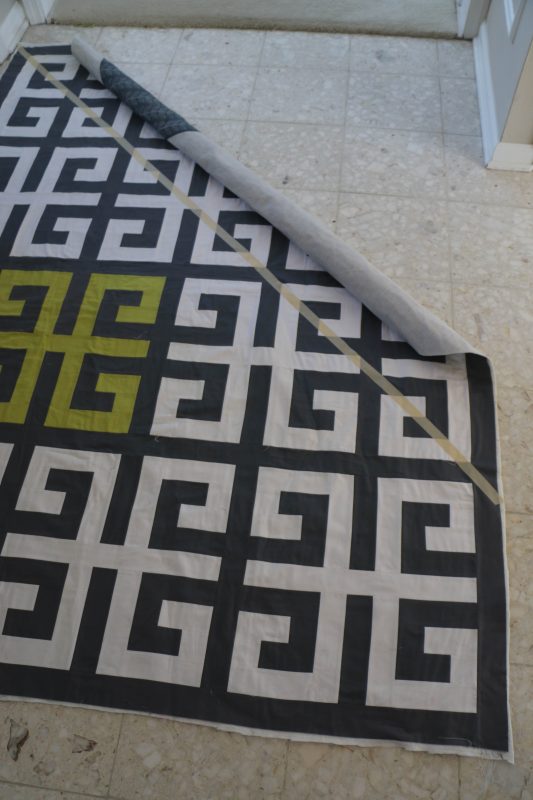 Then roll up your quilt from each side, toward the tape line.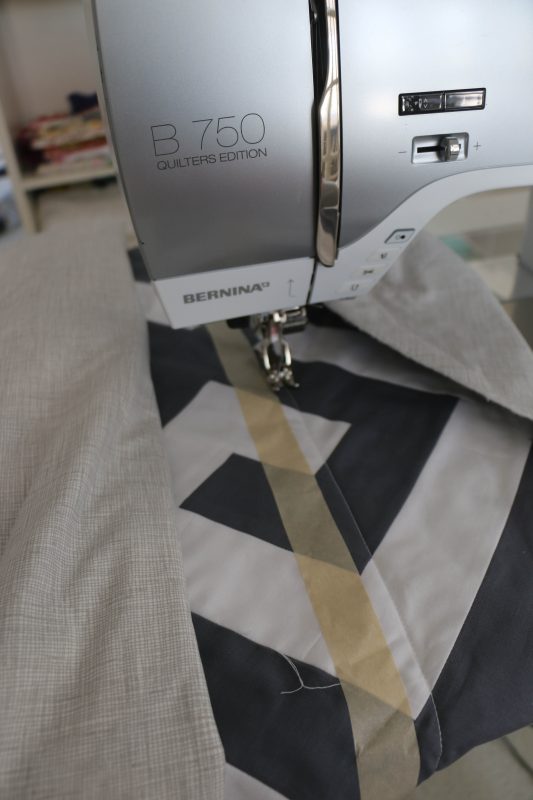 I lined up the edge of my Patchwork foot #97/97D foot with the masking tape so that I stitched that first quilting line about 1/4″ away from the tape.
Then remove the tape and slide your Seam guide into the back of your foot. Set the guide so that it's at the desired width between your quilting lines, tighten the screw, and away you go! That first quilting line (guided by the masking tape) guides all the subsequent lines.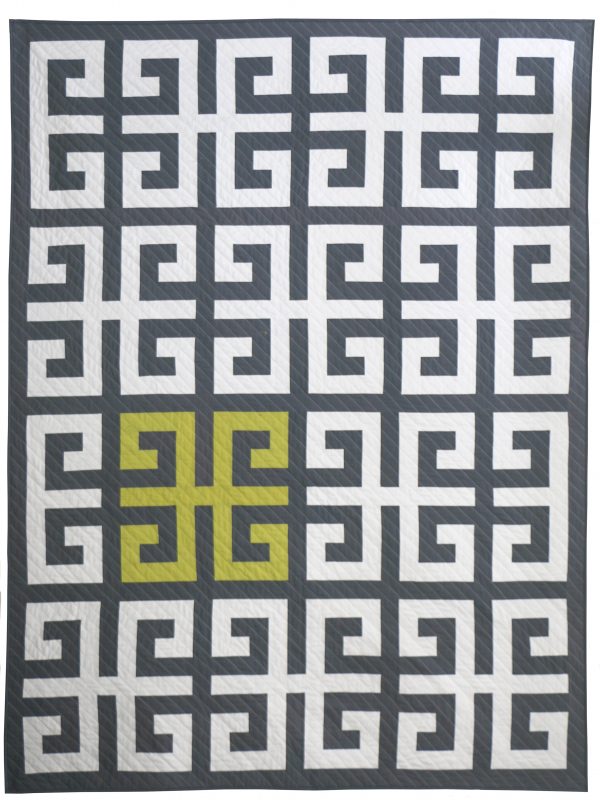 Once you're done quilting, bind your quilt and enjoy!
I hope you've enjoyed this quilt-along—if you have, come visit me at my blog, www.freshlypieced.com, where you'll find lots more fun like this! And don't forget to post your finished quilt on Instagram using the #greekkeyquilt, #berninausa, and #weallsew hashtags—or if you're not on Instagram, just click here to view the tagged posts!
Techniques

quilting
What you might also like