The Nona Quilt Along, Week Seven: Assembly
Hi, Friends!  Welcome back!  Jessica Dayon here and today we are starting week seven of The Nona Quilt Along.
If you missed the first six parts of The Nona Quilt Along, you can read all about it here:
This week, we will be assembling the blocks into The Nona Quilt top.  Let's get going!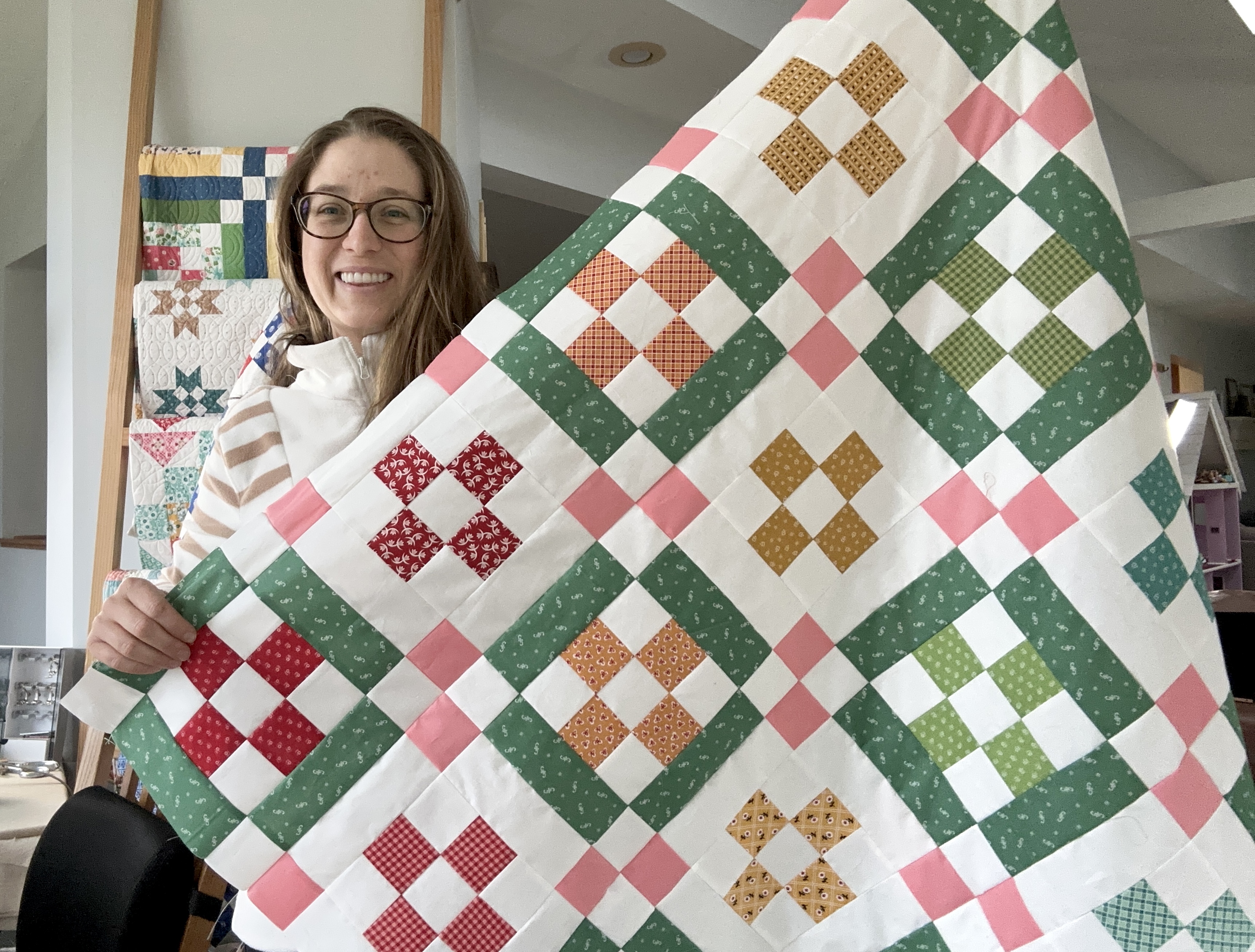 Assembling the Quilt Top
First, make sure you have your Nona pattern in front of you.  We are working on the section titled 'Assembling the Quilt Top'.

1. Layout the Blocks
The first step in quilt assembly is to figure out where you want to put each block in the quilt top.  I like to lay my blocks out on the floor in the layout show in the quilt top diagram of the pattern so I can see them all.  Then, I rearrange them until I like how they look.
Here I decided to do a rainbow layout.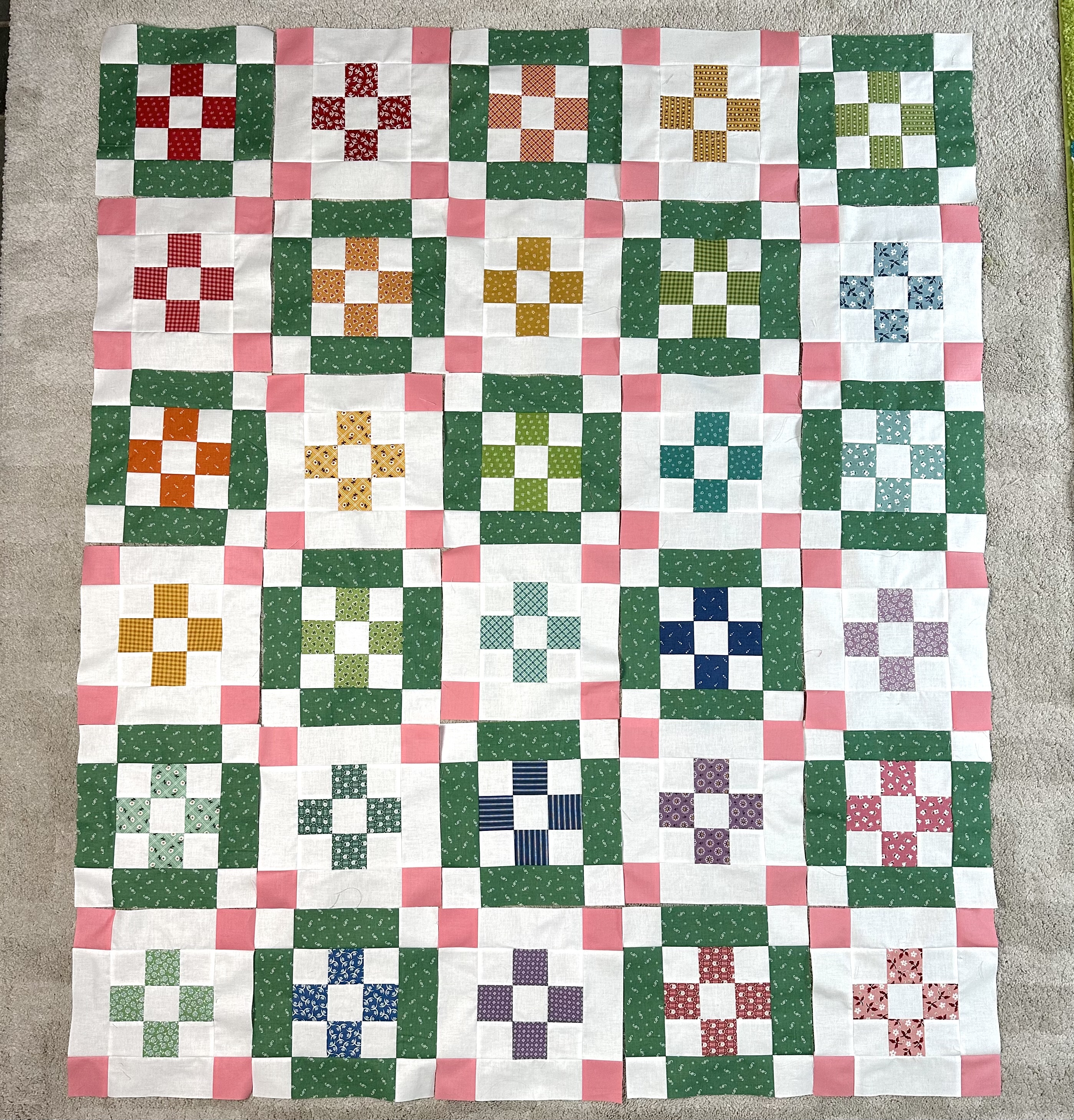 2. Stack the Blocks into Rows
Next, you'll want to stack the blocks into rows so that you can work on sewing one row at a time at your sewing machine.  I like to tag the first block of each row.  I simply write 'Row 1' on a piece of paper and pin it to the first block of row 1.  Then I do it for each of the subsequent rows too.
When stacking, work left to right, and stack so that the block to the left is on top of the block to the right.
3. Sew the Blocks into Rows
Take the first stack to the sewing machine.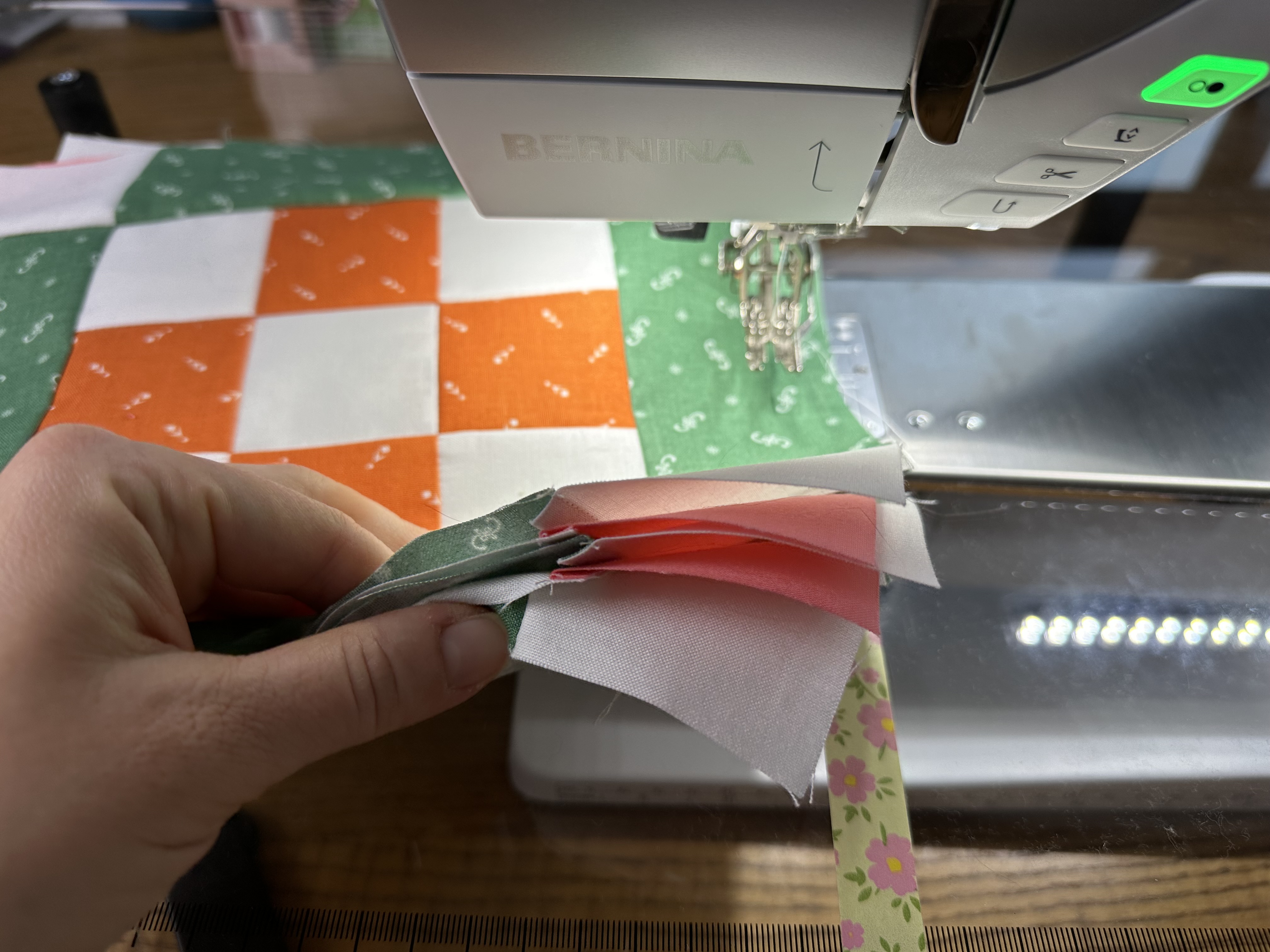 Lay out block 1 and block 2 of the row next to each other.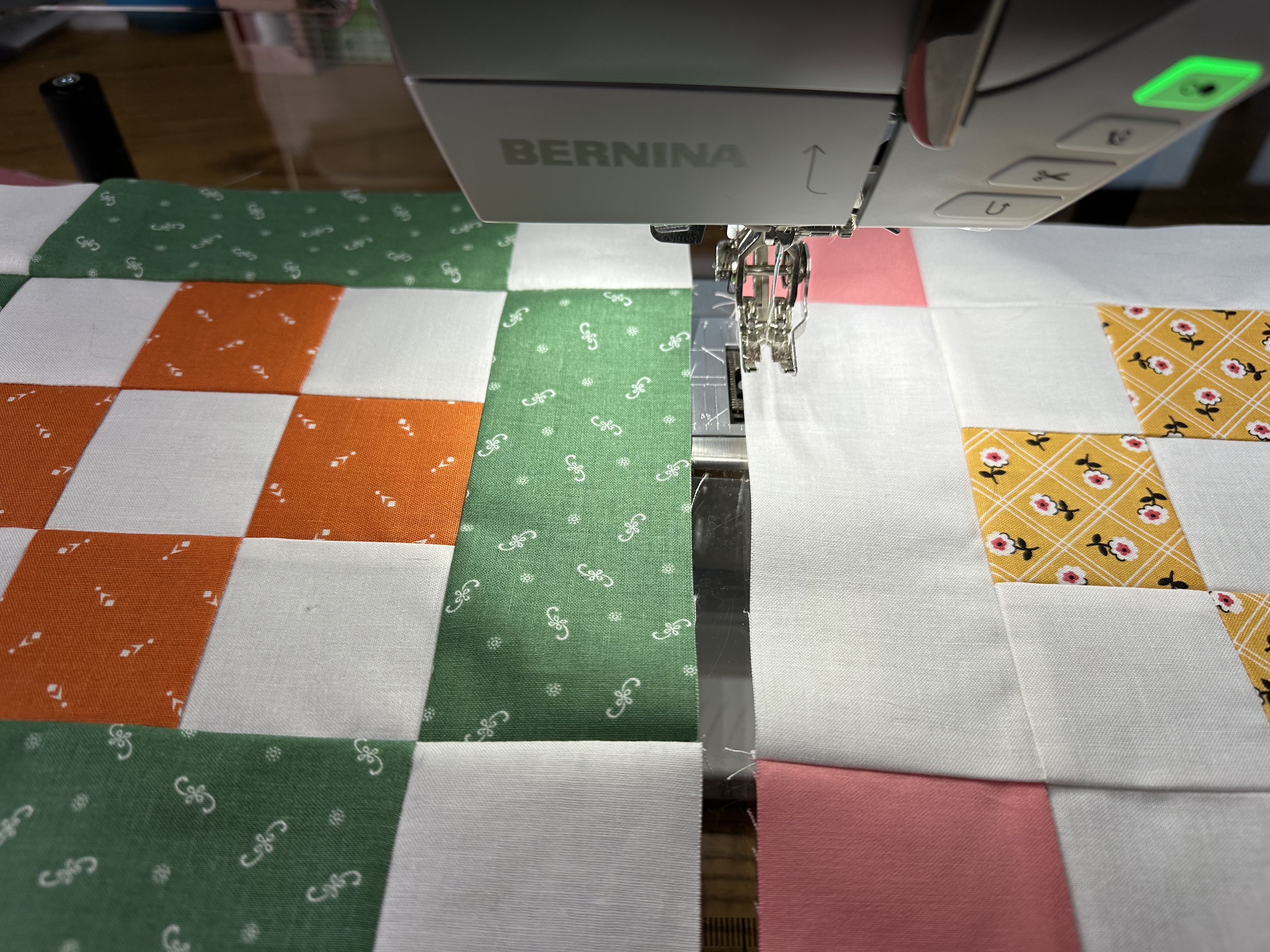 Flip block 2 on top of block 1, right sides together, nesting the seams.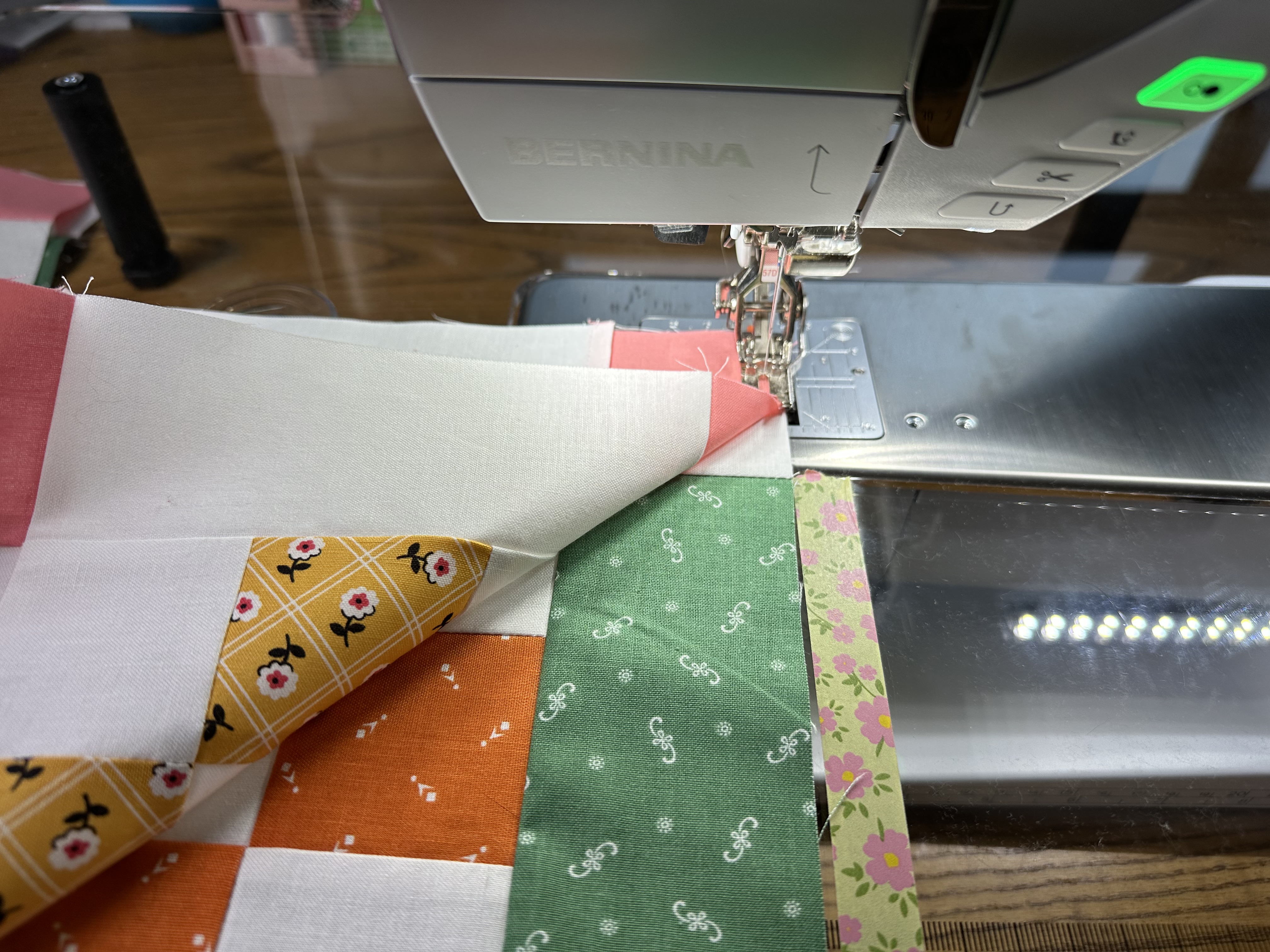 Sew along the edge using 1/4″ seam allowance.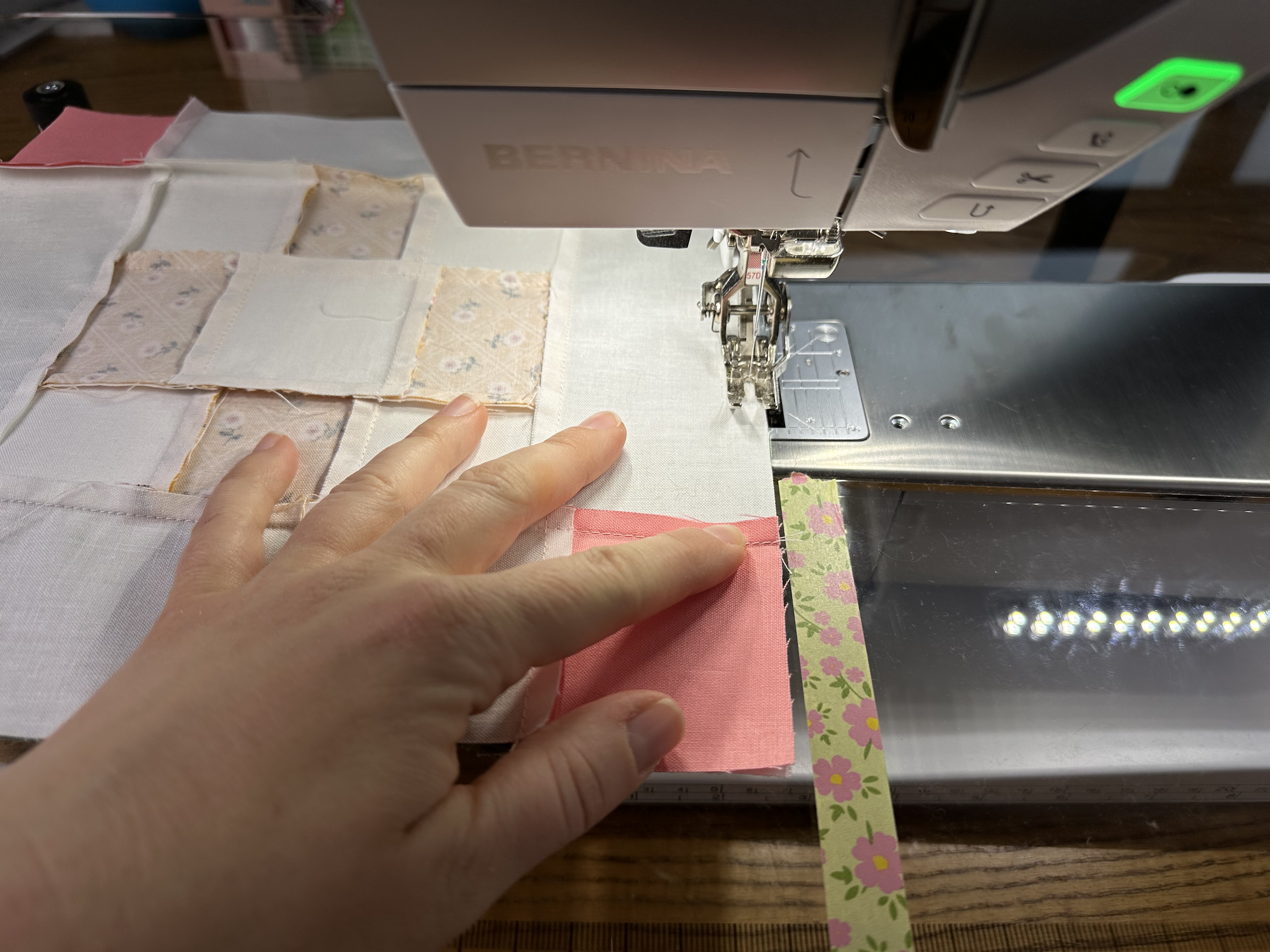 When opened up, the two blocks sewn together will look like this.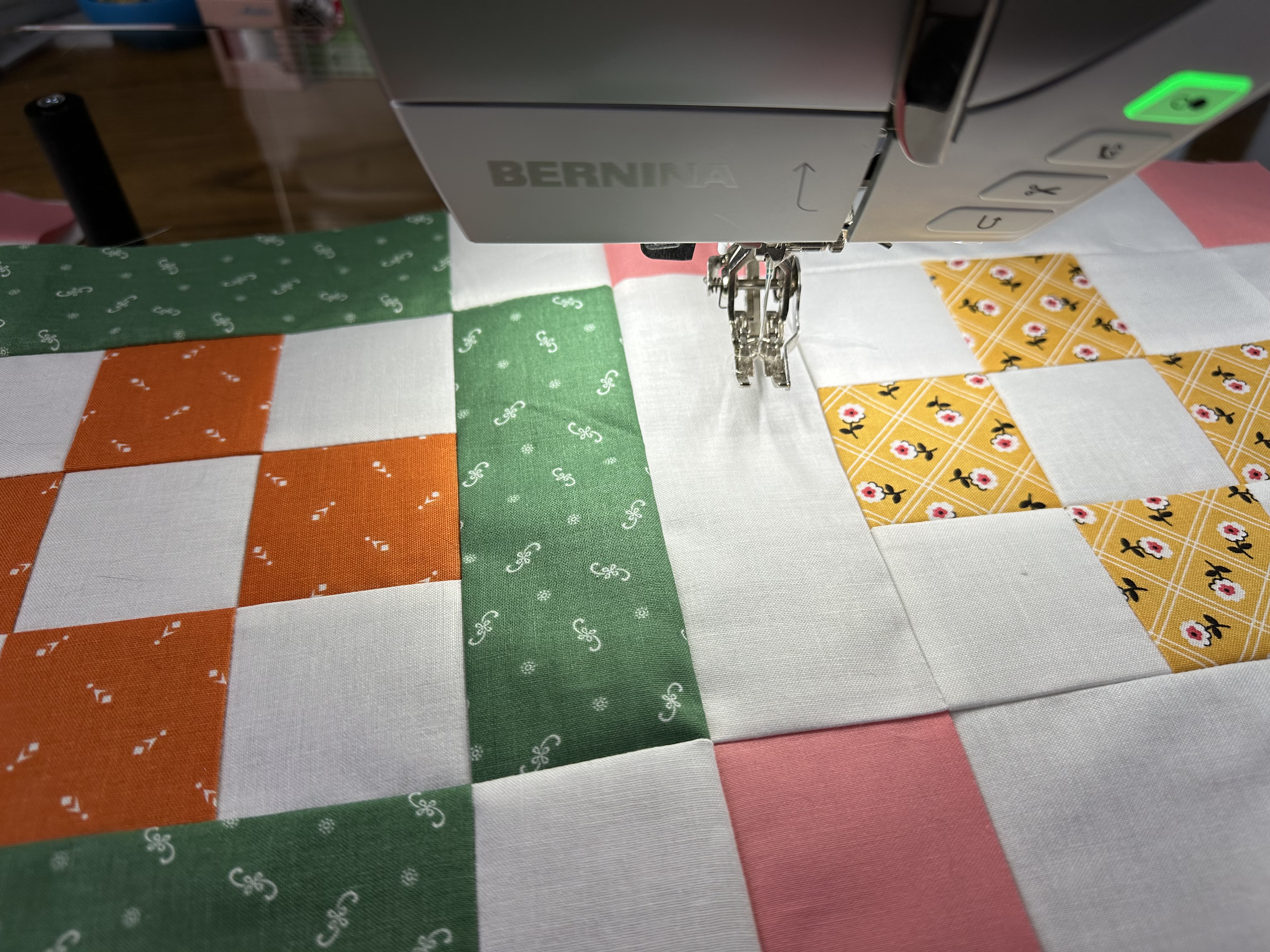 Next, put block 3 on top of block 2 and sew together along the edge with 1/4″ seam allowance.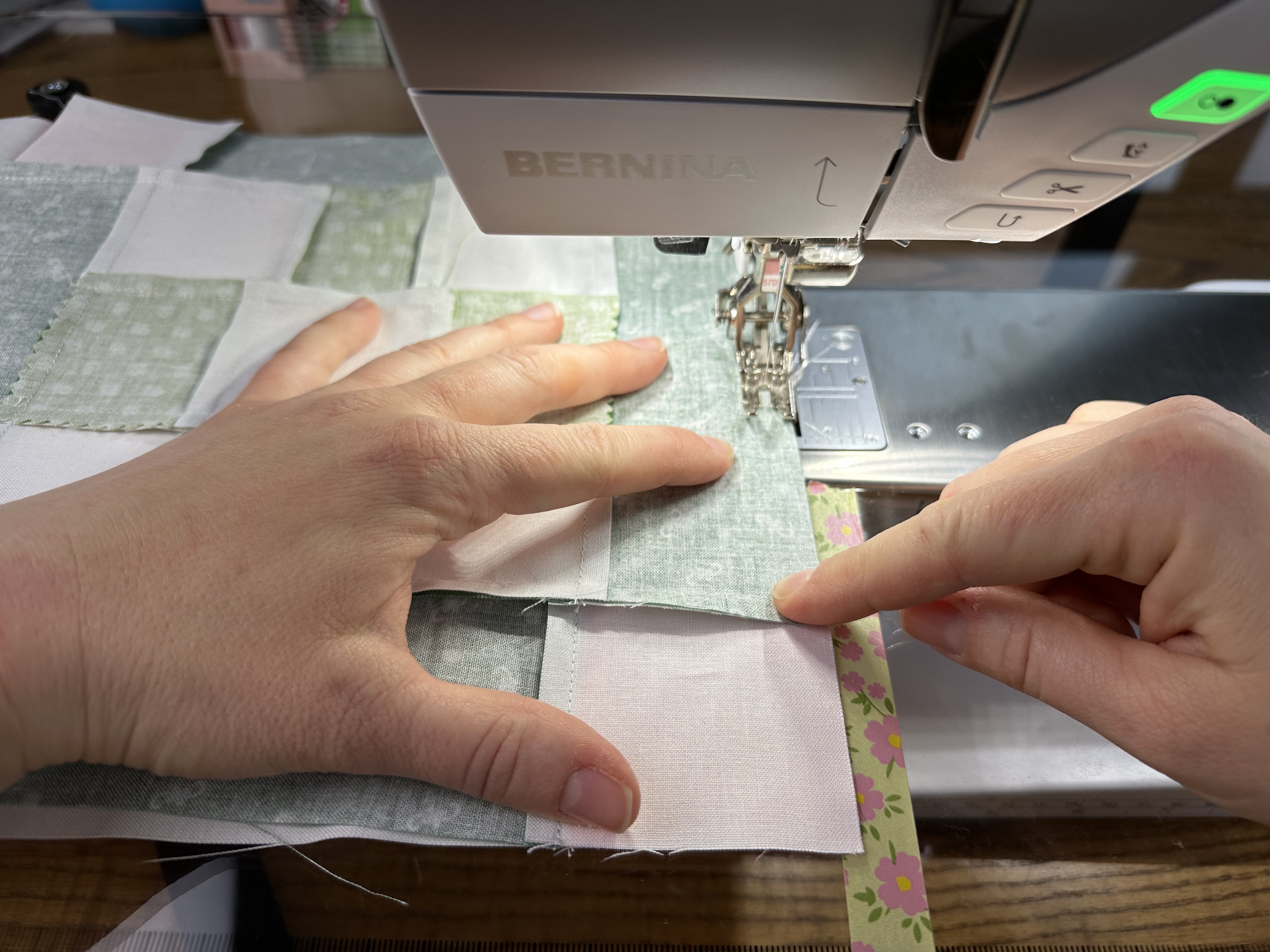 Repeat these steps to sew 5 blocks in the row together.  Then repeat for each of the 6 rows in this quilt top.
4. Sew the Rows to Make the Quilt Top
After you have all of the rows sewn together, it's time to sew the rows into the quilt top.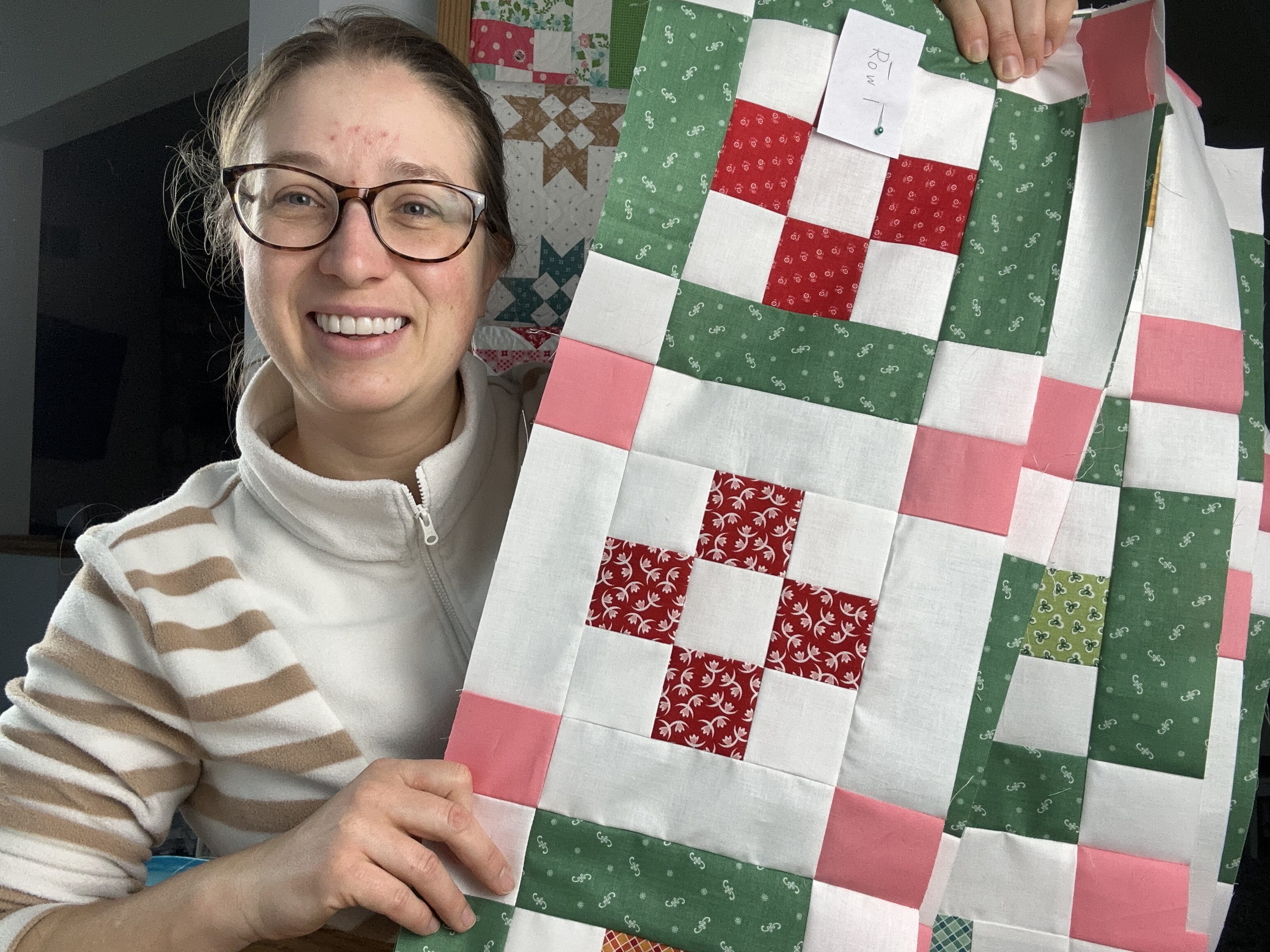 Lay row 1 on top of row 2, right sides together (you can pin if you'd like).  Then sew along the long edge using a 1/4″ seam allowance.
Sew all the rows of the quilt top together in order.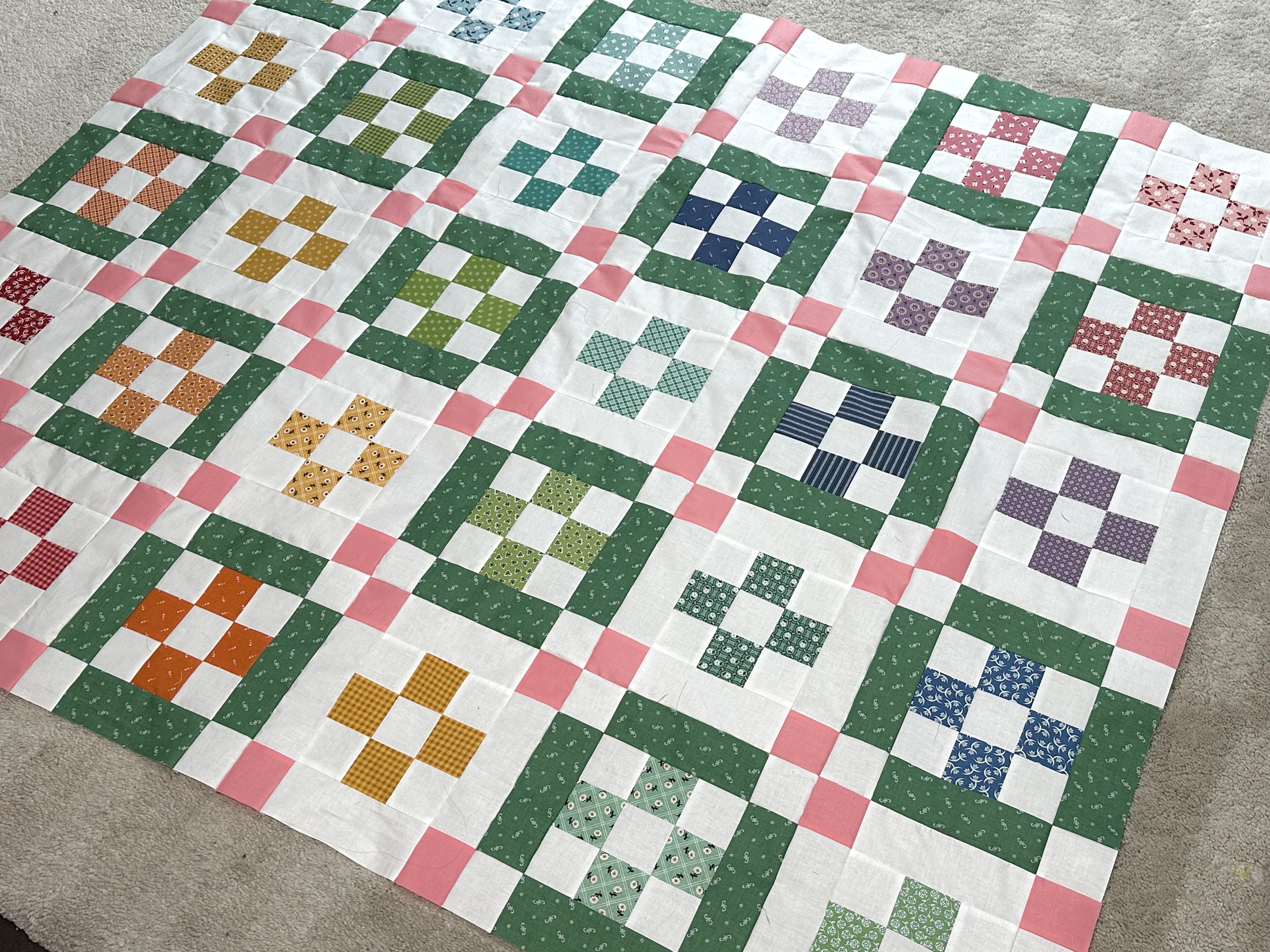 Watch the Week 7 YouTube Video
Again, please watch the Week 7 YouTube video on my channel.  This video coordinates with this post and I show how to assemble the block rows and top.
Thank you for following along and I'll see you next week!
– Jessica
Difficulty level

all levels

Time to Complete

2 Hours

Used Material

50 wt cotton thread, cotton fabric, sewing machine

Projects

quilt, quilt

Seasons

all holidays, all season

Techniques

patchwork, patchwork, quilt block, quilt piecing
Used Products
What you might also like
4 comments on "The Nona Quilt Along, Week Seven: Assembly"