Sewing Machine Review: First Impressions of the BERNINA 735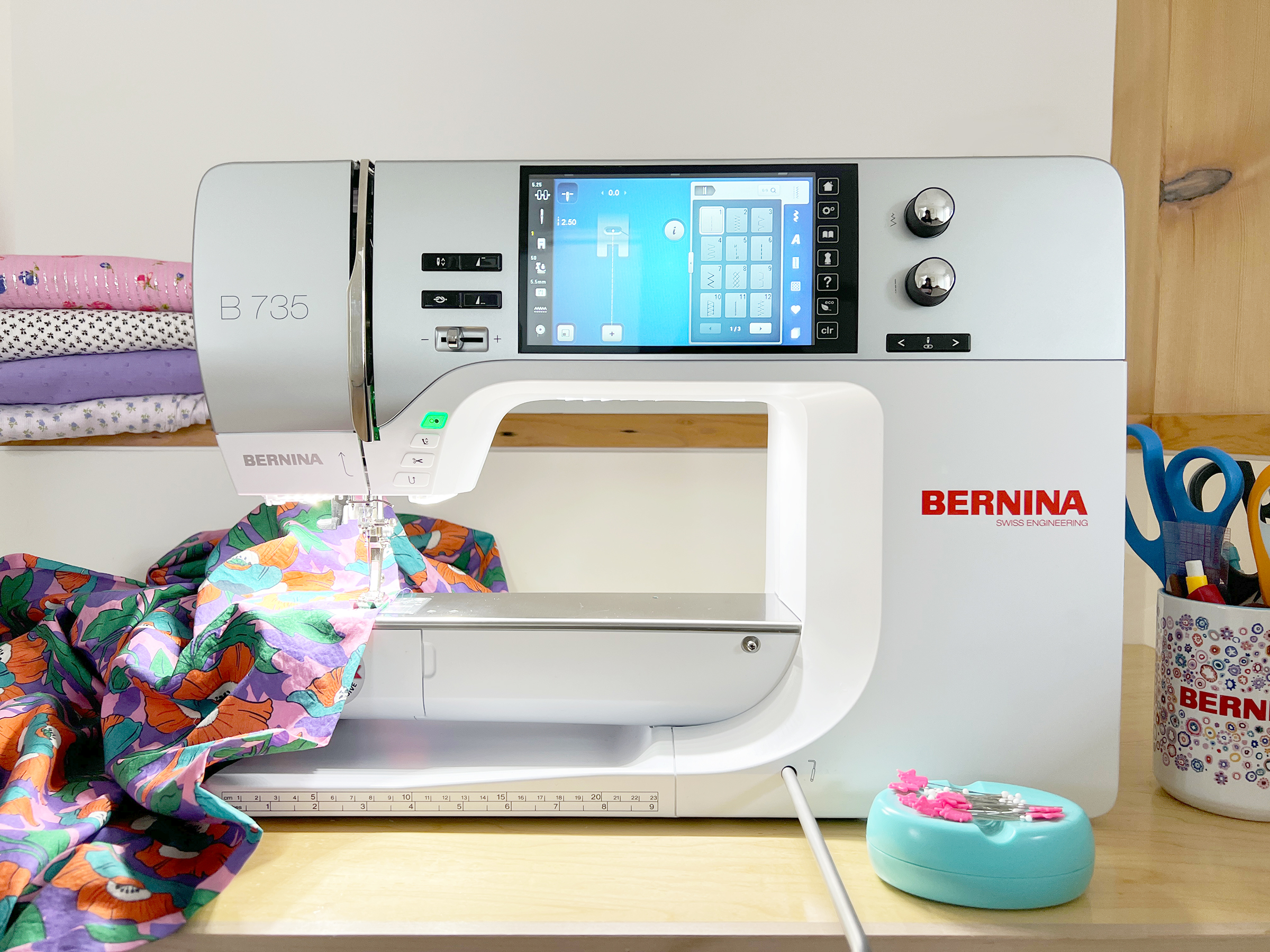 Introduction
The BERNINA 735 sewing machine is one of the newest models available from BERNINA. I am thrilled to be sewing on the B 735 as a brand Ambassador. Today I am sharing my review of this machine after using it for several months.
My name is Martha and I've been sewing since childhood. My sewing life changed in 2001, when I took a sewing class at a BERNINA dealership. Before long, I had a BERNINA Virtuoso 153 QE of my own, and I have never looked back. My beloved 153QE machine has seen me through design school, all kinds of fashion and textile related jobs, and two international moves. That machine is an extension of me!
I had my eye on the B 735 well before I became a BERNINA Ambassador last fall, so I knew it was the machine I wanted to try. This past January, we had an Ambassador retreat at the BERNINA Creative Center in Chicago, and it was love at first sight. I primarily sew garments, and the B 735 checked all the boxes for my needs, and then some!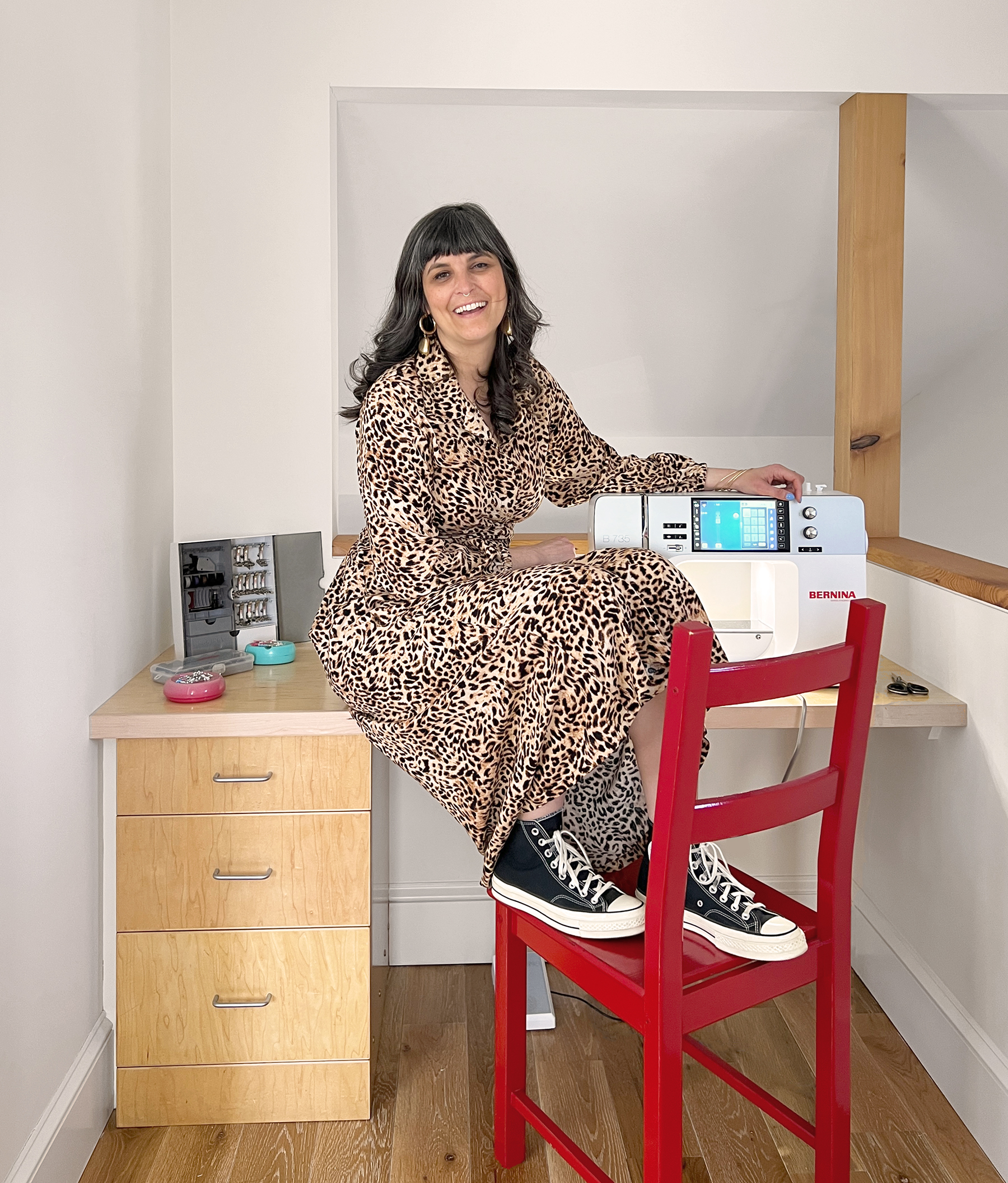 Appearance and Ease of Use
The B 735 is beautifully proportioned. I knew that some newer machines were larger than my trusty B 153 QE, but it wasn't until I saw them for myself that I understood. The 7" (18cm) touchscreen is dazzling. Images are clear and the variety of adjustments at your fingertips is unbelievable. The machine has plenty of well-lit harp space, ensuring even larger projects can pass through without bunching. The 5.5mm feet allow you to maneuver into those tight spaces you sometimes encounter when constructing garments. Personally, I love the free arm, which lets you hem sleeves and narrow areas with ease. 
After 22 years on my B 153 QE, I was nervous I'd feel intimidated by the many options available on the B 735, but quickly realized that the organization of both machines – of all BERNINA machines – is consistent. When I change the needle plate, thread my needle, or drop the feed dogs, I rely on muscle memory. While those features may have changed over the years, they are located in similar places or follow the same logic you are used to. If you are new to BERNINA, all components are sturdy, finely milled and solid metal. Everything fits together beautifully, and the user experience has been streamlined to ensure you can always find the feature you need.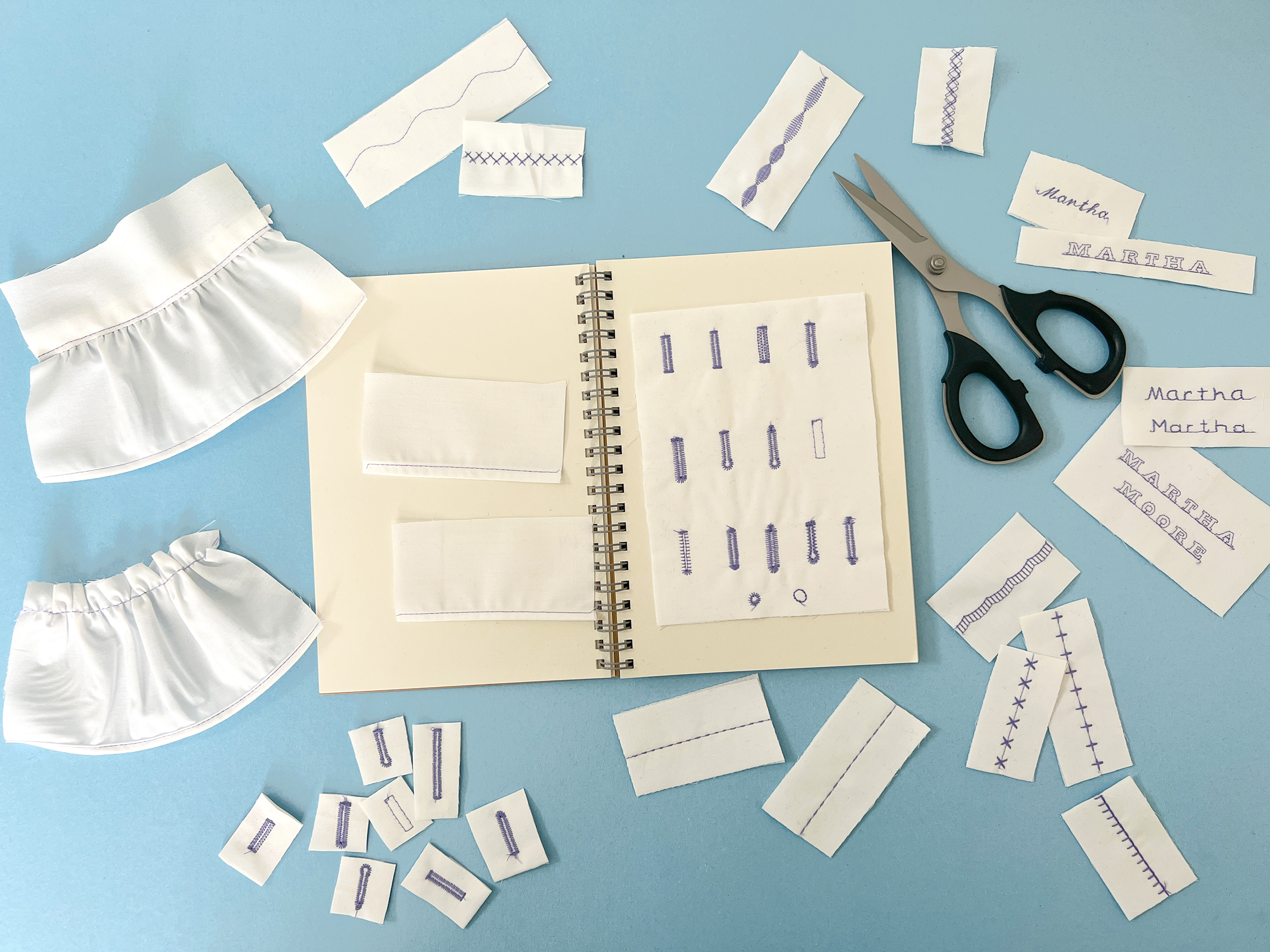 Stitches
When selecting a new foot or stitch, the on screen visuals make the process simple. If you select a foot that requires you to move your needle position to prevent breaking a needle, for example, Zipper Foot #4, the screen will highlight this incompatibility. The thread line will turn red until you've made the required change. As you move your needle across the eleven (yes, eleven!) possible positions, the screen will let you know when you have selected a position that is safe to sew. 
Adjustments to stitches seem infinite: length, width, needle position, stitch density – you name it, and you can tweak it. I don't use a lot of decorative stitches in my sewing, but when I do, I want it to look perfect. You can program a stitch to stop after completing a full repeat, meaning no half formed flowers or letters. You can also combine multiple stitch motifs to create a custom design. It's the level of precision we should expect from BERNINA, but it's still a pleasure to experience.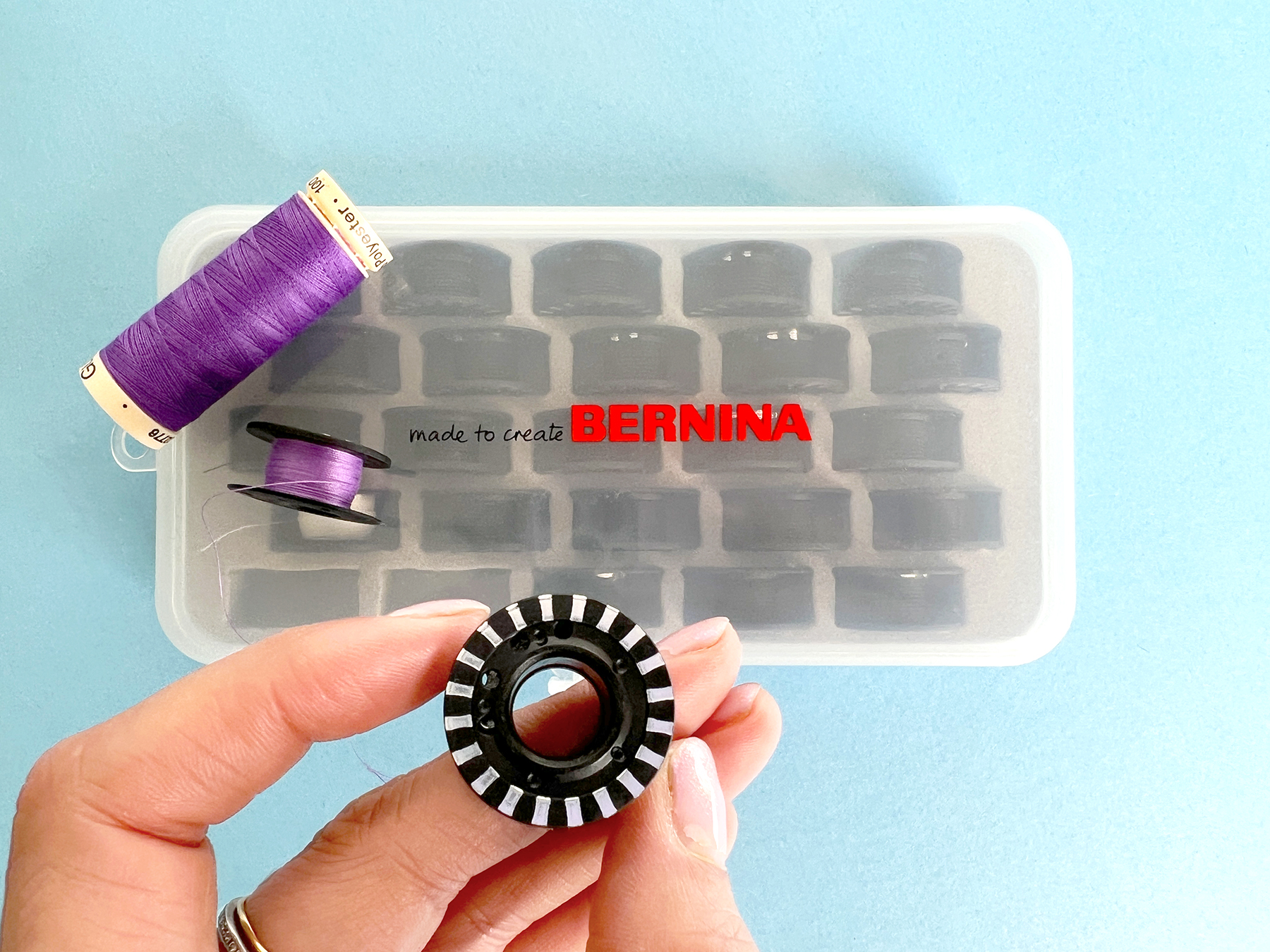 BERNINA Hook & Jumbo Bobbins:
When you first sit down at a new machine, of course you want to open it up and have a peek inside. You're in for a treat! The famous BERNINA hook sews up to 1,000 stitches per minute (you may want to turn the speed down as you get started). The front loading 7 Series bobbin holds 70% more thread than a standard bobbin. Simply put, if you are sewing a garment, you are not going to run out of bobbin thread. It's awesome.
Once again, I found features to be familiar yet updated: I understood how to take out the bobbin case and clean it. The layout is similar to my older machine, but the components are all bigger and super sturdy. Those jumbo 7 Series bobbins will only go inside the bobbin case if you position them correctly. This removes user error and gives you confidence to get back to sewing.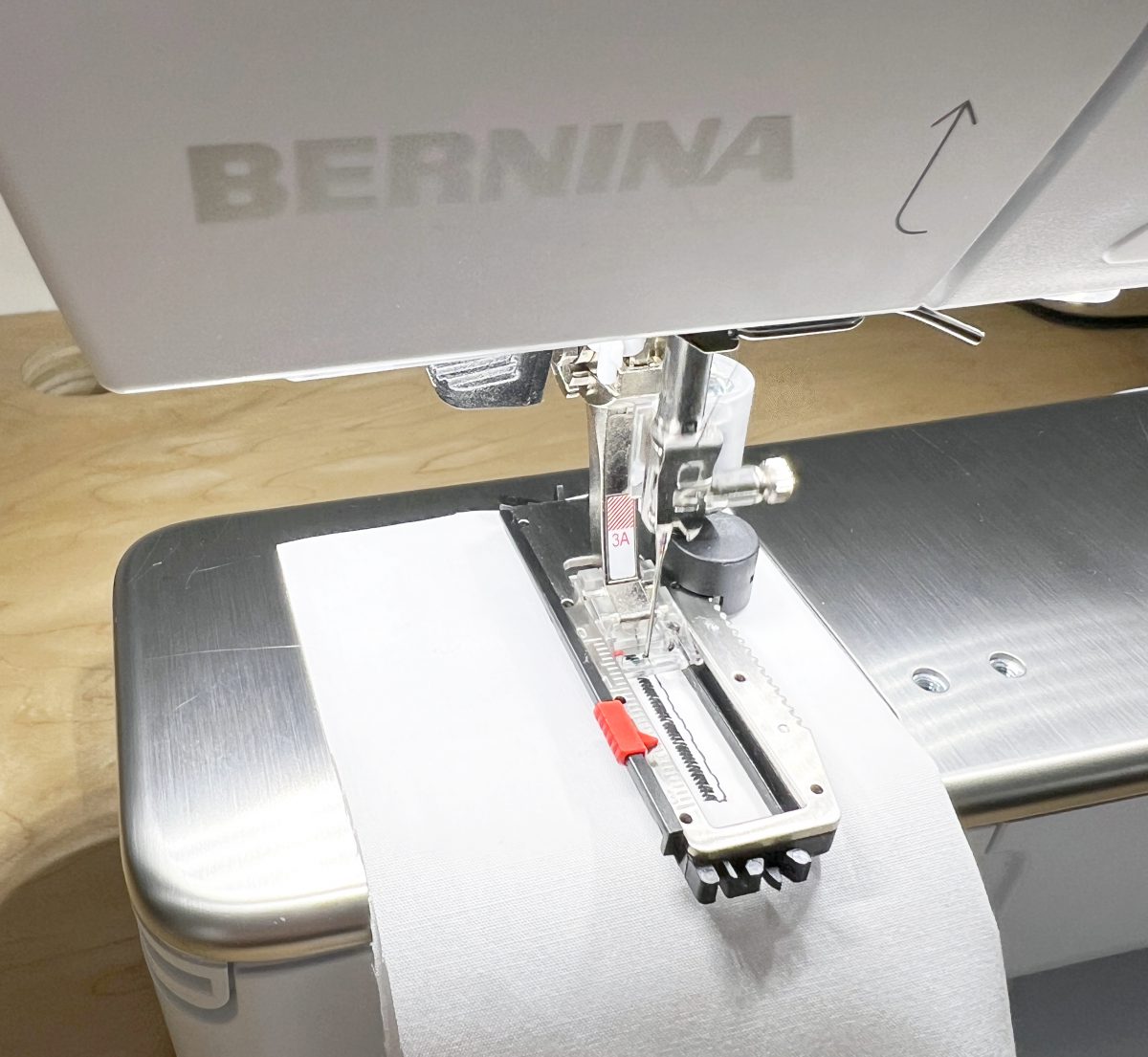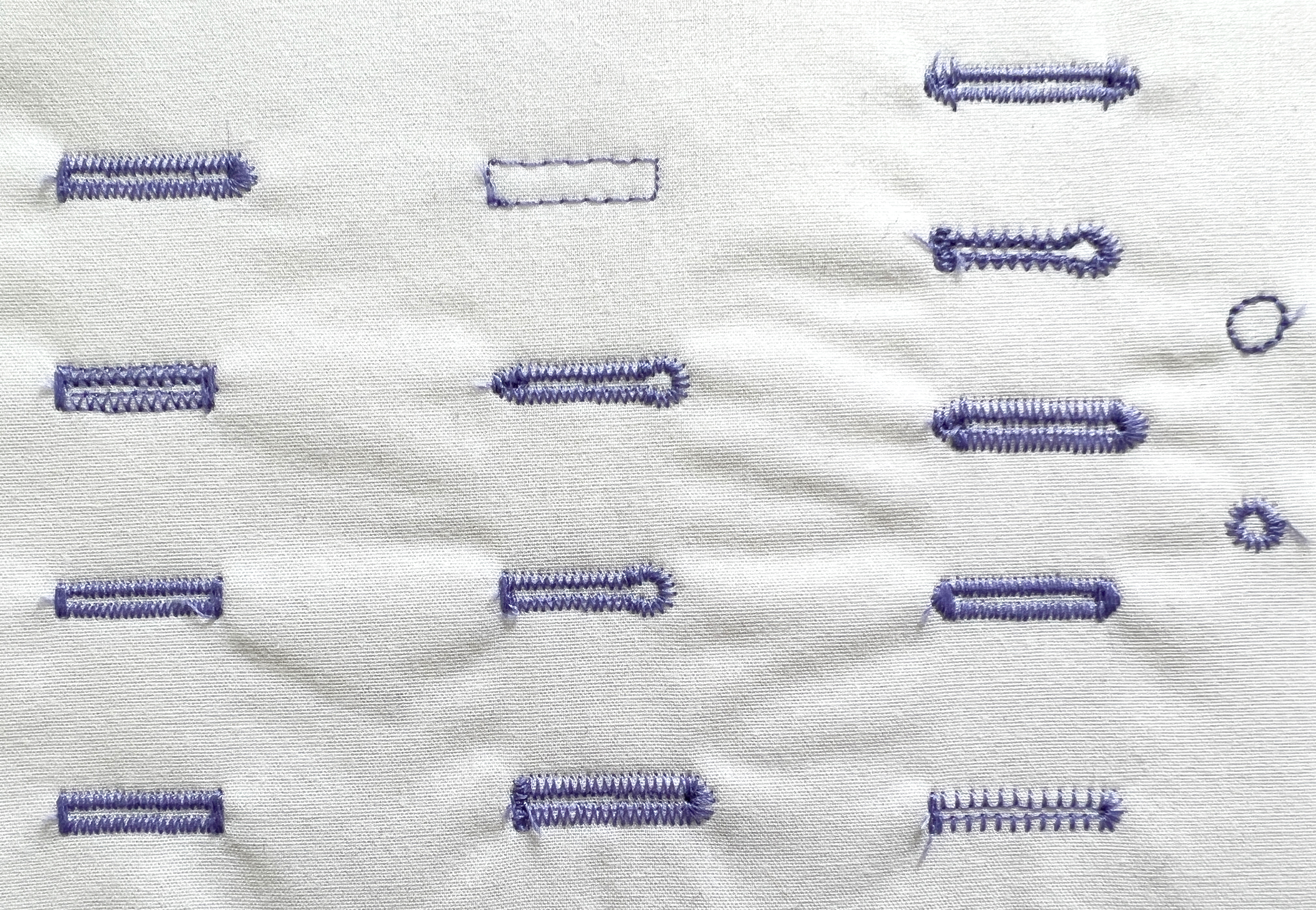 Buttonholes
If you wish to elevate your garments from looking homemade to professional quality, buttonholes make that difference. The B 735 comes with 15 buttonhole options (that includes 2 eyelets). They can be customized with length, width, and space between the left and right legs of the buttonhole. I could not wait to test out every option, and I was not disappointed! I highly recommend making yourself a little swatch book with one of each buttonhole in it. Watching the machine sew the buttonholes is fascinating. Each option has a slightly different formation, providing strength, structure, and beauty. 
When choosing the size of your buttonhole, the B 735 has the automatic buttonhole length measuring system. How delightful to hold your button up to the screen, turn a dial, and have the correct size buttonhole selected! I like to use the start/stop button on the front of the machine to sew buttonholes. With just one press of your finger, the machine will sew a complete buttonhole.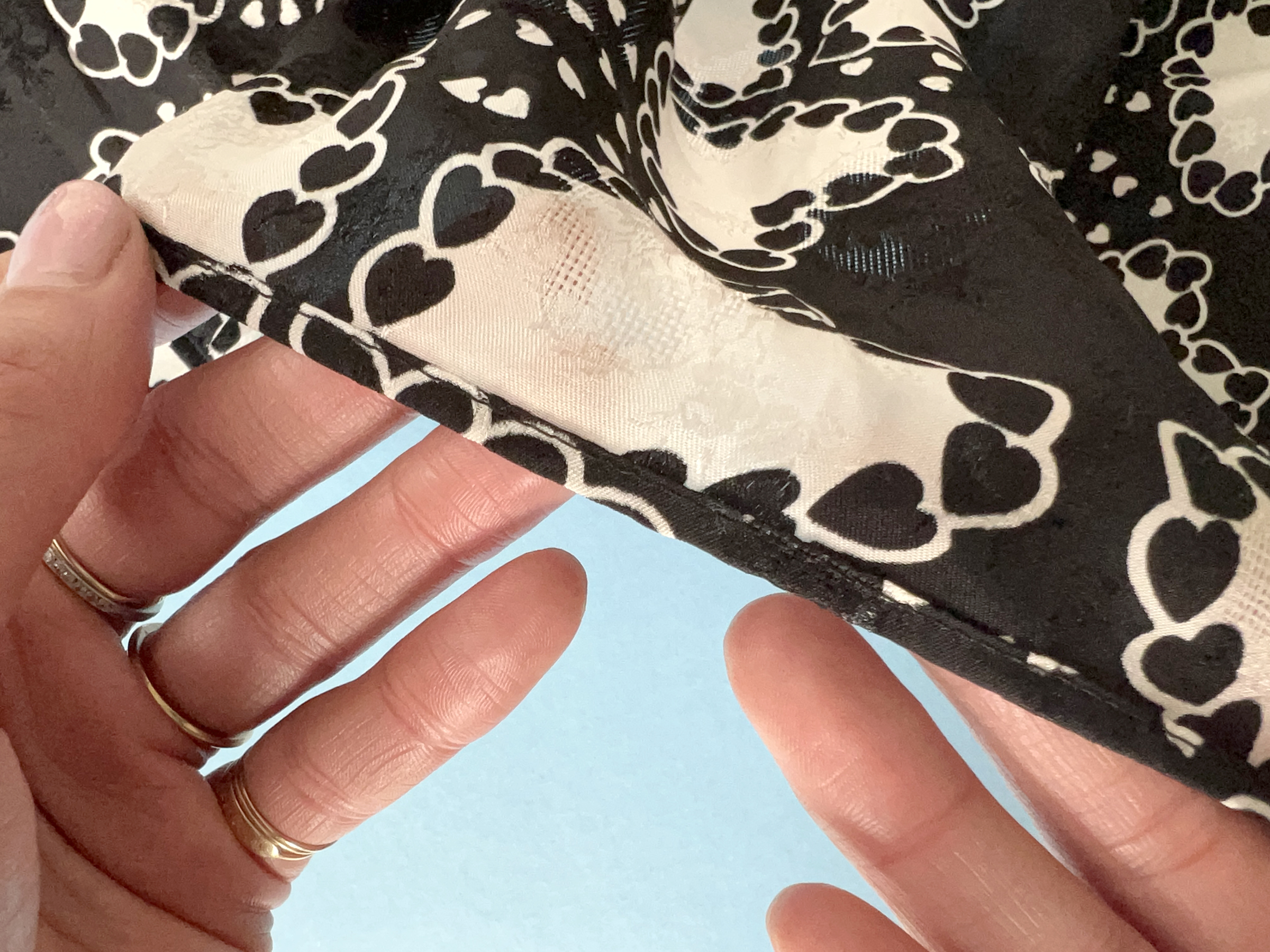 Feeling the Power
I add rolled hems to many of the garments I sew, because I love ruffles. One of my first projects on the B735 was hemming a square of beautiful, precious silk fabric to create a scarf. I have a lot of experience with hemmer feet and didn't have any scraps of my fabric to make tests. So I dove into my project without any practice – not for the faint of heart!
My first thought was, "I can't believe these are the same feet I've been using on my B 153 QE!". I could feel such power coming from the B 735! I turned down my sewing speed so I could focus on feeding the fabric accurately into Hemmer Foot #64. The feed dogs gripped and fed the delicate silk beautifully. I knew it would be a quick project, but didn't anticipate the ease and fun I would have! I'm already deciding which Hemmer Feet I need to add to my collection.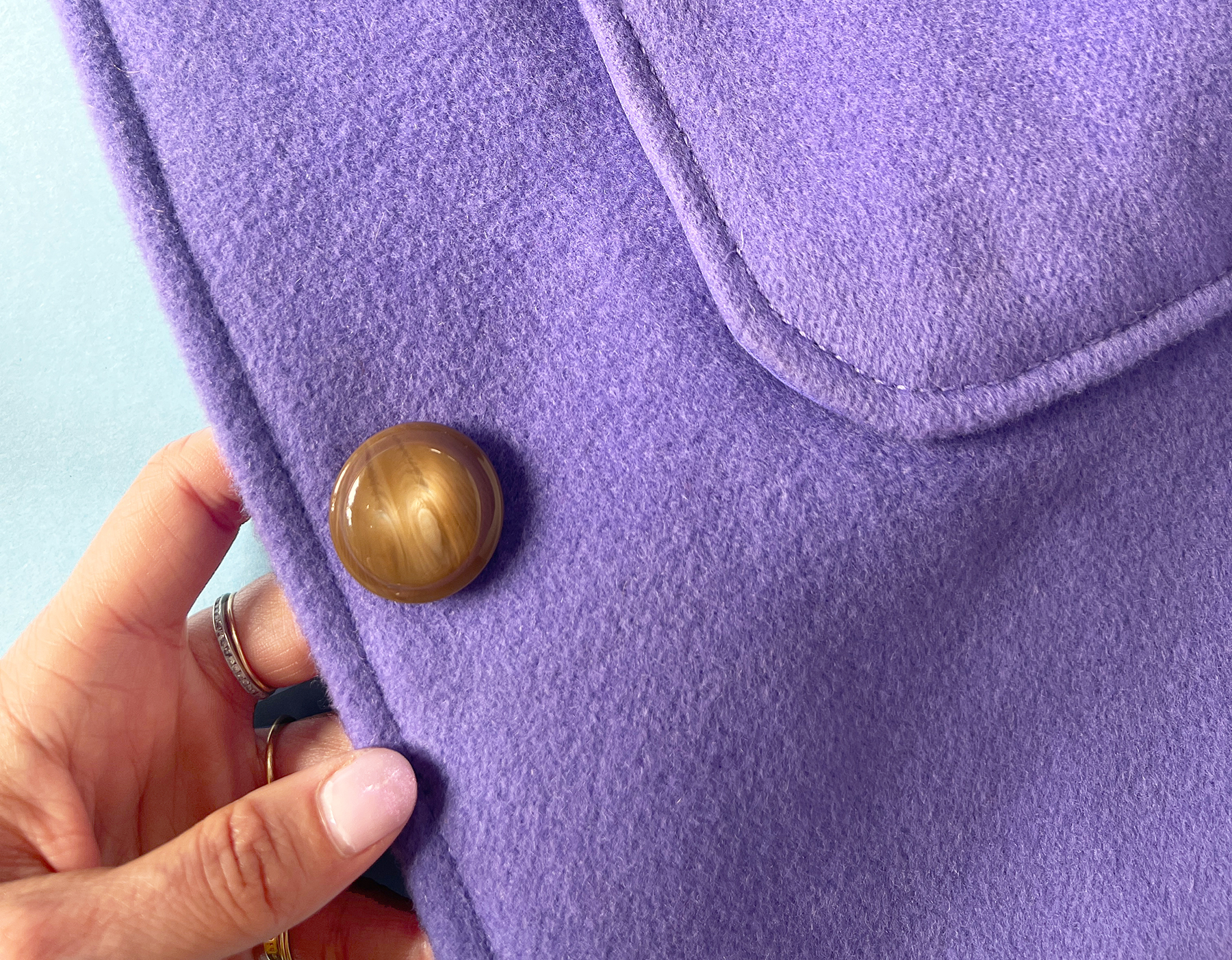 Heavy Fabric and the Free Hand System
With a lightweight project under my belt, I decided to sew something heavy: a wool coat. After stitching that silk scarf, I was not surprised by how wonderfully the machine handled my slippery lining fabric. But the power of the machine really shone when my dense wool coating was under the needle. I used my walking foot to ensure all layers of fabric fed evenly. It sewed like a hot knife through butter! 
I used a top stitch needle and heavy duty thread for my top stitching, and the machine never once stalling or skipped a stitch. This is where the large harp space and Free Hand System (FHS) were indispensable; I used both hands to maneuver my bulky project without ever having to pause and clumsily reorganize myself.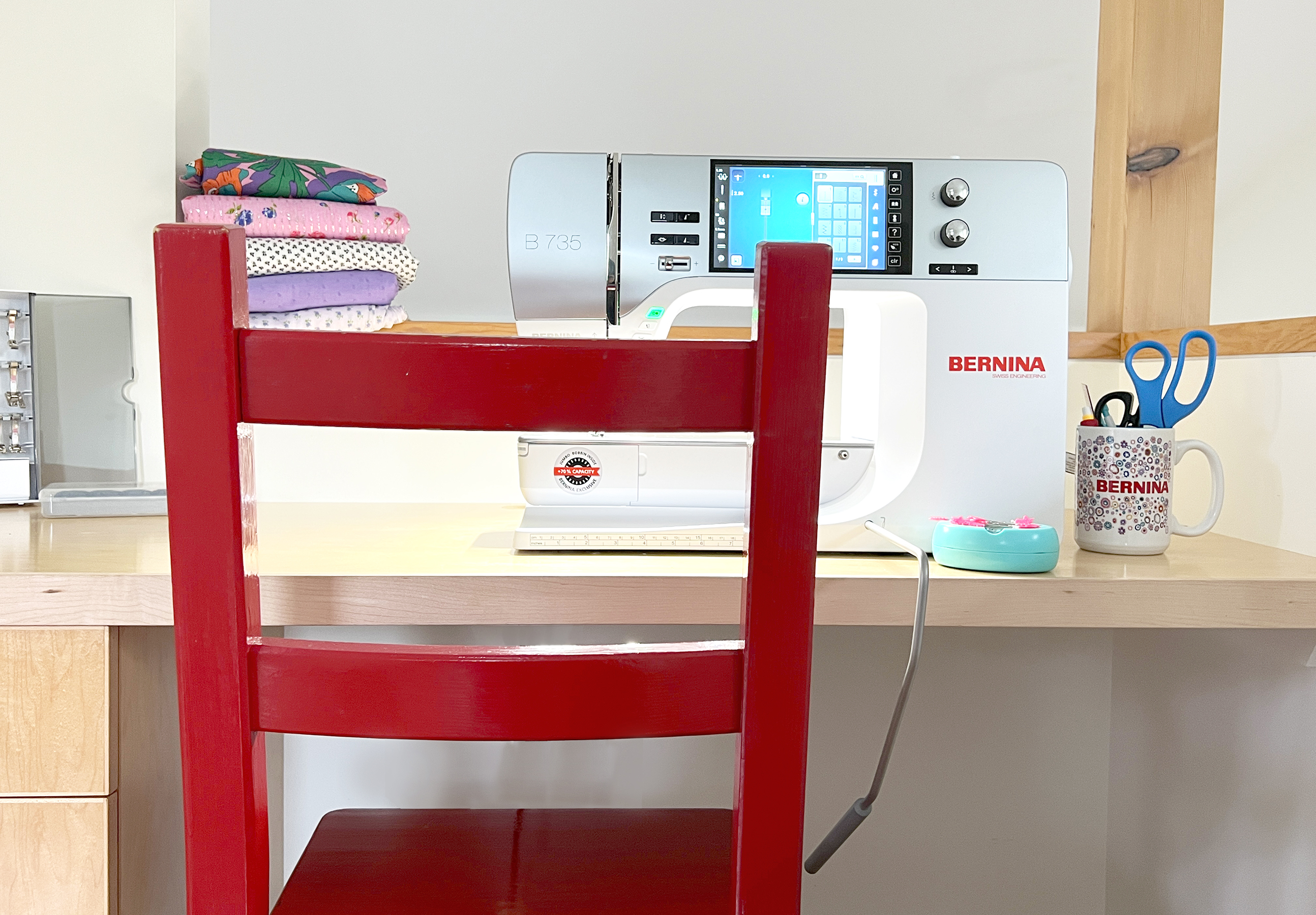 My friends at BERNINA suggested I sew with my left foot on the foot control pedal. This allows my right leg to operate the Free Hand System (FHS) unencumbered. I have found it to be ergonomically superior to sewing with the right side of my body managing the foot pedal, FHS, making selections on the touch screen and holding onto my fabric. After a couple of projects, you'll forget there was another way to do things.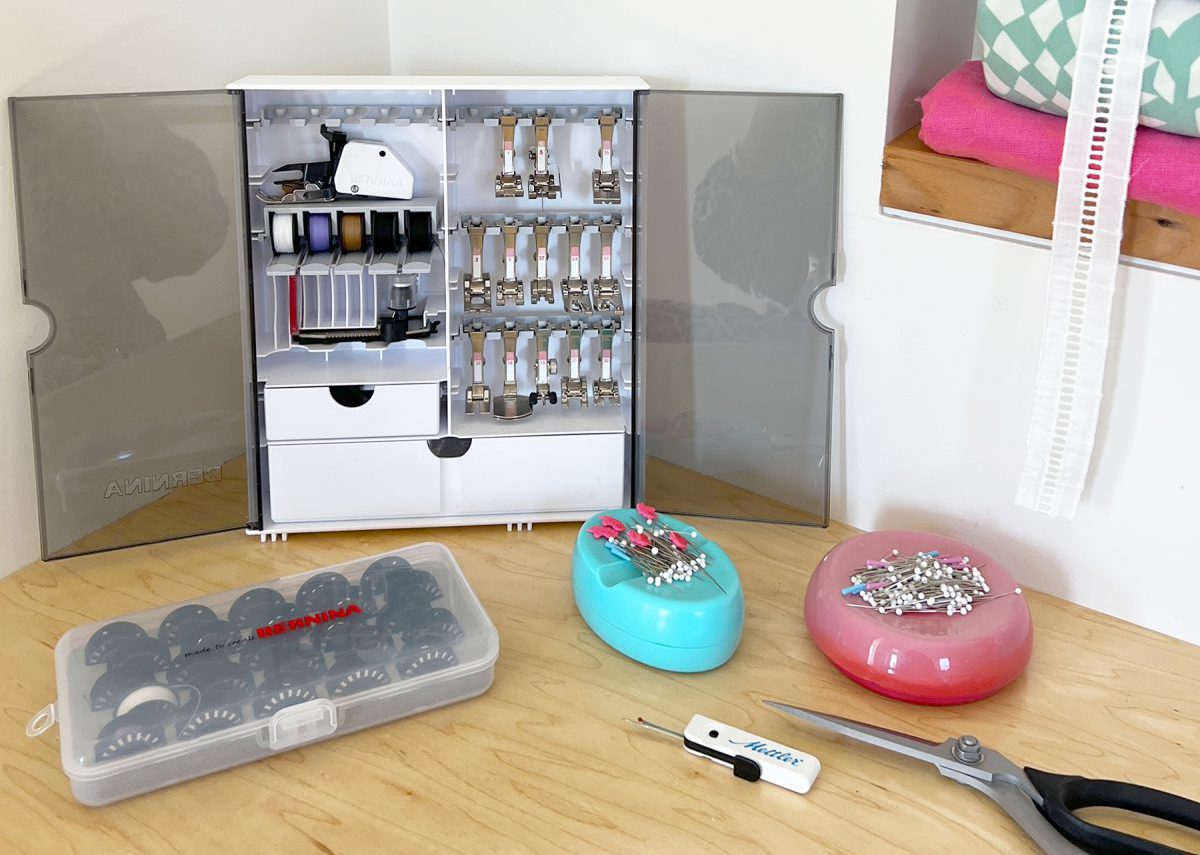 Conclusion
I've had the B 735 since February. I've sewn silk, cotton, linen, wool, rayon, and polyester, in every weight from georgette to coating. It has been a pleasure, and I know there is much more for me to learn. When I sit down to chat with my dealer, she provides me with tips and tricks. This blog contains a wealth of knowledge!  I'm looking forward to creating and growing with the B735 for years to come. 
And don't worry, I keep my beloved B 153 QE clean and oiled. She's ready to go if I ever need a backup, or if I entice a friend to come sew with me for the weekend. 
Let me know in the comments if you have questions about the B 735. I highly recommend testing one out at your local dealership – I'm confident you'll fall in love. You can see and read about many of my sewing projects as well as fabric shopping guides on my blog, Buried Diamond, or on my Instagram, where I share a lot of my design and sewing process. 
Wishing you happy sewing, Martha
Difficulty level

all levels

Time to Complete

Less than one hour
What you might also like
8 comments on "Sewing Machine Review: First Impressions of the BERNINA 735"