My Favorite Features of the BERNINA 770 QE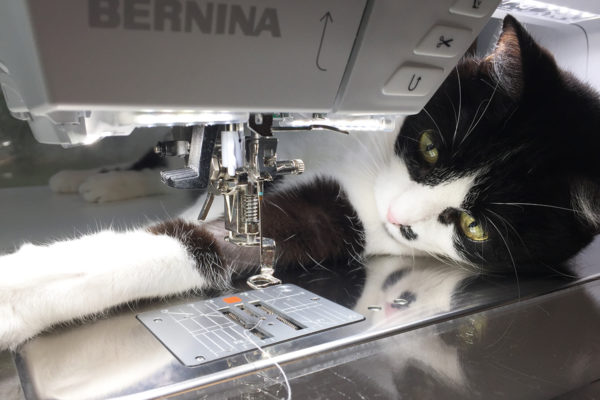 My cat, Wicked, inspects my new BERNINA 770 QE. She is very curious about the workings of this machine!
While there's a whole lot to love about my new BERNINA 770 QE, there are a few features I especially adore. Most are things I didn't have on my previous BERNINA machines.
In 2003, I was still sewing on my mother's hand-me-down, a 1958 Singer 404 Slant Needle she got right after she and my father married. I had started wanting to make art quilts, and there were some things that little machine just couldn't handle.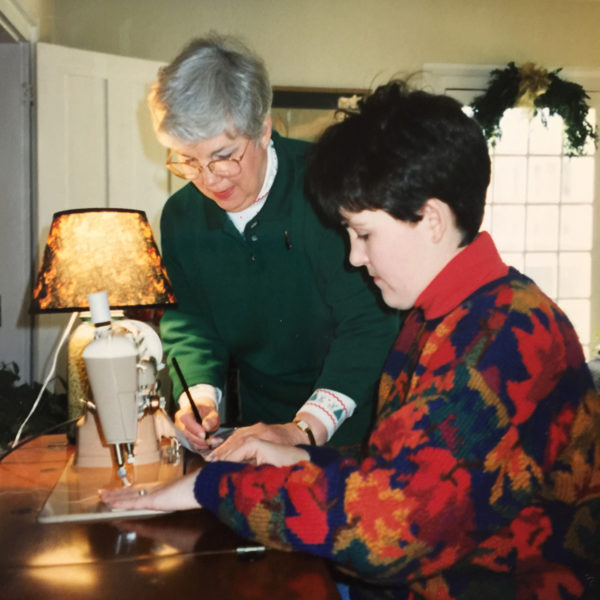 My mom (a home economics teacher) working on a project with me in the early 1990s, using her 1958 Singer. I treasure this photo of us sewing together!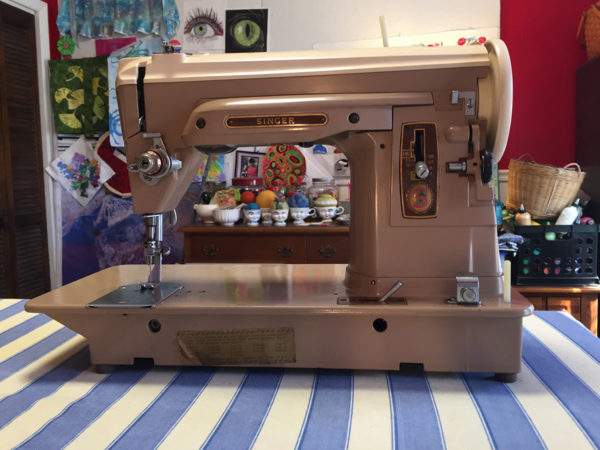 Mom's singer in my studio pictured above. For my fortieth birthday, my mother gave me my first BERNINA, a Virtuosa 135 QE. It absolutely changed my life, taking my artistry in new directions.
My next BERNINA was my mom's BERNINA Aurora 440 QE, which I inherited after her death. I was with my mother when she purchased this machine at International Quilt Festival in 2007, and I remember her excitement at testing out the new features, particularly the BERNINA Stitch Regulator, which was pretty new at the time.
My third BERNINA is the B 770 QE. Here's what I love most about it:
The Huge Bobbin
The B 770 QE bobbin holds up to 70% more thread than standard bobbins so I can sew a long, long time before needing to stop to refill the bobbin. This feature makes me very, very happy, because I absolutely hate stopping to wind bobbins. Another thing I hate: running out of bobbin thread at the worst possible spot when I'm free-motion quilting. Luckily, the B 770 QE also has a little indicator on its touchscreen that warns me when the bobbin is running low, so I can plan when to stop.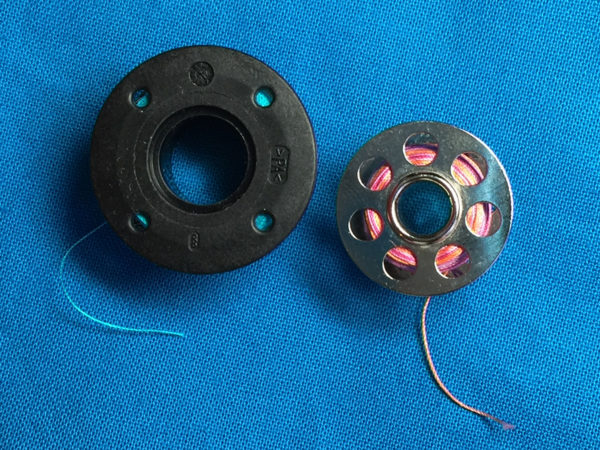 Look how much bigger the bobbin for the B 770 QE is, compared to the one for my older BERNINA machines!
The bobbins for the B 770 QE have one side with these silver stripes that make it easy to determine which side goes into the machine first: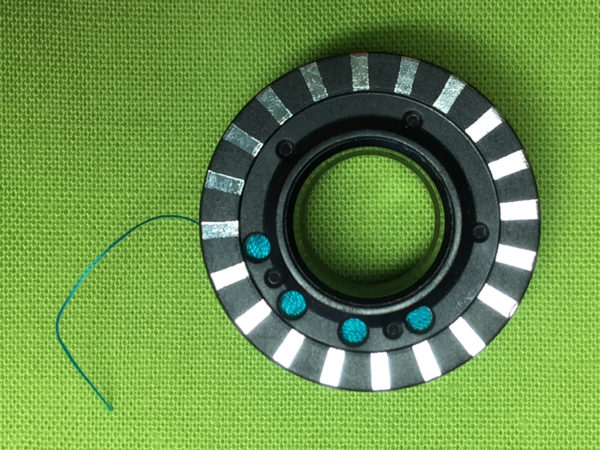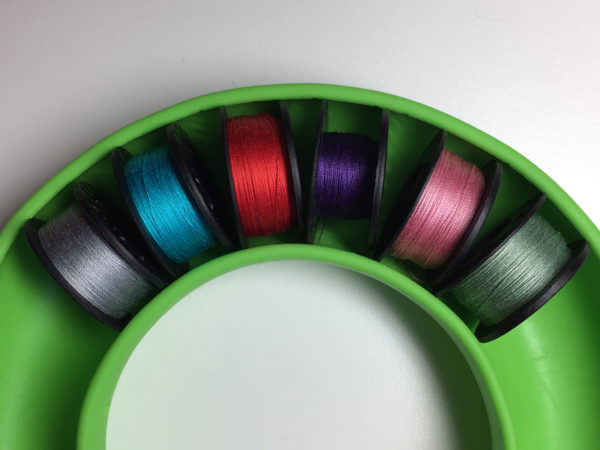 The BERNINA Hook
The hook system is where the magic happens and stitches form in sewing machines. The B 770 QE stitches up to 9 mm width (that is really wide!) with speeds of up to 1,000 stitches per minute, and it does this much more quietly than my older machines.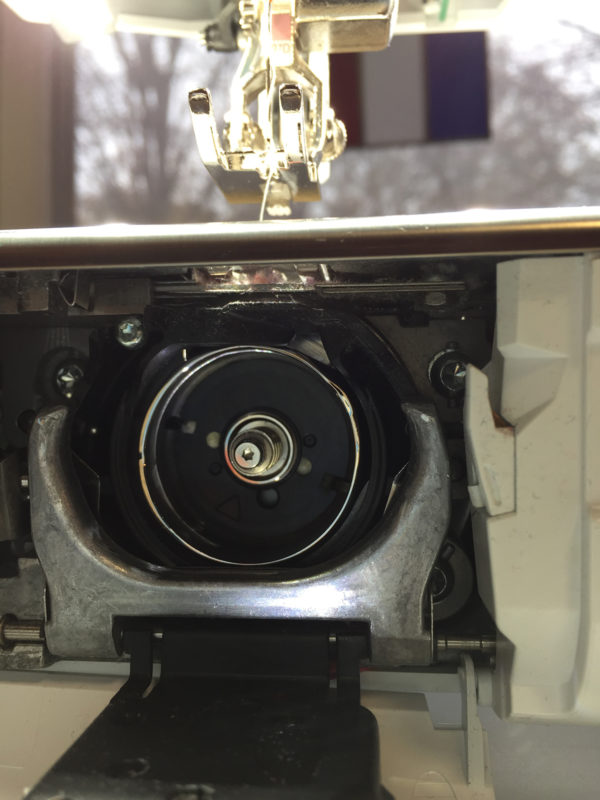 Let There Be Light!
The B 770 QE has 30 LED sewing lights, so I can see really well while sewing. They are super bright. And LED lights last practically forever.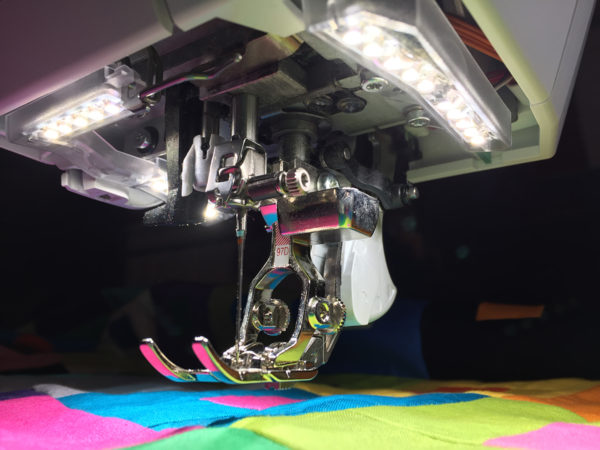 Lots Of Space
I've quilted king-size quilts on my two older BERNINA machines, but it's a lot easier on the B 770 QE because it has a 10-inch extended freearm with 10 inches of space to the right of the needle. That means it requires much less effort to quilt the center of large quilts, because you have more space in which to scrunch up half the quilt.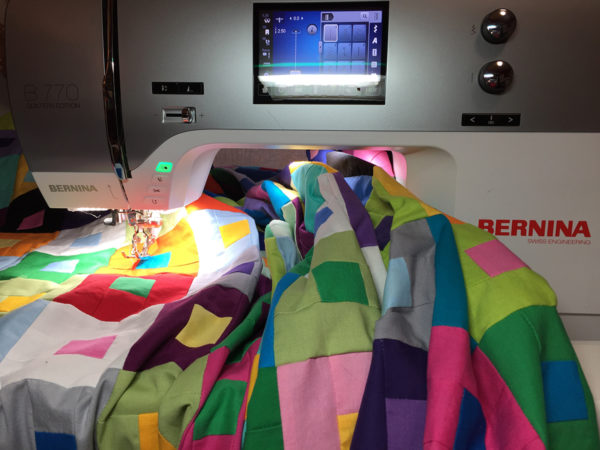 Scrunching up a quilt for piecing or quilting is so much easier with 10″ of space!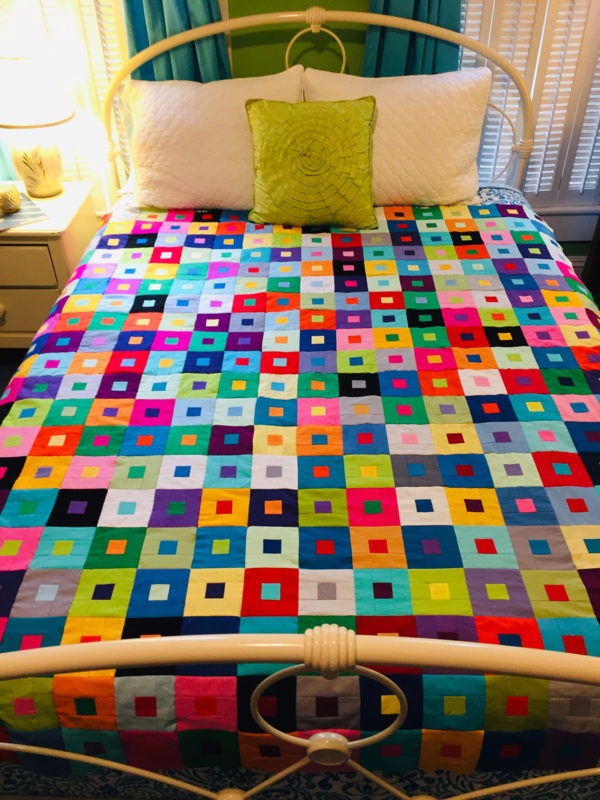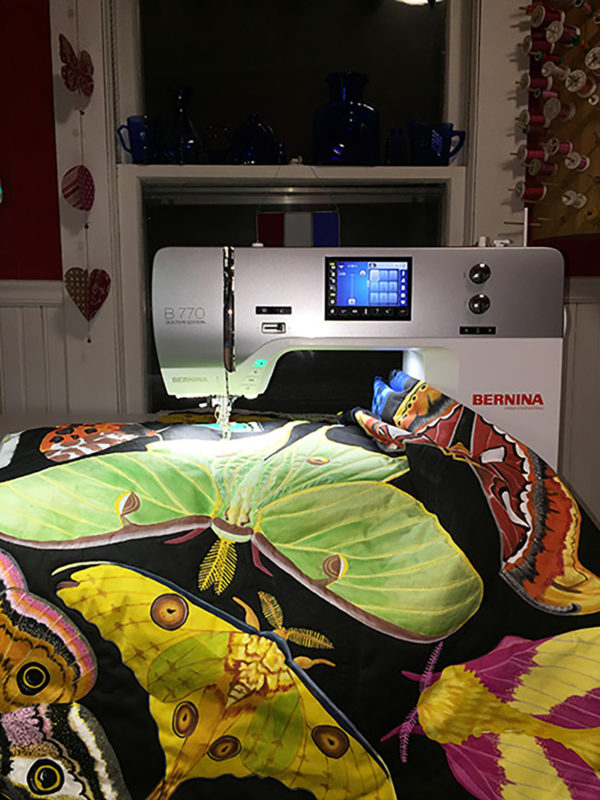 The extra space comes in very handy when quilting my wholecloth painted art quilts like this one, since they are a bit stiffer than my pieced patchwork quilts.
The Color Touchscreen
I can make almost infinite adjustments to everything from upper thread tension to maximum sewing speed using the touchscreen. It's easy and intuitive, and offers vast resources. There are even videos and graphics like this one, showing how to oil the machine: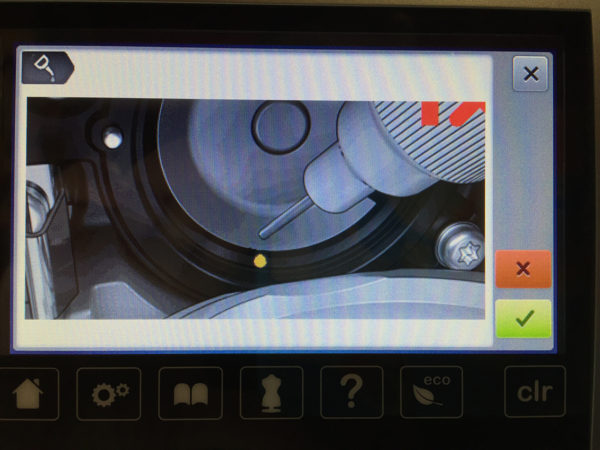 The BERNINA Dual Feed
This feature works with any of the machine's D feet, such as the 1D reverse pattern foot, and the 4D zipper foot. It simultaneously feeds both the upper and lower fabrics, so they don't slide. I get great results, even when sewing extra-thick layers or "sticky" fabrics. I have recently started volunteering to sew for Days for Girls, and one of the things I am sewing includes a layer of PUL fabric (waterproof polyurethane laminate) on the bottom that tends to stick to the machine bed. The dual feed feature means it goes smoothly and easily under the needle.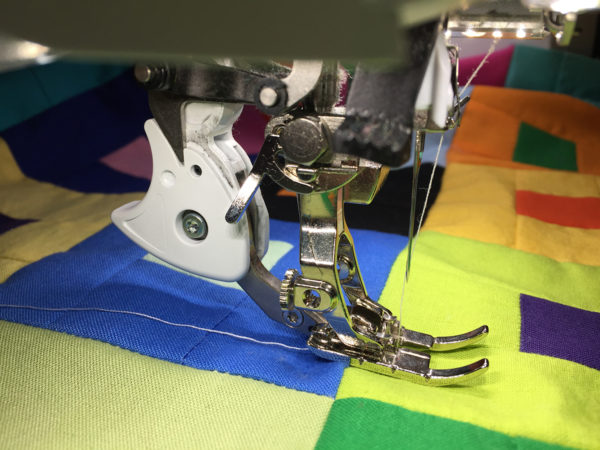 The dual feed is the white mechanism on the left side. It's easy to engage it by pulling it down and under a bar on the foot. When it's not needed, it slides up and out of the way.
The dual feed has also improved the precision of my patchwork piecing, ensuring that nothing slides, and seams line up perfectly. It will also be great if I end up working with striped, plaid or checked fabrics and need them to align at seams.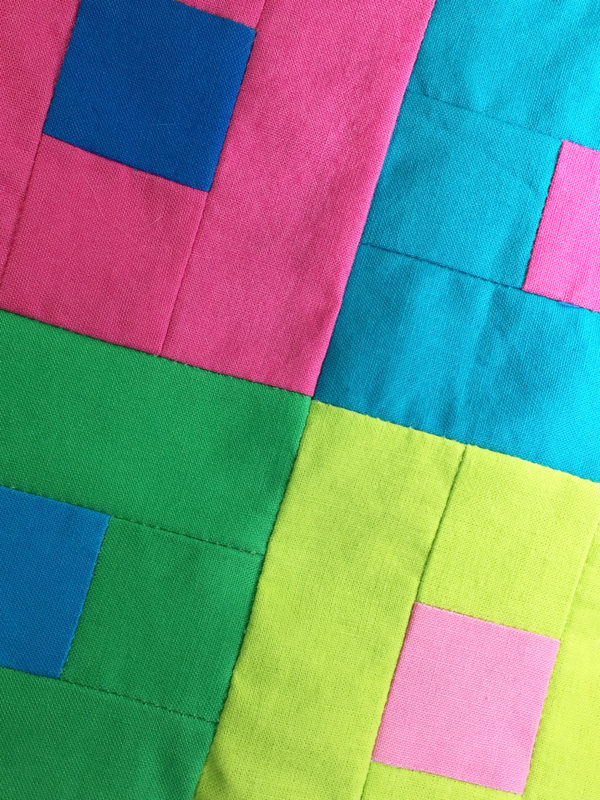 I know I've only scratched the surface, and am just beginning to learn the many things my BERNINA 770 QE can do!
Difficulty level

Beginner

Techniques

free-motion quilting, patchwork, sewing
Used Products
What you might also like
9 comments on "My Favorite Features of the BERNINA 770 QE"