My New Favorite Notion: My Magnifier Set
A sewing tip from Annie Smith of Simple Arts and Annie's Quilting Stash:
I don't know about you, but I've been having a problem with my vision lately. Well – for the past several years, really. (It's the age thing).
I find that I'm wanting better and brighter lighting, especially as I work on fine details of machine appliqué. The more detailed a quilt piece is, the more light it seems that I need.
The one I'm currently working on has the appliqué on a black background, which makes it just a little more challenging as far as light and lighting is concerned.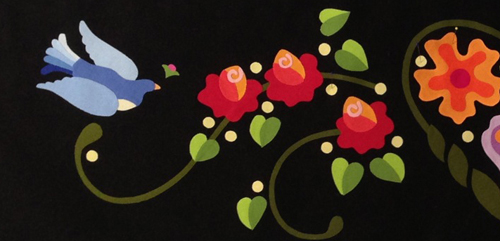 I'm working on a new sample for my upcoming class at the BERNINA Creative Center in April – My Grandmother's Heart. The sample is filled with beautiful roses, hearts and birds and lots and lots of machine appliqué stitching to be done.
As I was stitching away today, I found that I was getting frustrated with the glasses I'm wearing – I just can't see as well in them, and I really need to have an eye exam – but no time for it. Do I need more light, one placed on the sewing table behind my machine so I can see more clearly where my edge is?
On a black background, stitching done away from the appliqué is the kiss-of-death. Colors on a black background "pop" as if it were neon like no other background will. So, any stitching that doesn't hug the edge of the appliqué is a pretty noticeable sign of poor workmanship – something I definitely don't want to be seen on my sample.
In my frustration, I got up to go and get my desktop light, and right there on the same shelf was a little box that I purchased last year while teaching in North Carolina: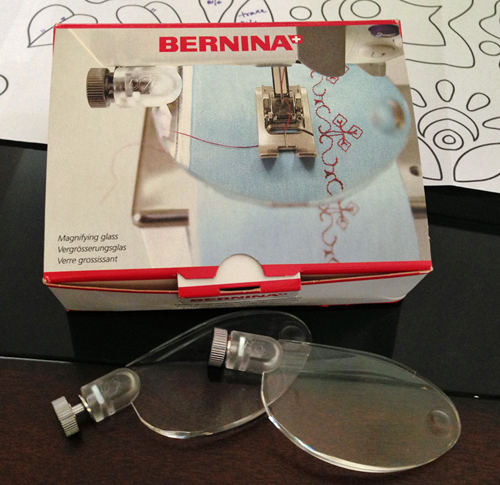 One of my students had the magnifying glass on her BERNINA during class and told me about its virtues with machine appliqué. I stashed it in my suitcase, unpacked it when I returned home, and promptly forgot that I had it.
Well, the figurative light bulb turned on over my head, as I realized that this little, very important, notion for my BERNINA is really what I need, not more light. I screwed the magnifying glass onto the little hook at the front of my machine and stitched.
A-HA!! What a difference!
This is now what I see: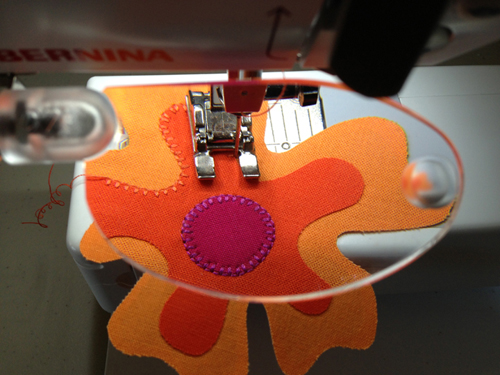 Crisp, clear appliqué edges that allow me to stitch exactly where I need to, to create beautiful, precise fine machine appliqué.
The BERNINA Magnifying Lens Set comes with 3 lenses, each of a different power, and the accessories for holding the notion in place on your machine. My Artista 630 came with the magnifier holder already installed. [Check your owner's manual or ask your local store if this accessory can be used with your machine. – Jo]
The Magnifying Glass attachment just made my work so much easier to create!
One of the many reasons why I love BERNINA!!
Warmly,
Annie
Techniques

applique
What you might also like
9 comments on "My New Favorite Notion: My Magnifier Set"