4 Favorite Needle Info Links
You sent such nice comments on the needle "secret code" information we posted on Wednesday, we thought you might like more info on needles and thread. Here are a few of our favorite on-line resources on sewing machine needles. Enjoy!
#1 – Schmetz Needle Color Coding Chart
Have you noticed the little bands of color on your sewing machine needles? They're not just there to be pretty! The color-coding indicates the needle type and size – how awesome is that? Even better: You can download the Schmetz Needle Color-Coding Chart as an 8-1/2″ x 11″ and 4″ x 6″ chart. (Click and scroll down a bit to find the chart.)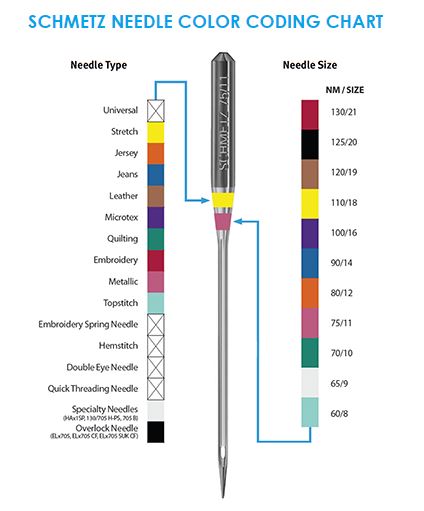 #2 – Schmetz Needle Primer
Also from Schmetz, an awesome Needle Primer with all the info you need to know about selecting the right needle for the fabric and thread you're using for your project.
#3 – Sewing Machine Needles: An Overview
Would you like to actually see the differences between needle types? Check out Sewing Machine Needles: An Overview on the Threads magazine website. Very nice photos and descriptions of each needle type and its uses, plus helpful trouble-shooting tips.
#4 – Machine-Needle Know-How
From the Threads website Teach Yourself to Sew Series, Machine-Needle Know-How is a super article on sewing machine needle anatomy and what each part is designed to do, plus a great illustration of how the needle works with the bobbin to create a stitch. 
What you might also like
One comment on "4 Favorite Needle Info Links"