Handmade Ornaments – Every Year!
Carol Ann Waugh has a very personal Christmas tradition, handmade ornaments. Read below to find out what makes them so special.
One of my favorite things about celebrating Christmas is putting up the tree and hanging the ornaments.  Each ornament I have collected over the years has a special story but the ones I like the most are the ones I made myself.  Many years ago, I started a tradition of sewing ornaments to give to family and friends. I felt it was a way for them to remember me and the special times we shared and that once a year, they would touch something I had also touched. It was my way of reaching out to them again and again.

So when my grandchildren were born, I decided to make them ornaments every year as well—this time, using photos of them so they could see themselves grow up as they placed the ornaments on the tree.
These are the ones I made of the two grandkids and the parents. I'm looking forward to helping them decorate the tree this year and seeing the kids faces as they search for their special ornaments and remember what they looked like when they were younger!
If you want to make these for your family and friends, the directions are really simple! Select your photo and crop to 3-1/2″ x 3-1/2″ Print your photo on fabric (I used June Taylor's Colorfast fabric sheets for ink jet printers). Choose a Christmas themed fabric and sew a 1 " border all around the photo. Add batting and a backing and free motion stitch around the background to hold everything together. Trim to 4″ x 4″ and add a rattail binding around the edges. To see how to do this I created a video in which I demonstrate the rattail binding technique. Leave enough rattail to tie a bow at the top so you can hang the ornament on the tree.
I hope this inspires you to make some photo ornaments for your own family and friends this year!
Our December 2 Gift For You
Today's gift is a selection of 5 fat quarter fabric sets to one awesome WeAllSew fan. All you have to do is post a comment below answering the following question:
For whom would you create handmade ornaments?
A winner will be chosen at random on December 3, 2015 and announced later this week!
Good luck!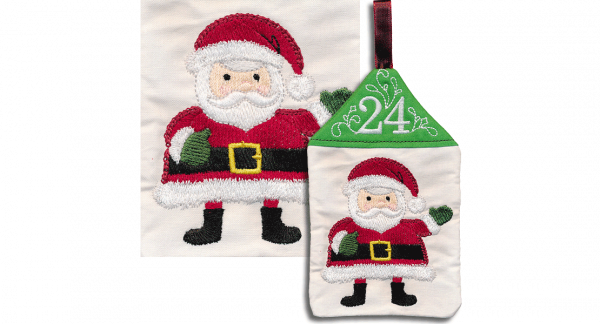 Congratulations to our WeAllSew reader "jencat22", the winner of the December 2 gift. Enjoy!
Projects

home décor

Techniques

quilting
What you might also like
177 comments on "Handmade Ornaments – Every Year!"