Holiday Inspiration from Steckborn, Switzerland
Two years ago I had the privilege of traveling to Steckborn, Switzerland, the home of BERNINA, to take part in the testing of the new BERNINA Q 24  and Q 20 Longarm Quilting machines.
Steckborn is located on the shores of Lake Konstanz and has a population of approximately 3,600 people. Much of the architecture in the main part of the town dates back several hundred years.
It just happened that I was there in December when the town was getting ready to celebrate the Christmas Holidays. Many of the homes and business are decorated for the holidays.
Window ledges sport Christmas displays.
Many street level windows feature displays centered on the nativity.
The town bakery is not to be left out of some very tasty decorations and edible treats.
A local store features this wonderful Advent Calendar in their window.
The florist shop features some wonderful metal work for the season.
The small family run hotel where we stayed had an Advent Wreath in the lobby.
And Steckborn is no different than the USA—even their cats get into the seasonal displays.
Konstanz, Germany, which has a population of 80,000 people, is a short train ride away. It also hosts one of the many Christmas Markets that spring up in Germany during the holidays. We took advantage of the wonderful train system and went there a few evenings during our stay. Stalls line the streets and sell a variety of food to take home, as well as some wonderful gifts for the season.
And there is musical entertainment. Sometimes a local brass band and in this instance a woman playing tuned goblets. Yes—each glass is filled with water so it will produce a different pitch when she strikes them. She was playing various Christmas Carols.
Many stalls featured wonderful ornaments and decorations for the season.
It is a time for families to gather and celebrate the season—and there are special rides for the children.
And yes—there was wonderful food.
Some fresh roasted chestnuts.
A roasted pig! (Sorry I didn't get a picture of the wild boar being roasted)
And of course—something to drink. This is Glühwein (mulled wine). We were able to get both red and white mulled wine and many times it might have had some "additives"—I believe in this case it was either rum or brandy and was topped off by a flamed sugar cube.
It was also wonderful to see Mistletoe growing in actual trees, and to see some being used for decoration. This one hangs in a doorway to a home.
I hope you enjoyed this little journey to Steckborn, Switzerland and Konstanz, Germany.  And maybe if you are good—Santa will leave you a Q24 or Q20 under your tree!
John Kubiniec is a BERNINA Ambassador who lives in Rochester, NY.  Visit his blog at Big Rig Quilting .
Our December 19 Gift For You
Today's gift is a BERNINA neoprene laptop sleeve to one awesome WeAllSew fan. All you have to do is post a comment below answering the following question:
Which country would you like to visit during the Holiday season?
A winner will be chosen at random on December 20, 2015 and announced the following week!
Good luck!
Congratulations to our WeAllSew reader "pattersonp", the winner of the December 19 gift. Enjoy!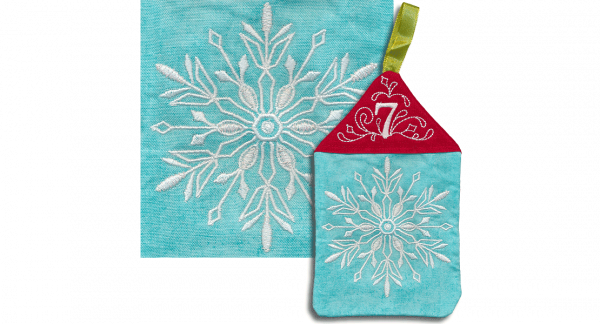 What you might also like
50 comments on "Holiday Inspiration from Steckborn, Switzerland"