I grew up in the eighties loving every bit of the decade, big hair, men in make-up, the music and the movies. One film in particular captured it all for me back in 1986, Labyrinth, the Jim Henson fantasy film starring David Bowie and then newcomer, Jennifer Connelly.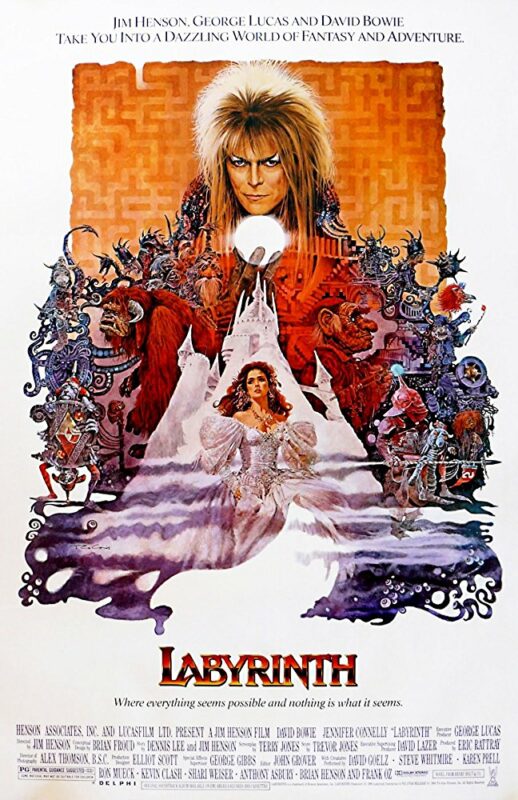 It's the story about a sixteen year old girl, Sarah Williams, who spends her after school time reenacting scenes from her favorite story, The Labyrinth. Forced to babysit her crying one-year-old stepbrother, an exasperated Sarah says just the right words for the Goblin King to take him away. Sarah immediately regrets her hasty decision and embarks on a thirteen hour adventure to find Toby and bring him back to her world before Jareth, the Goblin King, turns him in to a goblin forever (pretty heavy stuff).
Sprinkled with amazing Muppet creatures from start to finish, there are endless costumes I could have chosen to honor this film. But like I said, growing up in the eighties, I loved everything. One dress I loved was Lady Diana Spencer's wedding dress with the long cathedral length train, puffy sleeves and billowing yards of taffeta.
Princess Diana may not be an appropriate cosplay attempt, but Sarah's dress from the Labyrinth Masquerade scene is perfect.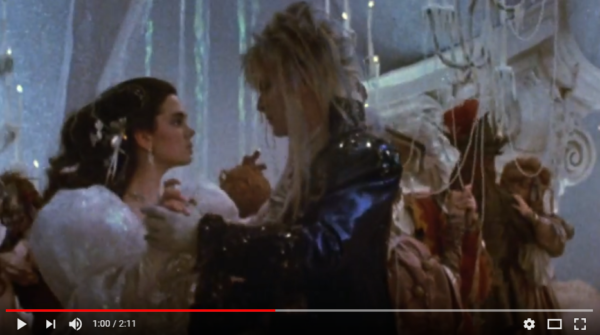 With encouragement from my boyfriend who was keen to make the Jareth costume, we started researching. Much to our delight, Aria Couture had visited the Museum of Pop Culture in Seattle, Washington when the Labyrinth Ball ensembles were on display and meticulously documented the original dress from the film.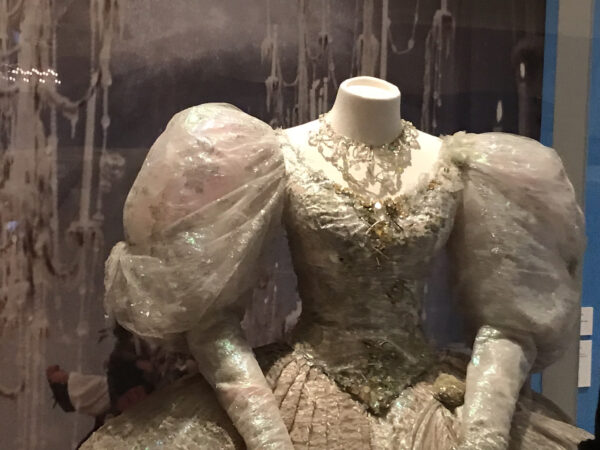 Once I read the blog post from Aria Couture and studied the photos, I took note of how different the dress looked from the publicity shots and the movie. It was much whiter, however, the iridescence of the fabric seemed to catch the light in many ways. Thanks to the detail I found online, I could skip hitting pause a million times on my DVD player.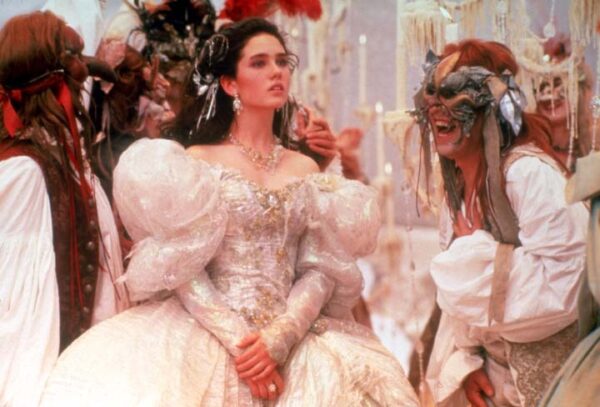 Once I was confident in the style of dress, skirt attached to the bodice rather than a two-piece, I set off for an online pattern search. Thanks to J. L Dixon Crafts I was able to order a vintage 1980s wedding dress pattern. Rest assured I was going to have to add more poof.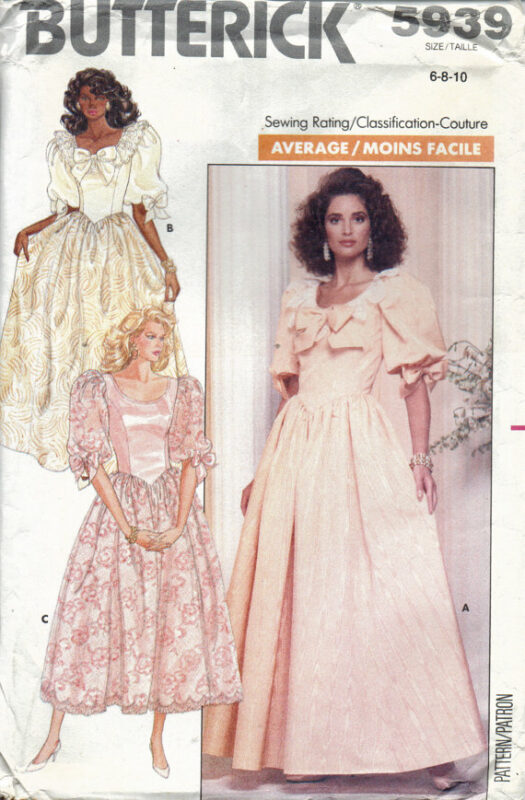 Once my keyboard search was complete, I visited New Rainbow Fabrics in Chicago to stock up on as much iridescent, white material as my convertible Mini Cooper would hold.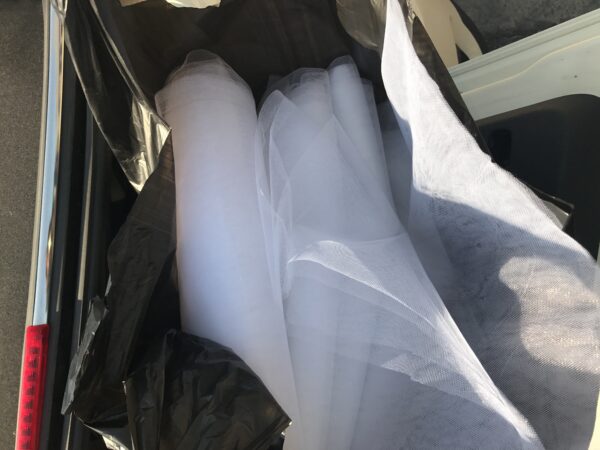 The actual sewing began by making the under construction. I used white chicken wire to construct panniers suitable to my petite stature. Ultimately I covered them with a cotton muslin and started piecing the mock up dress based on my finished hip enhancers.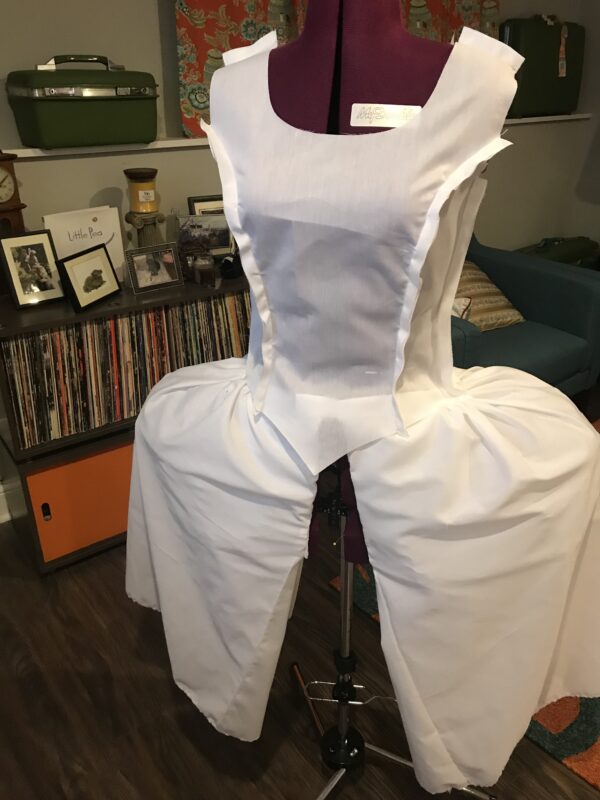 Five attempts at a mock up dress later, after adding an additional four panels for fullness, I had a pattern suitable for using to cut into the 35 yards of material purchased a month earlier.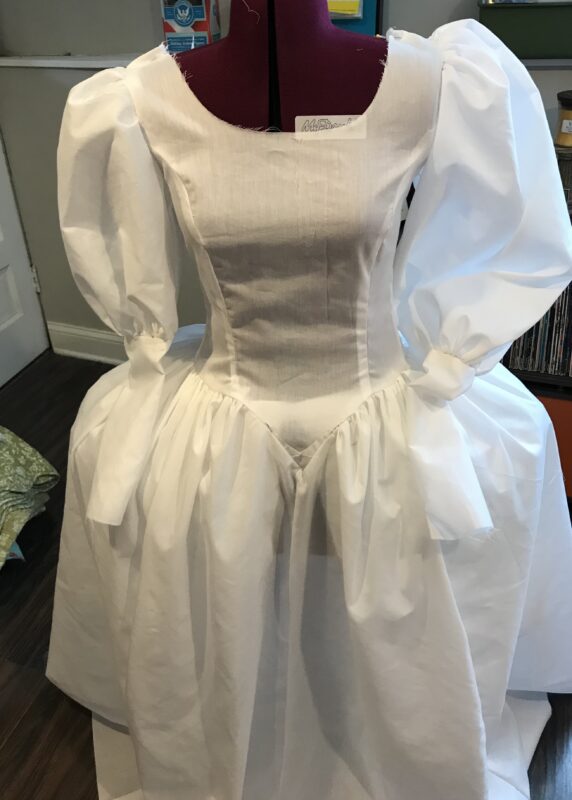 Once I was happy with the mock-up dress, it was time to start cutting the iridescent fabric, embroider the freestanding embroidery motifs and more.
The bodice of the dress consists of four layers of non-breathable polyester; white, sheer organza with little crystals glued on, a second layer of iridescent, crinkle organza, white shantung and lining. To assemble, I hand basted with a contrasting thread so the slippery layers would stay in play while I sewed them together.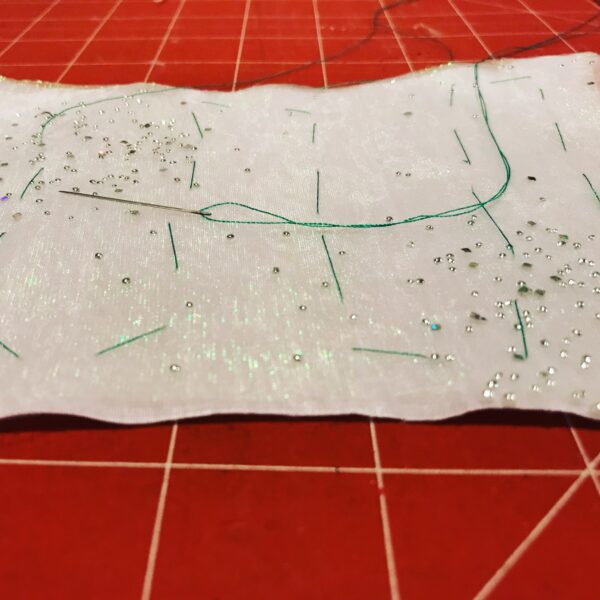 Thank goodness for my multiple BERNINA Machines! I sew primarily on a B 770 Quilter's Edition. The BERNINA Dual Feed made sewing through all of the layers, sometimes over ten, a breeze.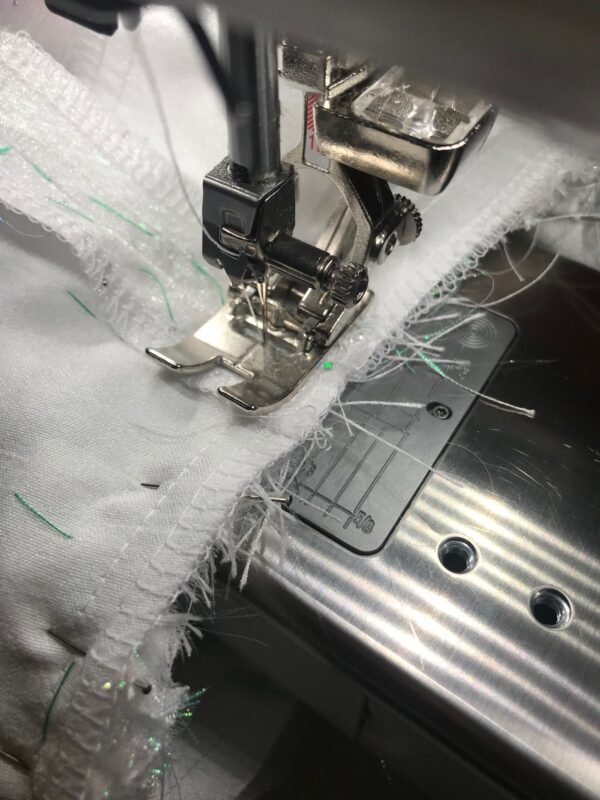 Once the dress was constructed, I needed to add embroidery. My BERNINA 880 Plus is always set up for embroidery with the Jumbo Hoop. Good thing, because I could fit several of my motifs in that incredible large embroidery space. However, the crystals posed a roadblock as I did not want to embroider directly on to the material with my embroidery machine. Instead, I embroidered on to one layer of organza stabilized with Badgemaster stabilizer. Once they were complete, I cut them free, leaving about an inch around the motif and washed them to dissolve the remaining Badgemaster.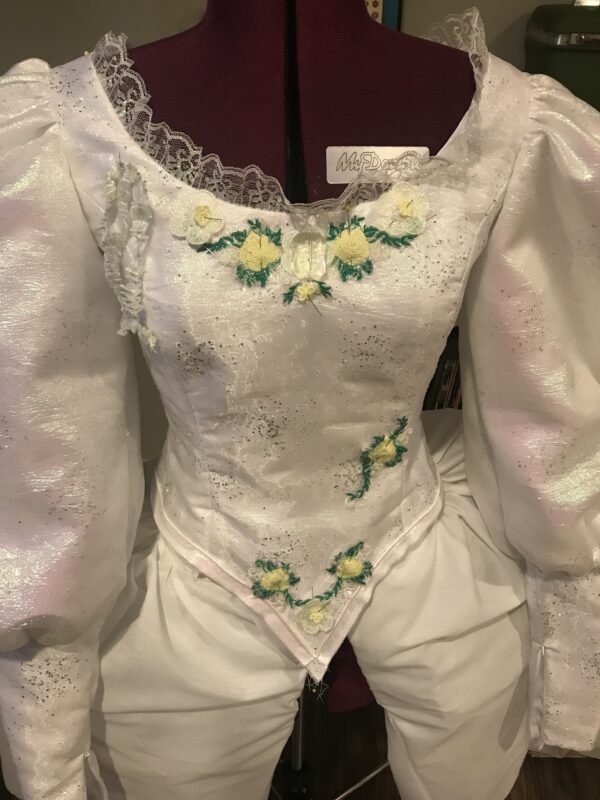 I continued to make several elements using freestanding lace embroidery. The neckline trim, sleeve cuffs and three-dimensional flower appliques were crafted with this technique. The largest challenge was working with the Opalescent Sulky Sliver thread in the top and bottom for the cuffs and some three-dimensional appliques.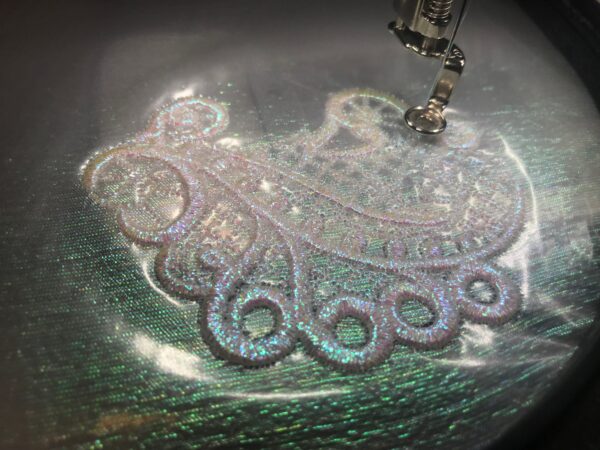 The bodice of the dress needed to support seven iridescent layers. I made the decision to add miniature piping to the waist band. A perfect application for the BERNINA #23 Applique Foot.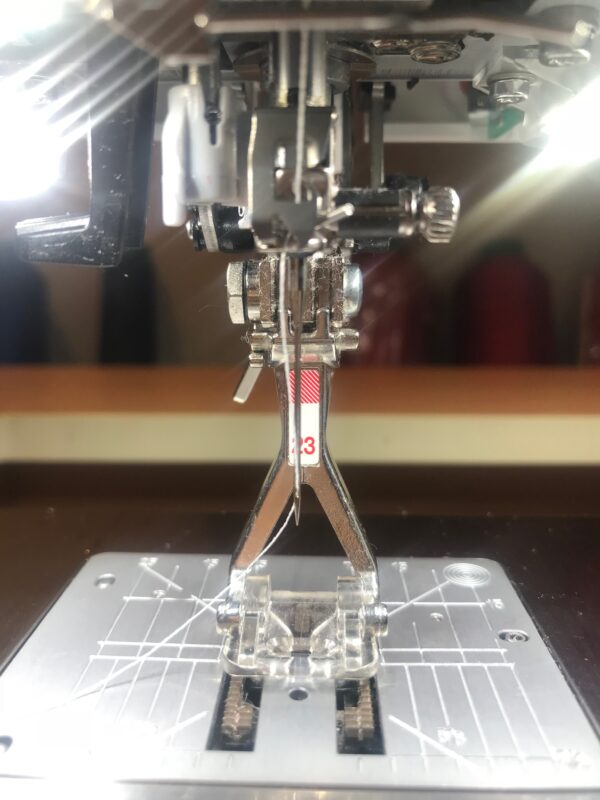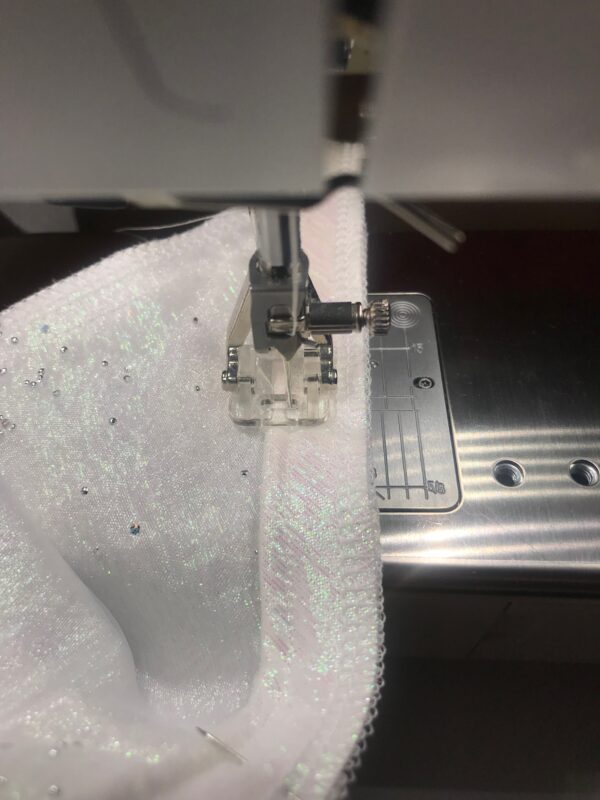 No dress is complete without a nice zipper. For this creation, I chose to use an invisible zipper and the BERNINA #35 Invisible zipper foot. The sleeves were also tight fitting at the wrist. I inserted invisible zipper in those in order to fit my hand through the sleeve.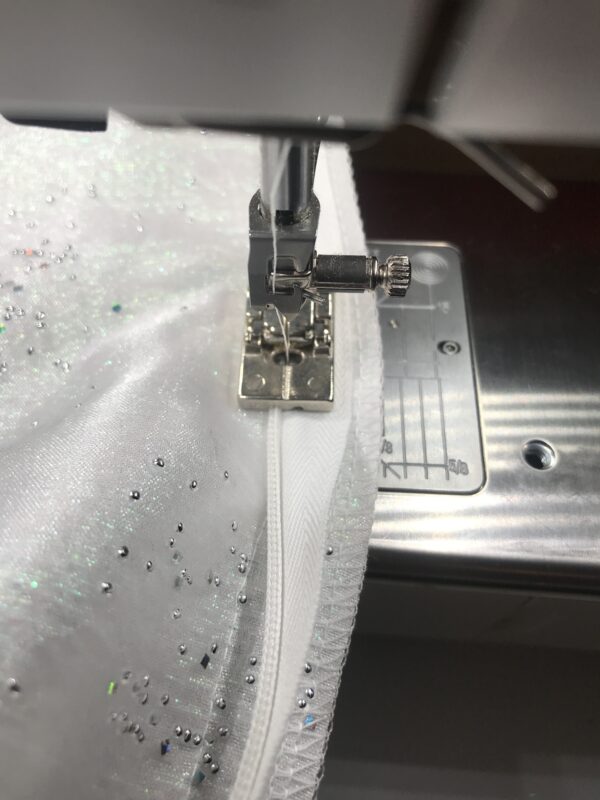 Once the zippers were in, I added lace to the neckline and the rest of the details, including attaching the cuffs with freemotion sewing. Next the cuffs on and adding the many many skirt layers (seven in total).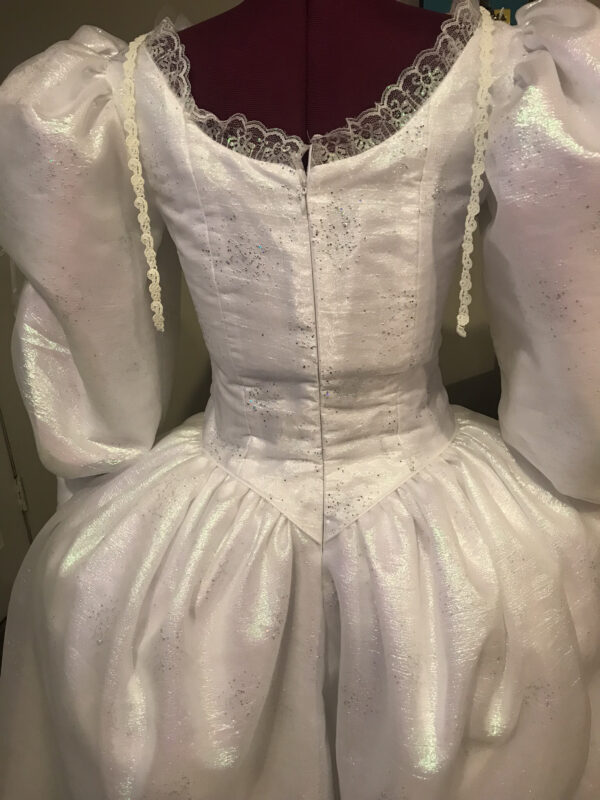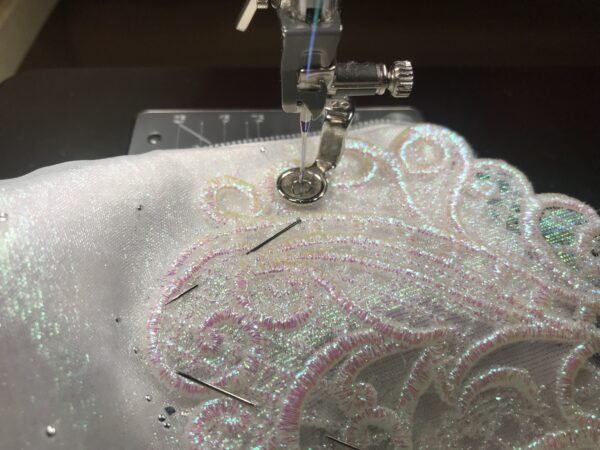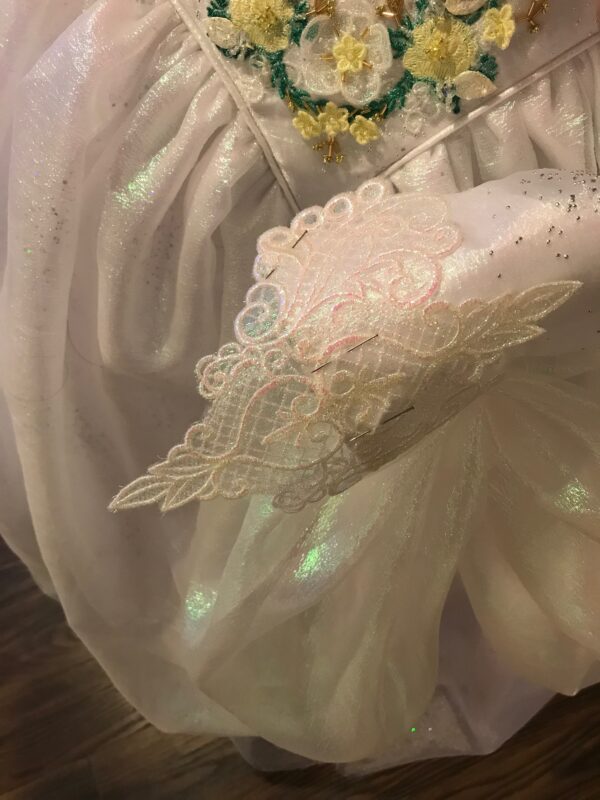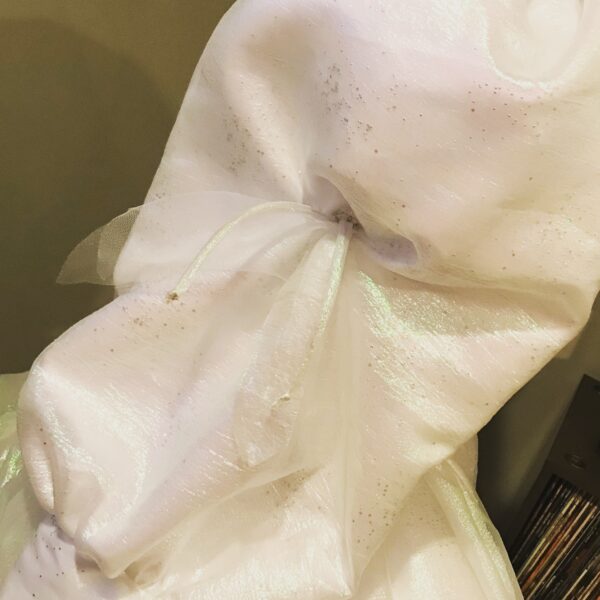 Hemming was the most time consuming. I must have watched an entire season of Mad Men while I did it. A layer of lining, a layer of shantung, three layers of tulle, a layer of blinged out organza and a final layer of iridescent crinkle organza.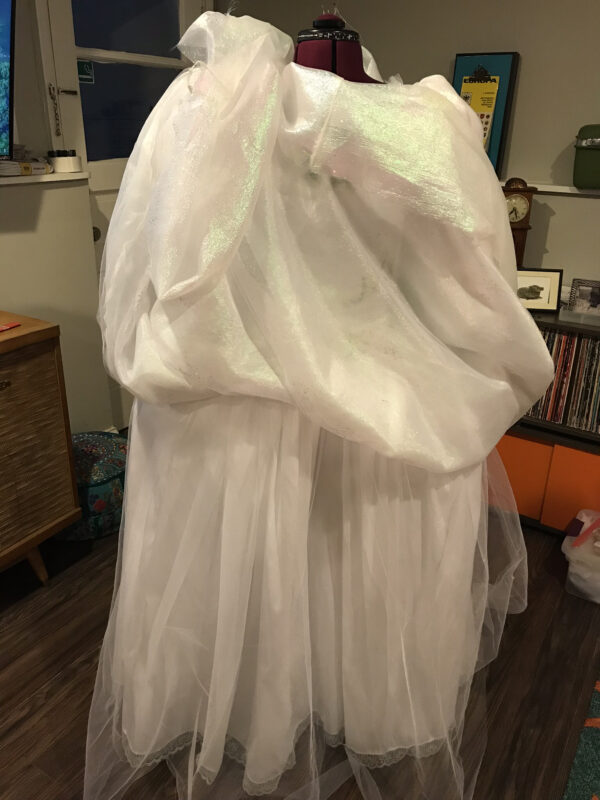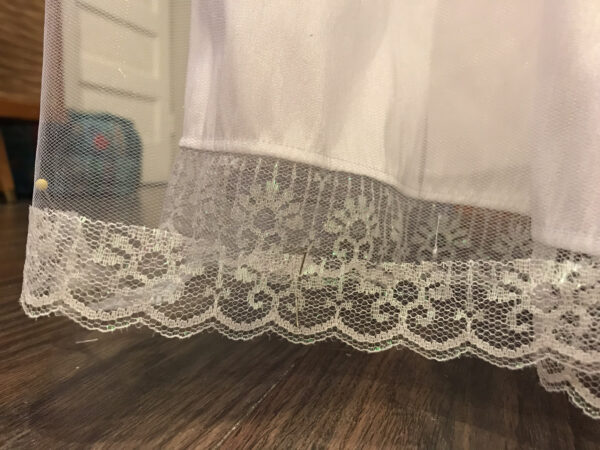 I used the Opalescent Sulky Sliver thread in my BERNINA L 450 overlocker and rolled hemmed the final layer.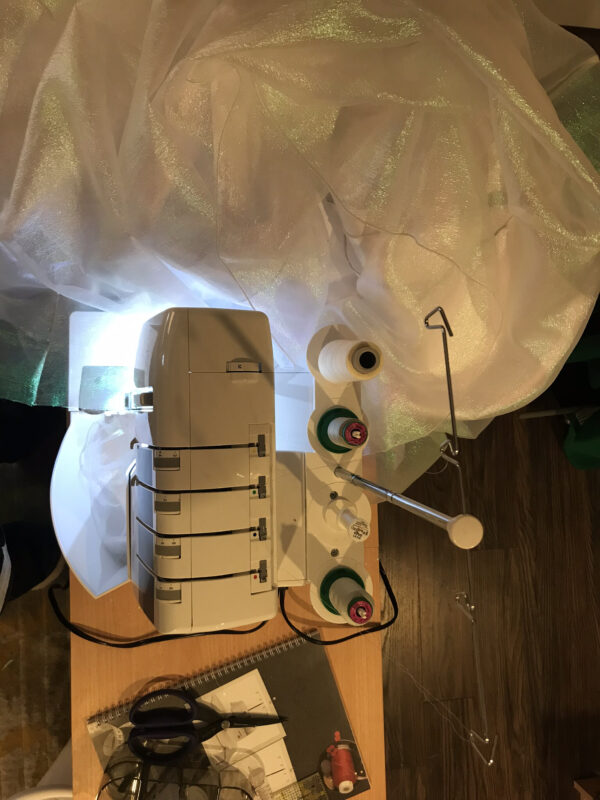 After adding a bedazzled stone fit only for a Goblin Queen, some ruched trim and a rosette, my dress was complete.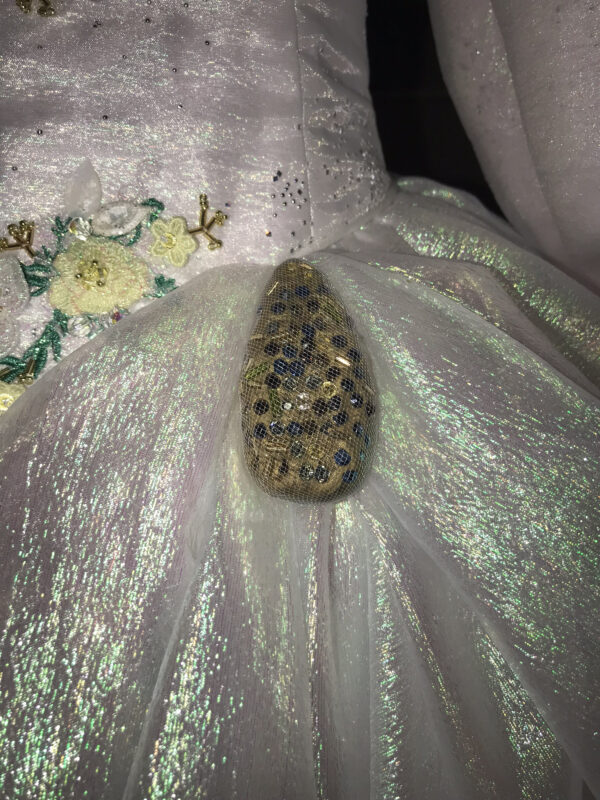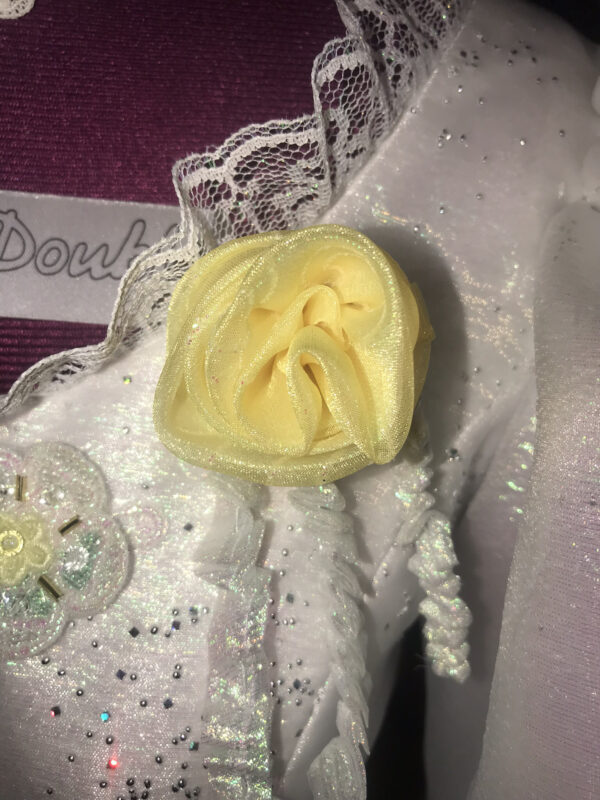 To transform this forty-plus- year-old into a girl of sixteen takes some work. Initially, I had my hair styled by Marleigh at Mario Tricocci in Naperville, Illinois where I live. Eventually I had to do it myself! The hairstyle requires almost every set of hair extensions I own.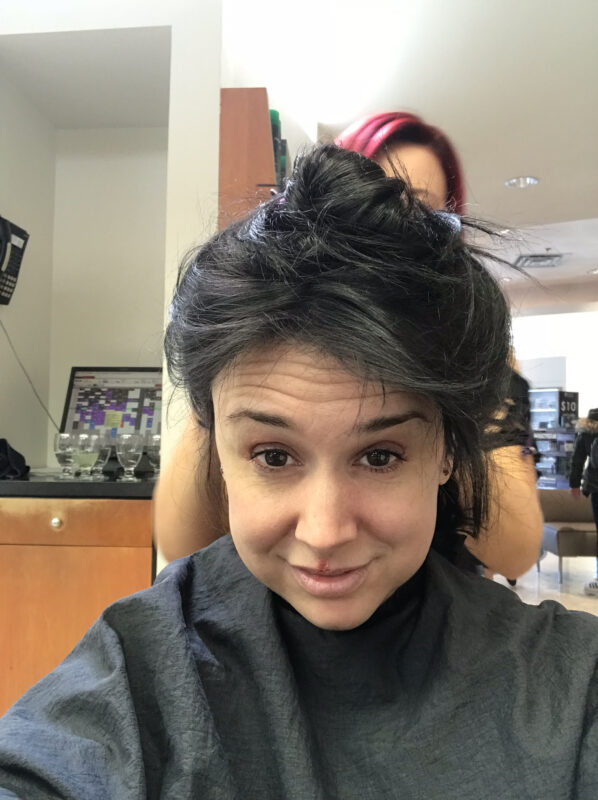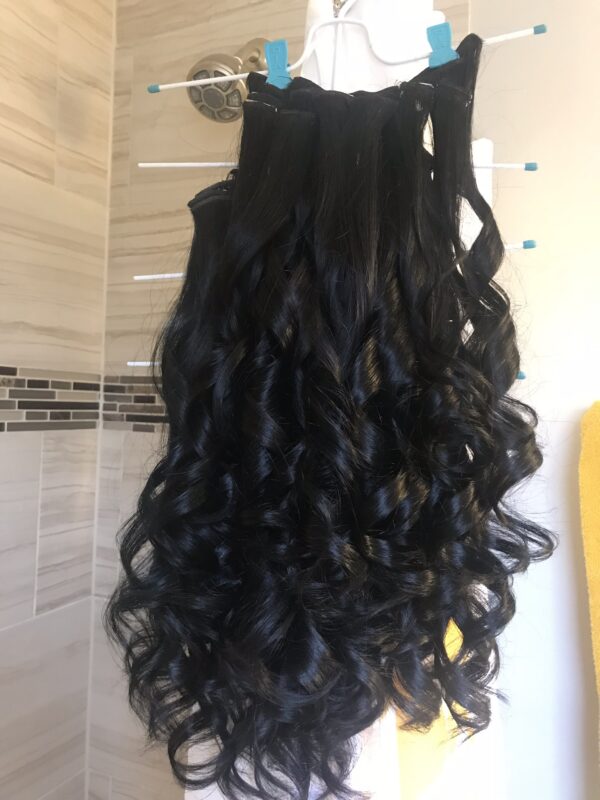 All of the hard work paid off.  Sarah Willioams was a hit at C2E2, the Labyrinth of Jareth Masquerade Ball in Los Angeles and won me entrance into the Legend of the Chosen Cosplay competition at DragonCon in Atlanta. But after wearing this at all of the events for a year, this masterpiece is going into storage for a while.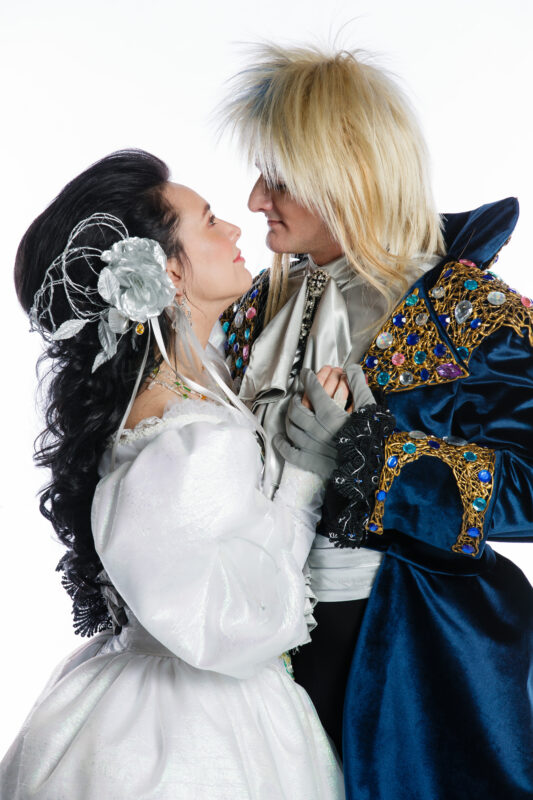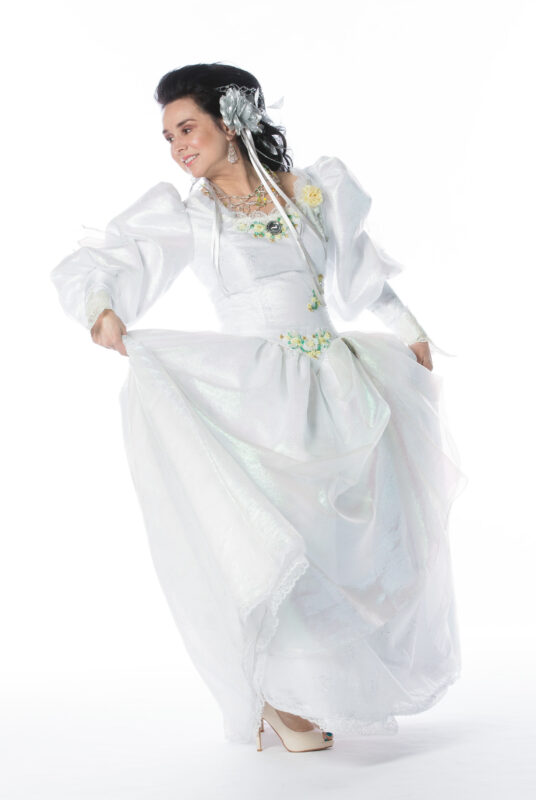 Photoshoot with my equally skilled partner, Chris who was Jareth, the Goblin King from Laabyrinth.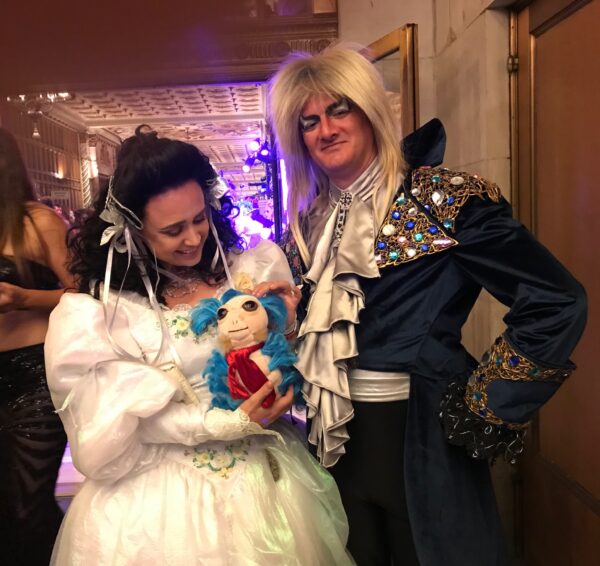 At the Labyrinth of Jareth Ball, we ran into another favorite character from the movie, the worm.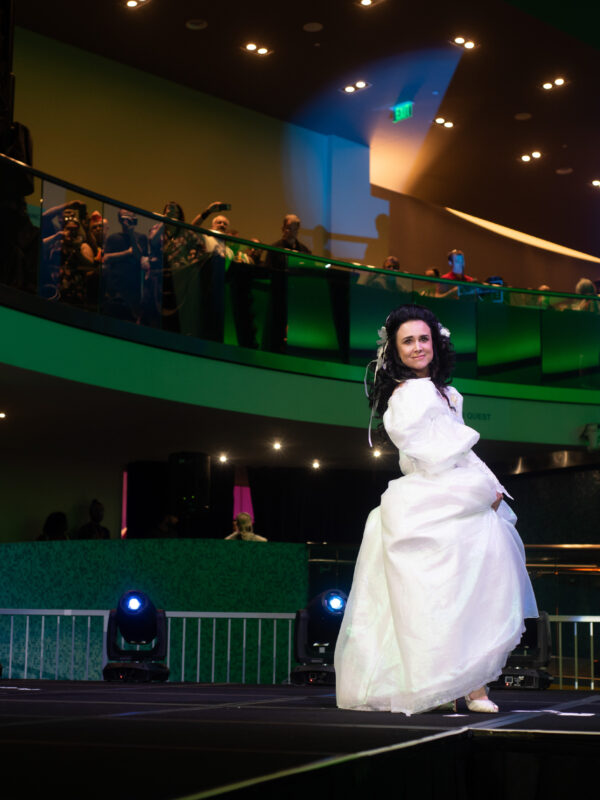 I entered into the Legend of the Chosen contest at DragonCon.  I was contestant #4. Yes, I did make it into the top 20.