How To Quilt Feathers including Handout for Practice
Hi everyone! I hope you had happy holidays and could fit in lots of family time and maybe even a little sewing here and there! I'm Amanda Murphy and am a Quilting and Longarm Spokesperson for BERNINA, teacher, a pattern designer, a fabric designer for Benartex, and an author with C&T Publishing. When I last visited and asked you all what you'd like to learn in the free-motion quilting world, about 80% of you commented that you would like to learn how to make feathers. I encounter this all the time teaching at BERNINA stores; people want to learn how to do feathers, but they are intimidated and don't know where to start. While it is true that traditional feathers can be challenging because they rely on one's ability to travel back over their own stitches, there are many feather variations that are more forgiving. I love them all! (And once you get comfortable with some of the variations, you may find that you've developed the control you need to be great at quilting traditional feathers as well.)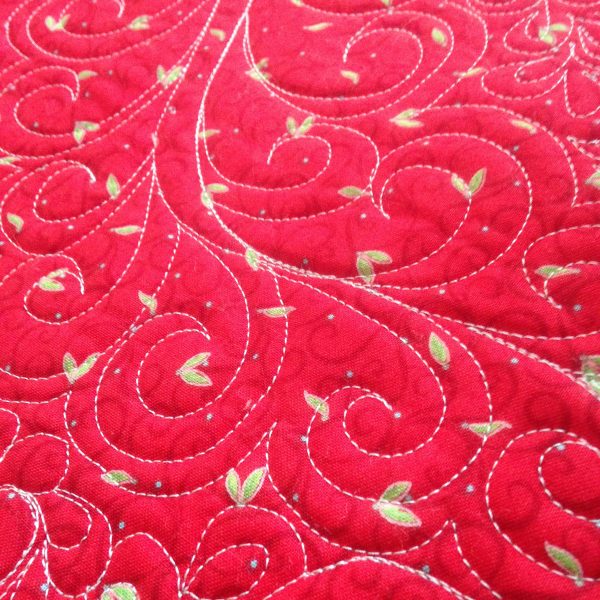 So… today I'm going to teach you how to make one of my favorite variations—a swirl feather! (These pictures are taken on the BERNINA Q24 which I LOVE, but you can also quilt these on your domestic BERNINA. I did for years before I got my longarm.)
First, start by making a wavy spine that narrows to a point at the top. You can mark it, but I usually don't, unless I'm trying to fit the feather in a defined space.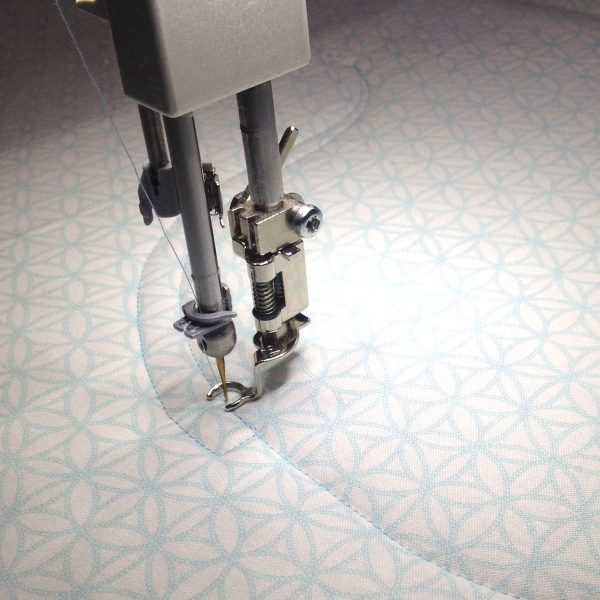 Remember, one of the best things about the modern quilting movement is that it has given us freedom—things don't have to be perfect or symmetrical to look great!
Start out on one side of the spine and travel inward to make your first swirl.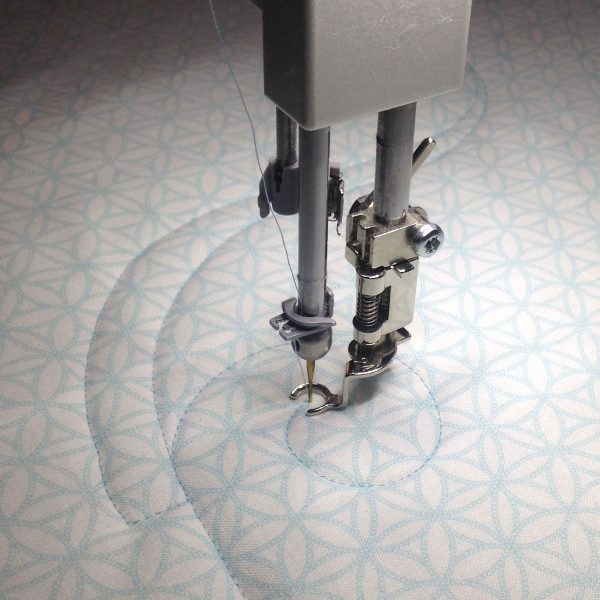 Swirl back to the spine and travel up it a little to make your next swirl.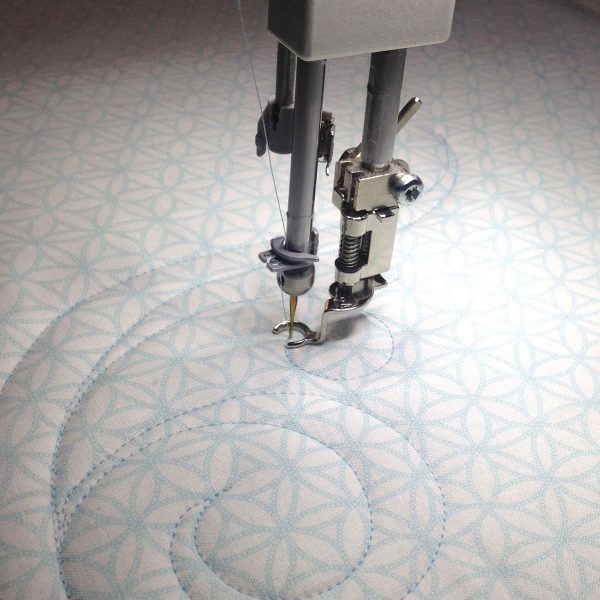 I made you a little video to show you this process in action. Note that my swirls are all different sizes. The variety will actually add movement to your feather, and make things easier on you in the process.
Travel back down the spine to the bottom and quilt swirls on the other side of the feather.
When you are done you can echo your feather to make it stand out even more. (Once you get comfortable with the process, it is fun to do this in matching thread!)
My feather isn't perfect, but I love it!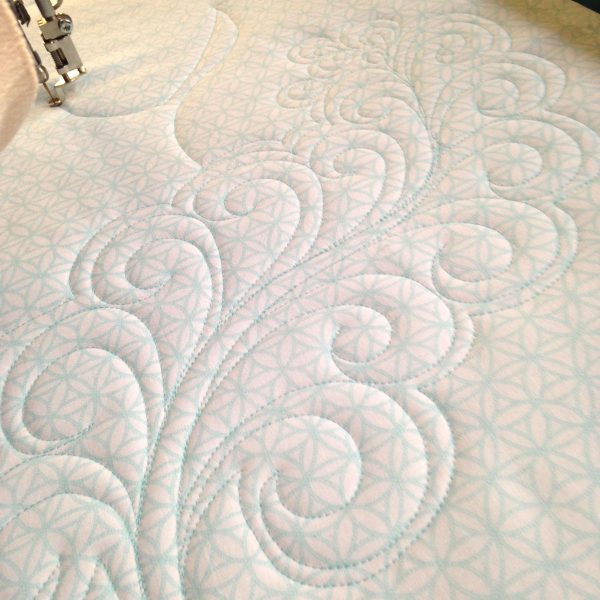 After you are done making feathers, you can do a smaller scale fill around them to really make them pop out!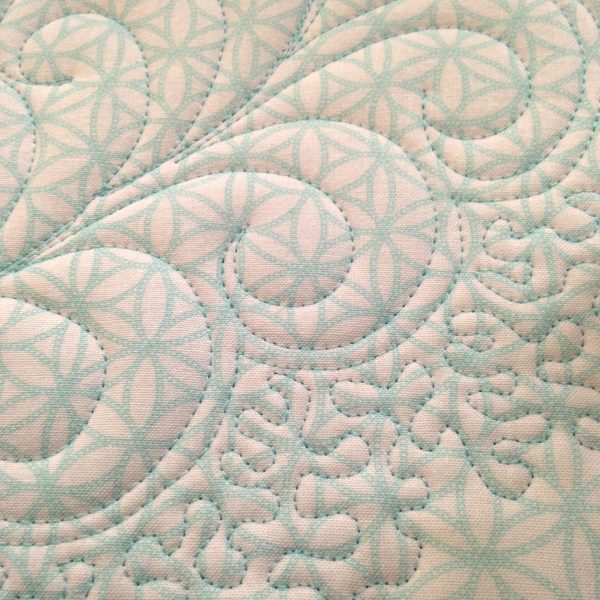 It is fun to make feathers on contrasting fabric. Here are some more photos of swirl feathers in white thread on red…
Sometimes I wait until I have swirls on both sides to figure out what to do at the feather tip.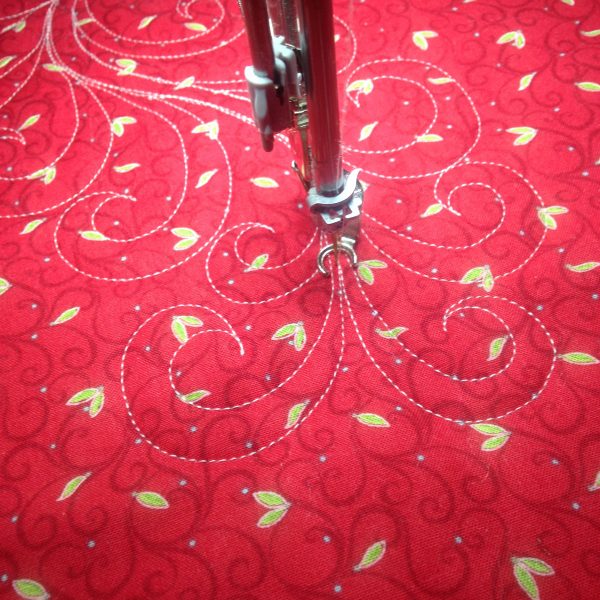 This time I got carried away and almost ran out of room!
Here I opted to accentuate my feather with a small scale paisley background. I LOVE ME SOME PAISLEY!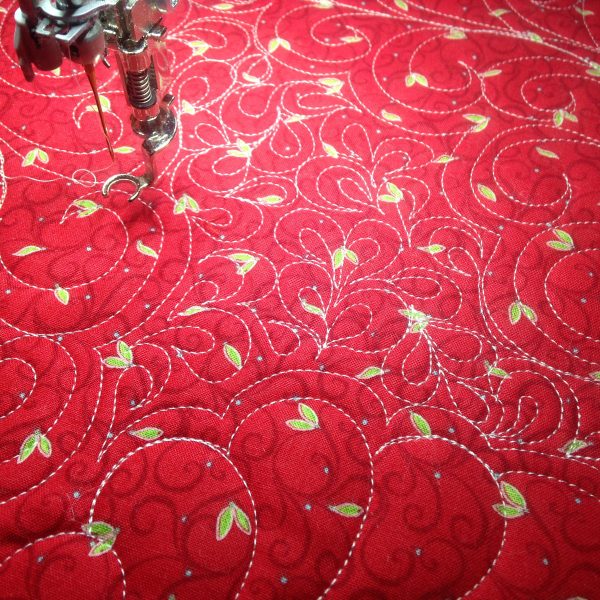 Another great thing about feathers is that you can make them fit into almost any shape.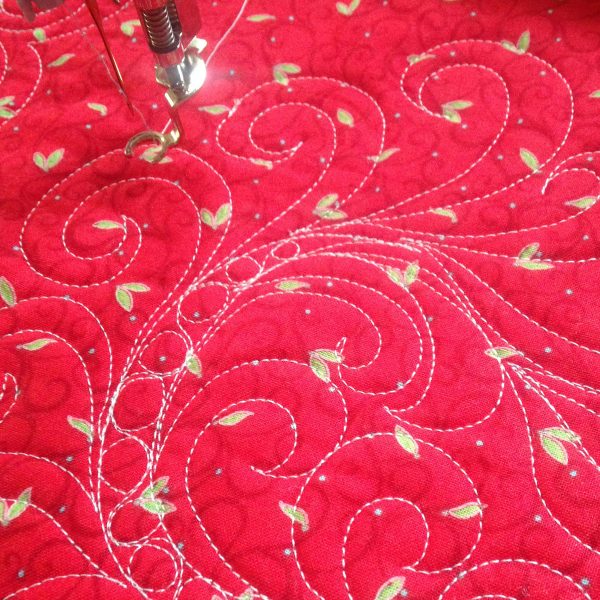 If you are intimidated by traditional feathers (or even if you are not) please give swirl feathers a try. And let us know how it turned out. Post to Instagram with the hashtags #berninausa and #amandamurphydesign so we can follow along.
Special thanks to Benartex for providing advance yardage of blenders from my Sparkle line coming quilt shops this spring and Aurifil for providing the 50 weight cotton that I love! (I would recommend a size 80 quilting needle, or even a platinum organ needle, for quilting.)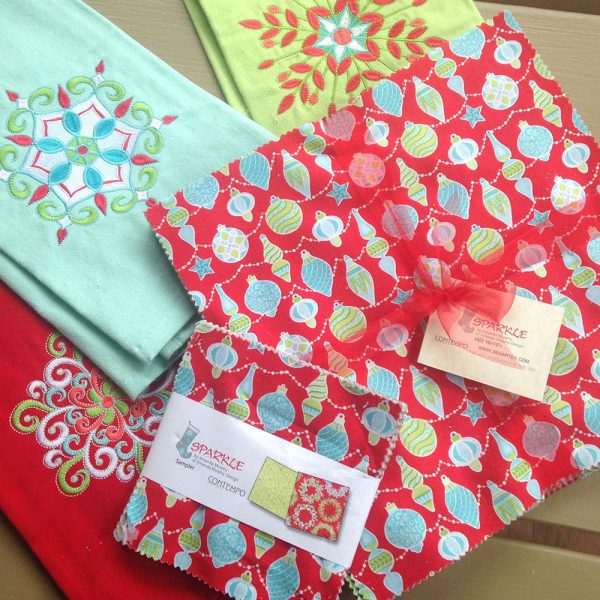 You can see the swirl feather and more quilting ideas in my new book for C&T Publishing—The Free-Motion Quilting Idea Book.
Download the Swirl Feather Handout for your practice.
Happy quilting!
Amanda
Techniques

free-motion quilting, quilting
What you might also like
3 comments on "How To Quilt Feathers including Handout for Practice"