Making a Pillowcase with Adam: Tips for Sewing with Kids
Kim Niedzwiecki of My Go-Go Life share tips for sewing with children. We'd love to hear tips from our readers, too! Jo
Children are incredible in the way that they can do so much more than they can show. They take in information without us noticing and then are able to create and recreate without missing a beat. Sewing with children is one of the most rewarding gifts to give to any child. The skills of patience and attention to detail, the ability to teach them how to take raw materials and make something beautiful for themselves or to give as a gift to someone else is exhilarating.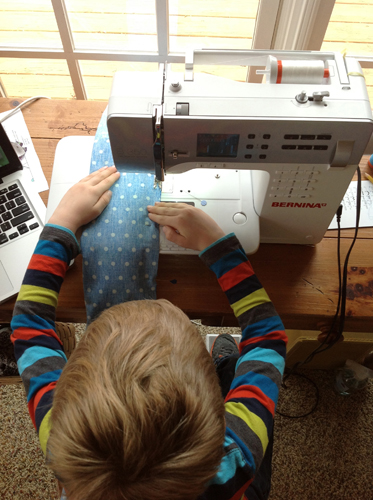 I had the great pleasure of sewing with my own son, Adam, this past weekend. I documented (with his permission) our experience and would like to share some of the things I feel made it easier for him and me to enjoy our sewing experience together.
I took my BERNINA 440 in for servicing ( her beauty shop visit) with Kiki at Quilt and Sew, my local BERNINA shop. While I was there, I was admiring the B 750 – who wouldn't! I asked if I could give her a run and was shown her numerous lovely features. I sat and sewed a few lines and then was done. I needed a project to really be able to process all of the bells and whistles of this awesome machine. Kiki let me know that I was welcome to come back with something and play. I immediately thought of the All People Quilt 1 Million Pillowcase Challenge. She was so excited when I mentioned making a pillowcase since her shop participates in the program. She asked if I had some time to make one. I did!
I had honestly never made a pillowcase before. Not that it was not something I did not want to do, I just really had never thought about it before. To make a pillowcase for a child in need was a completely different issue. I love to make and donate items for those in need, especially children. I chose all fun blue fabrics in different patterns. Kiki showed me how to make a hot dog roll case with a French seam (Oooo La La!).  I learned two new things that day and was allowed to play on an incredible machine, I would say it was a fabulous day! I was loaned a BERNINA 350 to keep me out of trouble while my machine was getting her special treatments. So I said goodbye to my baby and took the sporty B 350 home with me.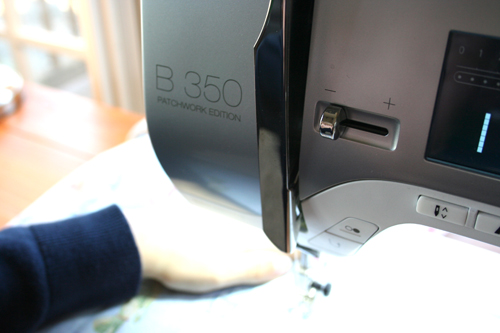 The next day I was sewing and my son was bored, I asked if he would like to try to sew a pillowcase for a sick child and he jumped at the chance! The opportunity to get close to a pedal that does something is pretty thrilling to him. I allowed him to choose his favorite fabrics, one for the body of the case and one for the cuff. Then we set off on our adventure!
Here are the tips we used in making our experience one that we could both enjoy.
Tip One: Safety is key when sewing with children.
Please make certain that you do not leave any child unattended when sewing. Even adults with years of experience can be injured in sewing accidents; your presence will not only help keep your child safe, it will also add to the special time you are spending with your child.
Tip Two: Have your child read the instructions to you or read them to the child first.
I found this to be very important. Adam being able to understand where he would be going next with his project took away that element of uncertainty. He was less likely to become frustrated knowing what things would be like as he went along.
Tip Three: If possible, bring sewing down to the child's level.
We have done this many times. I will place a cutting board on the coffee table to bring what is normally something that is out of reach to a more comfortable level for a child.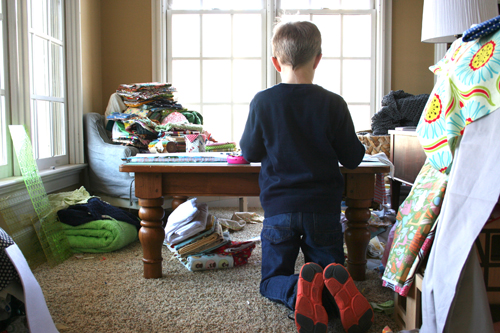 Tip Four: Let them pin.
Pinning is a lesson in prep work (very important in many areas of life) and patience. Show them how to gently guide the pins into the fabric. Excellent eye hand coordination skills are always good to build for children. They will be experts in no time and possibly can help you on your next project.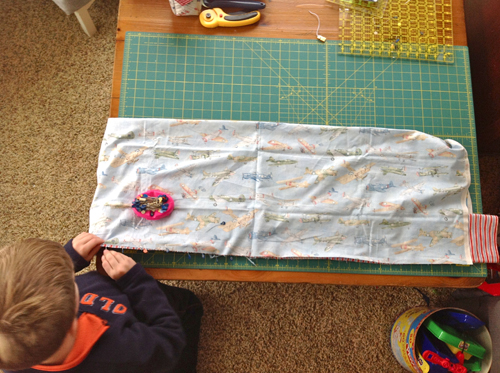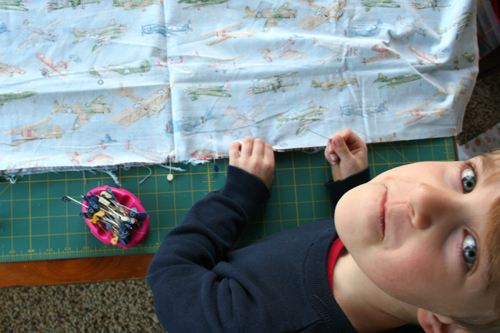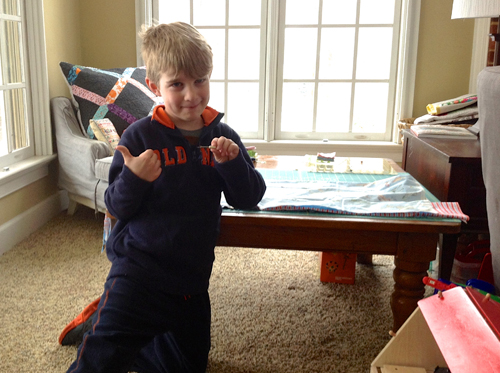 Tip Five:  Set your speed regulator to the lowest possible setting.
By setting the speed to the lowest setting there is less possibility of your child making mistakes that can cause them to be upset; it can also keep them safer. If you do not have a speed regulator on your machine, sit down with your child and show them what kind of pressure to use on the foot pedal. Adam did very well at regulating the speed with or without the regulator being turned down.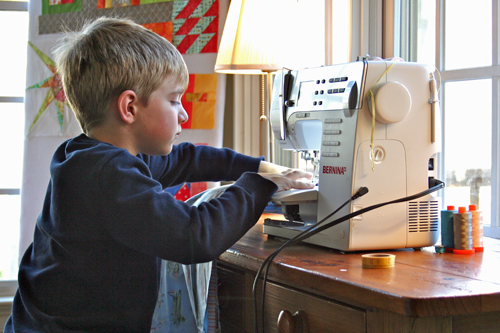 Tip Six:  Use Washi tape to place a guide marker for them to follow.
I found when sewing with Adam that he needed a little help with minding the seam allowance. Washi tape is very cute, and leaves no reside on the machine after being taken off.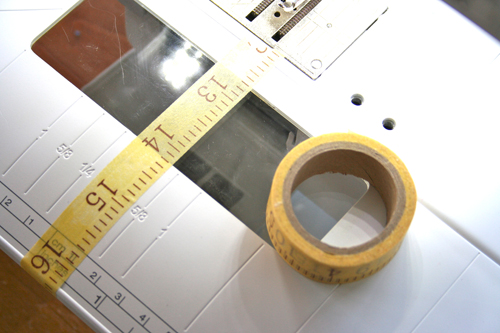 Tip Seven:  Introduce the joys of seam ripping!
Okay, joys may not be the right word but when he made a mistake, I asked him if he knew what to do. He knew he had to rip it out! He even knew where Jack the Seamripper was located and that Jack had a special side to "erase" all the threads. My little sponge! He was not thrilled about it at first but he was thrilled that he was able to undo his mistake and gleefully told me that the second time he was even faster than the first!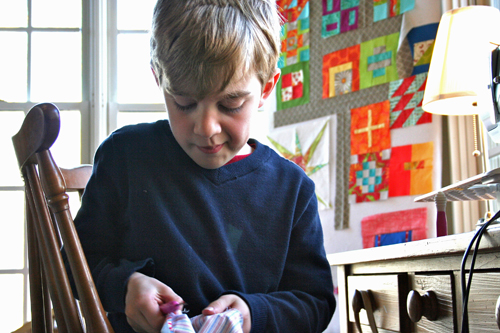 Tip Eight:  Enjoy this time with your child!
Really, other than safety, this is the one area I want to place the most emphasis. Your love of sewing can be a gift you give. Your child may not be ready to finish a full project their first time at the machine – that is perfectly okay. They may need a few tries to finish something or they just may need a little more of your help. Every time you spend that one-on-one time with them introducing a technique, they will remember at least part of it. Sewing is a skill to be built upon; give them a good foundation.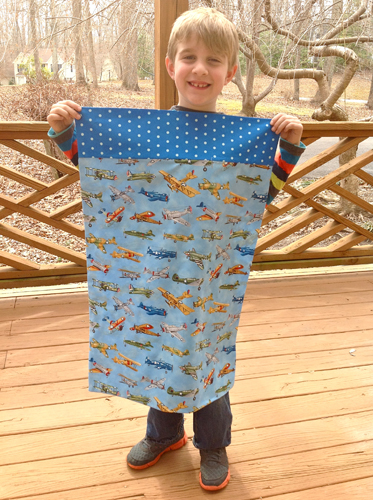 Adam did have his first finish when he sewed! He made his beautiful pillowcase to be donated and was so very happy with his accomplishment. I think he may be making more in the very near future.
To participate in the All People Quilt 1 Million Pillowcase Challenge please visit http://www.allpeoplequilt.com/millionpillowcases/
Projects

home décor
What you might also like
One comment on "Making a Pillowcase with Adam: Tips for Sewing with Kids"