Stay Gold Quilt Along, Part 1: Prep and Cut Fabric
Can you believe it? 2022 is around the corner and with all the events (or lack of) these past couple of years, we are ready for an adventure. It's time to shake things up and try a new hobby with the Stay Gold Quilt Along!
In my classes, I have an amazing range of backgrounds from retired folks to new moms and from first responders to teachers who want to try something new and different. I've even taught a detective! The process of quiltmaking is appealing to so many; it involves learning not only sewing but reading a pattern, color design, math (yes, math!) and lots of cutting.
Quiltmaking will keep your brain active and use different parts of your brain. And lately, there has been a lot of buzz about how important it is to use different areas of our brain to stay young and bright! So, if you are a new sewist or re-emerging sewist, keep your machine humming and join the exciting world of quiltmaking!
This quilt along series is great for sewists of all levels.
I will focus on the process of quiltmaking with detailed instructions and pictures every step of the way. If you are a beginner, this quilt along is perfect to guide you through the process. If you have already completed a few quilts, stay with us! This will be a great quilt for you and I promise, you'll learn a couple of things along the way. If you're advanced in your quiltmaking abilities, join us for a great quick quilt and a great way to use your scraps! So, let's get started!
Our quilt is designed with Counterchange Cross blocks and is a nice throw size at 62" x 62".
Stay Gold Quilt Along Timeline
Week 1 – Prep and Cut Fabric
Week 2 – Sew Counterchange Cross Blocks
Week 3 – Finish Blocks, Layout and Sashing
Weed 4 – Finish Top and Add Border + Quilting Prep
Week 5 – Learn to Straight Line Quilt and Quilt Top
Week 6 – Add Binding
The main fabric for this is called Stay Gold which is by Melody Miller of Ruby Star Society (hence the name of the quilt along, 'Stay Gold').
Are you familiar with Ruby Star Society? Their designers offer modern colors and prints that are fun and vibrant. Go to rubystarsociety.com to read their story and discover the talented artists.
The border fabric is also by Melody Miller for Ruby Star called Spark. It's a great collection of solid colors with sparks, of course! It's one of their fabric basics and depending on which color you select, the sparks will either be white or gold. I am partial to pink, so I have selected pink which has white sparks. Many of these colors will go with the quilt top, so pick out a favorite! This quilt is noisy with busy prints so the solid border will add a calming element. Below are five of the many colors in the Spark line.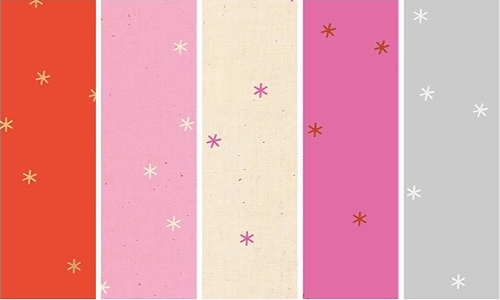 The background fabric is Supreme Solids White by Benartex. Supreme Solids is a wonderful collection of solid colors with great cotton quality. Here is the Benartex link.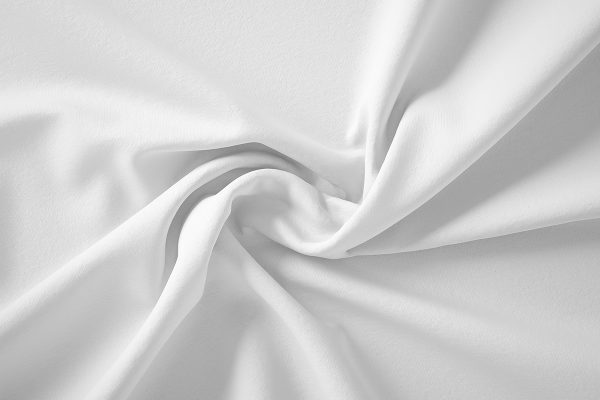 Today we generally categorize quiltmakers into three groups–traditional, modern and modern traditionalists. The Stay Gold Quilt falls into the modern traditionalist group. Modern traditionalism in quilting can be defined as using a traditional block, layout or design combined with a modern element, such as color, scale, asymmetry or negative space. We will be creating a traditional block called Counterchange Cross with the modern Stay Gold fabric. Pictured below is the Counterchange Cross block with traditional fabric from Laundry Basket Quilts.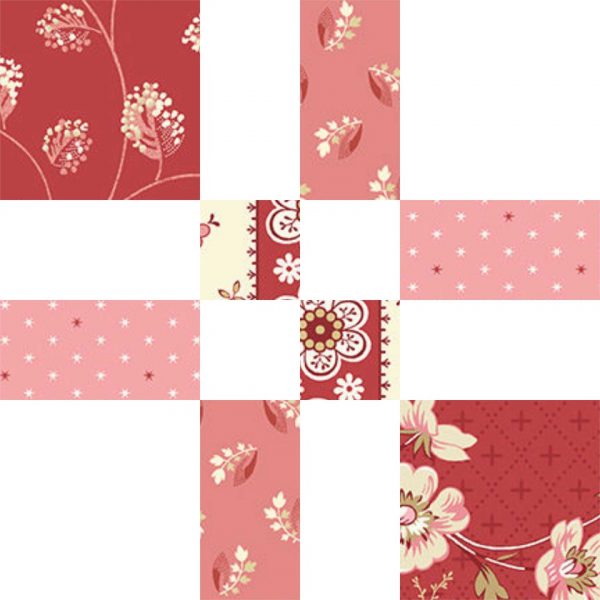 Below this paragraph is the same block with a mix of Tula Pink fabric and Andover Collective. See the difference fabric makes? Same block but very different look and feel.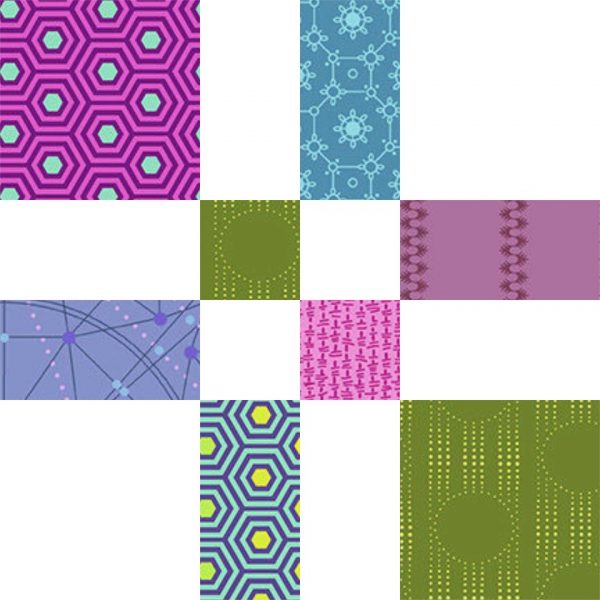 Also, we will be creating negative space (a modern element) by using the White Supreme Solids fabric and rotating every other block. This first quit layout shows the blocks positioned in the same direction.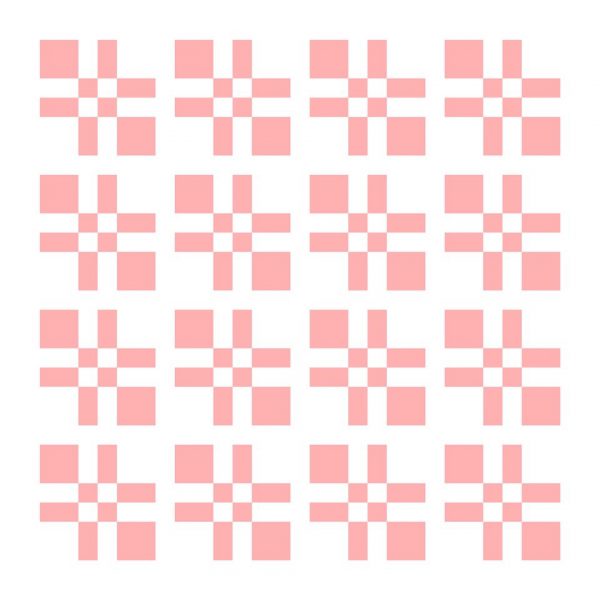 This second layout shows every other block rotated once. See how a simple block rotation creates a new layout? Here, we created more negative space, one of the modern quilt elements.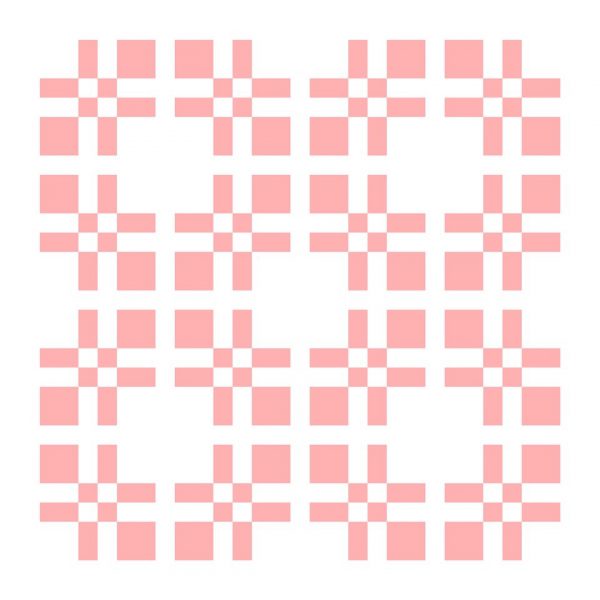 Materials Need for the Stay Gold Quilt Along
Supplies Needed for the Stay Gold Quilt Along
Stay Gold by Melody Miller fabric – Fat Eighths (9" x 22" cuts) Collection or larger
Spark by Melody Miller fabric (color of choice) – 1 1/2 yards (border and binding)
White Supreme Solids by Benartex – 2 yards
Backing (fabric of choice) – 4 yards
Iron and Pressing Mat
Scissors
Pins
Cutting Mat
Creative Grids 6 1/2" x 12 1/2″ Ruler (or Omnigrip Non-slip 6" x 24" Ruler)
Cut Fabric and Make Piles
Before cutting fabric, you might decide to prep the fabric first. This comes down to personal preference, so try a couple of different methods and see what works for you.
First, you can prewash all your fabric before cutting. Some quilters do this because they don't want to handle any possible chemicals on the fabric from the factory. Others prewash to make sure colors/dyes don't bleed and to preshrink the fabric. Another prep method I have seen lately is starch. Some quilters will literally douse their fabric in starch to make it firm for accurate cutting and piecing. I am not big on the starch method as I like to have my fabric somewhat pliable and I don't want to buy a ton of starch. The last method is no prep at all. Just press the fabric right out of your shopping bag and cut. So find what works for you. There's no right way, just your way.
Cut Small to Medium Prints
Select 12-14 small to medium prints in the Stay Gold collection.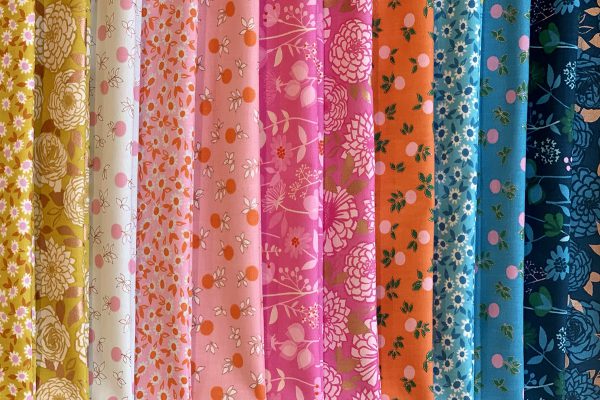 Cut them to the following sizes:
(6) 2 1/2" x 4 1/2"
(4) 2 1/2" x 2 1/2"
If you want more of the light fabric in your quilt, cut more lights. Or vice versa with the darks.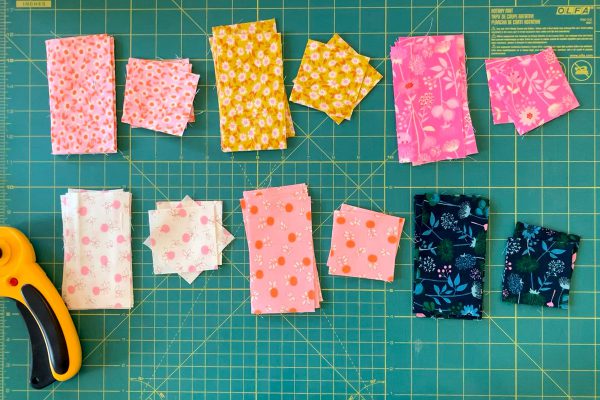 Cut Medium to Large Prints
Select 8-10 medium to large prints (the medium prints can be the same prints used in the previous step).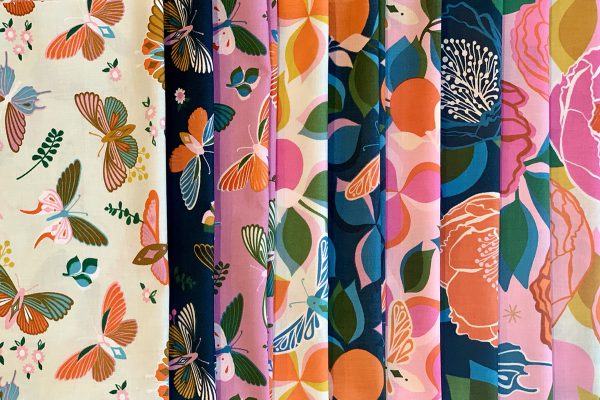 Cut them to the following size:
Again, if you want more of the light fabric in your quilt, cut more lights. Or vice versa with the darks.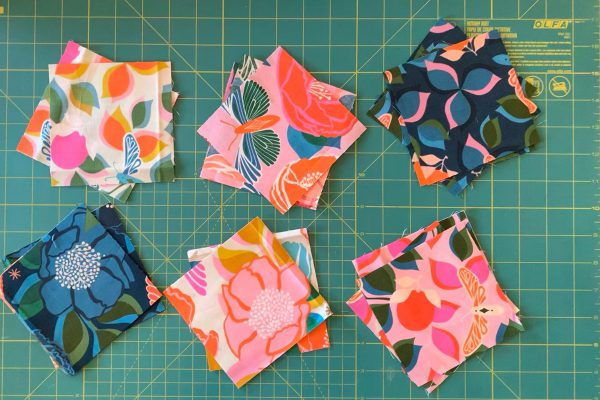 Did you notice the fun selvedges?
For a bonus, save them. We'll use them later to make a quilt block to sew into the quilt back.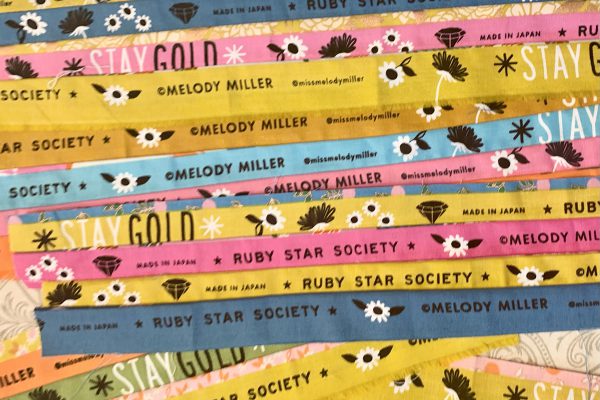 Cutting the Supreme Solids
With the Supreme Solids White fabric, cut the following:
(10) 2 1/2" x WOF (width of fabric)

Subcut (32) 2 1/2" x 2 1/2"
Subcut (12) 2 1/2" x 12 1/2"
Set other 4 strips aside
If you line up the strips on your mat, the cutting process is quick. If the ruler placement in the next picture looks wrong to you, it's because I'm left-handed!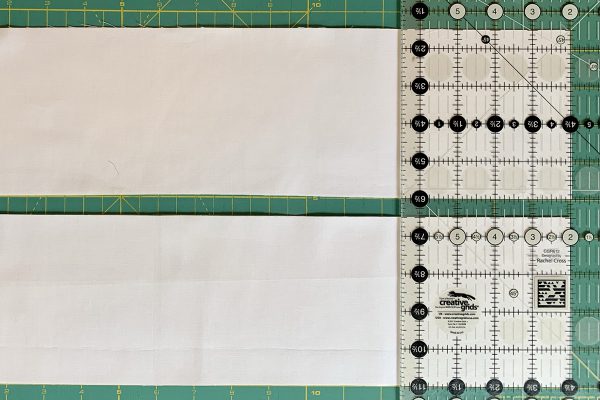 Next, cut:
(8) 4 1/2" x WOF

Subcut (64) 4 1/2" x 2 1/2"
Subcut (32) 4 1/2" x 4 1/2"
Again, line up 2 of the strips on your cutting mat and you will decrease the time it takes to cut in half. Or try 3-4 strips with a longer ruler. Just be careful not to move the ruler while cutting.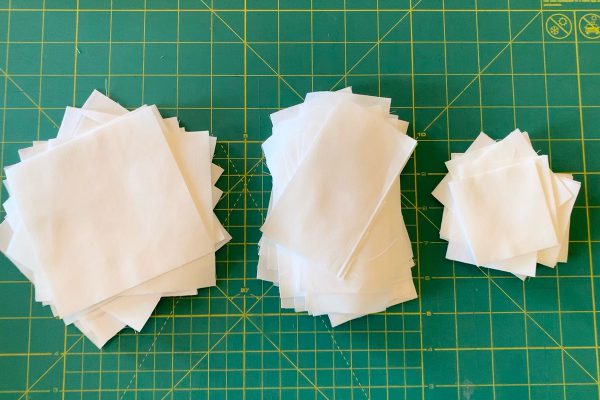 Layout Fabric or Grab and Sew
This step can be considered a great personality test. You have three options to arrange your fabric pieces.
Option One
Find a large space to lay out your fabric pieces into Counterchange Cross blocks.
Tip: If you have pets, the floor might not be a good option! Some quilters use a design wall that can be as simple as a large piece of felt attached to the wall with 3M Velcro strips.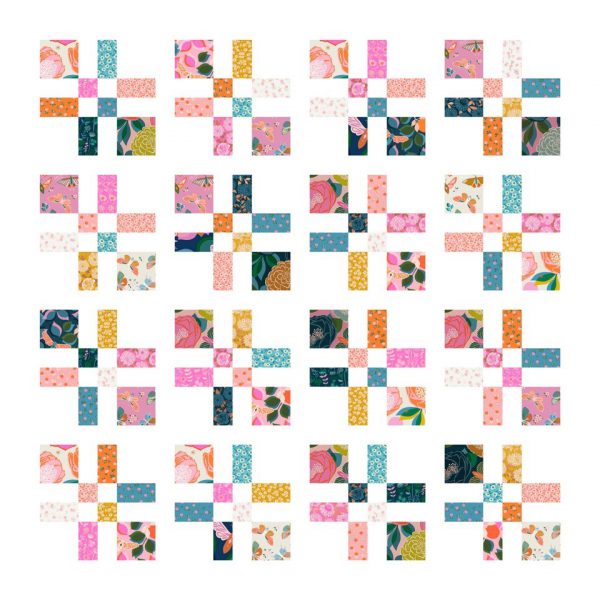 Option Two
Use a felt board such as the one below and arrange your fabric pieces one block at a time. After one block is sewn together, arrange the fabric pieces for the next block.
Option Three
Throw the Stay Gold fabric pieces of the same size into plastic bins. You will have three bins of fabric for the three different sizes. This option is a random grab-and-sew method. There is no planning, so decide if this will work for you. If you are methodical and organized, it might be a challenge. But, maybe you are up for the challenge!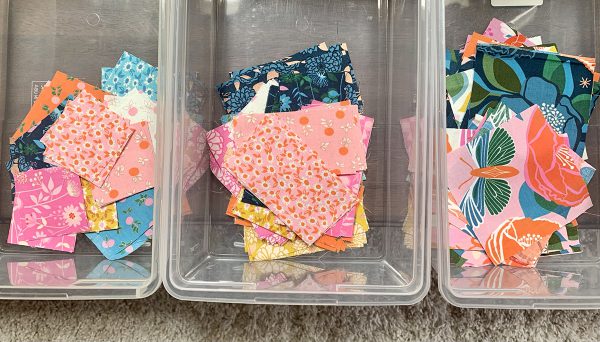 Decide your method and get ready for Week 2 when I explain in detail the incredible BERNINA Patchwork Feet and show how to piece together the Counterchange Cross blocks! It's going to be an adventure!
Stay Gold Quilt Along
Difficulty level

Beginner

Time to Complete

A week or more

Used Material

basic sewing supplies, cotton batting, Mettler Silk Finish Cotton 50 weight, Microtex needle, quilting needle

Projects

quilting

Seasons

all seasons

Techniques

quilting
What you might also like
551 comments on "Stay Gold Quilt Along, Part 1: Prep and Cut Fabric"