CANDY STAR Quilt Along, Part 1: Prepare Fabrics
Welcome to CANDY STAR QUILT ALONG! I'm Satomi from Satomi Quilts and the host of this quilt along over the next 6 weeks here on WeAllSew.
First, allow me to introduce to you my new pattern, CANDY STAR, which I designed exclusively for BERNINA! And I am so excited about this pattern and it was so hard not to share it with anyone before now.

CANDY STAR Quilt Design
I designed the CANDY STAR block using a traditional sawtooth star. I put it into an economy block to showcase the stars. Also, I wanted to make sure that it looks more modern, so I worked on the color placements and added colorful cornerstones to the sashing. I love using bright colors and mixing them up to create a scrappy look for fun. I hope both modern and traditional quilters can enjoy making this quilt.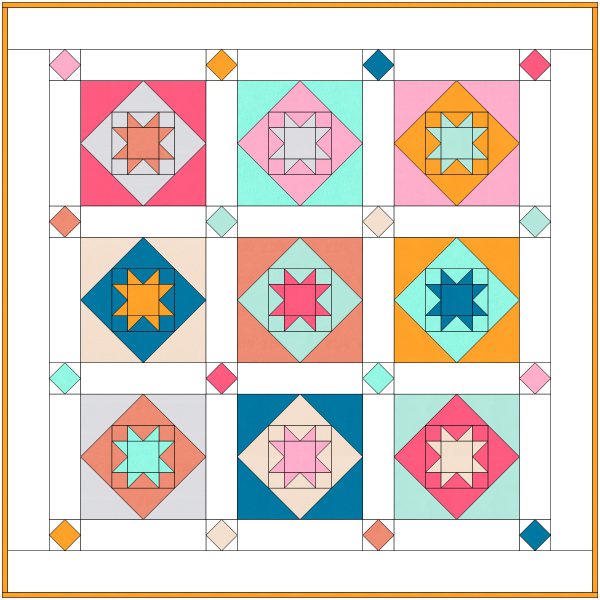 Color Inspiration
My color inspiration was a type of Japanese candy called konpeito. Konpeito is a type of colorful sugar candy made in a distinctive star-like shape.  It was brought to Japan by Portuguese merchants over 500 years ago and it quickly became an ultimate luxury food. Since sugar wasn't common in those times, konpeito was seen as something fit only for daimyo (feudal lords) or for the Emperor.
For me, too: konpeito was a treasure! Today, you can find them everywhere in Japan and they're not very expensive. When I was growing up, though, we rarely kept sweets in my house.  Sometimes, we would receive konpeito as a special gift.  When we did, my sister and I would be so excited! While other candies might have been more popular, I always thought that the colors were magical. The pinks, blues, purples… each was like holding a gem!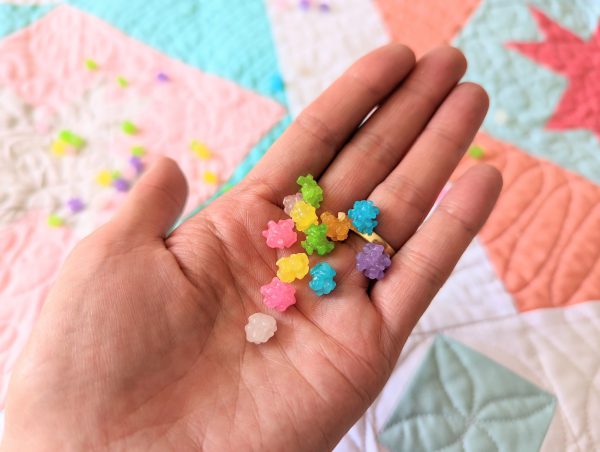 CANDY STAR Quilt Pattern
Finished size: 56″ x 56″
Skill level: Beginner quilters and up
Fat Quarter friendly (approximately 18" x 21" fabric)
Includes step-by-step instructions with a lot of diagrams
Includes No Waste Four at a Time Flying Geese method
Download the CANDY STAR quilt pattern here.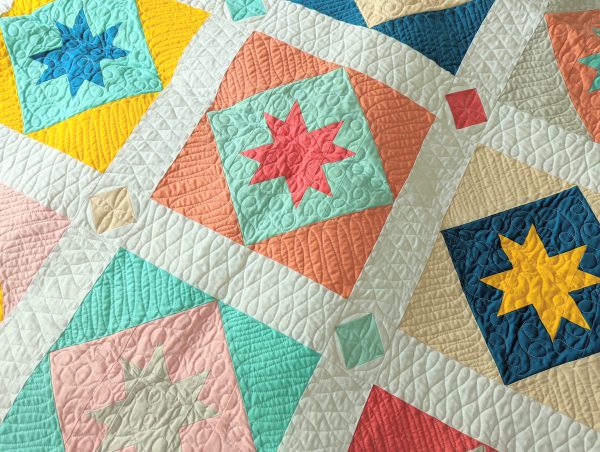 CANDY STAR Quilt Along Schedule
Here is the schedule for the next 6 weeks.
Part 1: Prepare Fabrics
Part 2: Cut Fabric and Make Five Blocks
Part 3: Make Four Blocks and Cornerstones
Part 4: Assemble the Quilt Top
Part 5: Start Quilting
Part 6: Finish Quilting and Complete
Prepare Fabrics
This week, we are preparing the fabric. This pattern is fat quarter (FQ) friendly, so you may use some of your FQs from your stash! But please note that 1/4 yard fabric doesn't work for this pattern because of the way the pieces will be cut.
Material Requirements
(9) FQs for the star blocks
1-3/4 yard for the background
½ yard for the binding
3-3/4 yards for the backing (large enough to send the quilt to the long-arm quilters)
Twin size batting
You can find the material requirements info in the pattern as well.
Fabric Colors
Some of you might be interested in the fabrics and colors I used. Here is the list of the fabrics:
Kona cotton solids from Robert Kaufman Fabrics
PUNCH
SALMON
MED. PINK
LINGERIE
SILVER
PAPAYA
AQUA
ALOHA
OASIS
WHITE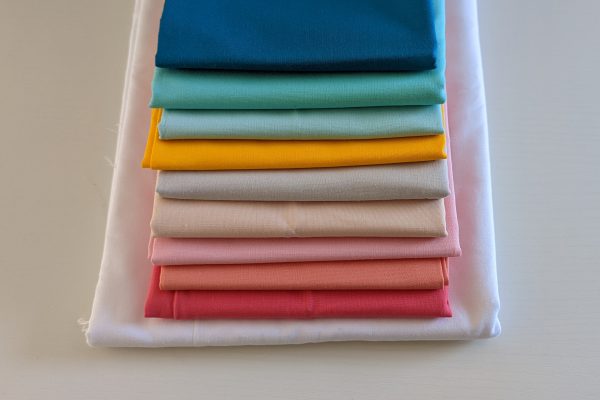 Kona Cotton Solids by Robert Kaufman Fabrics
Color Ideas
I made the mock-up images of CANDY STAR using different color groups and themes so that you can see the possibilities and get some ideas.
Note: These colors are from my quilt design program and do not belong to any fabric lines.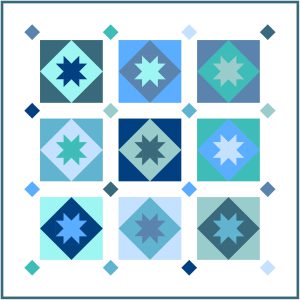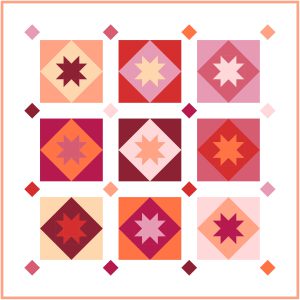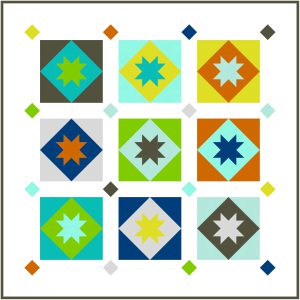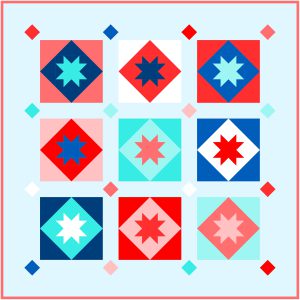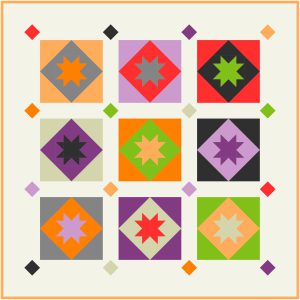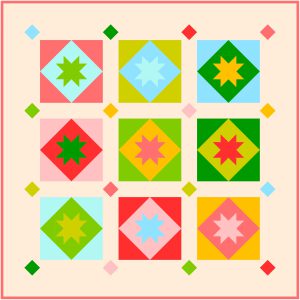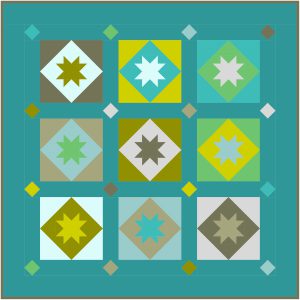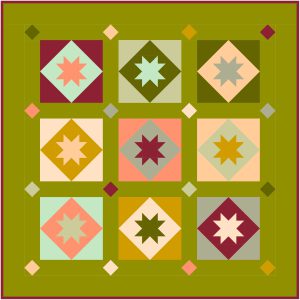 Download the pattern here.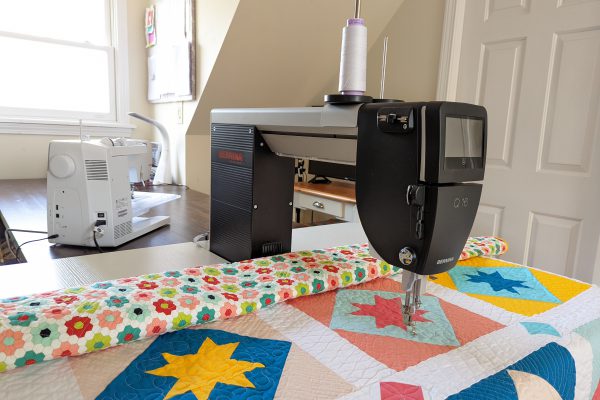 Next week will be part 2. We are cutting the fabric and making five blocks. I hope you will join us.
Happy quilting!
Difficulty level

all levels

Time to Complete

A week or more

Used Material

50 wt cotton thread, cotton fabric, cutting mat, fabric marking pencil, iron, ironing board, pins, quilt batting, quilting ruler, rotary cutter

Projects

quilt

Seasons

all seasons

Techniques

free-motion quilting, quilt binding, quilt piecing, quilting
Used Products
What you might also like
One comment on "CANDY STAR Quilt Along, Part 1: Prepare Fabrics"